We'll admit it – growing up, we were never quite thankful enough for all the work our folks put into Thanksgiving.
Whether it was mom getting up at the crack of dawn to get that turkey into the oven on time, or dad drinking beer and making sure nobody changed the channel away from the football game, our parents invested a lot of effort into making the holiday an unforgettable family experience.
Looking back, we kind of wish that our parents had access to the kind of time-saving smart home technology that allows us to spend a little less time in the kitchen, and a little more with our family – but we're also thankful that we have the ability to work super efficiently thanks to Google Home and some compatible smart home devices. (Psst, the Google Home is on sale this Black Friday. You can save up to $50 on this smart home device. Check out our list of top Black Friday deals here.)
In the spirit of Thanksgiving, we're sharing a few life hacks with you that will help make prepping for the holiday – and hosting – an absolute breeze.
A Virtual Sous Chef
Forget trying to flip through a cookbook on a crowded countertop while juggling piping-hot pans – when you need to remember a recipe detail, simply say, "Hey Google, how many minutes in the oven per pound of turkey?" Or, "What is Julia Child's cranberry sauce recipe?"
Need a timer? Don't burn another pie – just tell Google Assistant to remind you to check the oven in 20 minutes.
And here's a great tip if you want everything to come out of the oven or off the stove at the same time: set a schedule beforehand and have Google remind you when you want to get that green bean casserole out of the oven and start mashing those potatoes.
Chromecast Streaming Media Right into Your Kitchen
Whether you're a sports fan who loves to cook, or you just have to catch the Macy's Day Parade, getting the feast together and catching your favorite event is easier than ever.
With Chromecast, a dongle that plugs into your TV's HDMI port, you can stream the channel of your choice to your smartphone, tablet, or laptop computer – all via your home's WiFi.
Remember hearing a cheer from the other room during the football game and running to the doorway just to catch a poorly-shot replay? Yep, those days are over.
Let Google Be Your Doorman
Life doesn't stop just because it's Thanksgiving – people still need rides, last-minute items need to be picked up from the store, and, if you've miraculously managed your time right, holiday outings need to be enjoyed.
With a Google Home compatible lock set like August Smart Locks, you can open the door for your guests even while you're away from home. Simply pop open the app, and – bingo. Your appreciative guests are out of the cold and helping set the table in no time.
Plan on going to a movie and not answering your phone? Or, busy in the kitchen and don't have a free hand? You can text guests a one-time door code beforehand so they can let themselves in. We know, it's so much better than dropping everything to get the door.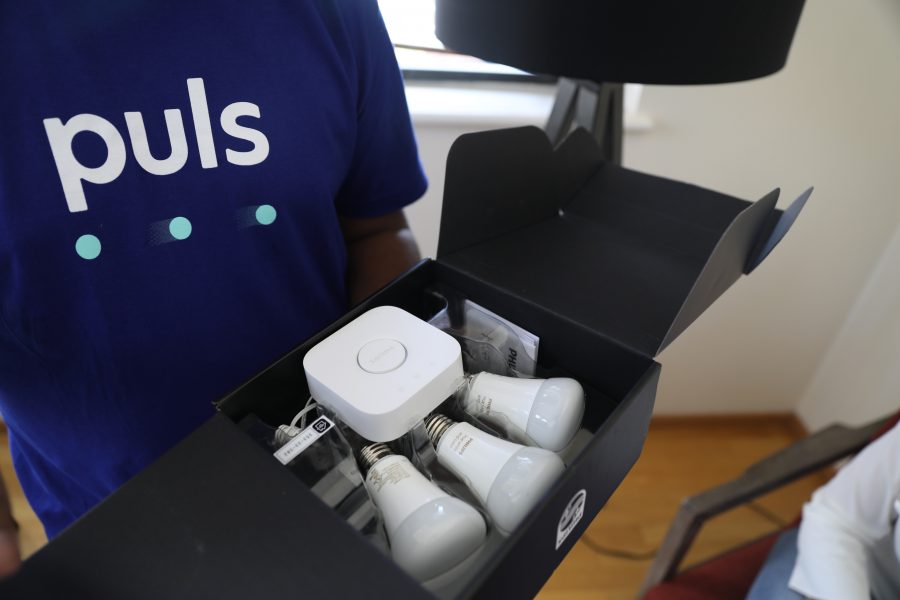 Set the Mood – with Smart Lights
We're not going to beat around the bush – Philips Hue sets the bar in the smart bulb category, and there's little reason to bother with any other brand at the moment.
Paired with Nest or given commands via Google Assistant, Philips Hue lights can be adjusted via hands-free voice commands, or from anywhere in the world.
The Philips Hue smart bulbs can be customized to display millions of colors to set the perfect mood and can be synchronized with music, movies, video games, and more. You can treat guests to soft dining light one moment, and switch it up to a flashing disco the next.
And you never have to ask yourself, "Did I shut off the lights before I left the house?"

Stay on Top
With everything that's going on all at once, it can be nearly impossible to keep your day in order. But with Google Home, you can check what time your sister's flight arrives, find out if you will need an umbrella today, make a hands-free phone call to friends or family, and listen to instructions on how to carve a turkey.
With the nifty scheduler and alarm notifications, access to millions of recipes, and up-to-the-minute traffic, weather, and sports, Google Home will keep you up to date on anything you need. Now that's something to be thankful for!