There have been endless arguments as to the pros and cons of having TV sin the bedroom – in fact, we've covered them in a previous blog post. But the fact is, whether or not TVs in the bedroom hinders or improves communication, love life, and sleep quality is something uncertain these days.
In fact, a recent study has reported that 99% of American households own a television, and nearly two-thirds have one in the master bedroom. Even those who don't have a television in their bedroom regularly hit the sack with a tablet, laptop, or smart phone in hand.
With virtually every American putting in some screen time before getting their evening shut-eye, it's not a matter of whether or not they introduce a TV into the bedroom, but how.
Before going ahead and mounting a TV in your bedroom, check out this bedroom TV mounting guide, and rest easy knowing that you've made the right design choice.
Comfort is king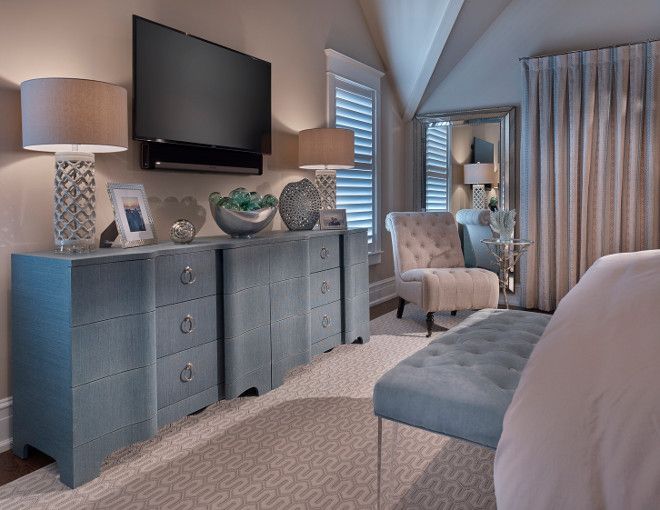 Photo Credit: HomeBunch
What's the point of watching the tube in bed if you're always struggling to find a comfy position? While it's easy to just plop your set down on top of a dresser, or tuck it away in a corner, bear in mind that you're going to have to twist yourself into a feasible position to be able to view it.
With the average American watching a whopping five hours of TV a day, you might find yourself doing this quite a bit. It's worth gauging your most likely vantage point and mounting your television in a suitable location for optimal viewing.
With a variety of wall mounts out there that are capable of extending and pivoting, it shouldn't be too difficult to angle your set perfectly – and to move it back when you want it out of sight. There are even ceiling mounts that can help you hit that sweet spot no matter where in the room your bed is located.
An audiophile's dream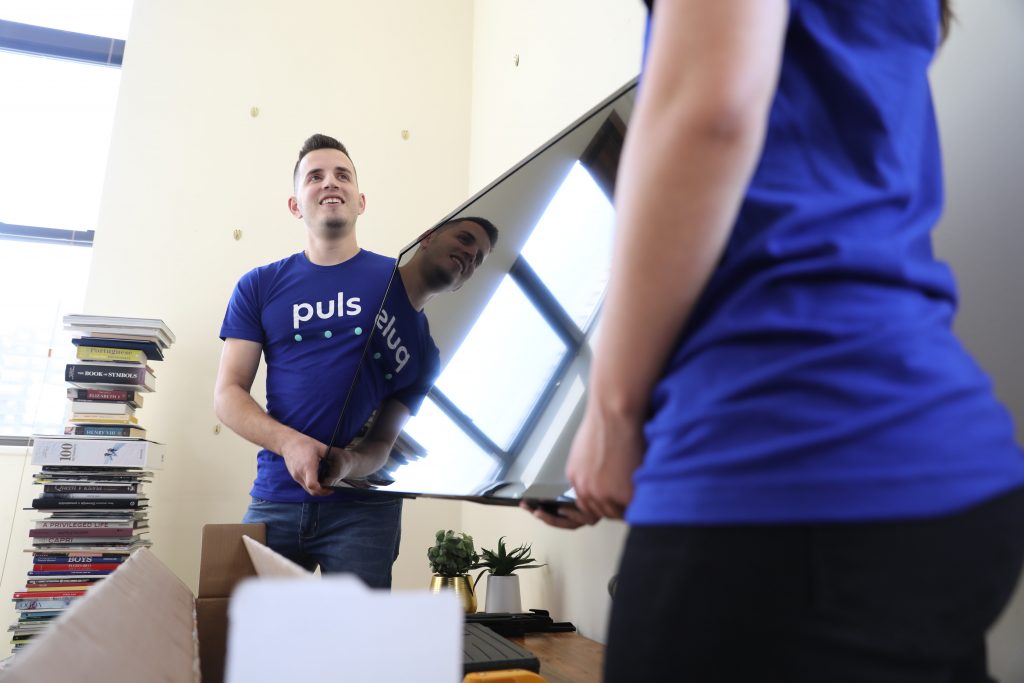 TV sound bars are a great low-profile way to get the most sound out of your television. Not only can Puls advise you on the best sound bar for your needs, but can install and set it up – and help you affix your TV mounts at the same time.
Acoustics plays a large role when considering the audio setup for a TV in the bedroom. If you've got kids or a flatmate sleeping on the other side of a bedroom wall, a good way to prevent sound from seeping through to the adjoining room is to use a swivel mount that extends outwards, rather than keeping the television stuck on the drywall wall.
Alternatively, a ceiling mount evades this problem, or, an easy solution is to simply mount the TV to a different wall. If you share a living space with extremely light sleepers, or your neighbor has threatened to call the cops if they hear your set one more time after 11:00 p.m., another great option is to invest in a good pair of wireless headphones. And yes, we have a guide for that as well.
An illuminating guide to bedroom lighting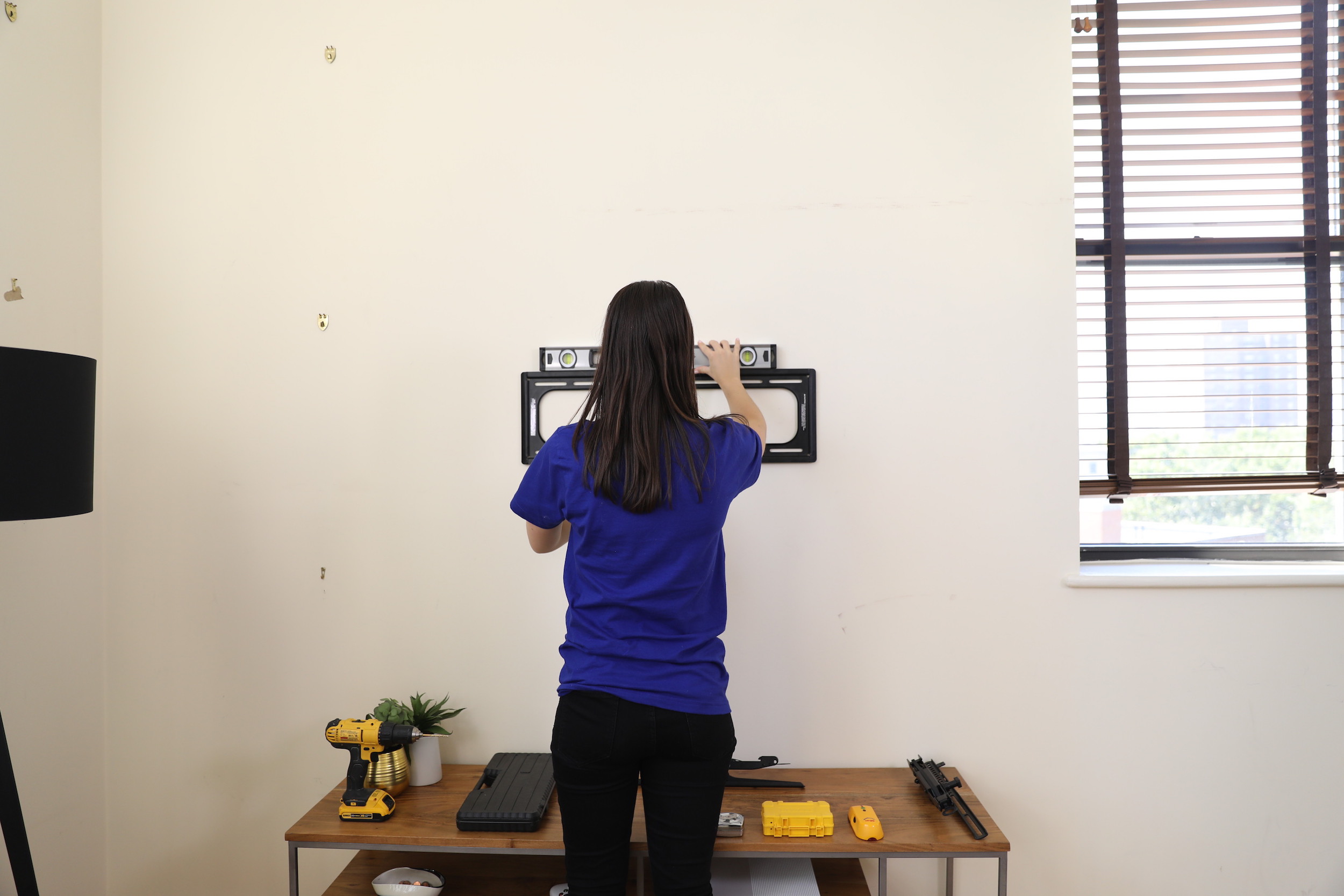 As opposed to setting up shop in the living room, when you watch TV in the bedroom, you probably have a built-in solution against glare. Simply draw the curtains, and, voila! Movie theater style darkness.
But did you know that just being in the dark causes your body to prepare for bed? And actually being in your bed is likely to confuse your internal wiring even more.
For this reason, we suggest keeping a lamp somewhere in the room where it won't reflect off of the TV screen. This can help prevent eye strain, keep your body from thinking that it's time for bed, and then when lamp and TV are both shut off, help you transition softly off into dreamland.
Not having to deal with TV installation or sound system setup might sound like a dream, but Puls is here to help you out if you desire to have a TV in the bedroom. You can set up an appointment online in just a few seconds, and a certified Puls technician will come right to your door – often on the same day.