There aren't many things more exciting than unpackaging that fresh new flat screen out of the box—except when you realize that you have the responsibility of hanging it up on the wall. Although having a flat screen hung on the wall is a great space saver and looks much sleeker than those boxy and outdated TV stands and cabinets, they can be tricky to hang up correctly.
To avoid hearing a loud crash in the middle of the night (and breaking your precious new television), you'll need to follow these TV mounting instructions carefully in order to keep your television right where you want it.
Here's our informative, step-by-step guide on how to mount a TV to drywall on your own.
First, Pick a Good Spot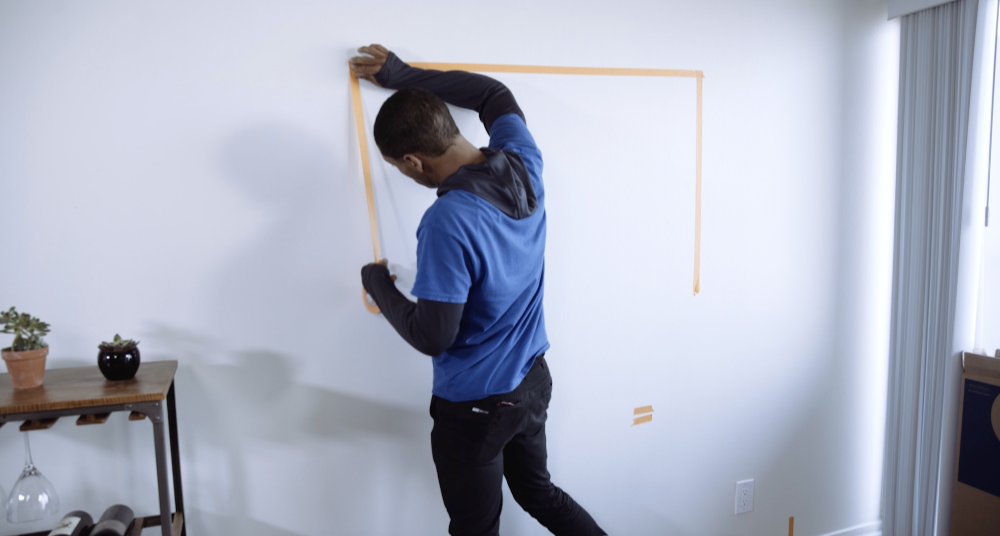 Before you do any markings or pull out any tools, you'll need to determine where you'd like to place the television in your living room. The best spots are walls that don't get too much afternoon glare from the sun and that make sense with the flow of your living room furniture.
When choosing where to hang your television you'll also want to consider height. You want the TV to be at eye level when you're sitting on the couch, so you don't have to strain your neck while you look at it.
The ideal TV height is about 42 inches off the floor—to ensure that you don't have any obstructions or obstacles on the wall you're considering (like a fireplace or a window). You also need to account for where your outlets are, in order to avoid running a long extension cord in the room.
Figure Out What Mounting Kit You Need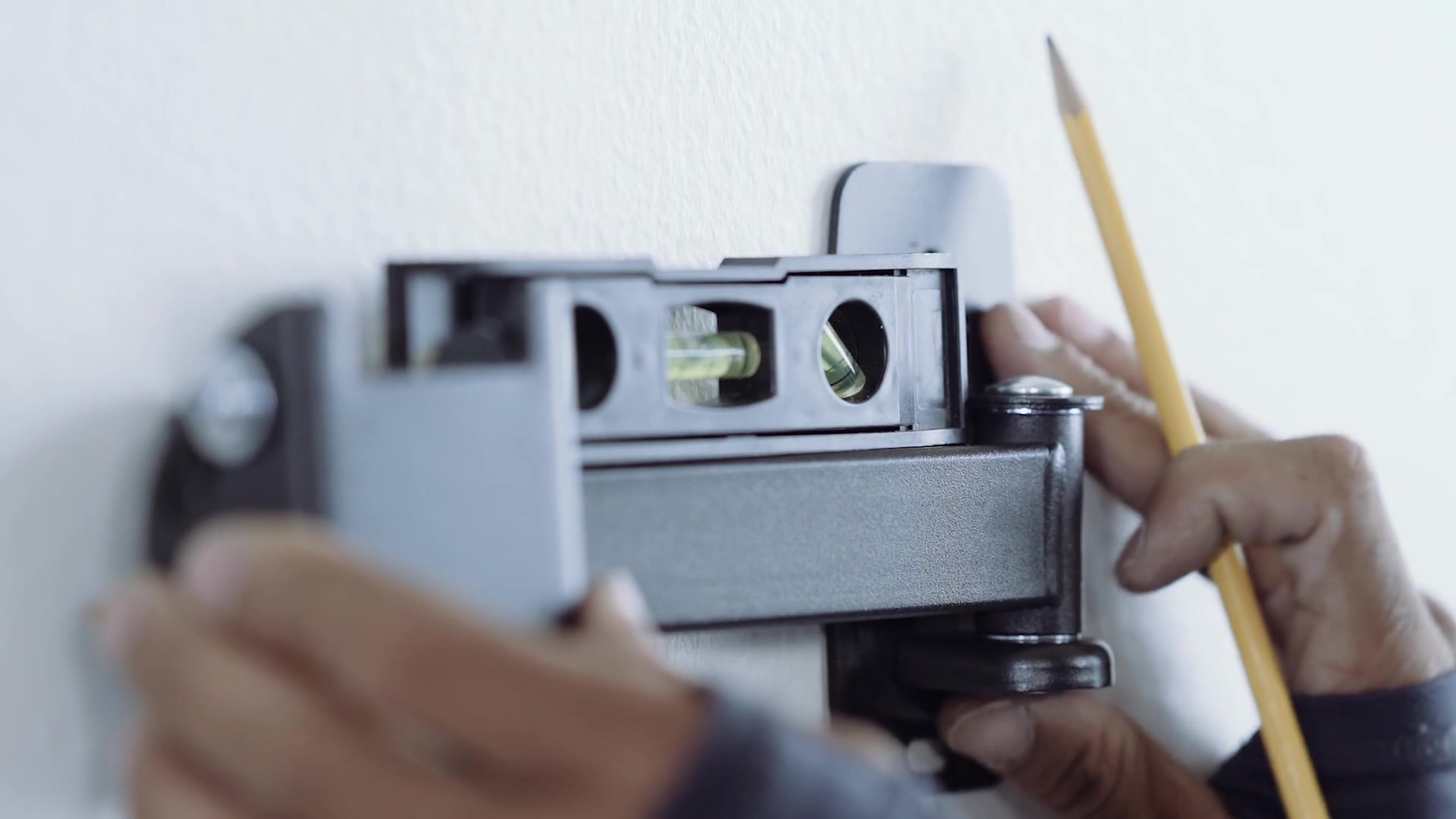 Mounting kits aren't universal, which means that you'll need to purchase the one that is right for both your television brand and for the weight of your flat screen. If you're unsure of what weight or model it is, refer to your manual.
Certain brands have mounting kits that have custom dimensions for their televisions, but you can also buy kits that have weight ranges that will fit a variety of television brands. If you don't want to buy a kit, you'll typically need to have the following tools on hand:
Drill
Screws and a screwdriver
Stud finder
Pencil
Tape measure
Leveler
TV bracket
Find the Stud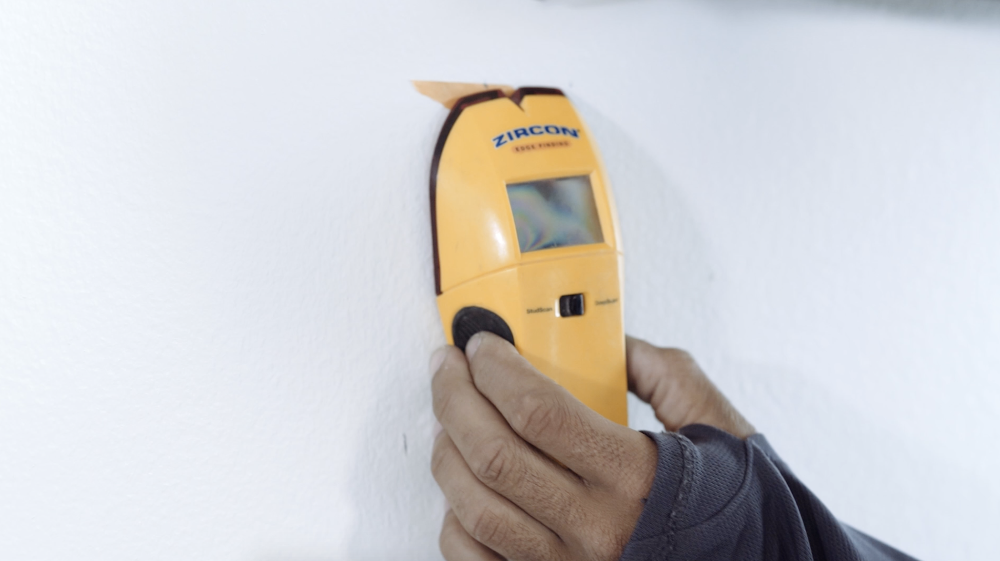 Once you've purchased the TV mounting kit, you'll need to then find the stud in your wall so that your television can be hung securely. To locate the studs in your wall, use your stud finder and mark where they are with a pencil. Most mounting kits will require you to use two studs—which will only make the television more secure to the wall.
Attach the Brackets to the Television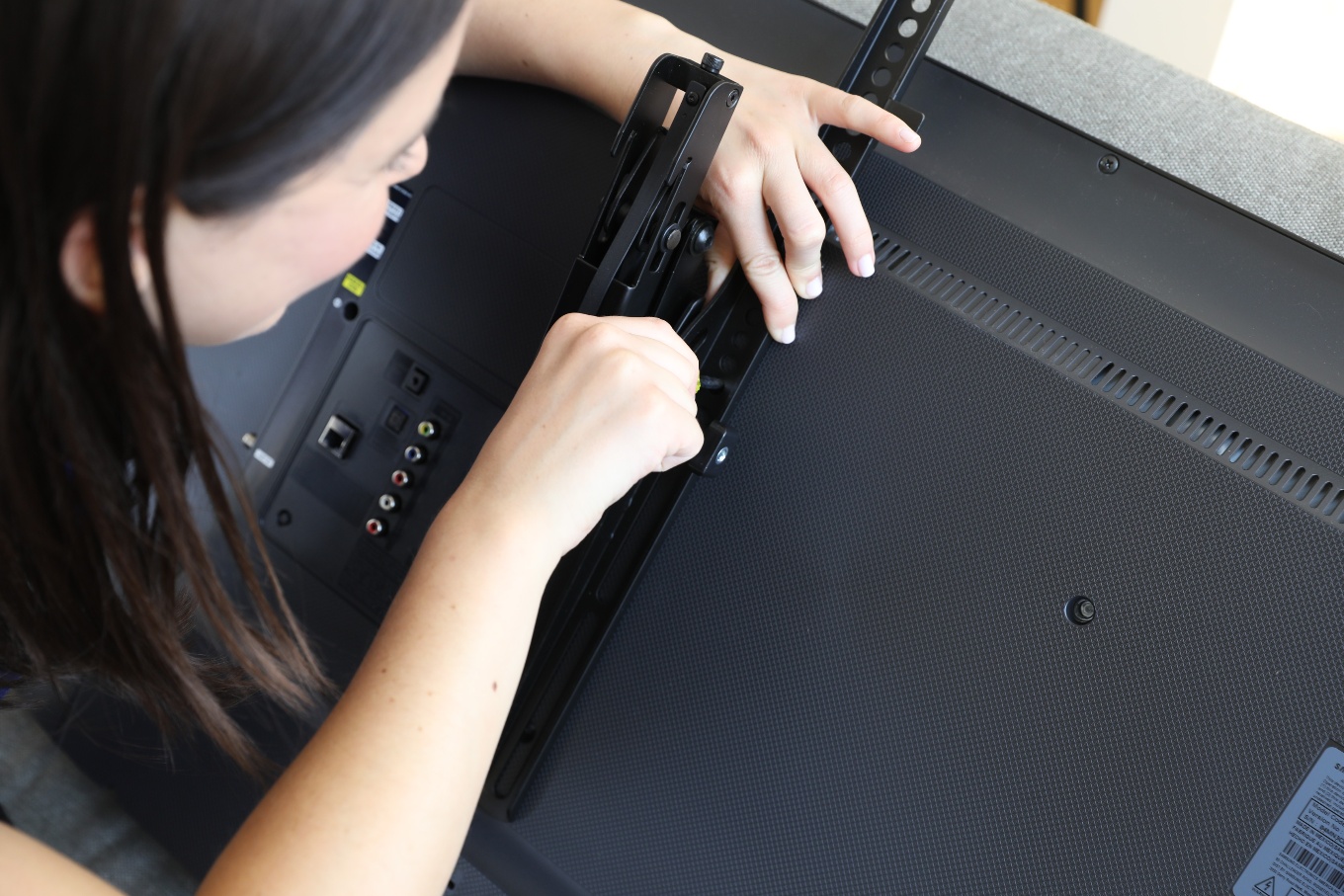 Before you secure the television to the wall, you'll need to get the brackets attached to the television. Then, lay a blanket down on the floor and then carefully set your television on it, glass side down.
Follow the manufacturer's instructions on how to attach the brackets to the television. Typically, you'll need to locate the holes on the back of the TV and then line them up with the brackets, securing them tightly with screws.
Measure and Secure the Mounting Bracket to the Wall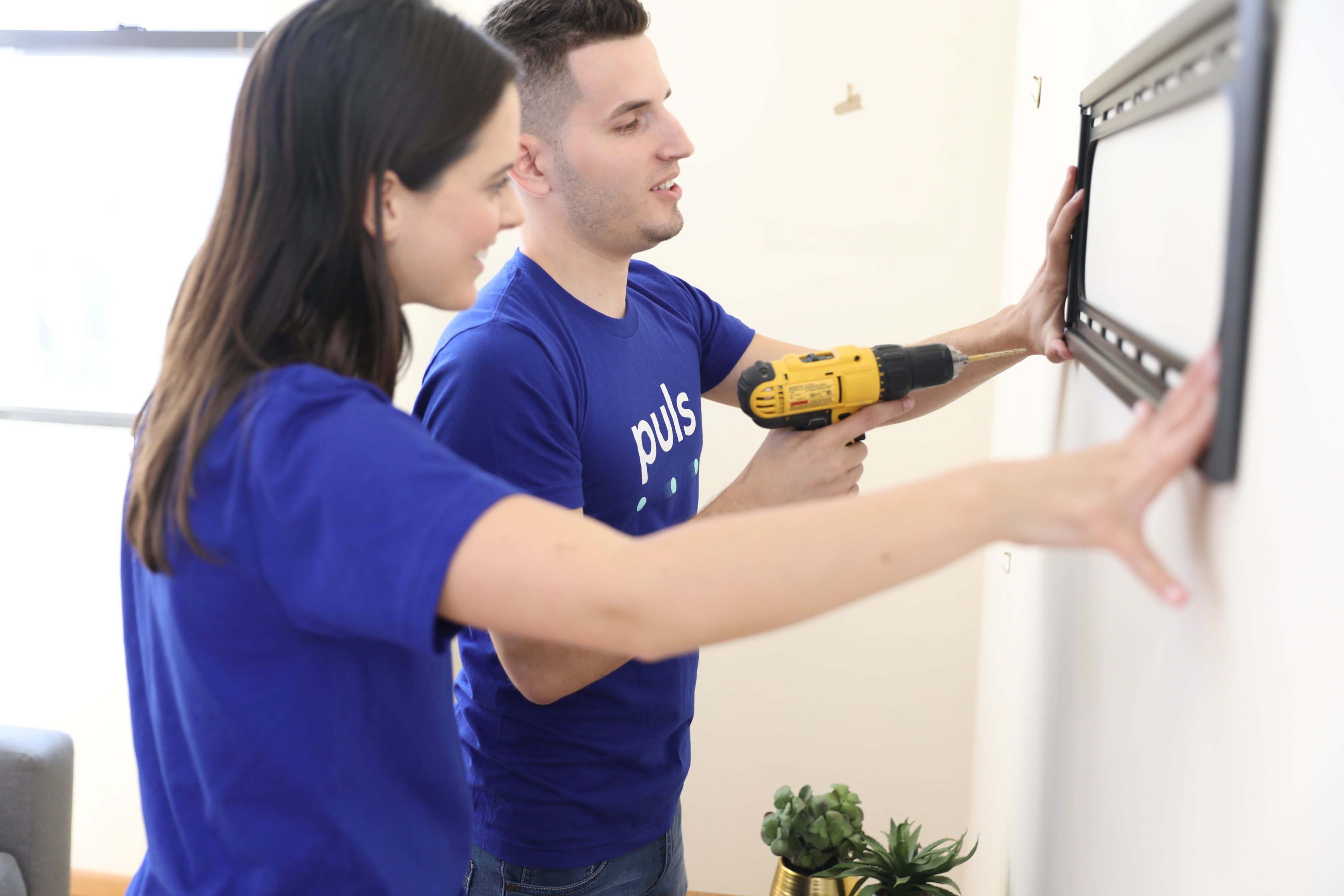 Now that the brackets are secured onto the back of the television, you are ready to measure and hang the mounting bracket that will be drilled into the wall using a drill or a driver. First, you'll need to mark where you'll be drilling the holes on the studs that you've already located.
Once you've marked the holes where your mounting bracket will go (it should usually be two on top and two on bottom), then you'll drill into the studs. Use a level throughout this process to ensure that each hole is horizontally level and even.
After the holes have been drilled, you'll then need to secure the mounting bracket to the wall with a screwdriver. Each screw should feel like it's being fastened into the stud and not like it's just spinning loosely on the wall.
Install the Television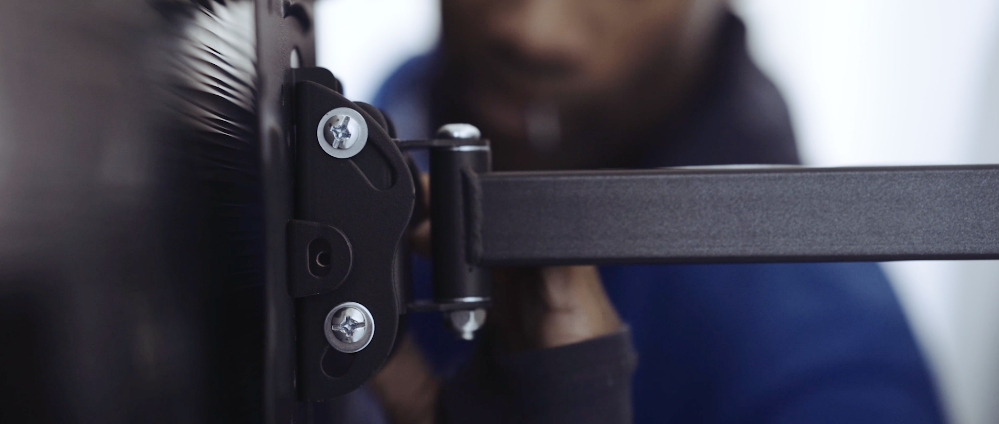 Once the mounting bracket is tightly secured to the studs, you're now ready to install the television onto the drywall. There will typically be hooks on the television bracket that will "lock" into the mounting bracket on the wall. After you correctly hook it on, read the manufacturer's instructions to see if there are any more screws to secure before the job is complete.
Can't Find the Studs? Need Some Help? Puls is Here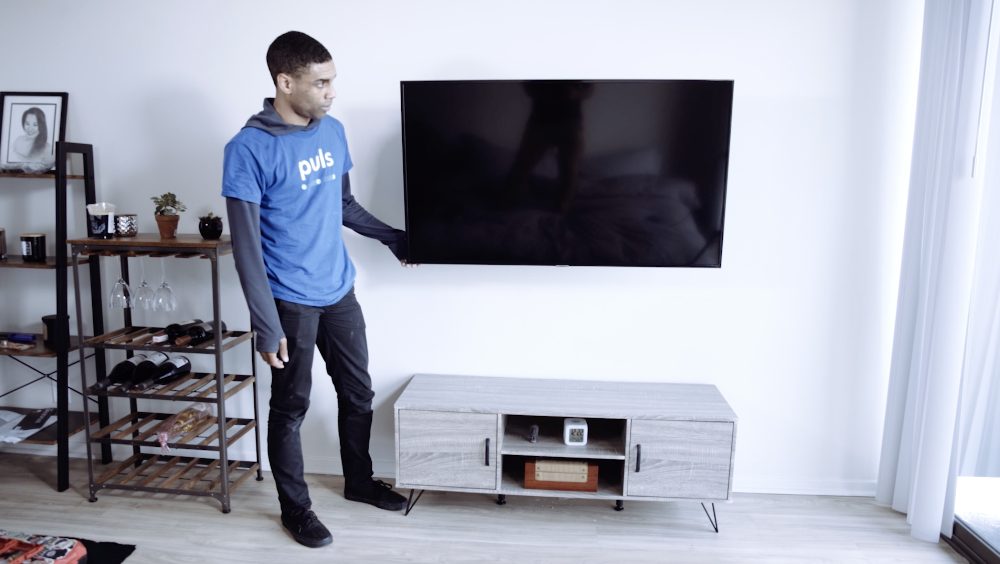 Whether you've tried and failed to hang up your flat screen or the idea of hanging something heavy like that is intimidating, Puls is here to help. We offer television mounting services that are convenient, quick, and affordable, with appointments as soon as same-day.
Our technicians can mount any flat screen television—from 31 inches to over 81—and have it ready in time for all your friends to watch the big game. Our installation prices start at just $69, and scheduling a service online is a breeze.
All you need to do is go to our website, select the service and then pick a time slot that works for your schedule. A Puls technician will arrive at your doorstep within a few days, or even as soon as the very same day.
To make things even easier, we'll also guide on you what mounting type is best for you and we can bring your choice of TV bracket (fixed, tilt or full-motion) with as part of your appointment, so that you can choose the best option for your ideal TV setup.
Book a Puls TV mounting service today, and get ready to enjoy the ultimate weekend at home in no time.