There are countless benefits to mounting your TV on the wall. In addition to saving space, you are bound to avoid accidents that stem from your television being knocked over because it was on an entertainment center. You should also consider eliminating glare. While pondering where to mount your TV, remember that the corner provides a solution to several problems.
Opting for a corner TV mount is also a wonderful alternative to housing your television on a TV stand, or flat on the wall. You shouldn't have to battle with moving furniture, buying new blinds, or getting rid of your favorite decor to improve your field of vision.
Overall, there are endless benefits and considerations to mounting your TV in the corner, and we're here to offer some insight.
Pure Aesthetics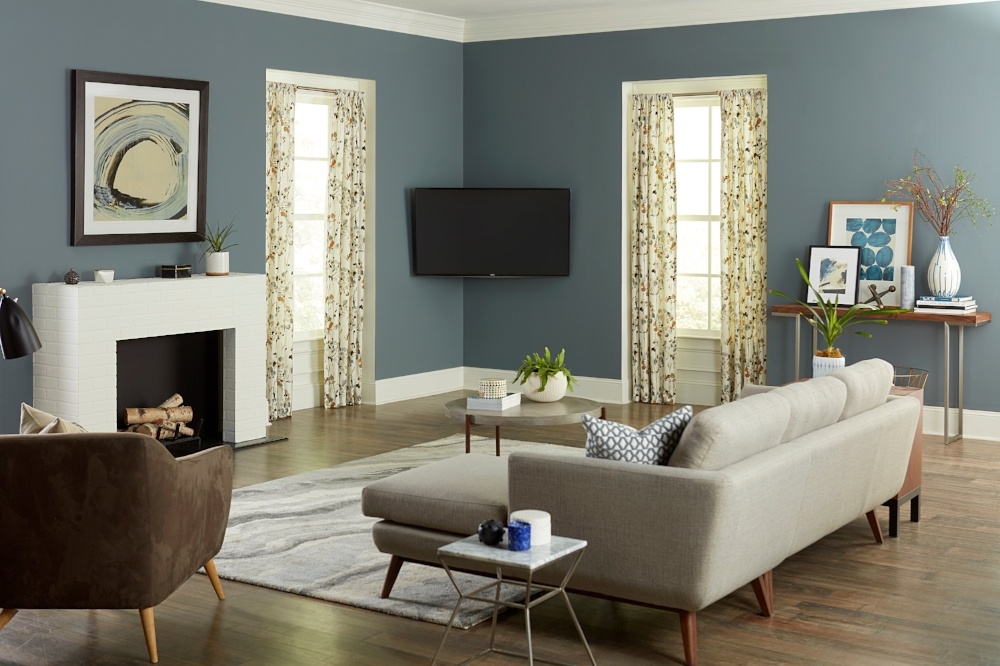 Credit: Sanus
If you're interested in interior design, mounting your TV in the corner can prove to be a design advantage. In mounting the television in the corner, you create an uninterrupted flow in the room where the TV is housed.

This can make your home feel more open as well as create favorable conditions for making conversation and enjoying TV at the same time.

Placement and Size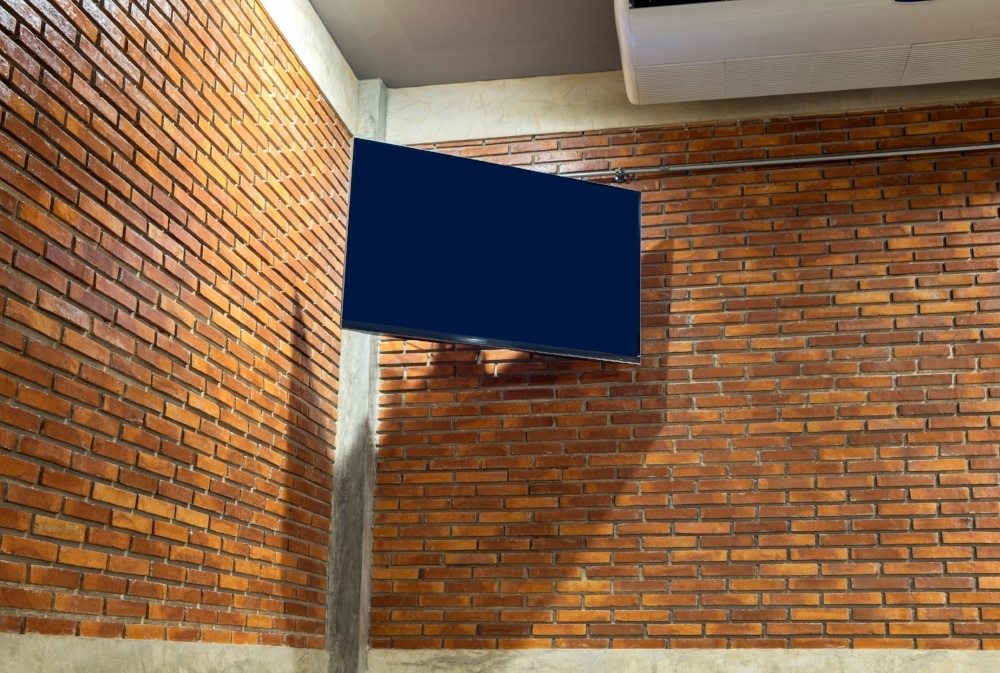 Two key considerations to ponder before mounting your TV in the corner are how big of a TV should I buy, and how high should I mount it?
To fully understand, measure the space, and find a television that fits comfortably on the wall. You can also check out our article on choosing the right size TV to help you get a better idea.
In answering the question of how high should mount the TV you purchase, think about a height that is most comfortable for you. A more scientific approach is understanding that a 42" television should be mounted roughly 56 inches from floor to the TV. The bigger your TV gets, the more you'll need to raise the height of the mount.


A Different Procedure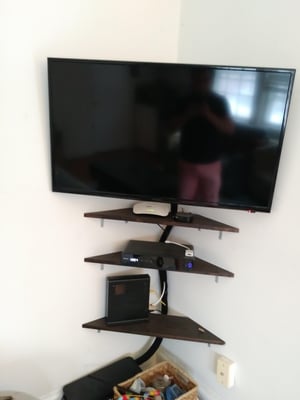 With an entertainment system, there is a place to hold cable boxes, DVD/Blu-ray players, and game consoles. If you mount your TV in the corner, where do all of the wires and electronics go?
There are shelves strong enough to hold everything you need to place on them. Not to mention, these shelves come in a variety of shapes, sizes, and designs. Regarding wiring, not to fret - there are both in and on-wall compartments which hide annoying cables on electronic devices.

Eliminate Glare
If your television is currently suffering from horrible glare, it's time to take action. Mounting a television in the corner gives you the flexibility to move the TV in a number of angles, and reduce or fully eliminate glare.

Picture this: it's Sunday afternoon, the sun is at its highest point, and you can't see your TV because it's sitting on an entertainment center. If the TV is mounted in the corner of the room, it's simpler to adjust its angle, rather than buying new shades and rearranging your entire living room.

Say Goodbye to Neck and Back Pain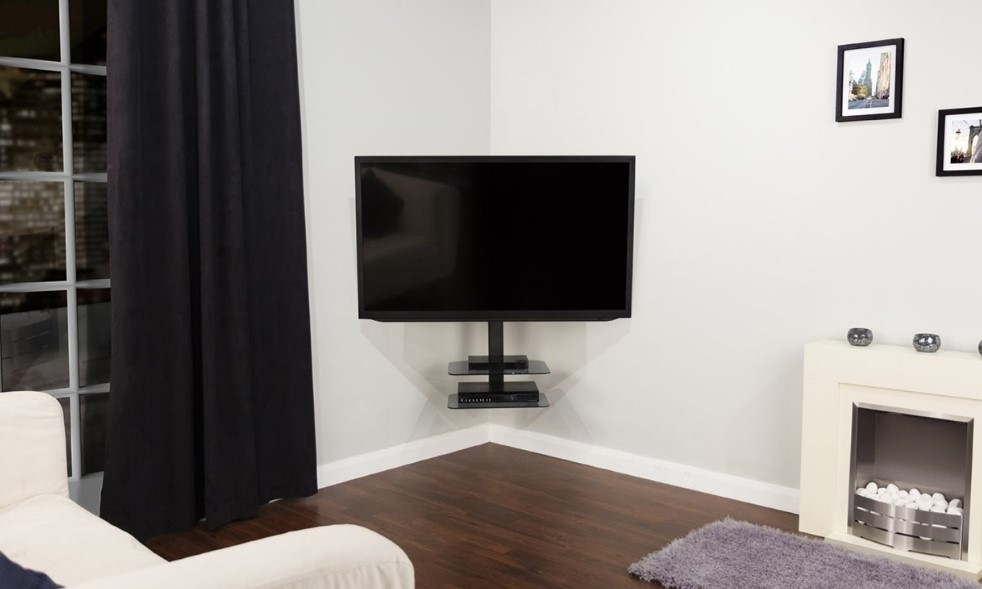 Credit: Gadgets Living
With so many corner TV mounts on the market, it's easier than ever to find a mount that can be adjusted to maximize comfort. Depending on the kind of TV mount you choose, you'll have no shortage of options for reducing pain caused by poor TV placement.

If you want to follow along with your favorite TV chef, you can even purchase a TV mount that gives you the flexibility to view the program from your kitchen.

Kid-Friendly Environment
If your home is usually packed with kids, or even one or two nieces or nephews, it can be risky to let them play around expensive electronics. Mounting your TV so that it is out of your toddler's reach is another great benefit of mounting your TV in the corner. Thus, you can rest easy, knowing that they'll be much less prone to an accident.
Puls Has your Back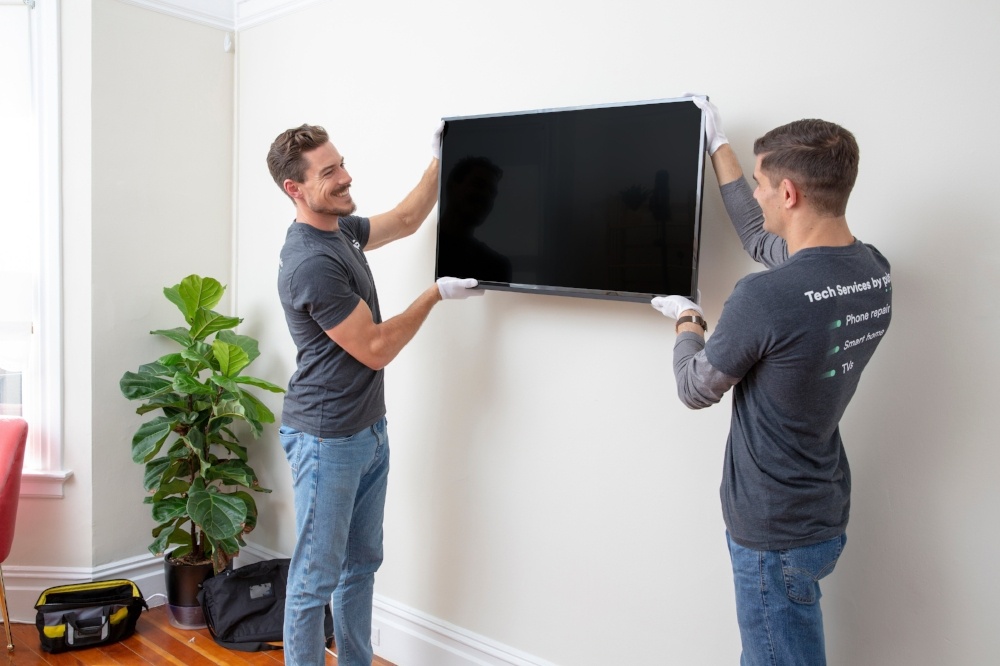 If you find that corner TV mounting on your own is too difficult, turn to Puls and our team of trusted technicians. We'll do all the heavy lifting, and we even offer same-day installation for all your TV mounting and installation needs.
As always, Puls has some of the most competitive pricing for all of our TV mounting services. We even have hundreds of technicians in over 30 major cities across the US, and can install surround sound, conceal those pesky wires, set up shelving and much more. Book an appointment online today, and click here to get $10 off your first TV mounting.