If you're looking to mount your TV, odds are you've already got the first two key ingredients at hand: a television and a wall. All you need to complete the picture is the mount itself.
However, many shoppers will be surprised to find that purchasing the correct TV wall mount is almost as difficult as finding the right TV itself.
So, what's the best TV wall mount bracket of 2022? The answer is that it really depends. When you book a TV mounting appointment with Puls, we can bring a TV mount of your selection to you as part of your installation. If you want a specific mount, however, it's great to do some research.
While you definitely want a strong wall mounted bracket that won't let you (or your television!) down, it's also important to be aware of the type of mount that best suits your needs, in addition to the brand and model of the mount itself.
With that, we present our TV wall mount guide for 2022.
Fixed mounts
Like it sounds, a fixed mount affixes your television to the wall and doesn't do much else. While it's not a particularly versatile fixture, it has the benefits of keeping your television as flush with the wall as possible, while also coming in cheapest of all the wall mount bracket options. If you know where you're going to be sitting and just need the television in one place, this is the mount for you.
Sanus Simply Safe
The Sanus Simply Safe fixed position TV mount has the benefits of being both affordable and easy to install. It's also one of the most reliable wall mount brackets on the market, with a secure locking system and the ability to slide the TV from side to side even after installation. It's one of our faves, but also best for owners of larger televisions – ideal for TVs that are 47 – 80 inches.
Sanus Accents
For owners of 26 – 47 inch televisions, we recommend the Sanus Accents mount. They've proven to be sturdy, reliable products over time. The Accents mount can hold up to 80 pounds, and sits less than one inch from the wall, for a truly minimal profile.
Tilt mounts
Tilt mounts position the television slightly farther away from the wall, allowing the TV to be angled up or down for better viewing. This type of mount is good if you're hanging your TV higher up, such as above a mantle. It can also help reduce glare if the sun tends to shine in the room during certain hours of the day.
Ematic Tilt Mount
The Ematic tilting mount is quite versatile, compatible with televisions from 30 – 80 inches, and since it's made from aluminum alloy, it's strong enough to hold up to 132 pounds. It's also got passive air circulation to keep things cool, and can tilt up or down up to 10 degrees. If you want a workhorse of a TV mount, this is a great one for you.
Cheetah AMPTMM2B
The Cheetah APTMM2B is another great option for a tilting TV mount. Low profile, it sits just 1.3 inches from the wall and still gives you a good amount of tilt. It holds televisions from 20 – 75 inches and up to 165 pounds. It even comes with a 10' Twisted Veins HDMI cable and 3-axis bubble level. Sure, the added gear is nice, but we mostly like it because it does the job well.
Full motion TV mounts
Full motion mounts offer a whole other level of versatility because they can swing away from the wall, allowing you to tilt the TV up and down, as well as side to side. This type of mount is best for rooms where you might not watch TV in the same place all the time, or with multiple light sources that can catch glare. They're fantastic mounts, but they are a little more pricey and difficult to install. At the end of the day, in our opinion, they're worth the extra effort.
Sanus Full Motion
This Sanus Full Motion wall mount can hold up to 100 pounds, and extends 18 inches from the wall to give you an incredibly wide array of viewing angles. It also has a built-in cable threading space, so your cables remain safely and neatly tucked into the arm of the bracket, rather than hanging out all unruly. Suitable for televisions that are 42 – 75 inches, this wall mount bracket can cover most televisions.
Kanto Full Motion
The Kanto Full Motion TV wall mount is made for medium-sized televisions, from 26 – 55 inches. It's got heavy duty steel arms that can hold up to 80 pounds, and like the Sanus above, has cable management to keep cables neat and safe. It's also very competitively priced, similar to the fixed mounts.
Ematic Full Motion
Finally, we can't end without mentioning the Ematic wall mount. It's got amazing range – from 19 inches to 80 inches, and its aluminum alloy frame can hold up to 132 pounds. With a 90 degree turning capability and 15 degree tilt, it really can give you a full range of motion, without breaking the bank. This mid-range mount comes in at a very reasonable $79.99.
Puls: your go-to TV mounting service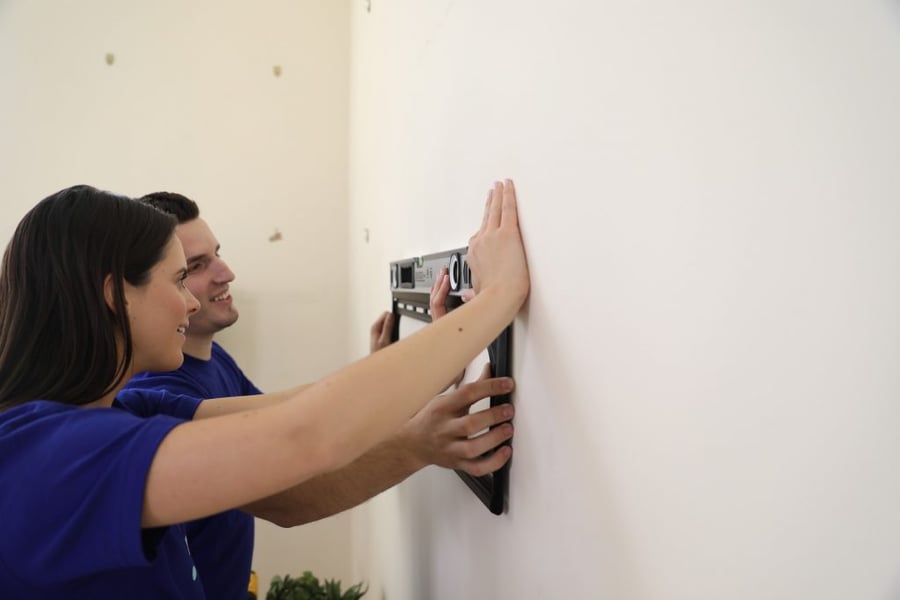 If none of these mounts are for you, we've got you covered - we can bring a fixed or full motion TV mount to you as part of your installation service for an additional fee, making things as easy as possible for you. Once you've selected your favorite TV mount (or you just want us to bring one to you!), book a TV installation service with Puls anytime for easy TV mounting professionals at your door whenever you like.