We're always searching for new ways to make our homes work better for our daily lives. Whether it's countertop materials that are a breeze to clean, a robot vacuum that handles daily messes, or a refrigerator that will make you coffee first thing in the morning (and play music from all your Spotify playlists), there are so many items that can make our lives at home easier—and revamp our routines.
One big way to simplify your life at home is to use innovative smart home products that can work together to create a seamless system. Want to improve your everyday life with the use of smart home products? Here are four simple steps to transform your home into a smart one.
1. Implement a Smart Doorbell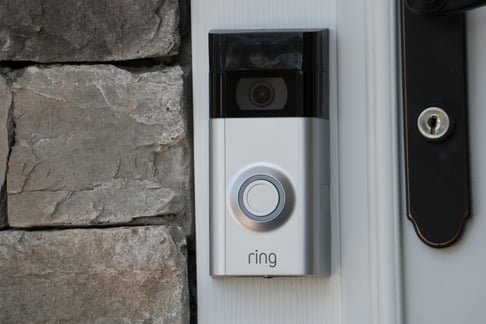 Photo Credit: Shutterstock
A good way to start out your smart home journey is by implementing a smart doorbell like the Video Doorbell by Ring. Not only is this product easy to install (Ring provides step-by-step video instructions for both the technical and physical setup), but it can also give homeowners and renters peace of mind when they're both at home and away.
Once you've installed the Ring doorbell, whenever motion is detected, notifications are sent to your smartphone and you can see, hear, and speak to whoever is at the door—thwarting porch thieves as well as would-be burglars.
The Ring Doorbell is compatible with smart home assistants like Amazon's Alexa as well as Google Home and can also be connected with various dimmers, light switches, and smart locks. In order to determine if a smart home product will work with Ring, all you have to do is look for the Works With Ring product sticker.
2. Upgrade Your Locks and Security System
How many times have you been about to go to sleep, asking yourself or your significant other if the door was actually locked? Or how often have you had to completely rearrange our schedule in order to give the house sitter an extra pair of your keys or let the plumber in during the middle of the day? A smart lock system like the August Smart Lock Pro means never having to worry again whether you locked the door on your way out and being able to let guests in—right from your smartphone.
The August Smart Lock Pro is easy to install, attaching right to your existing deadbolt, so you don't even have to switch out your keys. You can also implement features like the auto-lock and auto-unlock, which will set timers to lock the doors automatically when you leave and recognize when you're coming up to the door to automatically unlock. The August Smart Lock Pro connects with other smart home devices like Alexa, Google Assistant, and Siri, so you can check on whether the door is open, closed, and lock and unlock the door using these products in addition to your smartphone.
3. Adjust the Temperature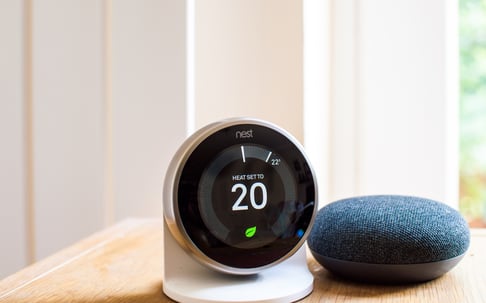 Photo Credit: Shutterstock
Still have that old-fashioned thermostat that only gives you slightly accurate information about what temperature your house is? It might be time to upgrade to a sleek smart thermostat like the Google Nest Learning Thermostat. The Google Nest Learning Thermostat will adapt to your schedule as well as the seasons, learning what temperatures you prefer at night, in the morning, and when the temperatures outside start to dip.
Using a smart thermostat will make your home more comfortable and also help you save energy and save money on your monthly electric bill. The Google Nest Learning Thermostat can also alert you when there may be something wrong with your home—such as when temperatures are so low that the pipes could potentially freeze over, or if your HVAC system has something wrong with it.
4. Get an Assistant
Finally, there's nothing that can make your home run smoother than an assistant. Smart home assistants like the Amazon Echo Smart Speaker with Alexa have amazing capabilities to control the thermostat, lock the doors, play music, remind you of upcoming appointments, and they are constantly learning new skills to simplify your life and help you out at home.
An assistant plays the role of central hub in your smart home, connecting with other devices to control them by a simple voice command.
Set Up Your Smart Home with Puls
Have smart home devices and aren't sure how to get them up and running like you want? Aren't sure of which devices are compatible with what you have? Our Puls technicians can help you out with that.
We offer expert setup for smart devices every day from 8 a.m. to 10 p.m.—with services like professional installation and in-home demos for devices like lighting, locks, cameras, smoke alarms, thermostats, voice devices and speakers, and smart plugs.
To hire one of our expert technicians for a smart home setup, all you need to do is book an appointment online (with same-day appointments often available) and then a technician will arrive to give you a quote and/or set up devices. You only pay us after the job is done.
Interested in getting your home set up with smart devices? Rely on the technical expertise of Puls and schedule an appointment today!