We've already shown you how to use home automation to turn your home into the ultimate haunted house this Halloween, but don't think that's all your smart home has in store – Amazon Alexa still has a couple of tricks up her sleeve!
This year, Alexa also wants in on some of the Halloween fun, and we've got to say, this smart assistant knows how to scare up a good time. With a variety of jokes and skills, Alexa has got some entertaining surprises ready to set the mood for All Hallow's Eve.
Here are a few of our favorite hidden Alexa Halloween hacks, guaranteed to give you a screaming good time.
Alexa Halloween jokes
These secret phrases will prompt a slew of hilarious and spooky responses from Alexa. Just ask Alexa to, "Tell me a witch joke," or "Tell me a zombie joke," and this smart assistant will have you in stitches. (Okay, that might be a bit of overstatement – these jokes are admittedly pretty candy-corny.)
You can also ask Alexa to tell you a Halloween joke, a ghost joke, and a vampire joke. Ask Alexa, "Are ghosts real?" for a creepy comeback, ask "What's your favorite Halloween candy?" or simply say, "Happy Halloween."
The Halloween Song
Alexa has also been working on her musical chops – ask Alexa to "Sing the Halloween Song," and she'll serenade you with a holiday tune that will have you humming the whole holiday long.
Alexa Halloween Horror Movie Taglines
Horror film buffs will love this Alexa feature that will quiz you on your knowledge of scary flicks. Say, "Alexa, start Horror Movie Taglines," and Alexa will deliver one of 100 taglines for you to guess which chiller it's from.
Alexa Haunted house
Did you know that you can preset your smart home to turn into a haunted house at a simple command? Choose your lighting, set the spooky sound effects and/or tunes, and connect the accessories or decorations of your choice to a smart plug. Then, say "Alexa, turn on the haunted house," and the scene will spring into action like it has a life of its own.
Spooky Halloween sounds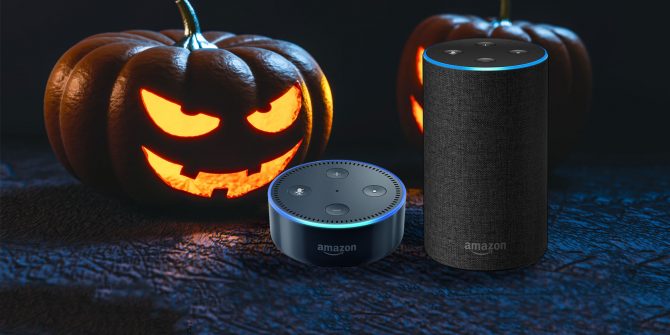 Credit: MakeUseOf
Alexa also has an arsenal of creepy sound effects to set the mood. Say, "Alexa, start spooky Halloween sounds," and a track of chilling noises will set your spine tingling.
Halloween games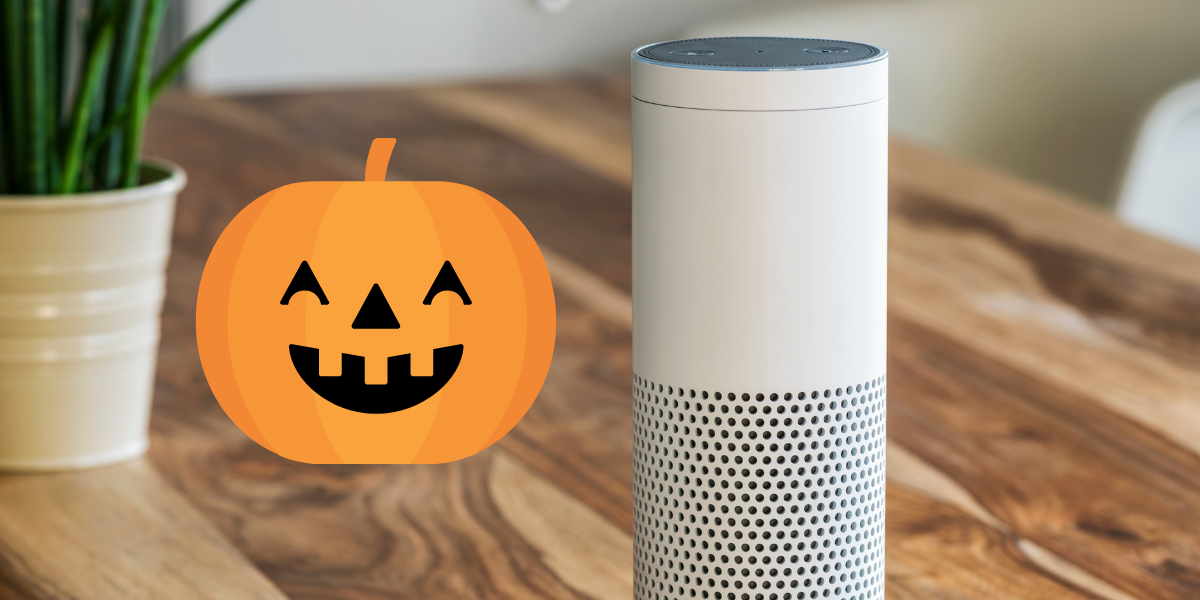 Credit: Shutterstock
Play a range of Halloween games with Alexa, such as "Ghost Detector," which will have you hunting for spirits in exchange for collectible Ghost Bux. Just say, "Alexa, launch Ghost Detector."
You can choose your own adventure with "Haunted House," a game where Alexa gives you a series of choices which lead through a gauntlet of ghouls, spooks, and monsters as you make your way to safety. Say, "Alexa, open Haunted House," to get started.
You can also ask Alexa to "Tell me a spooky story," and the assistant will tell you her best ghost stories.
Halloween music
While you can curate your own awesome playlist of Halloween music, if you don't manage to find the time between decorating your house and putting the final touches on that killer costume of yours, never fear – Alexa has an awesome Halloween soundtrack of her own ready to go.
Just say, "Alexa, open Halloween music," to start the holiday tunes.
While these are just some of our favorite features, keep your guard up – Alexa may have some spooky surprises of her own come Halloween night, like this unexpected response that reveals the smart assistant's hidden mischievous streak.