Sure, pre-orders have begun for the iPhone 8 and iPhone X, but they're not going to be delivered until who knows when and we need something to do now.
Fortunately, the kind folks over at Apple have already anticipated this need and released the new iOS11 upgrade last month that can take your iPhone – and more importantly, iPad – to the next level.
Nota bene: while the iPhone X will ship with the operating system pre-installed, the rest of us are going to have to upgrade the old-fashioned way.
So, what does the new iOS 11 holds in store for Apple users? Well, as far as the reviews have gone, it's a mixed bag. While the OS holds a lot of promise, it also holds some bugs, which have plagued users as Apple scrambles to patch things up.
There's a veritable laundry list of features, so we'll do our best to list as many as we can, starting with our favorites. We'll also list some of the more prevalent glitches and what you can do to fix them.
The good:
Screen recording
Screenshots? Is that something your grandparents had when they were young? IOS 11 goes full-on Harry Potter with screen recording. You can record the actions performed on your screen, and even narrate along with the video. Save, edit, and share as you would any other video. This should come in really handy when you're trying to explain to your folks how to use all the new iOS 11 features.
New app dock
Multitasking is even easier with the new app management tool, which comes in especially handy for iPad users. Sliding up from the bottom of the screen will pull up the app dock, from which you can open and use another app simultaneously via Slide Over mode.
You can also force close apps, split the screen, between two active apps, and even hide your slide over panels temporarily if you're reading an article such as this one, for example. CNET has a great post about all the possibilities here.
Siri is new and improved
An updated assistant means smoother and sharper conversations (and less awkward pauses after Siri commits an unintentional faux pas).
But in addition to the facelift, Apple is really upping the accuracy factor. Multiple results and suggested follow-up questions will help you get the answers you need, while translation services will also help broaden your results. Siri will also be able to learn from your behaviors and help predict what you need based on what you're currently browsing along with past searches.
Apple Pay is the new Venmo
This super-convenient feature will open up Apple Pay to so many more uses. You can now send funds to friends simply through an iMessage, and you can authenticate your payments just by using your fingerprint. The new Apple Pay will be available to make bank transfers and to buy things online and will be usable on all iOS devices.
New file management system
This was a long time coming – now you can sync all your iCloud files across your different devices. And even third-party storage apps work with the new system, so you'll be able to manage, share, edit, and so forth, all of your files no matter where you saved them.
Apple is also making the system very easy to use. Whether it's the ability to open and edit files, or the new cloud icon which indicates which files are already downloaded onto your device, it has never been easier to organize, share, and access your files.
But wait, there's more
There are bucket loads of more features in the new iOS 11, such as a safe driving mode that limits notifications while you're in the car, an improved Control Center, better video compression to improve both the quantity and quality of your photos and videos, and indoor Maps with floor plans to help you find your way around the airport or mall.
The bad:
There has been an array of complaints ranging from poor battery life, to inhibited touchscreen response from some users of iPhone 7 and older. Very few owners of iPhone 8 seem to be suffering these problems, which some would say is to be expected.
This doesn't mean that most users will have a negative experience if they make the upgrade, but, as is the case in many new OS versions, there is a significant number of users who suffer small to large issues after making the jump.
The solutions:
Before you begin the upgrade, back up all the files you want to keep – apps, photos, recordings, etc., just in case there's a hitch in the install. They usually transition over just fine, but some users have reported some missing files.
Once you've upgraded, things might seem a little off for a while – but, as AppleInsider says, in this case time may be on your side. It often takes a few days or more for the hardware to deal with background tasks and reindexing.
Other easy fixes include restarting the device, which often helps clear up any glitchiness, and resetting all settings. This can be done by going to General > Reset > Reset All Settings.
AppleToolbox has an incredibly comprehensive list of problems and fixes, and for more nuanced issues, it can serve as a really good resource.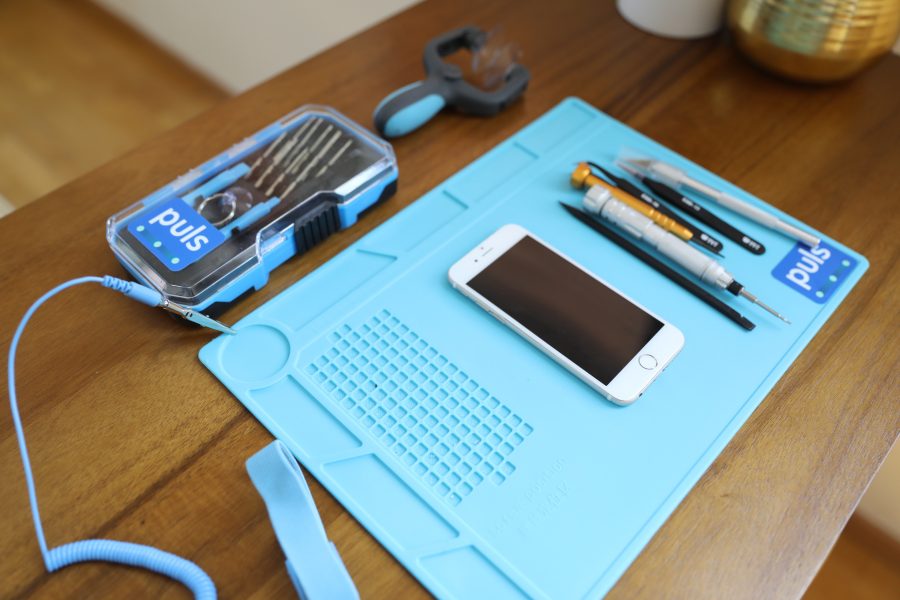 Poor battery life:
This is one of the most common issues after installing iOS 11, and hasn't changed much with subsequent bug fixes.
One possible solution could be to check your Background App Refresh settings. Even if you had the setting turned off for most apps, it seems that sometimes they all get defaulted back on for whatever reason, and this can drain your battery faster than you can say, 'Does anyone here have a spare charger?'
Go to General > Background App Refresh > toggle off any apps that you don't think are necessary to have constantly running in the background.
Battery replacement:
If it's been a while since you've replaced your battery, or if you saw signs of battery aging before you made the upgrade to iOS11, you might consider springing for a new battery instead of worrying about upgrading to a whole new device.
Puls offers simple, no-hassle phone repair where the technician comes to you. Simply choose the time and place you want your battery replaced, and you'll have same-day results at an unbeatable price.