We believe that garage door repair should be straightforward: The customer should know exactly what type of repair is necessary, and garage door pricing transparency should be a given – not something out of the ordinary.
Unfortunately, with some of the leading companies who provide garage door repair, that isn't always the case. That's why we make our garage door prices clear.
Because our garage door repair prices are at or below the national average, you won't get any surprises from your Puls technician. No jargon, no bait-and-switch. Just an upfront picture of what needs to be done, and how much it will cost.
Garage Door Inspection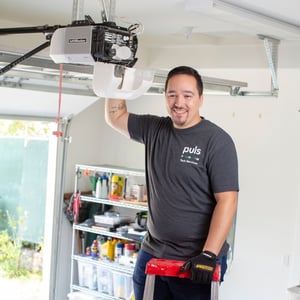 A 25-point inspection will help find the source of your problem, whether your garage door is stuck or simply making an unusual noise. During the inspection, your technician will check the batteries in your remote, fix your photo eye laser sensor, calibrate your remote as well as your limit switch, and make sure that your belt or chain is on sprocket.
Often times, quick fixes like the ones included in the 25-point inspection can take care of any issues your garage door might be having. Sometimes, a more in-depth repair might be necessary.
At Puls, our 25-point garage door inspection costs $39 and the fee is waived if you decide to do your repair with us.
Garage Door Spring Repair or Replacement
The torsion springs in your garage door really get put through the wringer – and that's why they're often the first thing to go. If your garage door isn't opening, there's a good possibility you might need spring repair – it's actually the number one issue that people report when calling for garage door repair.
A garage door spring replacement with Puls ranges from $170 to $340, depending on factors such as your garage's size and the extent of the overall damage.
New Garage Door Opener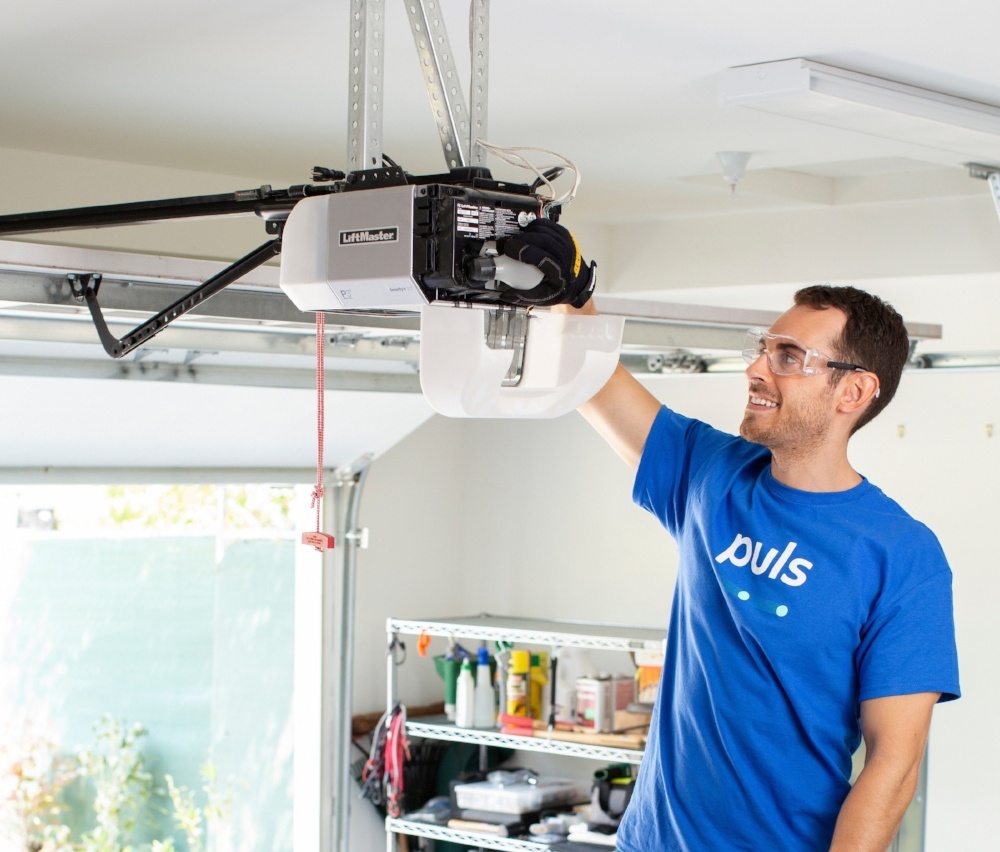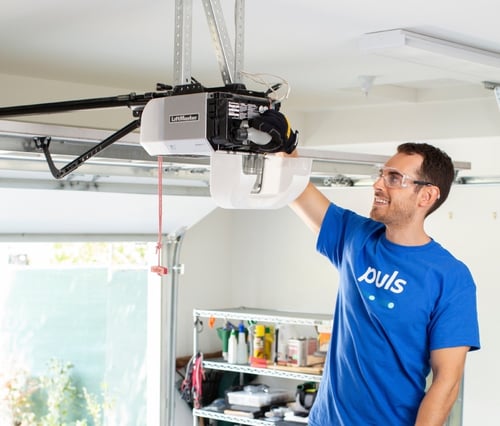 Need a new garage door opener installed? Puls specializes in both chain and belt-driven garage door opener installation, and can have yours ready to go on the same day you request it!
Chain-driven garage door openers are typically the more economical choice, while belt-driven openers are moderately priced and operate a bit more smoothly. Other garage repair companies charge up to $650 for some belt-driven openers, the cost of installation with a Puls technician ranges from $330 up to $450.
Garage Door Remote Repair/Programming
It's always worrisome if your garage door isn't opening or closing properly – but it might not be as bad as you think. Before concluding that you need a whole new garage door opener, ask a Puls technician to have a look at your garage door remote.
If you've determined that you're within range and your remote still doesn't work, it may need reprogramming, or could have low battery or faulty wiring. An appointment with your Puls technician to program, fix, or replace your garage door remote starts at just $45 and can go up to $200 including all the necessary parts and labor.
Garage Door Off Track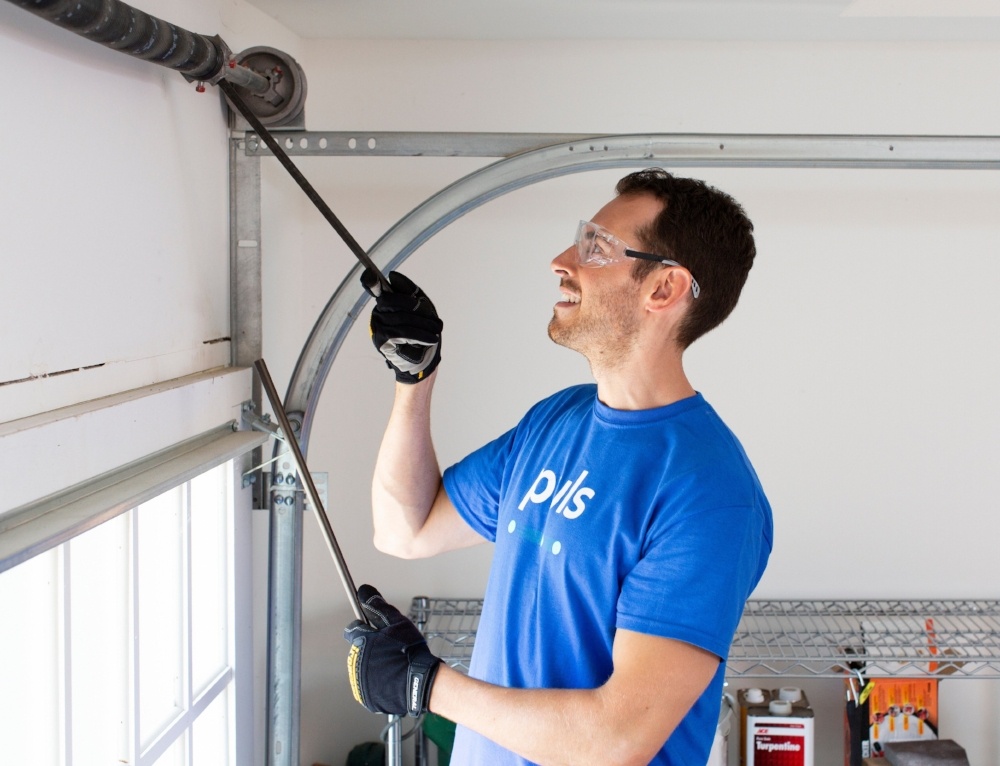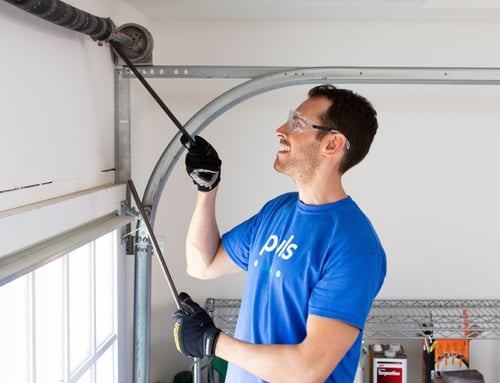 It's not uncommon for garage doors to go off-track – either on their own, or if the track is bent out of shape. While a leading home repair website says the cost of getting that garage door back on track is usually around $125 to $150, our repair starts at just $65. For a roller replacement, we charge from $110 to $120, and a cable replacement with Puls starts at just $90.
Our Garage Door Prices Can Match or Beat the Rest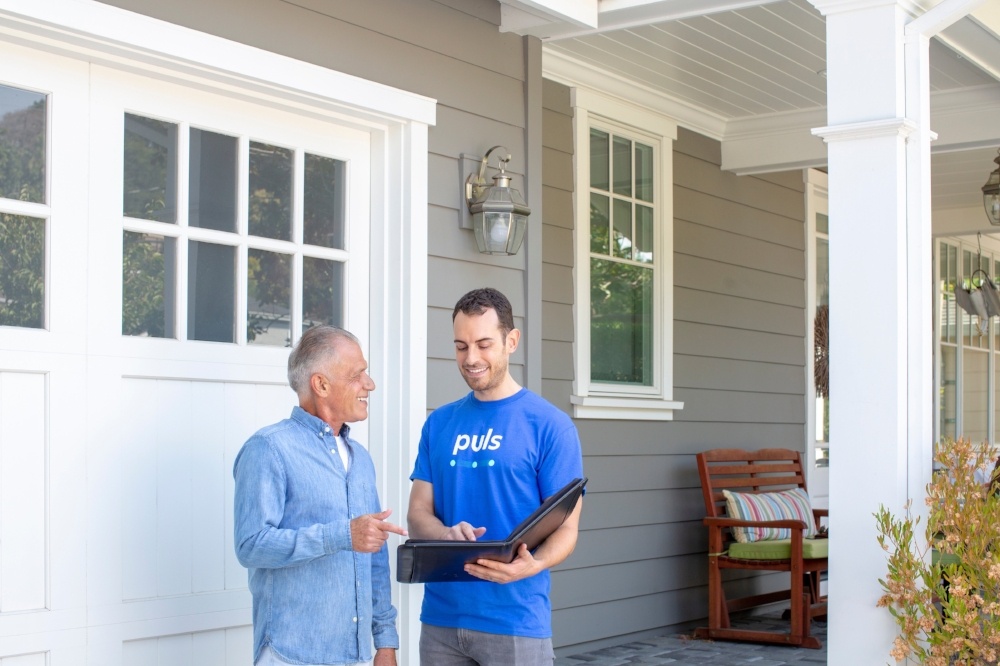 We're confident that our garage door prices are extremely competitive – and we're happy to show you that upfront.
And not only are our prices the best – so is our service! It's super simple to book an appointment online, and a Puls technician can be with you on the same day. Our highly-vetted technicians are as knowledgeable as they are courteous, and will walk you through everything you need to know about your garage door repair.
While your technician will be able to give you an exact price after they perform your garage door inspection, you can check our price range before you schedule an appointment, and compare it to the national average. We're confident that with our garage door pricing transparency, the numbers speak for themselves.