We've all become accustomed to the conveniences our home appliances provide to free up our time from doing tedious chores around the house. Since the invention and now common use of the automatic dishwasher, dishpan hands are a thing of the past.
Just imagine having all your friends and family over for a holiday dinner; you've loaded your handy, dandy dishwasher to the brim with the usual collection of dirty glass, plates, flatware, and serving dishes. You press "start" and nothing happens.
Panic sets in pretty quick. From the first "oh no" moment when you realize you'll have to wash all those dishes by hand and then the worry about how much the repair is going to cost, your life will be in chaos until you find out what's wrong.
So, let's find out just how much it will cost to repair the most common problems with a dishwasher. That way, you can decide the best course of action at the best price.
Average Price for a Dishwasher Repair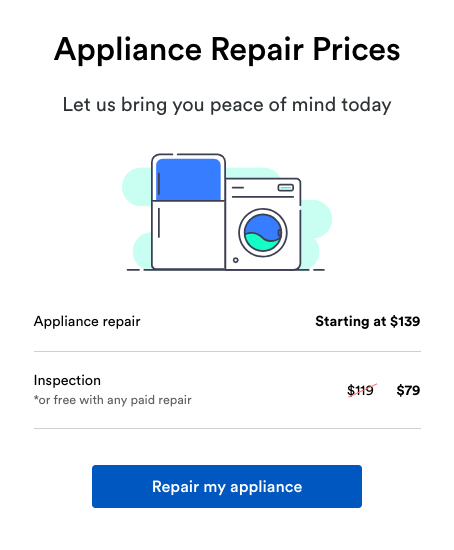 According to HomeAdvisor, the average price for a dishwasher repair can run anywhere between $50 to $350, depending on whether there is a trip fee or if the company charges by the hour, and of course the cost of parts. It also makes a difference where you live and where the repair service is located.

Some dishwasher issues can be remedied more easily than others. We've identified some of the common dishwasher problems in our how-to blog posts, including when your dishwasher is not cleaning properly or if your dishwasher is overflowing, leaking or not draining to help you figure out what's wrong and save money on the repair.
Of course, if you're ever unsure or feel as if you're in over your head, it's a good idea to consult with a professional repair service.
Dishwasher Repair vs. Replacement
As you might imagine, repairing your dishwasher will likely be significantly less expensive than replacing it with a new model. According to expert reviewer Consumer Reports, basic models can cost $500 while top-of-the-line machines with all the bells and whistles can cost $1,000 or more. Of course, there may be instances when your dishwasher has cleaned its last dish, but if it's got a little life left, we highly recommend you let an expert help you out.

Puls - Your Dishwasher Repair Expert
No matter what type of problem your dishwasher is experiencing - a leak, not draining, or it's overflowing, Puls has got you covered.

Our low $79 in-home estimate and repair prices starting at just $139 are competitive with anyone. Our skilled technicians can troubleshoot your dishwasher problem, diagnose the issue, and quickly complete the repair to get you back up and running. We make repairs easy—the inspection is free if you have Puls do the recommended repair.
All our technicians are capable of repairing any make or model of dishwasher. We only use OEM parts to ensure your machine works as good as new. Puls even stands behind our repairs with a 90-day guarantee. You can trust that your repair will be covered even if something else goes wrong.
At Puls, we take pride in providing the most convenient repair service. Our technicians are available every day, including weekends, evenings and holidays, to meet your busy schedule. Book an appointment online and we can even be there the same day so you won't have to wait another day for your dishwasher to get fixed.
Want to save even more? For a limited time, enter the code SAVE20 when you book online and save $20 off your repair. What could be easier? Call or click today to get your dishwasher working again so you don't have to.