Mounting your television gives you additional space in the living room, keeps electronic equipment out of the reach of kids and pets, and, best of all, makes your living area look sleek and modern. If you plan on mounting your flat screen television, there are a few different types of mounting systems to choose from, such as a fixed mount, tilt mount, swivel mount, mantel mount, and even a ceiling mount.
Of all these types of TV mounts, however, the 90 degree swivel TV mount is among the most versatile because, as the name says, it allows for a full swivel of motion on the mount while the mount stays fixed on the wall.
A TV wall mount with 90-degree swivel is not only a good solution for awkward corners and open spaces (like a loft or an open concept living living/kitchen), but it is also a plus for when you need to be able to change the way the television is facing. This is helpful for when the sun is peeking through your living space and you can't see the screen or when you are throwing a party and need to rearrange the furniture to accommodate more people.
Thinking about purchasing a 90-degree swivel TV mount? Here are some of our recommendations for the best brands and models for your television.
Best Overall 90 Degree Swivel TV Wall Mount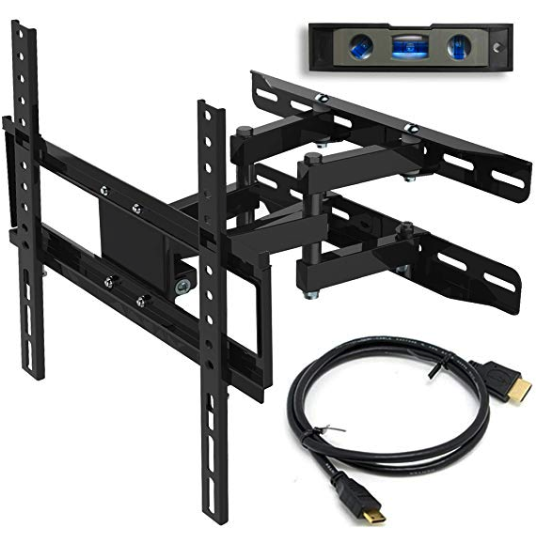 Image courtesy of Amazon
The Everstone TV Wall Mount can fit most 26"–60" televisions and is the no. 5 best-selling television mount on Amazon—and for good reason. Priced at only $25, this bargain of a TV mount can hold up to 88 pounds, has a full motion swivel, and can tilt up 3 degrees and down 15. The mount has dual arms, which means that your television will be nice and sturdy once it's up on the wall.
The Everstone TV wall mount can be installed in three easy steps, and it even comes with a bonus HDMI cable, so you don't have to make a separate trip to the electronic store.
Best 90 Degree Swivel Mount for 65+ Inch TVs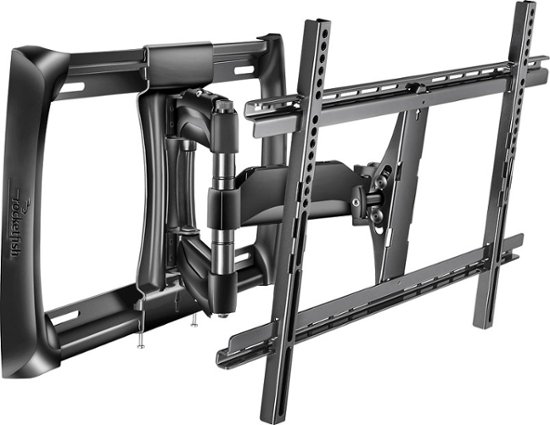 Image courtesy of Best Buy
If you need a swivel mount for a larger television (anything 65 inches and above), you can't go wrong with the Rocketfish Full Motion TV Wall Mount. This product will fit most 40"-75" televisions and can hold up to 100 pounds. The mount brags about its "smooth, fingertip adjustments" and even has a built-in cable management system to make it look nice and neat once you've hung everything up.
The price for the Rocketfish Full Motion TV Wall Mount isn't cheap (it costs a cool $200), but spending the money on a good mounting system is well worth it for an especially large television that weighs a lot. Buying a mount that isn't specifically designed for a heavier television will cause stress on your wall—and could potentially cause your television set to crash to the ground in the middle of the night.
The Easiest 90 Degree Swivel TV Mount to Install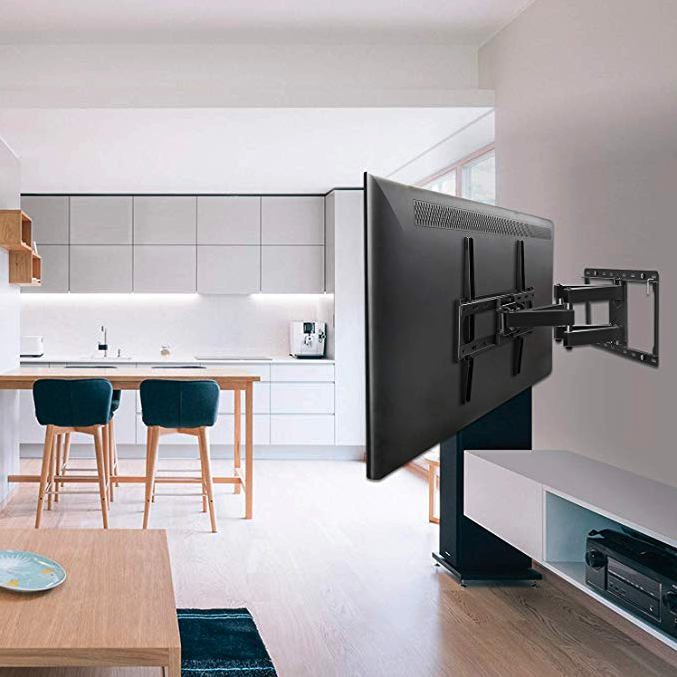 Image courtesy of Amazon
You can have the best product in the world, but if it's difficult to install, it may not be the best brand or model for you. If you find yourself struggling with even the simple IKEA cartoon instructions, then you'll want a swivel TV mount that you can easily install yourself in an afternoon.
The Mounting Dream TV Wall Mounts for 32"-55" televisions can hold up to 99 pounds, tilt up 5 degrees and down 15 as well as swivel fully to the left or right. Best of all, it has one of the easiest installation processes, with the hardware stored in pre-labeled bags and a paper template to take the guesswork out of measuring.
The list price for the Mounting Dream TV Wall Mount is around $48, which is a steal considering how much weight it can hold and how much movement it allows.
Need Help Installing a TV Mount? Puls Can Help You Out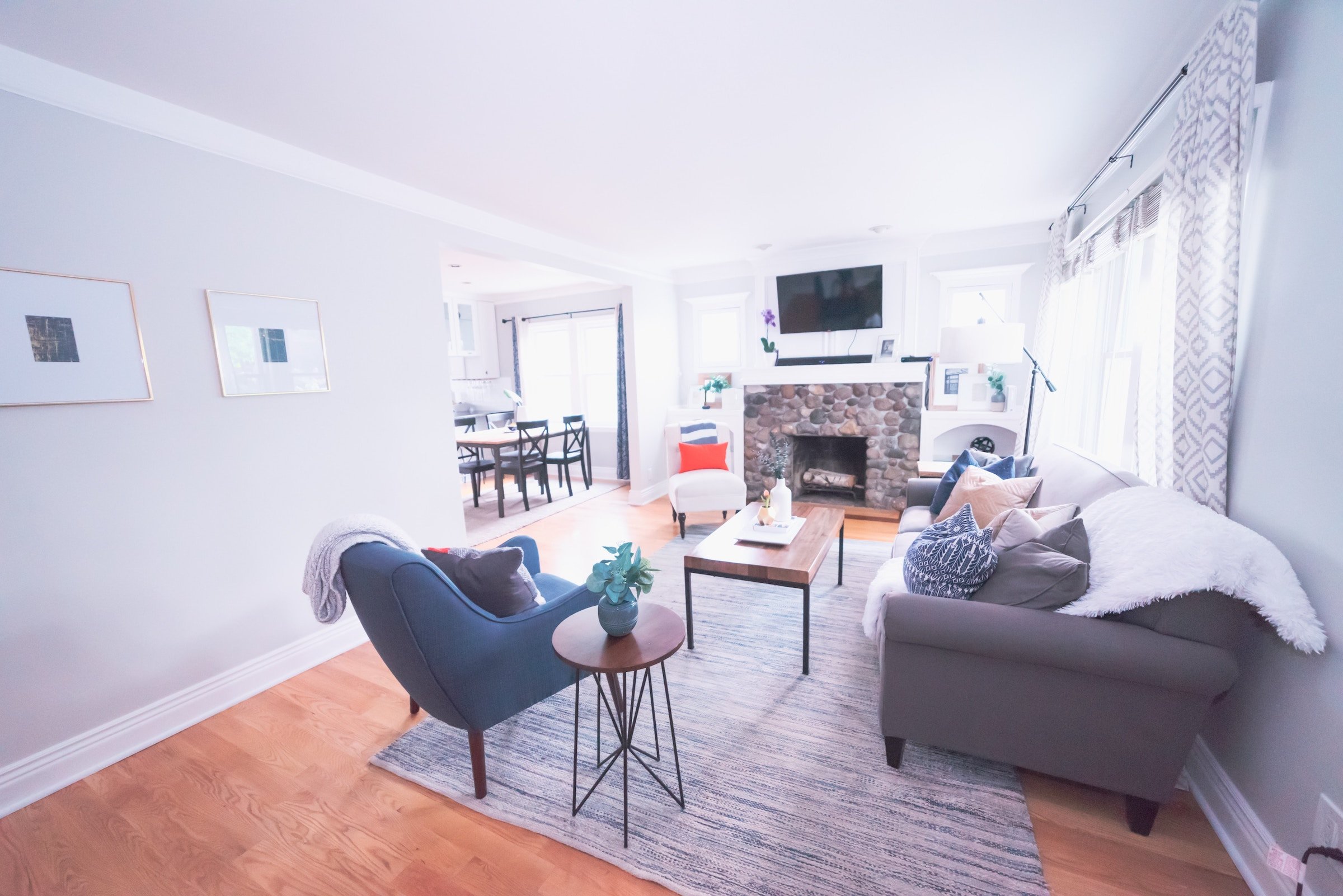 Photo by Andrew Barrowman on Unsplash
If the idea of mounting a 60-pound television up on the wall scares you a bit—don't worry, because you're not alone. Let Puls do the heavy lifting for you with our TV mounting services.
Out TV mounting services are easy to book online, and we'll arrive at the best time for your schedule, often even within the same day you make the appointment. All you need to do is select your television size, pick the day and time we should arrive, and wait for your technician to show up and get the job done.