Good question! If you're curious about the average TV mounting price and how much you should be paying to have your television mounted and installed, the answer isn't always so cut and dry.
That's because the final TV installation price can depend on a variety of different factors – including how large your TV is, where you want to hang it, what kind of mount you'd like to use, and which extra services you'd like to add on.
Puls makes it easy to see your TV mounting price for yourself before you pay anything – just check out our handy pricing guide below. We outline the basic TV installation price, extras and other services offered, and even how much "the other guys" charge. (Spoiler alert: no one beats our price or quality.)

Use coupon code "TAKE10" to get 10% OFF!
Basic TV mounting cost

Let's start simple – how much does it cost to get that sucker up on the wall? With Puls, any television up to 60" has a flat rate of $89. TVs between 61" to 80" cost $139 to mount, and over 81" costs $149.
We can install televisions on wood, drywall, concrete, and more, all included within that basic price. We also can mount a television above a fireplace – something our competitors can't do. The extra cost? None – mounting a television over a fireplace is free with our basic installation service.

Use coupon code "TAKE10" to get 10% OFF!
TV mounting bracket prices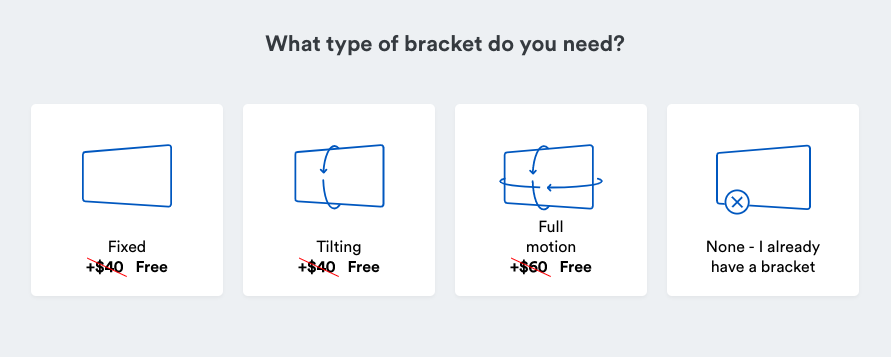 When mounting a TV, you'll need a bracket that holds your TV to the wall. It not only needs to fit your TV and be able to hold its weight, but also should present your TV at a proper angle for viewing.
There are a few types of brackets and each type has a different cost. Typically, a fixed bracket can cost $30-$60, depending on the size and style. A tilting bracket can cost $40-$80, and a full-motion bracket can cost $60-$120. If you'd like to provide your own TV bracket, click here for a list of some of the best TV mounts for your money.
Normally, to make things as easy for you as possible, we can bring any of these kinds of brackets to you for an added $40-60 as part of your appointment. You can choose from fixed, tilting, or full motion brackets.
In contrast, other companies can sometimes charge up to $129 without including the bracket.
For an additional $89, Puls can even mount a TV on a brick wall. How's that for versatility?
TV mounting extras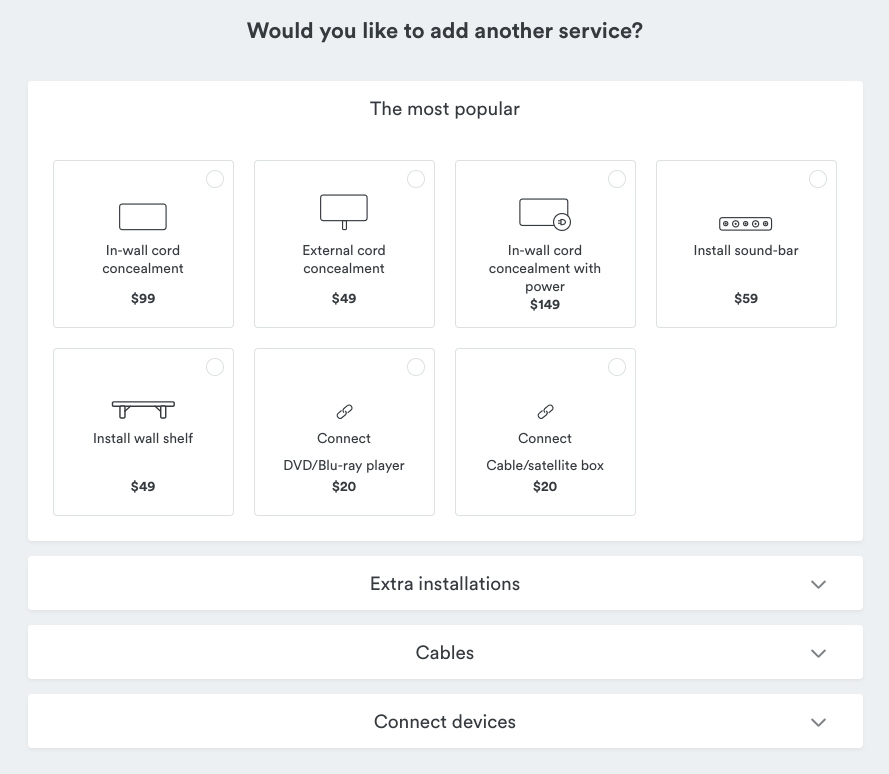 Our technicians all specialize in providing you with the full spectrum of TV installation options – including cord concealment, installing the sound system, and even setting up your remote.
We provide external cord concealment for $49 and internal cord concealment for $99, can install a sound bar for $59, and will set up your surround sound system for $59 if you have three speakers, or $99 if you have more than three. We can even install wall shelves for just $49.
And don't worry about setting up your cable box and DVD or Blu-ray player, or struggling to program your remote – it costs just $20 to set up a device. We can also bring you an HDMI cord for just $20, so you won't have to order one from somewhere else.
Our technicians are incredibly knowledgeable and can install Apple TV, Roku, Xbox, DVD and Blu-ray players, cable boxes and satellite TV boxes, among other things. If you don't see your device listed here, just ask!
The Puls guarantee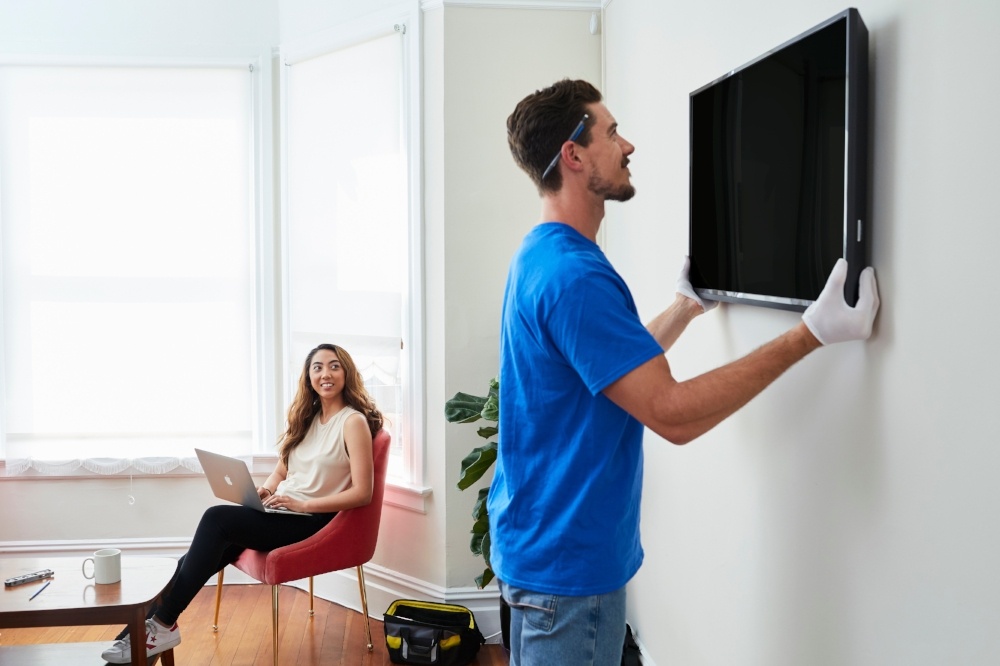 Other companies charge $199 for a one-year tech support membership to help fix any problems with their handiwork or those unexpected tech difficulties. But at Puls, we don't charge for the 90-day guarantee we provide on all parts and labor. You can click here to learn more about why we offer the best TV mounting service around, and what sets us apart from our competitors.
Between our prices, guarantee, and convenience, Puls TV mounting service just can't be beat. Our technicians are often available to install your TV within the same day, and ordering our service is as easy as a few clicks of the mouse.
Interested in our other services? We offer upfront information on all the services we offer, from garage door repair prices to appliance repair - you can find information on all of our prices here.
Book a service online with our skilled installation professionals to have someone install your TV within the same day.