Thinking about mounting your TV on a brick fireplace? There's no way around it – most experts say that mounting a TV on brick fireplaces can be tricky. Nevertheless, that empty stretch above the fireplace seems to be one of the most popular spots to stick a television these days.
There's always the possibility that there's simply nowhere else to hang it – if a room is all windows and doorways, and has power and cable outlets beckoning seductively to put your television next to them, we can certain understand the appeal. Below are a few tips to keep in mind while mounting a TV on a brick fireplace.
And remember, if you're neither handy nor an expert on mounting TVs to brick, don't fret! Book a TV mounting service with Puls, and let our technicians tackle the process for you. We offer a wide variety of around-the-clock, at-your-door TV installation services, so you can enjoy your mounted TV without the necessary labor.
Use coupon code "TAKE10" to get 10% OFF!
Back It Up
You might have sat in the front row at the movies back when you were a kid, but odds are the novelty has worn off as an adult and you pay more attention to the crick you have in your neck by the time the movie's over. Don't make the same mistake with your television, which you'll most likely be watching significantly more often.
The thing about mounting your TV over the fireplace is that it's much higher than you'd naturally have wanted to put it. You can make up for the angle by putting your couch at a distance so you don't have to crane your neck. And if your TV is big enough, you won't mind a bit.
Use coupon code "TAKE10" to get 10% OFF!
Don't Get LED Down
LED televisions are by far the most popular these days, which wouldn't mean much, except that their viewing angle is extremely limited. Why drop the big bucks on a brilliant display that you won't be able to appreciate? Instead of putting up with lifeless brights and dulled blacks, consider getting a mount that will angle downwards so you can view your TV in all its beauty.
Or, if you haven't purchased it yet, consider nipping the problem in the bud and going for an OLED, which has considerably more viewing angles.
Cool It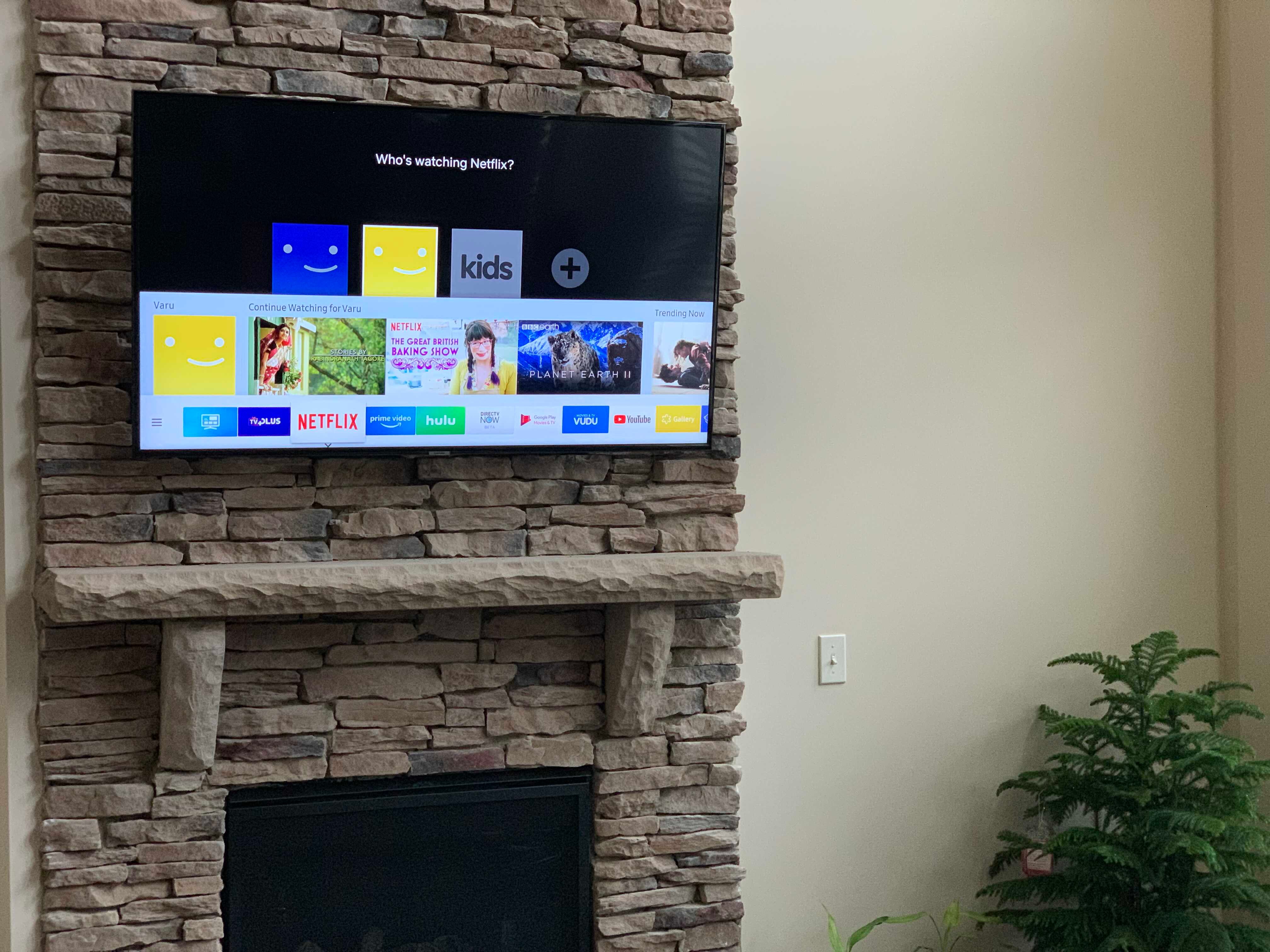 You know what goes in a fireplace, right? Fire. And for a whole host of reasons, fire and electronics don't mix. So if you plan on mounting a TV on a brick fireplace, think ahead.
If you don't use the fireplace much or at all, then you're in the clear. But if you do use it, bear in mind that heat rises – bringing soot with it. And even with a fully open flue, it gets hot above that thing. This means that the components in your TV are going to take a beating, aging them much faster than their long-lasting natural wear and tear can handle.
Likewise, the soot will get inside and coat everything, thus also shortening your TV's lifespan. The flip side is, do you even care? You'll still get a good run out of it, and you'll probably want to get a new model before this one conks out on you anyhow.
For TV Mounting Above Fireplaces, Count on Puls
You're handy, we know. But TV mounting on a brick fireplace isn't simple. Mortar tends to deteriorate, but if you try to drill into the brick itself it's easy to crumble. So what's the best solution? Leave it to Puls! If you're dead-set on mounting a TV on a brick fireplace, it's a good idea to call an expert.
You're going to need more than your basic masonry bits, which will dull quickly, and the consensus is that a hammer drill is best for the job. So if you don't have the gear, you can save time by having a Puls professional come out and do the job for you – plus you don't have to stand around Home Depot trying to one-up the sales guy with your "expertise."
Book a TV mounting appointment with Puls for fast, convenient installation anytime. Better yet, to get 5% off your first service with us, sign up on our page here.