It might be tempting to just slap a couple of coats of paint on your home's exterior and call it a day. But, like rolling off the couch and grabbing a stone cold slice of pizza from the box sitting out all night on the coffee table, there are some shortcuts we just don't take anymore.
A clean finish is essential for making sure the paint adheres properly, and undesirables such as mildew can wreak havoc on your paint job if left to do its damage from below.
Whether you'll soon be repainting or if you just want to clean up your existing exterior paint, there's no doubt that our tips for how to power wash a house will help take the pressure off.
Should You Use a Gas or Electric Pressure Washer?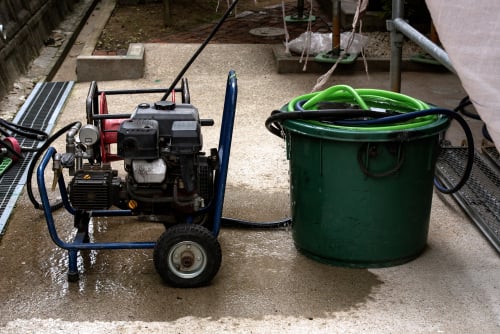 Before starting in on how to pressure wash a house, it's important to know what kind of gear you're dealing with. Pressure washers come in both gas and electric models, and each has their strong points.
Gas power washers are mobile – they don't require an electrical source – and they offer a wider variety of power settings than electric washers, making them more effective for pressure washing a house.
Electric power washers are quieter, and suited for indoor use due to their lack of emissions, though they offer less flexibility than gas-powered washers. It's not recommended to ever use a fuel-powered pressure washer indoors because of the carbon monoxide it emits.
When it comes to the best way to power wash a house, the most effective option is hands-down the gas washer, as it delivers the strength necessary to strip away the grime coating such a large area as a home's exterior. If your pressure washer is not strong enough, the grime will move around but not wash off your home's walls.
How to Gauge Power Output on Your Pressure Washer
You'll find that different pressure washers offer more or less power, measured in PSI – pounds per square inch – or GPM, which stands for gallons per minute. Each measurement is oriented towards output, but if you're looking for more power, a machine with a higher GPM can be more effective than a comparable machine with more PSI and lower GPM.
In general, it's best to use a strong mid-level residential (not commercial) washer. These range from 2700 PSI up to 4000 PSI, and can deliver up to 4 GPM. While the temptation to use a super commercial power washer may seem compelling, we recommend you avoid the overkill as it can blast unsightly divots in your home's exterior and cause domestic partners to wag a finger and say they told you so.
A Guide to Pressure Washer Nozzles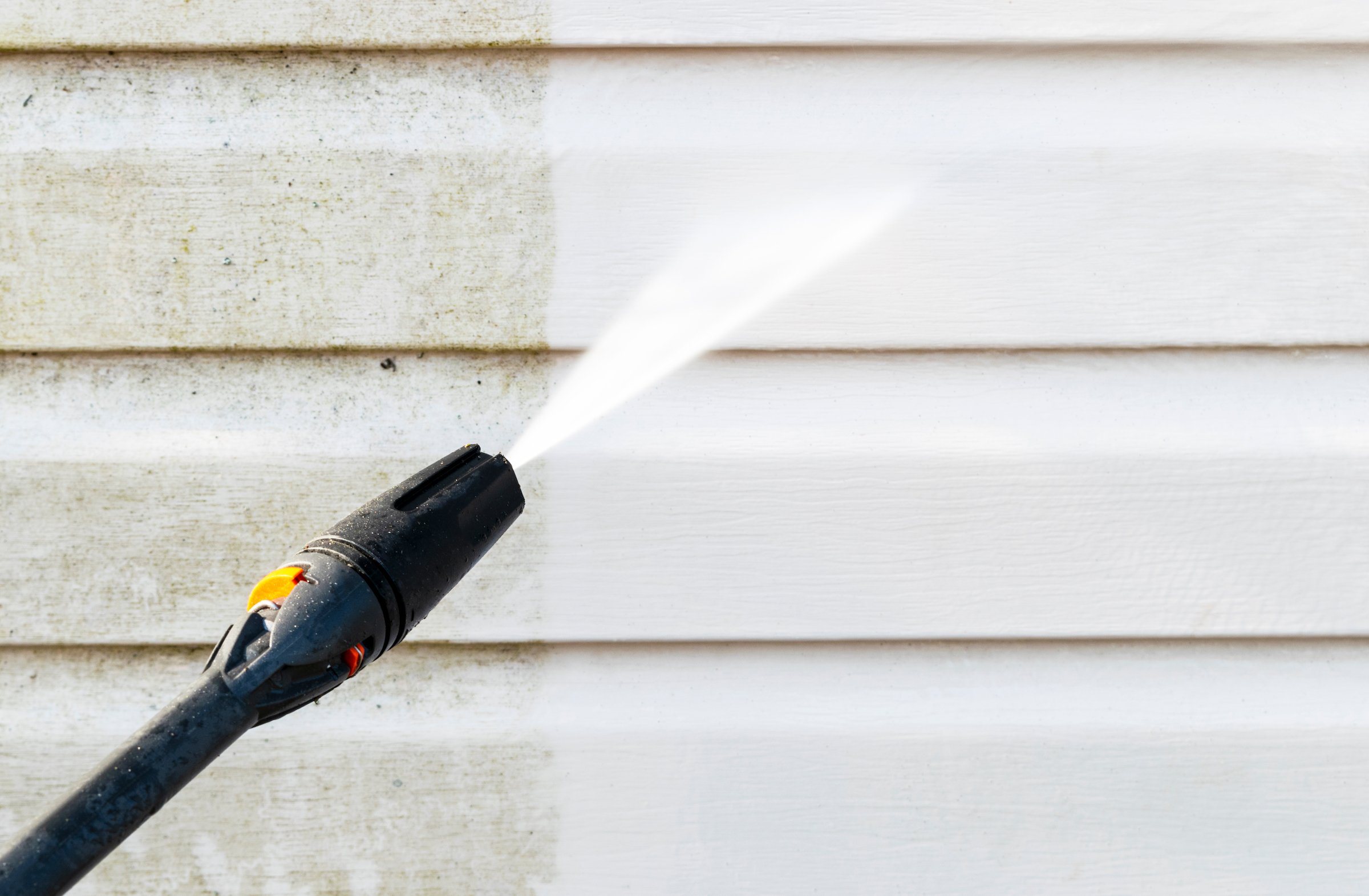 In addition to the power of the washer itself, your choice of nozzle will have a big impact on the water coming out of the machine – both in terms of strength as well as how wide the spray will be. As you've no doubt experienced with a garden hose at some point, the narrower the nozzle head, the stronger and more focused the spray will be.
Nozzles are often color-coded, with red being the zero-degree nozzle (not recommended for power washing a house except for specific tough spots, as it can easily cause damage to the home's finish and exterior), and black being the 65-degree nozzle on the other end of the spectrum.
For power washing a painted finish or siding, we recommend using a nozzle of 15 or 25 degrees – marked yellow or green, respectively – for a powerful stream that won't cause damage if used correctly.
Tips for Power Washing a House for the First Time
Now that you've selected the machine and nozzle that are best for your job, we can get to the tips on how to power wash a house if you've never done it before (or even if you already have).
Set aside most of a day for the task, as in addition to actually power washing a house you'll most likely also be transporting the power washing machine, setting it up, filling it with gas, cleaning up after the job, dismantling it, and returning it, unless you own your own pressure washer.

The pressure washing machine can easily weigh up to 75 pounds, so be prepared to lift the weight or have someone on hand who can. If you rent a power washing machine, make sure you have room enough in your vehicle to transport it.

Wear clothing that can get wet. It's pretty much inevitable that by the end of the job you'll be soaked.

Do not pressure wash

wood siding, any mortar that's crumbling, lead paint, and windows.
Safety Precautions When Power Washing a House
Always wear goggles when operating the pressure washer.

Never point the pressure washer nozzle at anyone, or attempt to use it to wash your hands or feet. It is not a toy, and can break skin with ease.

Rather than attempt to pressure wash the upper stories of your home from a ladder, it's a safer option to get a 6 or 12 foot extension wand. It takes a bit of practice and some forearm strength to operate it for extended periods of time, but before long you should have the hang of it.
How to Pressure Wash a House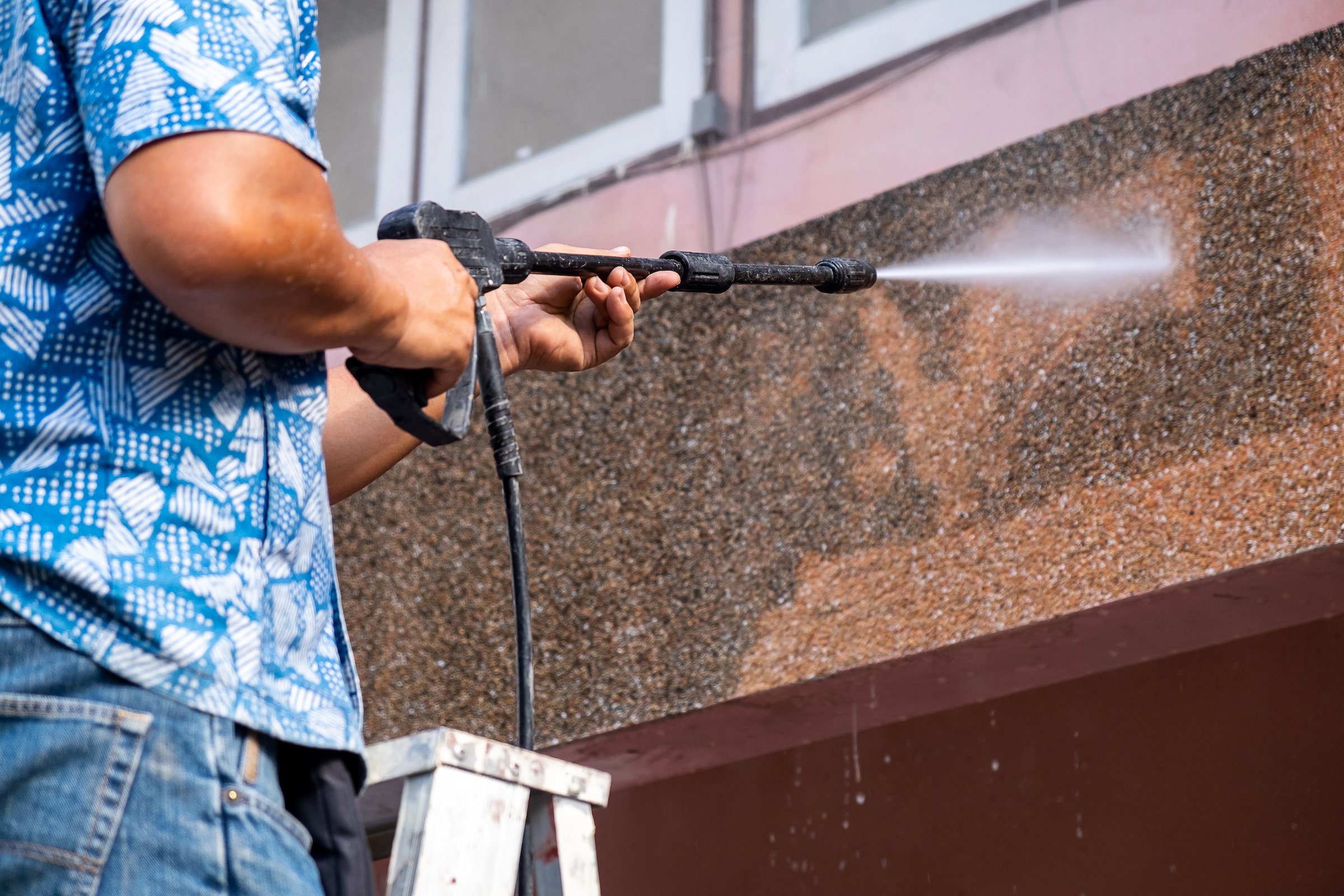 First, take a practice run at a low section of wall, moving the wand evenly from side to side, starting a couple of feet back and moving closer until you find the perfect distance.

When power washing, work from the top down so that any dirty water drips downward onto the sections that haven't been done yet.

As you control the spray, avoid pointing the nozzle at sensitive objects such as lights or windows. Make sure windows are closed and tightly sealed so that water does not come in.

Don't linger too long on one spot, or the power washer can gouge the wood or damage the siding.

A 15 or 25 degree nozzle is likely to strip away loose paint. If you're looking to clean your home's façade without repainting after, consider using a wider-angle nozzle.
Puls Can Take the Pressure Out of Pressure Washing
You can have a blast on your own while we do all the heavy lifting. Don't worry about hauling machines, getting soaking wet, or holding your arms up in the air all day – book your time slot with Puls and a qualified professional will arrive at your doorstep at the time that's convenient for you, often on the very same day.
We offer pressure washing services in a select markets, so check and see if you're in one of our service areas. We offer a 90 day guarantee for all services, so if we miss a spot or you need us to come back out, we've got you covered.