With so many tools at your disposal, it's now easier than ever to spook your friends and family with a haunted smart home this Halloween. Take advantage of smart lighting and sound effects to startle guests, program your smart home assistant to play silly tricks, and utilize smart plugs to set things in motion via your smartphone or tablet.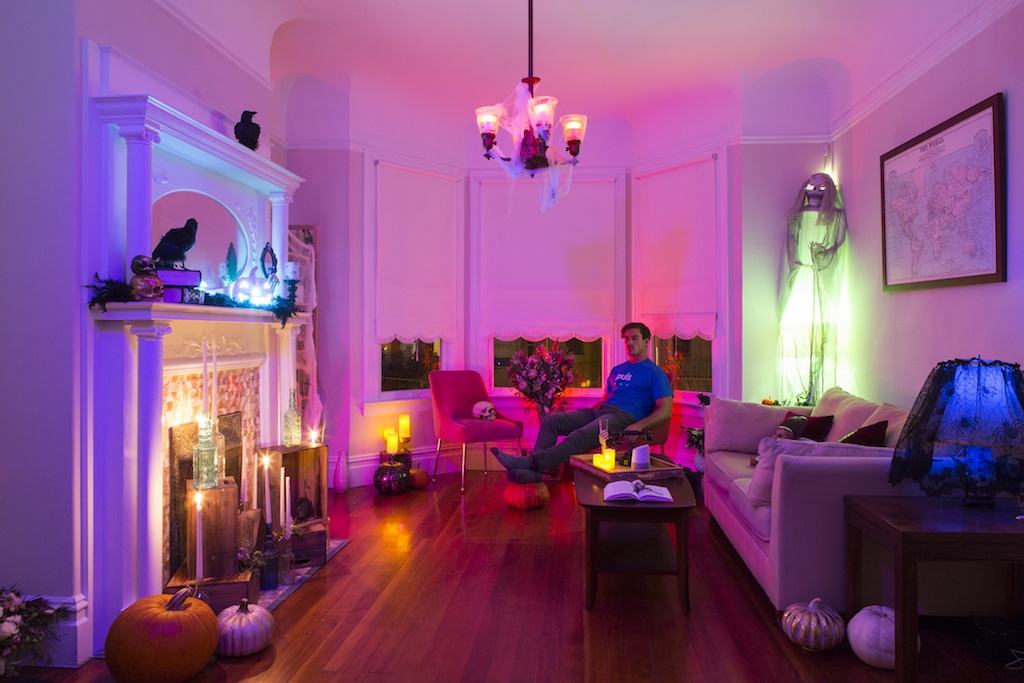 And, the best part of all – with all the help you get from your smart home scaring up a reaction from your nearest and dearest, you'll have plenty of time to sit back and enjoy the show when all of your hard work pays off!
Here are a few of our favorite ideas to help turn your space into the ultimate Halloween smart home.
Smart Sound Effects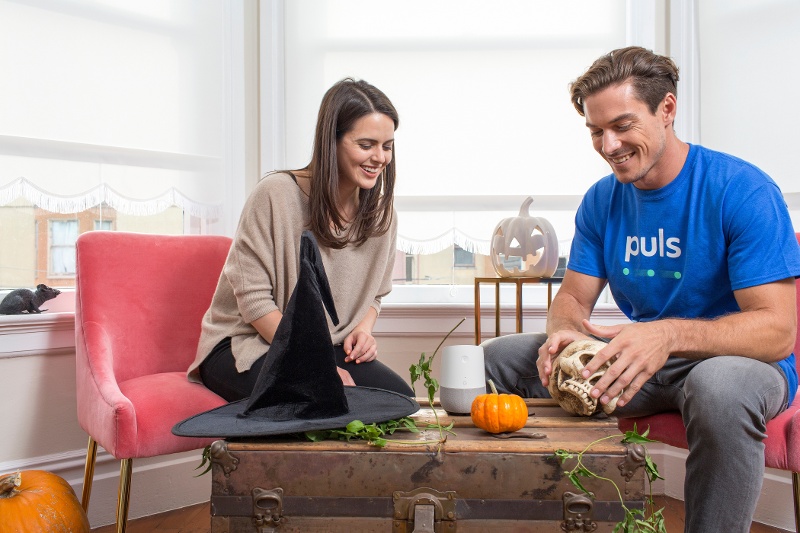 How can you play scary sound effects in your Halloween smart home? Let us count the ways!
Turn your guests ghostly pale with a mixture of creepy sounds and haunting music (we love this award-winning Halloween soundtrack by Cinema Braille), using the Google Home or Sonos Play smart speakers to play the scary soundtrack from a hidden corner.
Or, simply tuck a portable Bluetooth speaker indoors or out, and pair it with your smartphone to fire up the sound when an unsuspecting victim walks by.
We love using a smart speaker, because not only can you control the soundtrack with your voice or phone app, but you can also issue commands to your smart lighting setup, smart plugs, and any other smart devices, as well.
Google Home, Alexa or Samsung SmartThings can also be paired up with the Philips Hue lighting system, so you can sync up your smart lights with your Halloween soundtrack for a horrifying effect. Watch as the lights flicker with each scary footstep or creepy door squeak, and dim along with the rising and falling music.
Spooky Smart Lighting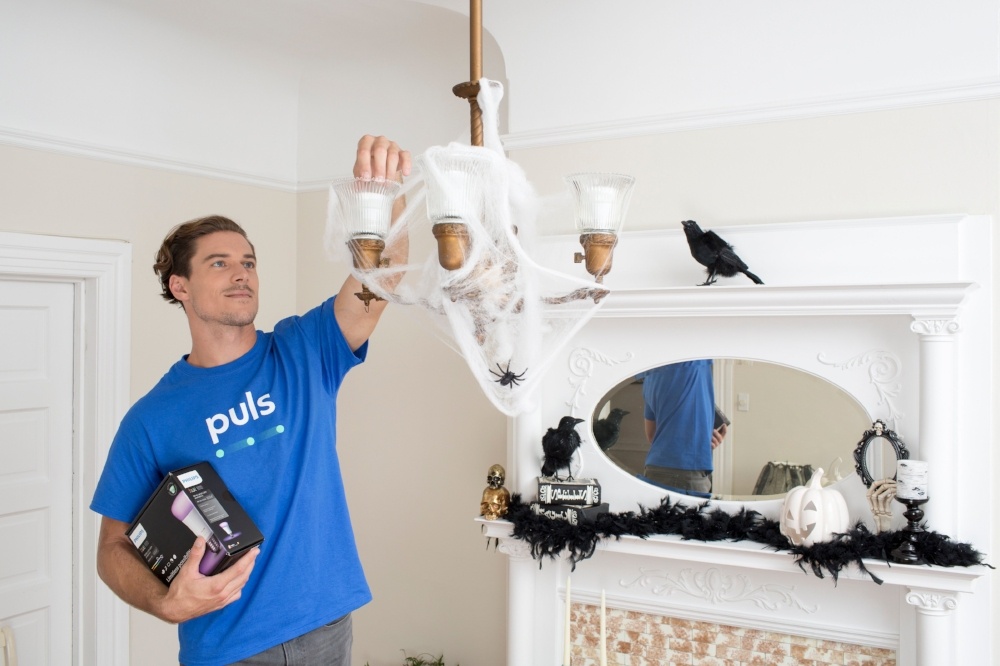 You can set the mood with spooky lighting virtually anywhere, thanks to the Philips Hue Go portable smart light. The Philips Hue Go can be plugged in for regular use, but where it really shines is in its versatility.
Unplug the Philips Hue Go and tuck it inside a jack-o-lantern, behind a shower curtain, or in any other area of your choice, and it'll give you up to three hours of rechargeable ambient lighting that will really put the scare in your guests.
These portable lamps pair with the rest of the Philips Hue smart lighting system, so you'll have them connected to your Philips Hue bridge via your WiFi connection. This means you'll be able to control the Philips Hue Go's virtually infinite array of creepy colors right from your smartphone or tablet, as well as sync it up with other Philips Hue lighting in your haunted smart home.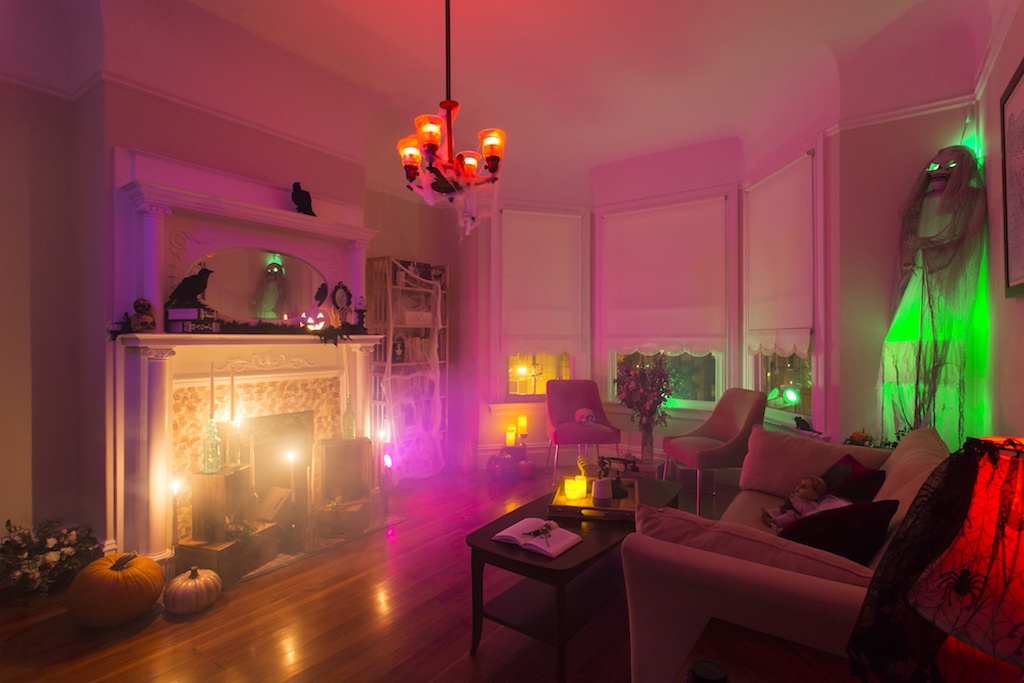 Of course your Philips Hue lighting setup can be installed in regular lighting fixtures already in your home. Simply screw in the A19 light bulbs from the Philips Hue starter kit, pair them with the hub, and you'll be able to control an array of scary settings through the Philips Hue app.
Paired with the Philips Hue dimmer or motion sensor, the scary surprises you can pull off are endless. Plus, the Philips Hue smart lighting system easily connects with your Amazon Alexa, Apple HomeKit, Google Assistant, as well as your Nest or Samsung SmartThings systems.
Smart safety this Halloween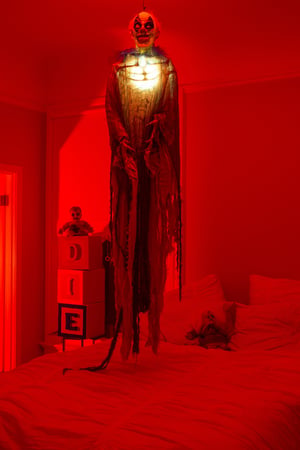 Keep an eye on trick-or-treaters, and make sure that this Halloween is safe (as well as fun), with an easily-installed Ring smart doorbell or Nest camera.
Halloween can give usthe jitters – but it's easy to avoid scary surprises when you've got an eye in the sky. With real-time streaming video to your smartphone,tablet, or even right to your television via your smart home hub, you can see who's at the door each time the bell rings, and even communicate with visitors via the two-way microphone.
Are vampires really real? Who's to say? But you can set your mind at ease when you check out what's going on outside your home – after all, could a real vampire be that adorable?
Puls is There for All Your Halloween Needs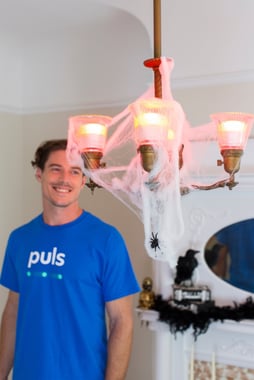 Whether it's by mounting your TV, installing smart devices or fixing your shattered phone on the fly, Puls is there to support and facilitate all your technological needs this Halloween. Our expert technicians will come to you in a flash - within the same day - so you can relax and enjoy the Halloween festivities without worry.
Book a smart home installation online anytime and let our technicians help you make the most of of your Halloween experience. Click here to get $10 off your first service with us.