Drywall is used in 96 percent of homes today, so there's a pretty good chance your walls and ceilings are made of this highly popular material. Unfortunately, it's quite susceptible to damage, so no matter how careful you are, there's a good chance you'll encounter some bumps and dents that will need to be repaired, especially if you've got kids and pets.
While the thought of doing drywall repairs yourself may seem daunting, handling minor damage can be fairly inexpensive and can generally be done in a couple of hours. More complicated repairs done by a handyman or contractor will be more expensive due to the labor-intensive nature of the job but can yield excellent results.
So, how can you decide who should do the job and if the drywall repair cost is fair? We've put together a guide to help you understand all the ins and outs of drywall repair costs, when you can DIY vs. hiring a pro, and how to find a good professional when you need one.
Types of Drywall Damage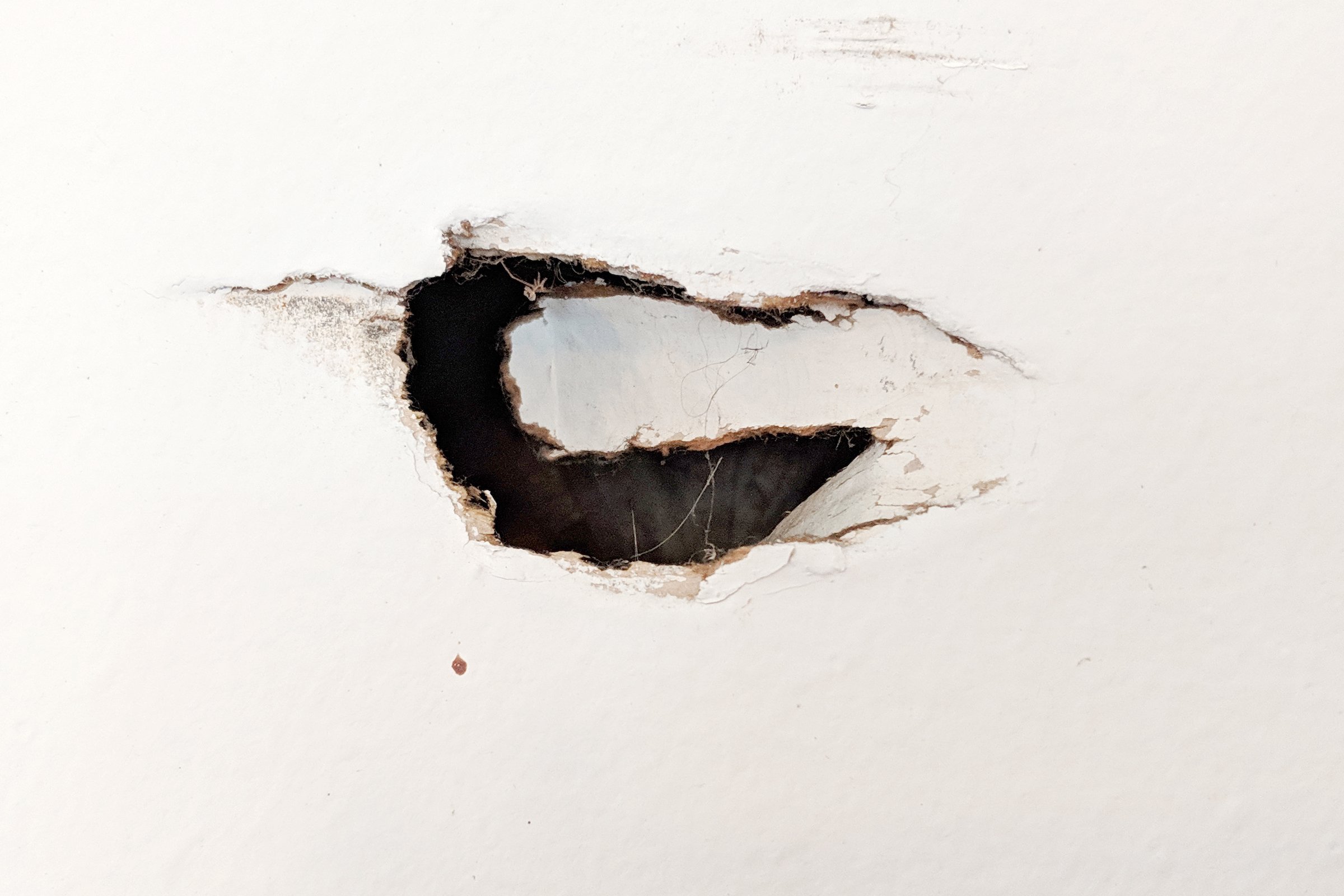 Drywall damage can occur from a variety of causes:
Small holes can be caused by a doorknob, accidents, rodents, nails, or picture hooks.
Large holes can be caused by moving furniture, sporting equipment, TV brackets, or accidents with heavy objects.
Nail pops due to house settling.
Stress cracks due to foundation settling, earthquakes, or structural issues.
Water damage and mold caused by leaky windows or roof, leaking pipes, or around bath fixtures.
Average Cost of Drywall Repair
So how much does drywall repair cost? The answer is dependent on the severity of the damage, accessibility and who does the work.
According to the home improvement experts at Fixr.com, homeowners on average spent between $200 and $280 for small drywall repairs in 2019. Minor repairs that can be done by a handyman will cost an average of $60 to $90 per hour, or a drywall repair cost per square foot of $0.40-$0.80 which amounts to about $30 per sheet.
Drywall Repairs You Can Do Yourself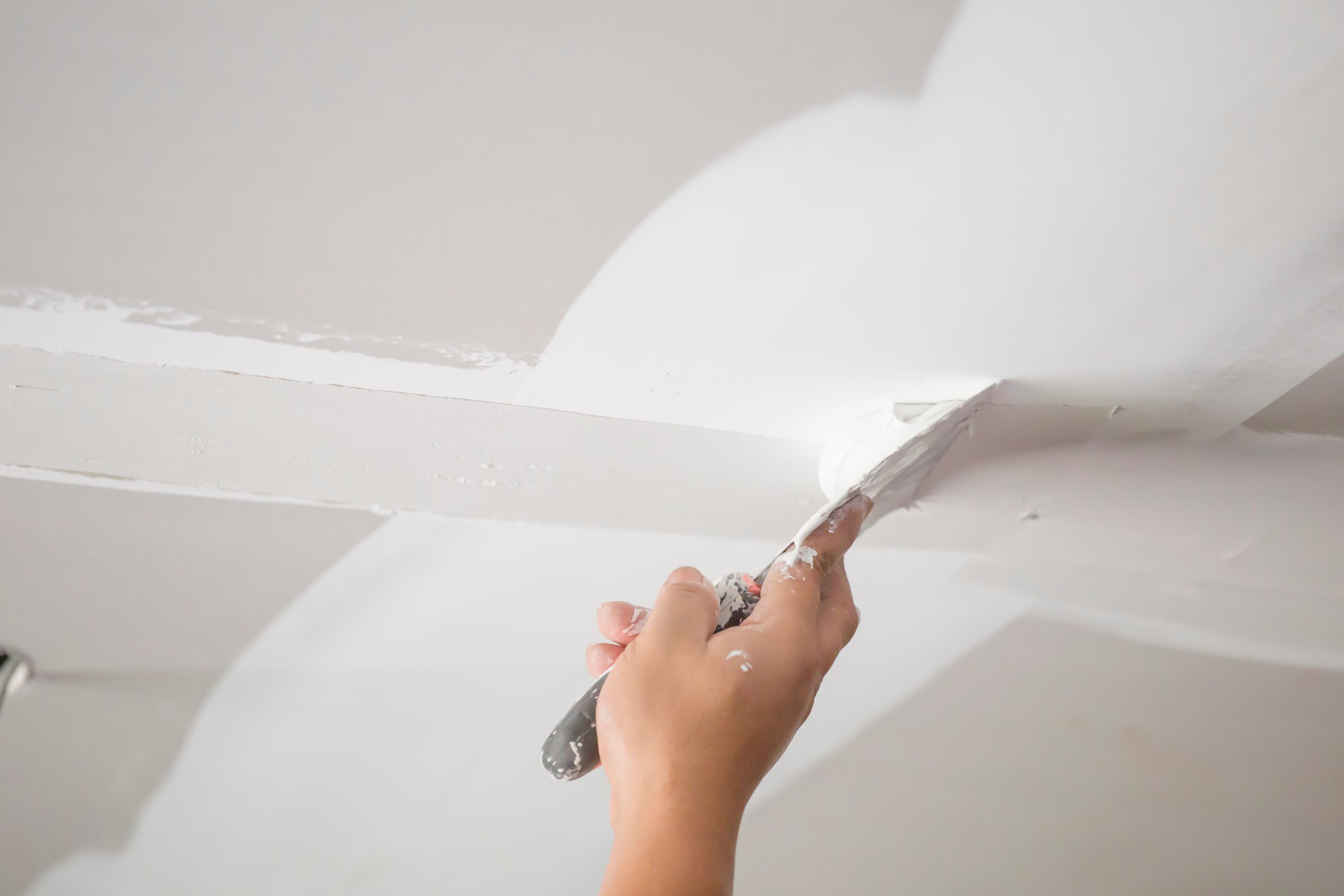 If you're handy, you should be able to tackle small holes, nail pops, chips, and stress cracks (less than 6-inches across) and it will only cost between $10 and $30 for basic supplies like drywall mud, sandpaper, and touch-up paint. A handyman can handle these types of repairs within a couple hours and it will cost you between $60 and $180.
Textures will add approximately $60 per hour to the cost and a professional painter needed to finish the job will run around $50 per hour including the paint.
How to Repair a Hole in Drywall Yourself
Fix a small hole by applying a drywall patch that's a little larger than the area you're repairing.
Apply drywall spackling compound over the patch with a putty knife and feather the edges.
Allow the mud to dry for 24 hours, wear a mask and safety goggles, and lightly sand until it's smooth.
Catch dust with a drop cloth and vacuum up drywall dust.
Repeat steps if necessary.
Apply touch-up paint to the repaired area.
How to Repair a Nail Pop Yourself
Nail pops will require that you hammer the nail back into the stud or replace it with a new drywall screw. It should be slightly recessed. Apply spackling compound to the dimple, smooth it out and allow to dry 24 hours before sanding. Repeat as necessary. Use this process for patching dings and dents also.
How to Repair Drywall Corners
Repair cracked or chipped corners using the same process for dings and dents unless severely damaged.
You may need to cut out the old corner bead with a metal-cutting saw, claw hammer, and metal snips. Nail in a new corner bead and apply 1-3 layers of joint compound, and blend into the surrounding wall. Let dry for 24 hours, sand and repeat until smooth. Apply paint to finish.
As with every home improvement project, please put safety first and don't attempt to complete tasks beyond your skill or comfort level.
Drywall Repairs to Bring in the Professionals for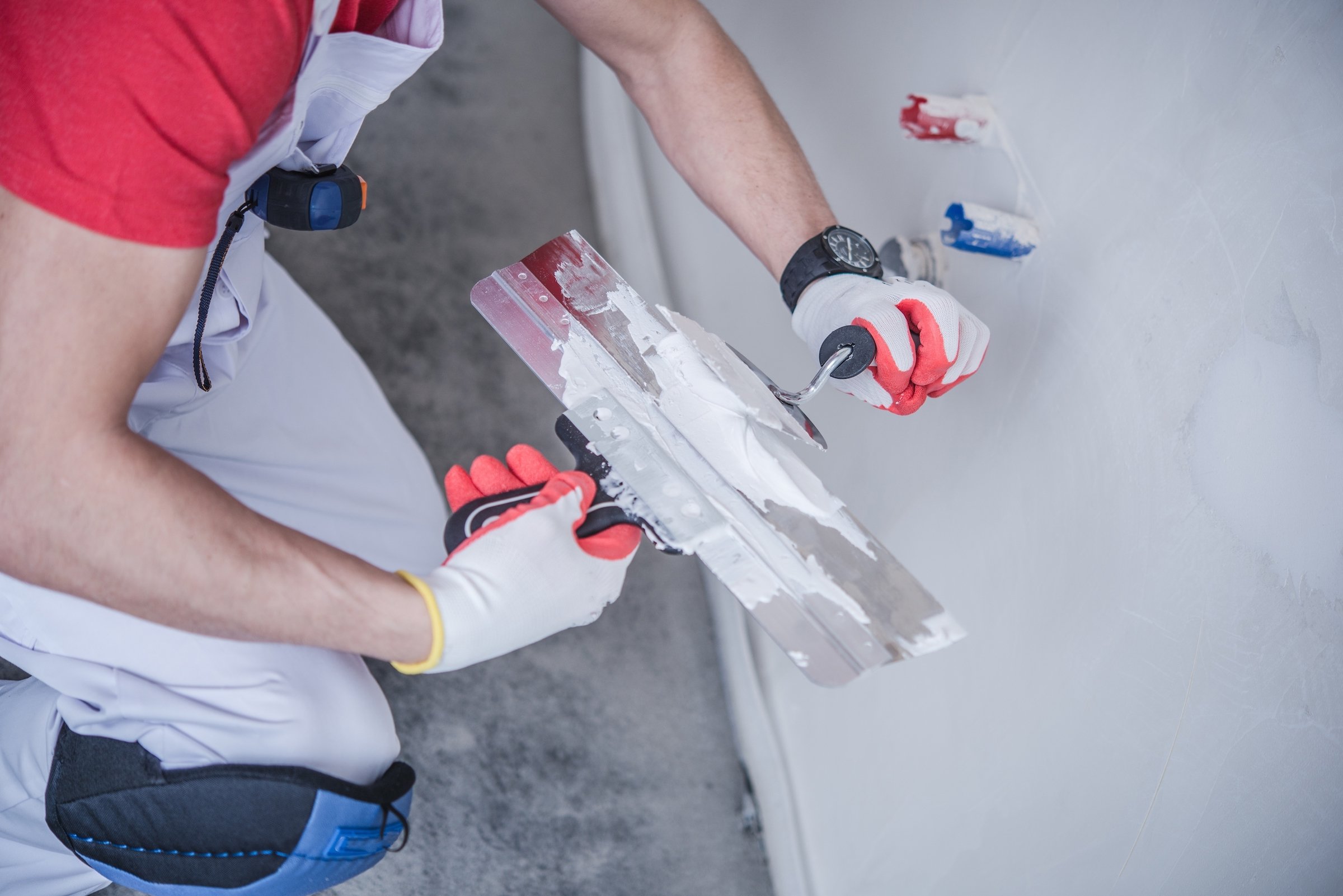 Large holes larger than 7-inches can be repaired by a handyman for around $60 per hour and contractors around $90 per hour plus materials, debris removal, and painting. You can buy supplies from a big box store like Home Depot where drywall sheets (8' x 4') run about $12, screws are $6 per pound, 250-feet of self-adhesive mesh tape is about $13, and a bucket of joint compound is around $15. The cost for a professional painter to come in will be between $70 and $130 per hour but may be a flat fee for small jobs.
Water damage may require mold remediation, which will cost between $500 and $1,000 for a small area. This would ensure the mold won't spread throughout the house. If the water damage is due to a plumbing leak, you may need to pay a plumber between $170 to $450. The cost of repairs to the roof or windows to repair leaks could be significant.
As you can see, anything beyond simple drywall repairs can involve finding the root of the problem, bringing in a professional to rectify the issue, and then completing the drywall repair—which will add a significant amount to the project's budget.
Repairs to drywall ceilings are labor-intensive and can cost between $500 and $1,200. This job should be handled by professionals due to the weight of the drywall and special equipment like ladders or scaffolding that would be needed.
Typically, a handyman can handle smaller jobs like nail holes, small holes smaller than 6-inches in diameter, small cracks, and nail pops. A contractor should be called for holes over 7-inches in diameter, large cracks, water damage, mold growth, full wall drywall replacement, and ceiling repairs.
When hiring a handyman for drywall repair, make sure your professional is licensed and insured, and provides a full breakdown of all estimates.
Puls Can Help with Drywall Repairs
Home maintenance costs can add up, so you'll want to hire professionals you can trust. Puls now offers handyman services to residents in select markets across the nation. We can help with all of your drywall repairs, and can even provide paint for a beautiful finished product.
Puls has a team of skilled technicians who will work around your schedule, even same-day if needed. We proudly provide clear pricing at reasonable rates to fit your budget. We even provide a guarantee on all of our work so you can be sure the job will be done right the first time.