There are plenty of great reasons to mount your TV – from the sleek look, to saving space, to improving your overall TV viewing experience. We've got comprehensive guides on choosing just which TV wall mount type is best for you, as well as why our veteran TV mounting technicians are best for the job.
In the guide below, we'll show you our expert picks for best TV wall mounts of 2019. No matter which style of bracket you prefer, we've got the top selections of the latest wall mounts for any sized television at any price point.
Best Fixed TV Wall Mounts 2019
Fixed wall mounts are great if you know where you'll be viewing from and are looking for a low-profile solution that won't budge. Here are our top choices for this year's top fixed TV wall mounts.
Credit: Walmart
The Mount-it! MI-305B is a super-strong wall mount capable of holding up to 175 pounds – likely much more than you'll ever need – and it provides excellent stability at a price that can't be beat. With its ultra low-profile of just one inch, the 305B is also incredibly versatile, serving television screens from 32 to 60 inches. As far as bang for your buck, this is one of the best fixed TV mounts around.
Ematic Low-Profile Fixed TV Wall Mount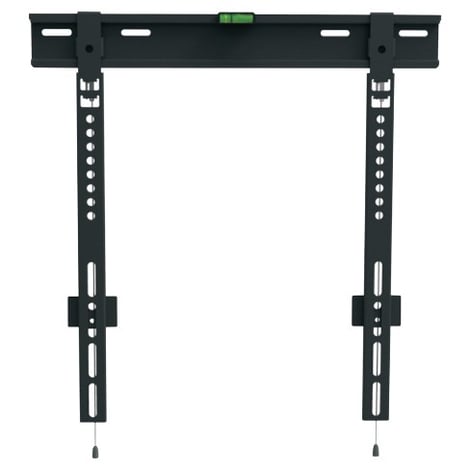 Credit: Target
Constructed of high-quality aluminum alloy, this Ematic wall mount can hold TVs up to 65 inches and 66 pounds. Its safety lock tabs ensure that your TV is safe and secure, and its two-piece design makes installation and removal a breeze. And, with its adjustable arm, you'll be able to get the best viewing experience possible.
Best Tilting TV Wall Mounts 2019
Tilting TV wall mounts offer added versatility, allowing you to adjust the viewing angle and opening up additional seating options. They're also a low-profile and ultra-secure solution for televisions that need to be placed higher than eye level, such as in your bedroom or above a fireplace.
Credit: Walmart
This Sanus VMPL50AB1 wall mount was voted one of the best TV brackets overall by TopTenReviews – and with good reason. It allows you to adjust your television's position with the slightest touch, is constructed of heavy-gauge steel, and can support 32 to 70 inch televisions that weigh up to a whopping 150 pounds.
It has a horizontally and vertically-adjusting frame for easy television placement, as well. This high quality bracket does come at a premium price, but with its 10-year warranty, it's more than worth it.
Kanto KT3260 Tilting Wall Mount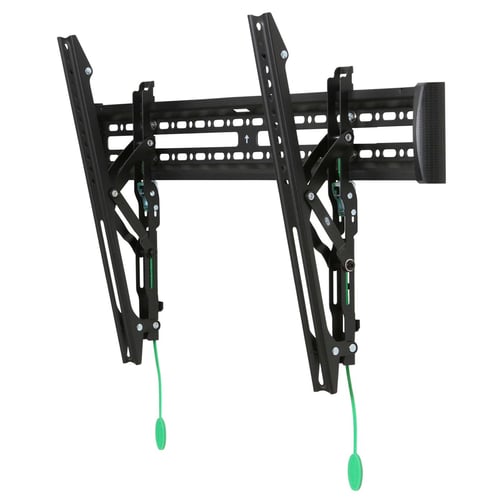 Credit: Target
This tilting mount from Kanto is a workhorse bracket that comes at a great price point. Ever-practical, this bracket factors in the differing space between wall studs – where many brackets are constructed to accommodate installation over just 16-inch studs, the KT3260 allows for up to 24 inches between studs. With a generous twelve-degree tilting angle and solid steel construction, this affordably-priced bracket won't let you – or your TV – down.
Best Full-Motion TV Wall Mounts
Credit: Walmart
This full-motion swivel mount topped the list of ten best TV wall mounts by TheArchitectsGuide. It supports TVs of 26 to 55 inches that weigh up to a healthy 99 pounds, and sports dual-arms for its articulating swivel that retract to a convenient three inches from the wall and extend outwards of fifteen inches – all while providing a super versatile +5 to -15 degree tilt, 45 degree swivel, and 3 degree rotation.
It also comes with all kinds of extras, such as a bubble level, a 6' HDMI cable, and more. We appreciate the high-end touches.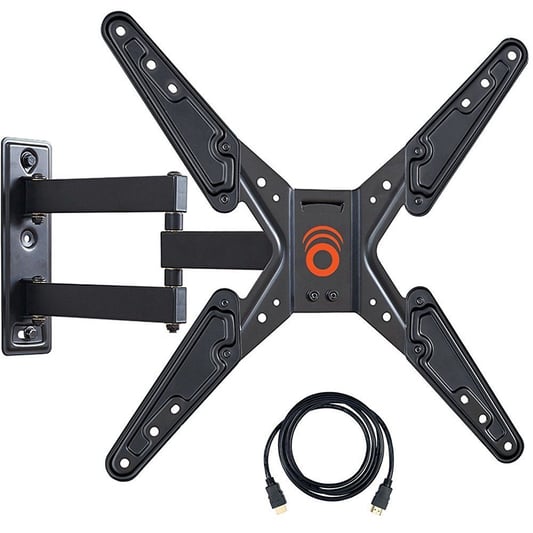 Credit: Walmart
ECHOGEAR is known for saying little and accomplishing much – case in point, like others from the rugged brand, this full-motion articulating mount has been tested to hold four times its 60 pound rating.
Extending out an impressive 20 inches and retracting back to less than 3, this ECHOGEAR bracket provides 180-degree swiveling capability and a lovely 15-degree tilt. All that with its heavy-gauge construction and five-year warranty – and at a price that simply can't be beat.
We Specialize In Mounting All Types of TVs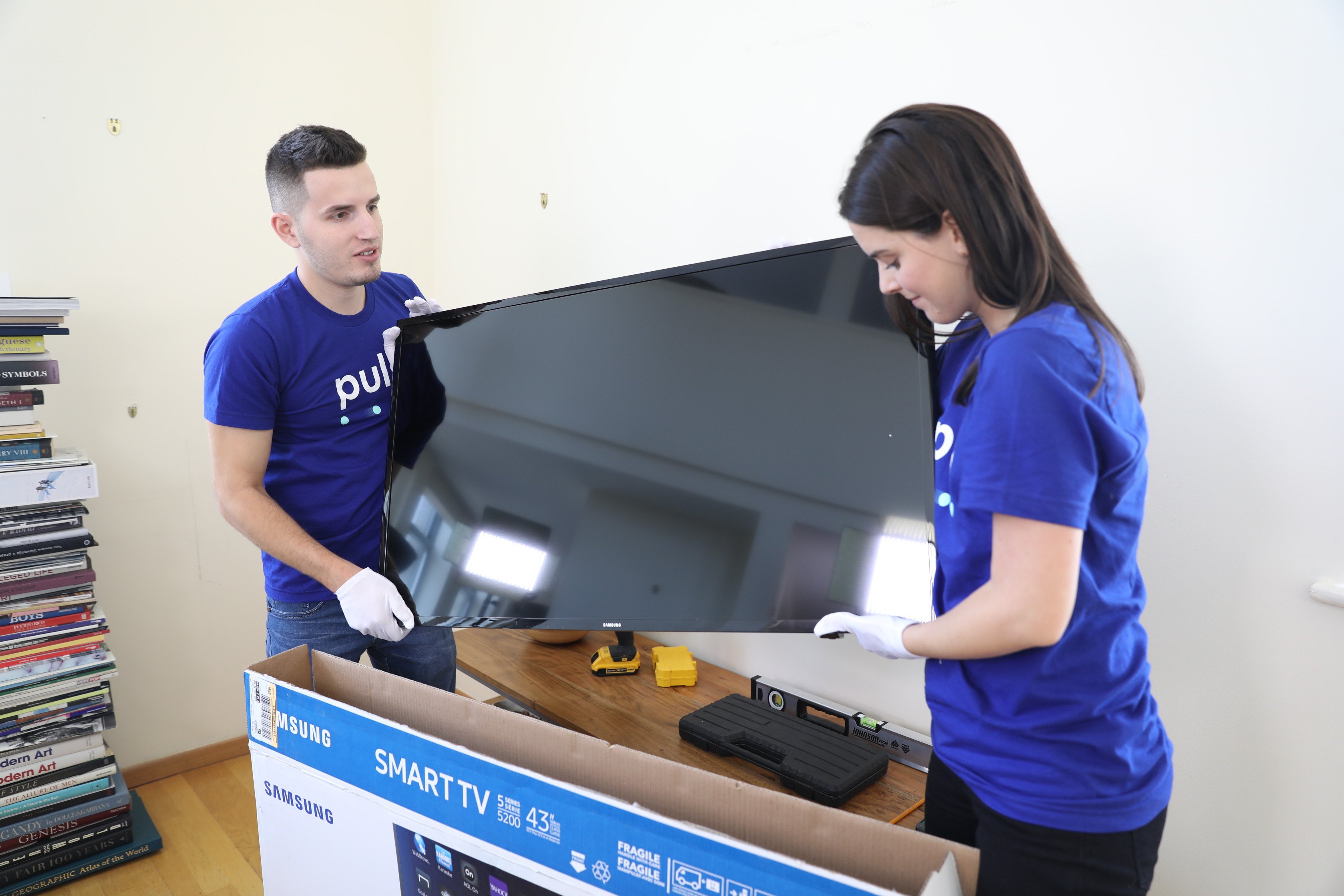 We don't just know how to pick the best TV brackets – we know how to mount them for you. In fact, you'll be hard-pressed to find anyone with more skill and experience than our heavily-vetted technicians.
With our full range of services, we can take care of all your TV mounting needs in no time, to make things as convenient for you as possible. And booking a Puls technician is super easy.
Simply hop online, select the services and time slot that are best for you, and a Puls technician will show up at your door, often as soon as the very same day.
Your Puls technician can not only help you select the right TV mount size, they'll also provide the mount of your choice for you. For an added fee, we'll even bring your choice of bracket (fixed, tilt or full-motion) to you as part of your appointment, to make things as easy and seamless as possible.
So, what are you waiting for? Book your Puls TV mounting service today and you could be enjoying a flawless new TV setup by as soon as tonight.
This week only, take $20 off your service with us when you book online with the code: MEMDAY20. Hurry - this offer expires May 31st, 2019, so don't miss out.