If you've been looking at the different TV mounting brackets on the market, it will come as no big surprise that there have been major leaps in the construction, style, and functionality of TV wall mounts available for purchase.
The selection can be intimidating at first, but if you know exactly what you're looking for, it can go a long way towards narrowing down the choices to a manageable few. We've put our years of experience installing TV mounting brackets to good use and compiled a buyer's guide based on mount type, location, wall surface, price point, and more. Read on to find out which TV wall mount is best for you.
Understanding the Types of TV Mounting Brackets – Fixed, Tilting, and Full-Motion
Knowing your options is the first step towards making the correct choice when it comes to deciding on a bracket. Generally, wall mounts can be broken down into three categories.
Fixed TV Mounting Brackets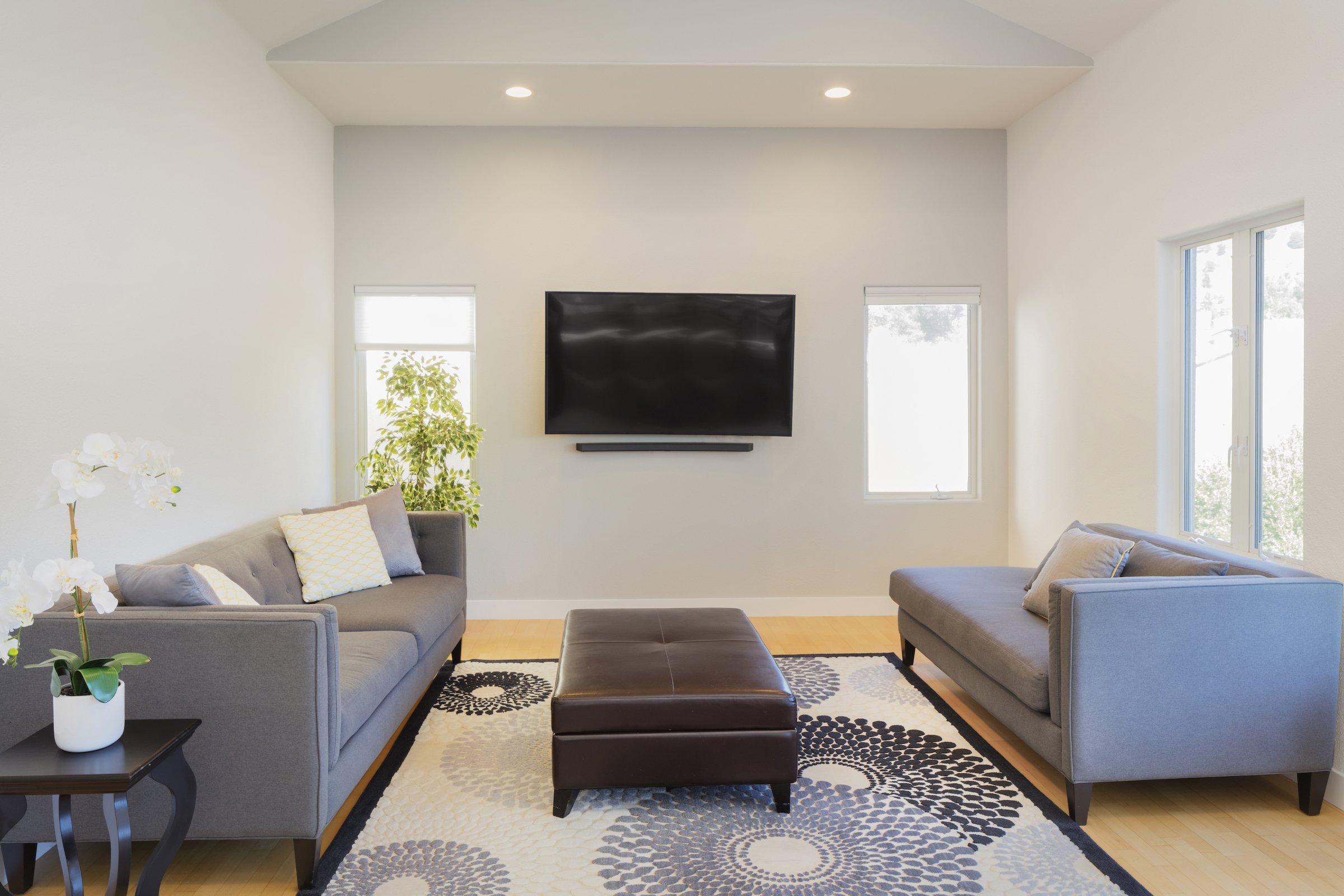 A fixed bracket is just as it sounds – strong and stable, the mount stays fixed to the wall at the point of installation and holds the television set in place. This type of bracket is perfect for a viewing space where seating arrangements aren't often changed. Simply install the bracket at eye level for the optimal TV watching experience. This bracket has the added benefit of being the most affordable of the three.
Tilting Wall Mounts
With a bit of added flexibility, a tilting wall mount is similar in look and construction to a fixed mount but allows the television to be tilted downwards in addition to facing straight ahead. This allows the TV to be mounted at a higher point and angled down, which provides a good viewing angle even for people seated closer and below the TV set.
Full-Motion Brackets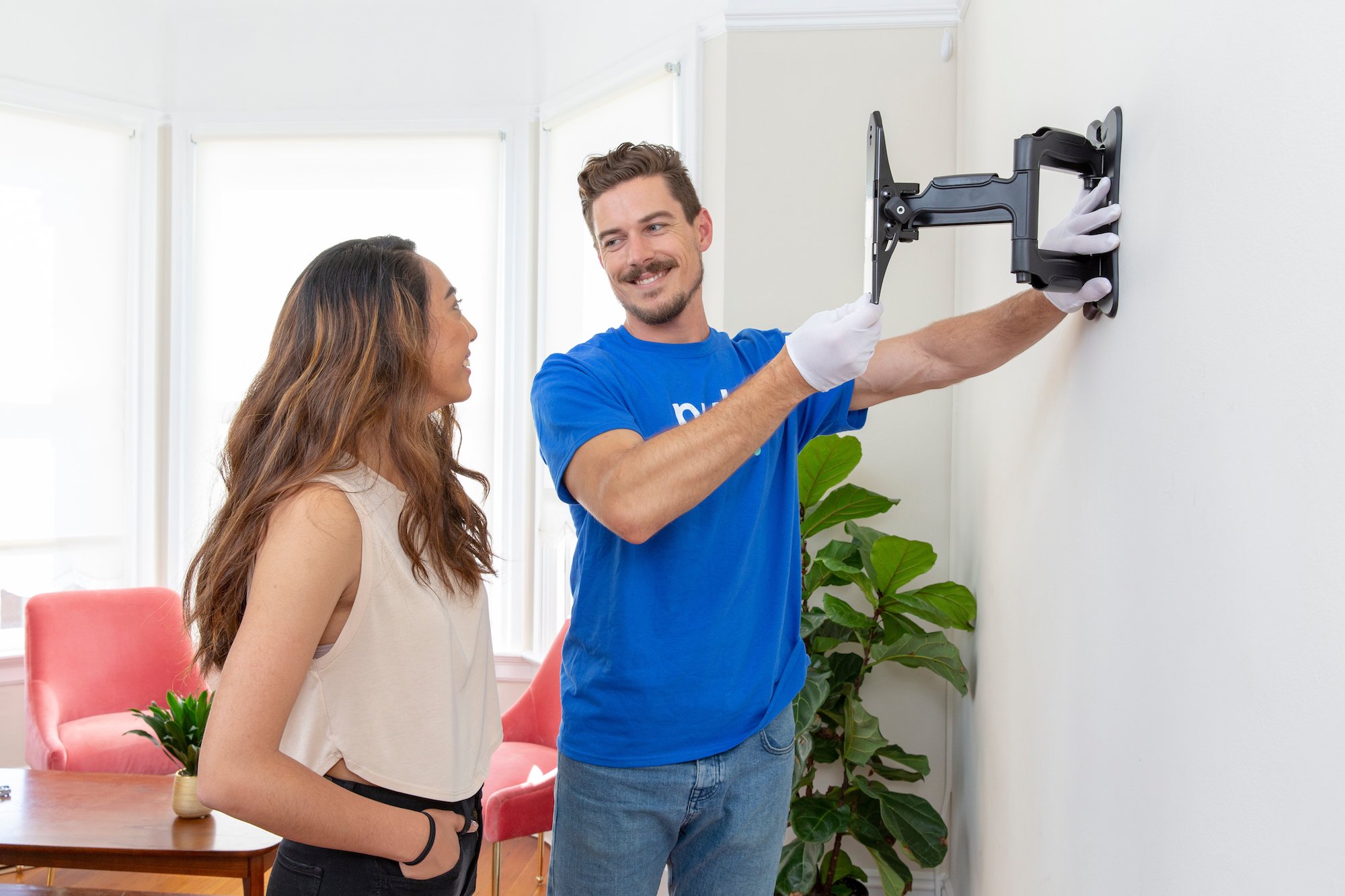 A full-motion bracket sees the television attached to an extendable arm, which brings it away from the wall so that the TV can be angled in pretty much any direction: up and down, left and right, and even swiveled from side to side. The extra versatility provided by a full-motion bracket allows the television to be mounted in a much wider array of locations, including in a corner. The profile of a full-motion bracket is a bit bigger than fixed or tilting mounts, even when the TV is flat against the wall, but the increased mounting options and viewing angles make it an extremely popular option.
The Best TV Mount for Every Room in the House
Where you plan on mounting your television has a big impact on the type of bracket that best suits your needs. Seating arrangements, natural light, and the size of the room all come into play.
Bedroom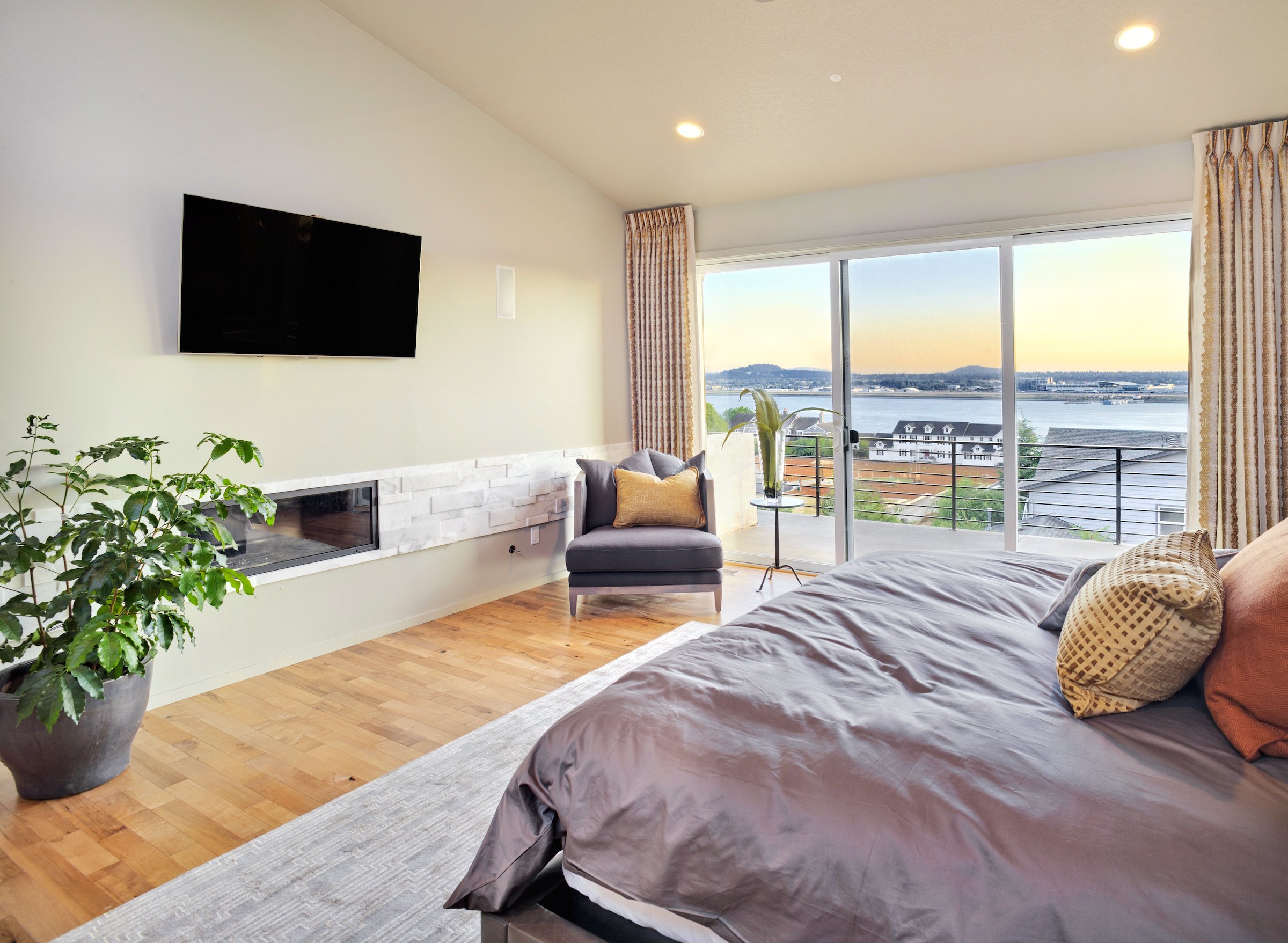 If you just plan on watching TV in bed, then a fixed TV mount might be right for you. Simply determine where your eye level will be (a mounting professional can help with this) and affix the TV to the wall. Because many people watch TV in the bedroom with the shades drawn, natural light might not be a huge factor, so the television won't have to be adjusted to avoid glare. However, if you watch TV from multiple seating areas in the room, or if you need to mount your television higher up or in a corner, then tilting or full-motion TV mounting brackets could be a better option.
Living Room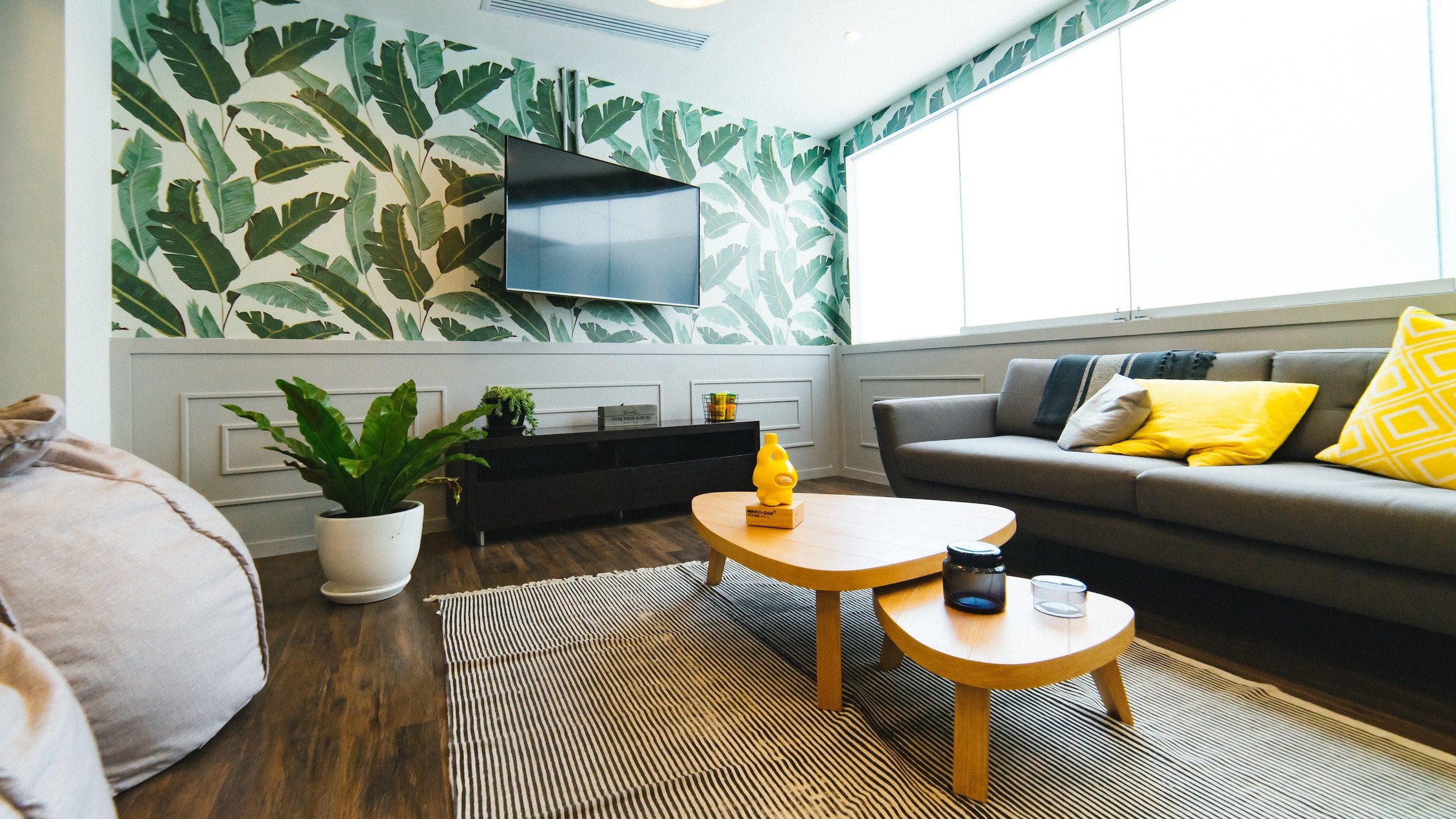 Watching television in the living room, den, or other shared space can require a bit more flexibility, which can make selecting the location to mount your TV a daunting task. If you're looking for the widest array of viewing angles, a full-motion TV mount makes it possible to have a great view of the TV even if seating arrangements change often.
A tilting mount can be a good option for those seeking a minimalistic look, while allowing viewers to watch from farther away. Tilting mounts also allow you to angle the TV downwards for closer viewing, though that doesn't provide much lateral versatility. Finally, if your living room has a relatively permanent seating arrangement, such as a sofa facing the wall, a fixed mount can do just fine.
Consider How Lighting Can Affect Viewing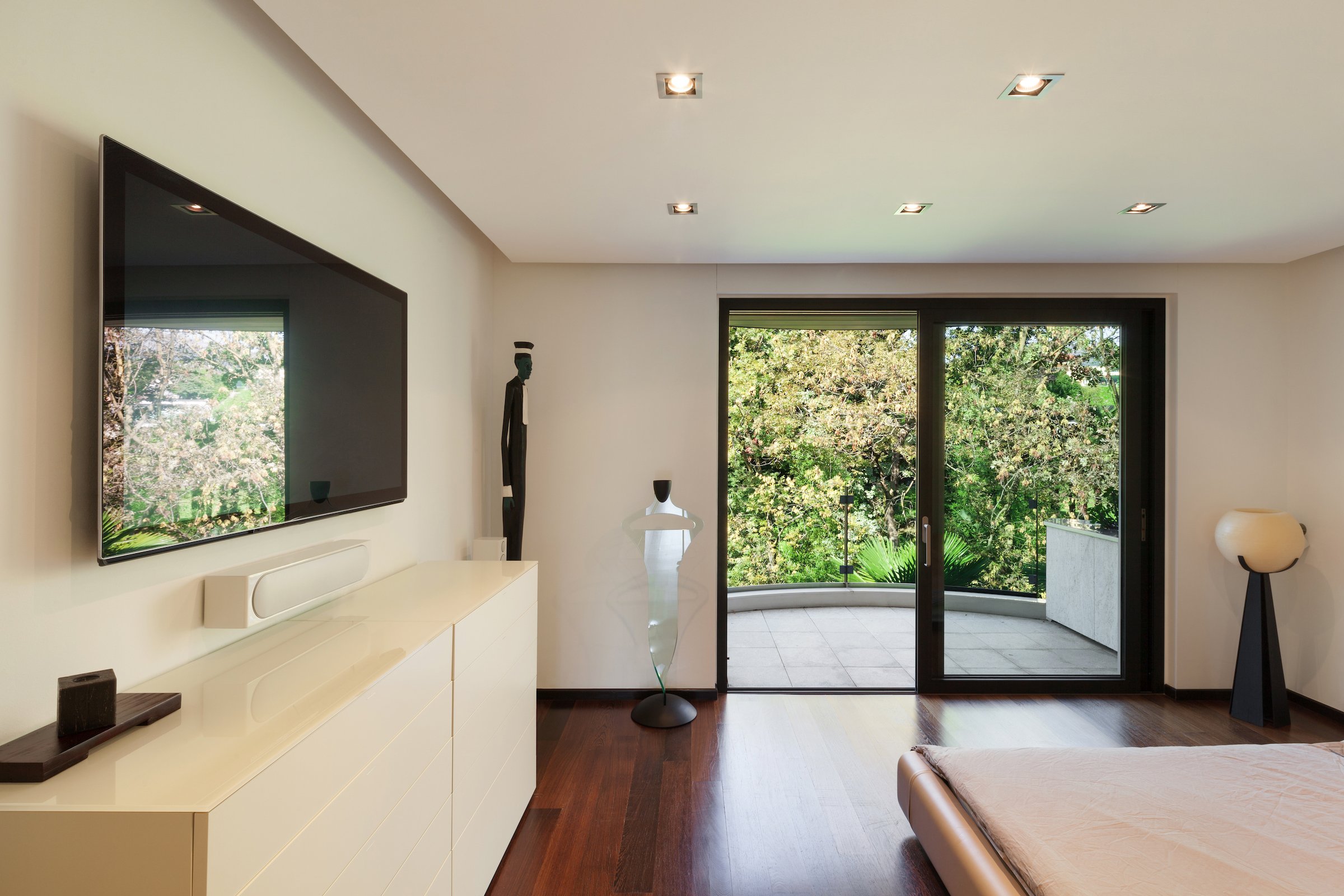 It's also important to bear in mind that indoor and natural light can produce uncomfortable glare on the TV screen. Know the various sources of light in a room – including things like track lighting and large windows – before mounting your TV. If you know that light will be a large factor, consider TV mounting brackets that can be angled away from the different sources of light, which can vary depending on time of day.
Fireplace or Mantelpiece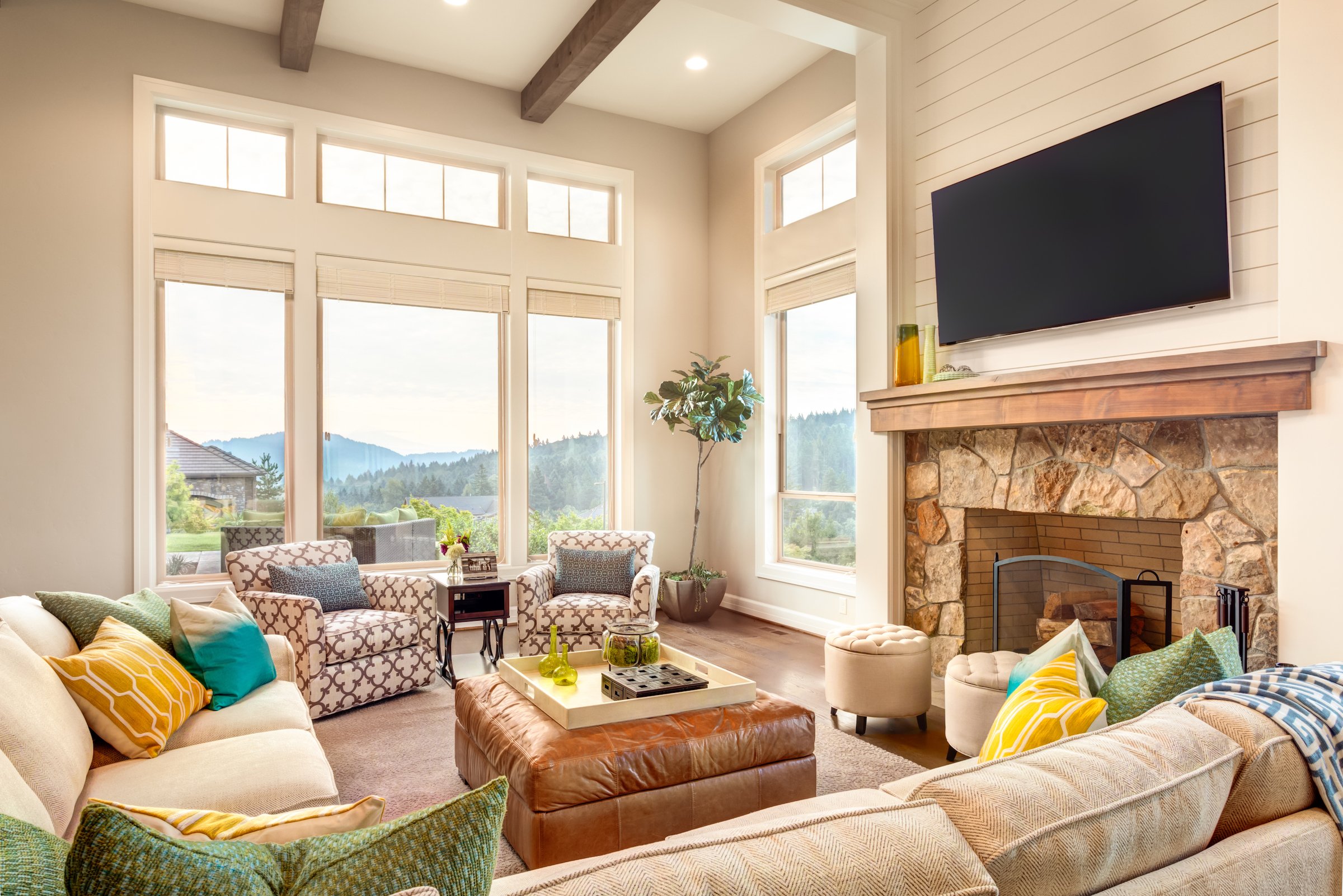 As attractive as it may sound, it's not recommended to mount a television over an active fireplace – the heat and smoke can wreak havoc on your TV's electronics, drastically reducing its lifespan. However, a mantelpiece or inactive fireplace are perfectly fine locations to mount a TV – if you don't have to strain your neck to see. Tilting or full-motion TV mounting brackets are the recommended way to go here, though it is best to check a specific bracket's listed mounting angles to make sure they are wide enough.
Does the Size of a TV Mounting Bracket Matter?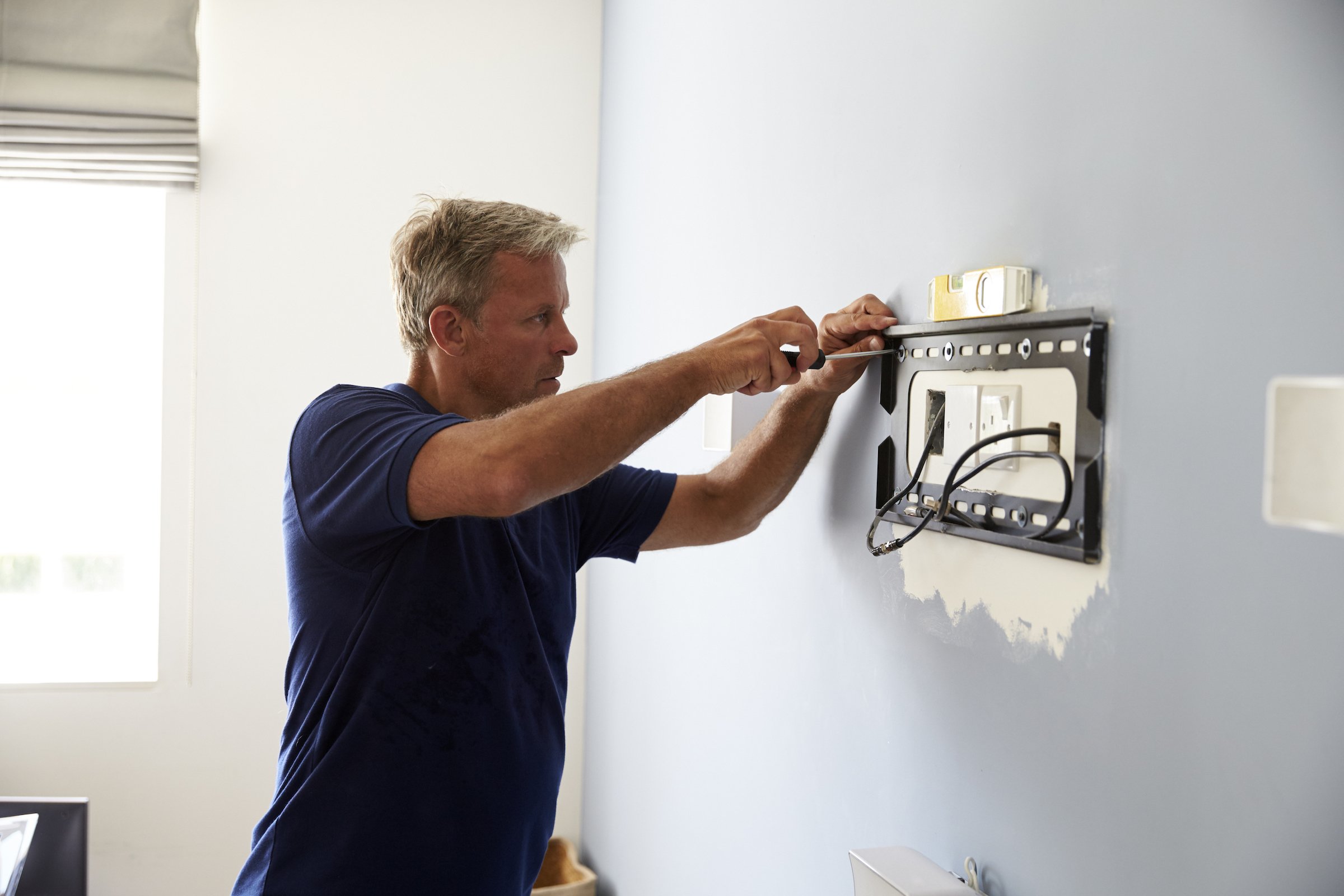 Many TV mounting brackets are advertised as suitable for a certain size television screen – but usually, this isn't strictly accurate. Most brackets conform to the standards set by the Video Electronics Standards Organization, which means that they will be able to fit on any television that also abides by those standards – regardless of screen size.
More important is the weight that a bracket can hold. For example, a 60-inch TV that weighs 50 pounds can be mounted on a 42-inch mount that can support the weight; however, a heavier TV might not be suitable even for a larger mount. By checking the weight of your television against what the bracket is capable of supporting, you will ensure a safe and secure installation.
It's also important to note that the wall material of the intended mounting location is another major factor here. Standard drywall, for example, can hold at most a roughly 20-pound payload before starting to deteriorate. Mounting a television to wall studs or using mounting anchors significantly raises this threshold.
Mounting TV on brick, wood, stone, or other materials can present additional difficulties unless you possess a specialized drill bit and have experience working with these materials.
Puls Can Mount It For You – And Bring the Perfect Mounting Bracket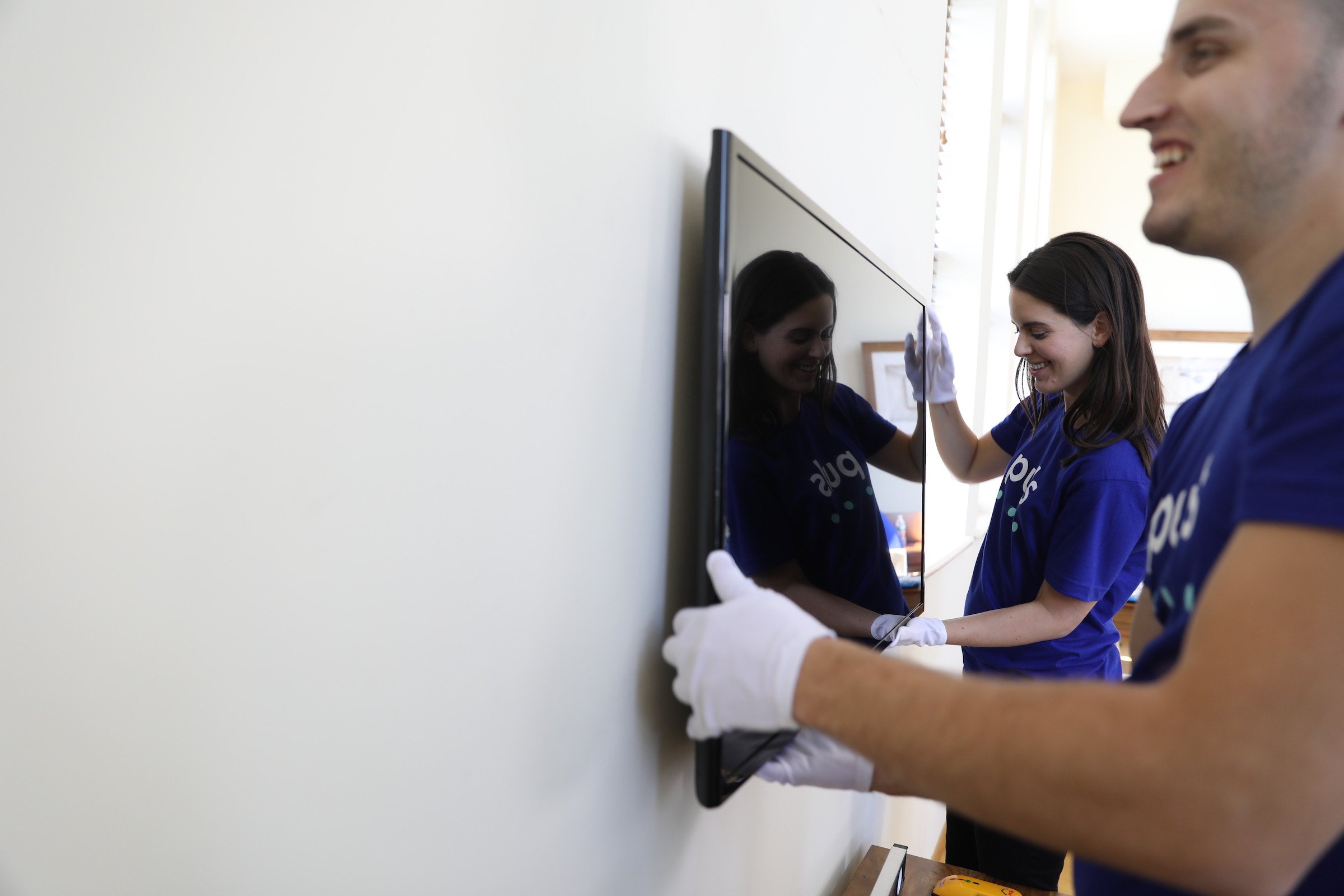 Book a time slot with Puls and let your technician take the guesswork out of your TV installation. Our certified technicians will put their professional know-how to work finding the optimal viewing location, bracket type, and mounting technique for your TV, so you don't have to worry about lighting, eye level, wall material, or anything other than where you left the remote.
Scheduling your time slot online takes just a few seconds, and we can be at your door as soon as same day. In addition to mounting your TV, we also offer an array of other services such as cord concealment, surround sound setup, shelf install and much more.
Need a bracket? No problem—we can bring one for you. Not sure where to place it? We'll help you find the perfect spot.
Plus, all of our services come backed by our 90-day guarantee, so you know your TV is in good hands. So, what are you waiting for? You could be watching your favorite shows and movies as soon as tonight. Get started.