Thinking about mounting your TV? Whether you've just gotten a brand new TV or you've had yours for years, your flat screen was meant to be mounted, and there's no time like the present to get started.
Sure, the idea of installing it on your own doesn't sound like the most complicated thing in the world. In fact, if you're interested in doing so, we've got plenty of DIY guides available to get you started.
That being said, if you want it done the proper way, the full process does entail a bit more than meets the eye, and it's certainly not for the faint of heart. While we're big advocates of the DIY method and tackling your own home improvement projects, there are some substantial benefits to leaving things to a professional TV mounting service, rather than struggling to go it alone.
From reducing the risk of potential damage to your wall and TV, to increased accuracy and convenience, the list of benefits of using a professional install company goes on and on. To help you weigh the options out for yourself, here's our top 5 reasons to seriously consider using a professional TV mounting service.
1. Your TV was expensive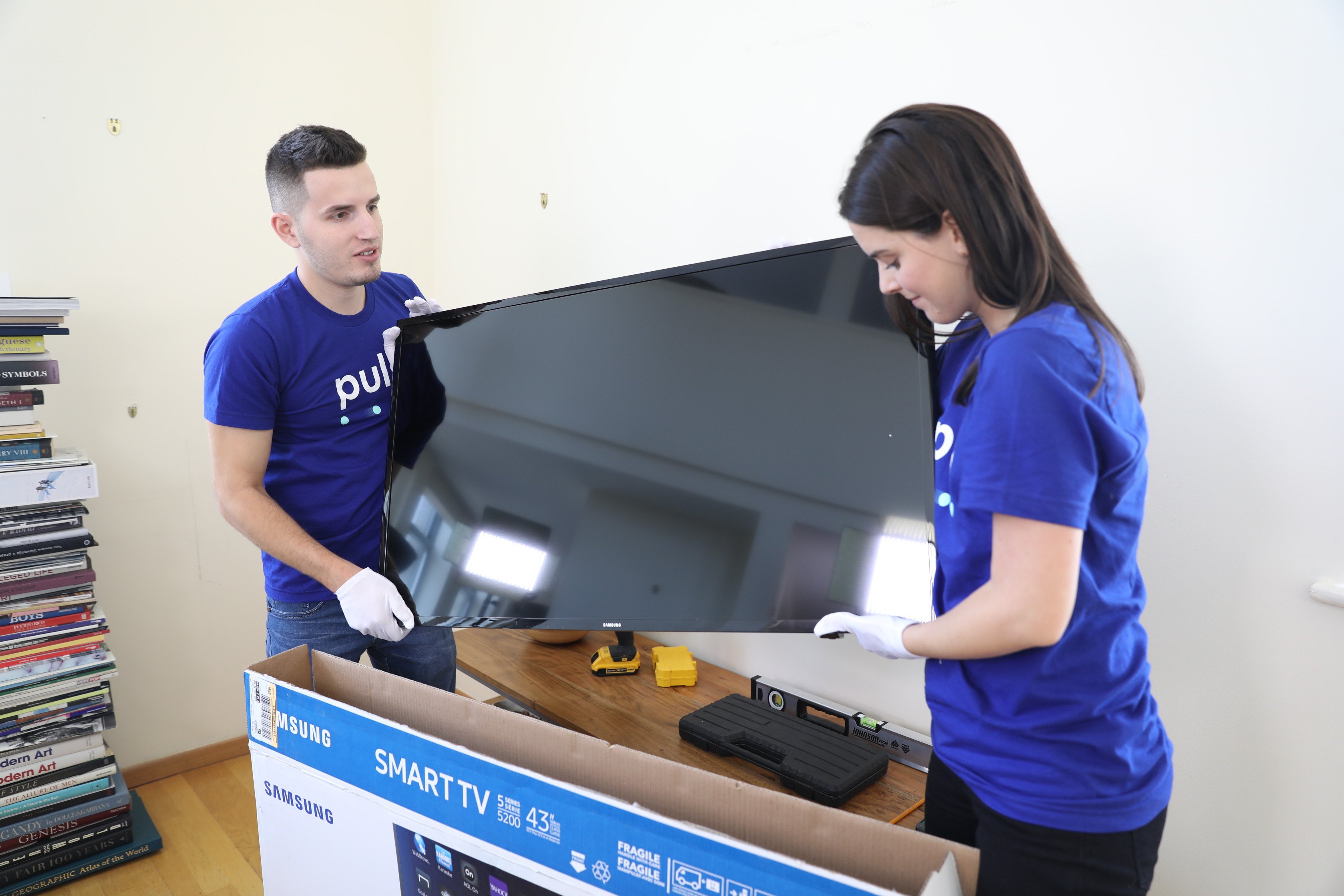 No matter what kind of Black Friday deal you managed to score this year, TVs certainly ain't cheap. Depending on the size, brand and screen quality, most flat screen TVs on the market today will cost anywhere from $300-$600, with some models priced at well over $1,000.
Your TV was obviously a serious investment, and after shelling out all that cash, you and your family expect to be able to enjoy watching it over at least a few years. The last thing you want is for your expensive TV to end up scratched, damaged, or completely shattered due to an unstable or subpar install job.
A trained TV mounting professional will help you locate the perfect spot on the wall, ascertain a stud that can support your TV's full weight, and tightly secure both the bracket and the TV itself, for the ideal TV setup that's built to last. This way, you can feel confident that your costly TV won't end up on the ground in pieces.
2. Heavy lifting isn't for everyone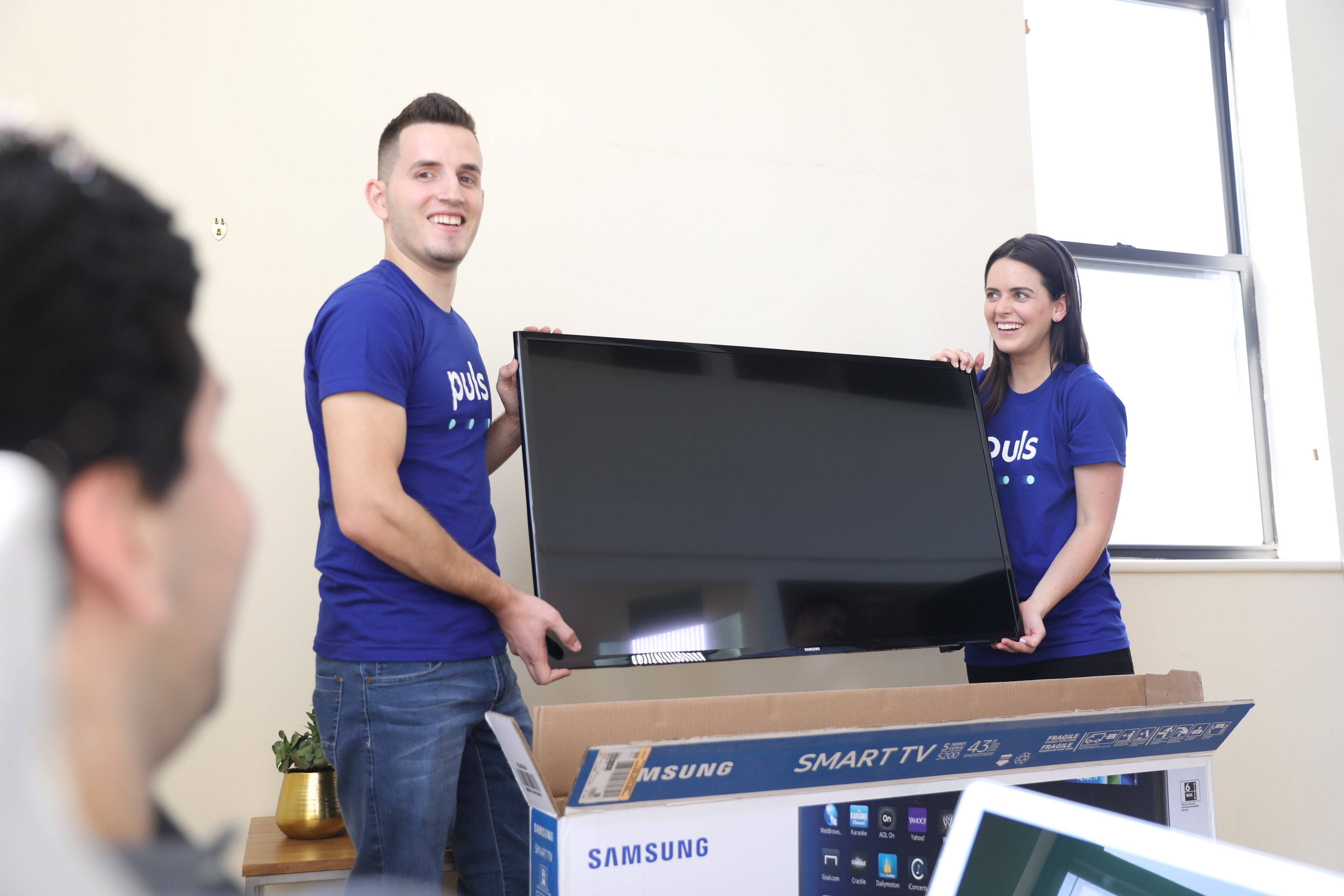 Despite how sleek and thin flat screens have become, they still weigh quite a lot. Believe it or not, your TV might weigh over 100 pounds (check your box to find out its exact weight).
There's certainly no shame in feeling weary about lifting that weight on your own for long periods of time. If you're not equipped to carry such a heavy load or you don't have someone around to assist you, hiring a professional TV mounting service will keep things simple and minimize the possibility of you throwing out your back.
3. Precision and accuracy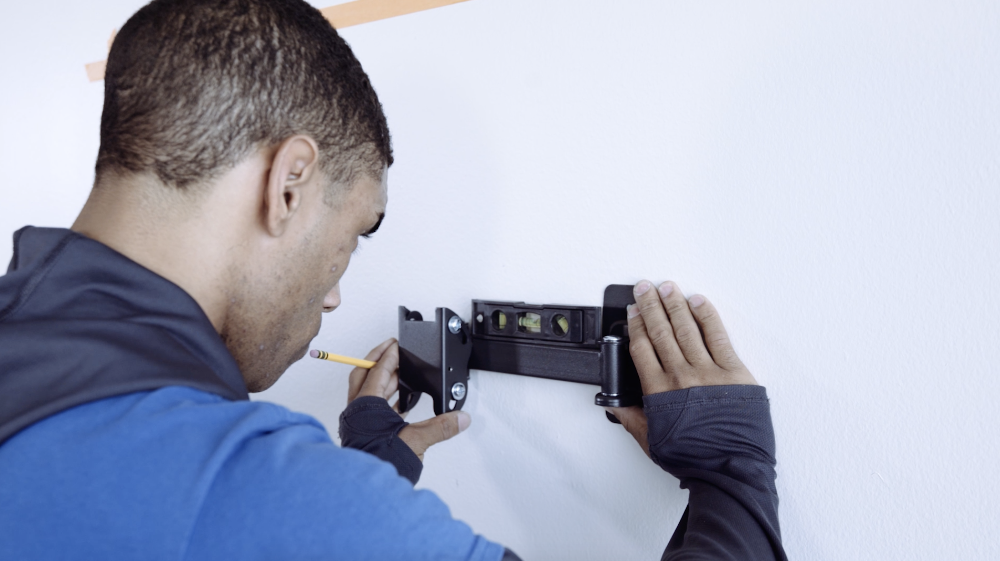 If you're putting in the time and effort to install your TV, you might as well get it right. You'll want the final result to look as even, level, and professional as possible.
This, of course, requires the use of a tape measure, leveler, and some extremely close attention to detail. Remember the last time you put up a picture frame, and the hours you spent arguing about whether or not it was even?
A professional TV install service will have all the tools and expertise needed to take care of this for you, so you won't have to spend a second agonizing over those meticulous details.
4. Completing the full setup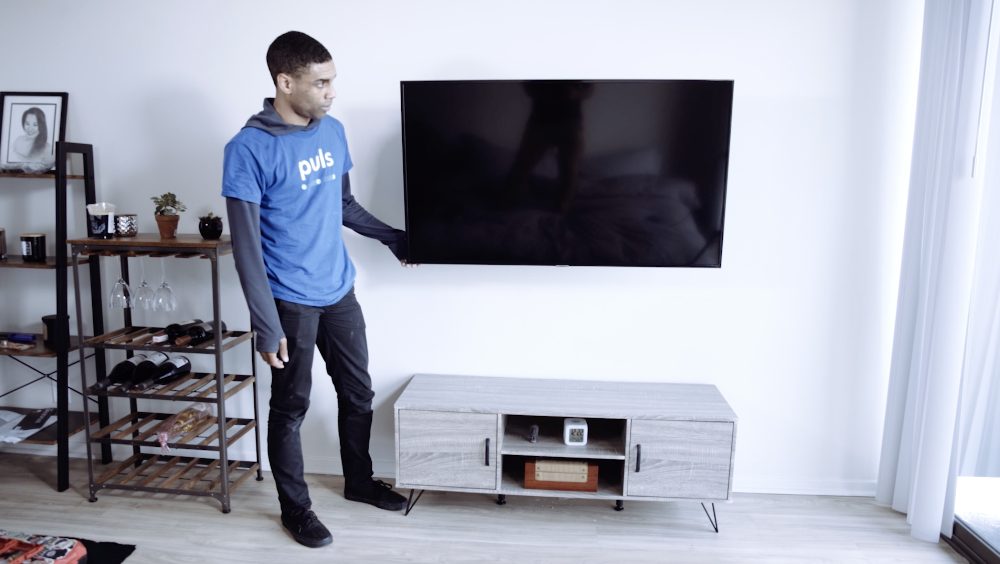 Once your TV is installed on the wall, the process is over, right? There's nothing further to be done?
Sadly, attaching your TV to the wall is just the beginning of the full TV mounting process. The tricky part is what comes after - that massive pile of cords to hide, installing shelves and/or sound bars, surround sound setup, device or cable box configuration, and more.
Don't waste a second bickering with your partner or kids over how to set up your speakers or streaming devices properly. Most TV mounting services are equipped to handle all these complex aspects for you, so it's smooth sailing all the way.
5. Saving time and headache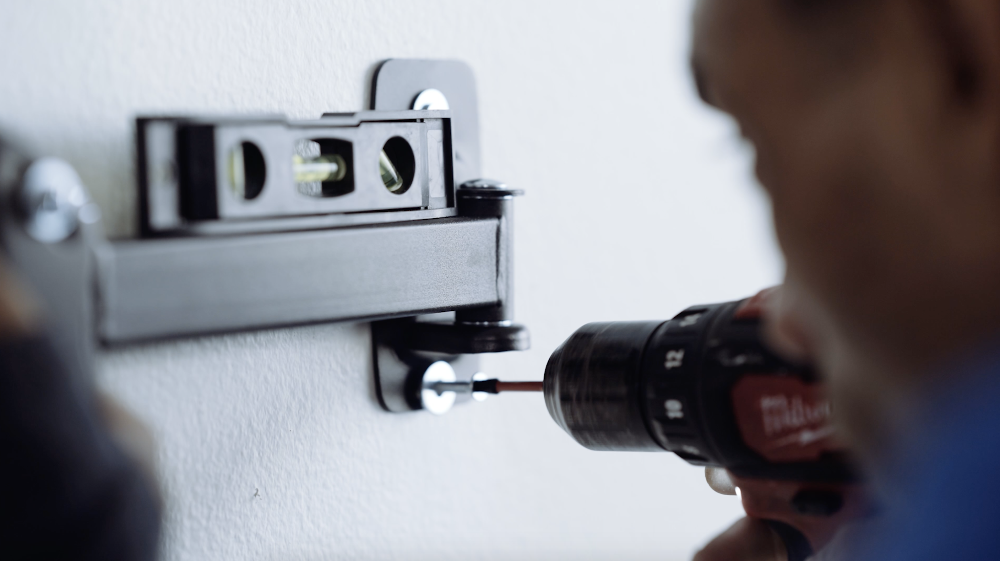 Take a second to imagine yourself installing your TV right now. What do you picture?
You've probably got some idea in your head that involves simply drilling a few holes, effortlessly plopping your TV on the wall, and that's that. As you know, our expectations don't always tend to match up with reality, especially when it comes to DIY projects.
Unfortunately, the TV mounting process does in fact entail quite a bit of time and effort. From measuring everything out, to laying down tape, finding a stud, using a level, drilling into your wall and lifting your heavy TV for long periods of time, you'll start to understand why there's now an entire industry dedicated to taking the hassle out of this process for you.
Furthermore, after all the time energy you invested trying to install your TV on your own, you could still be unhappy with the crooked or messy-looking final result. Save yourself the time and headache, and leave installation to the industry experts.
Don't struggle to go it alone - Puls is here to help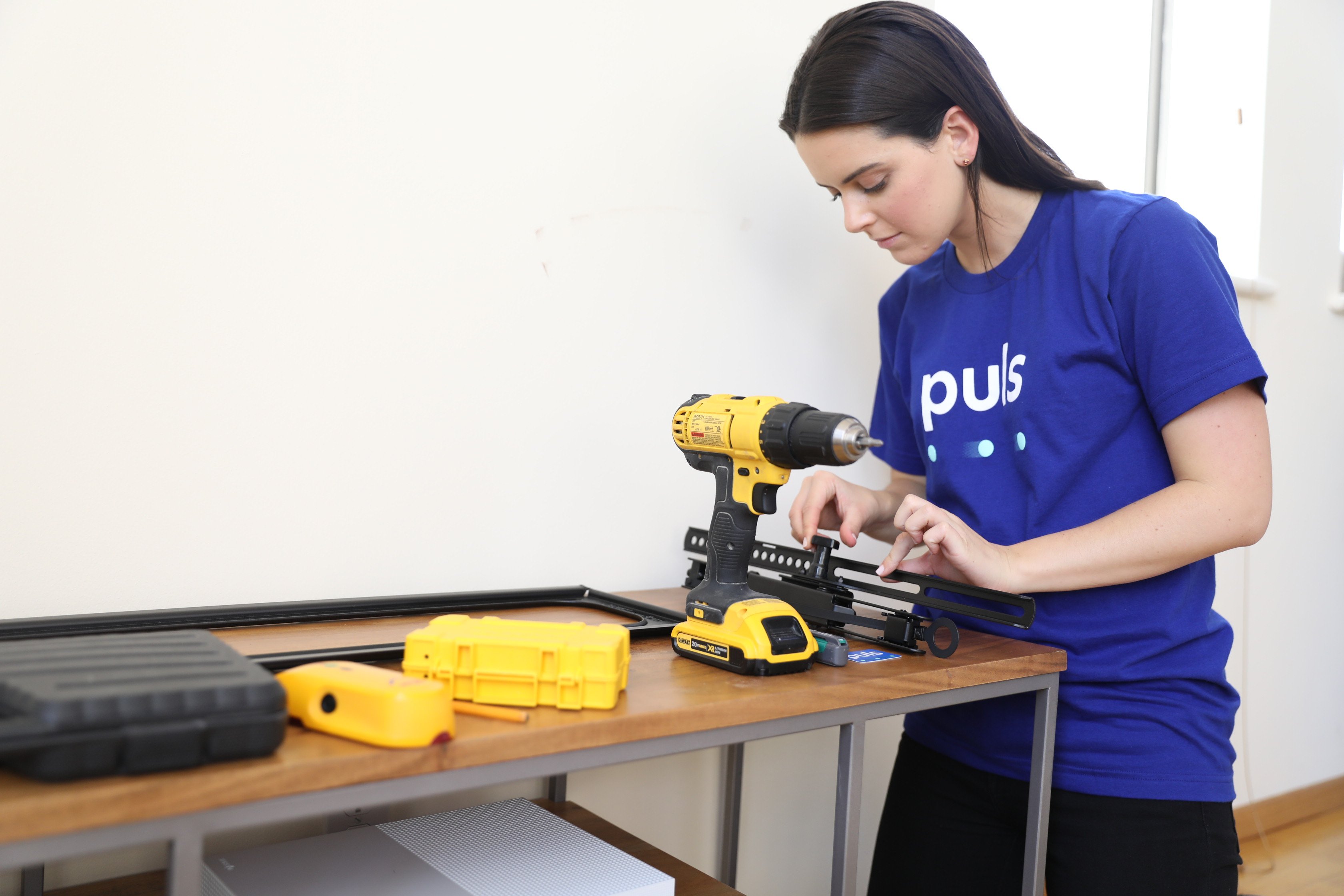 Whether you're not the most tech-savvy or you simply don't have the energy to deal with tackling yet another project at home, Puls is here to make TV installation a breeze. Our TV mounting service is available from 8 am to 10 pm every day, including weekends and holidays.
Conveniently book a time slot online at a time that works best for you, and one of our expert TV mounting technicians can be at your door as soon as same-day, with all the parts and knowledge needed to handle everything on the spot.
Don't have a bracket? No problem - we'd be happy to bring your choice of bracket to you as part of your appointment. Want in-wall cord concealment, shelf install, surround sound setup, or install on a complex wall surface like on brick or above a fireplace? Sure thing - we do all of those, too.
If that's not enough to entice you, our prices start as low as $69, and all of our services come backed by our 90-day guarantee. It's our goal to take all the hassle out of TV mounting, so you can take your TV watching experience to the next level with total peace of mind.
This week only, take $20 off your service with us when you book a service online with the code: MEMDAY20. Schedule an appointment with our TV install experts today, and you'll be on your way to enjoying your dream TV setup by as soon as tonight.