Have you been thinking about mounting your TV on the wall, but put it off because you weren't really sure what was involved? Even though you know that mounting your TV will save some space, look better, and provide a more comfortable viewing experience, you may be hesitant to tackle this project.
If you're somewhat handy and have done some home improvement projects in the past, you're the perfect candidate to try a DIY TV mounting. So, what tools do you need to mount a TV on the wall? The answer to this question will vary a little depending on the wall material you're working with and the type of installation you're doing.
For Drywall TV Mounting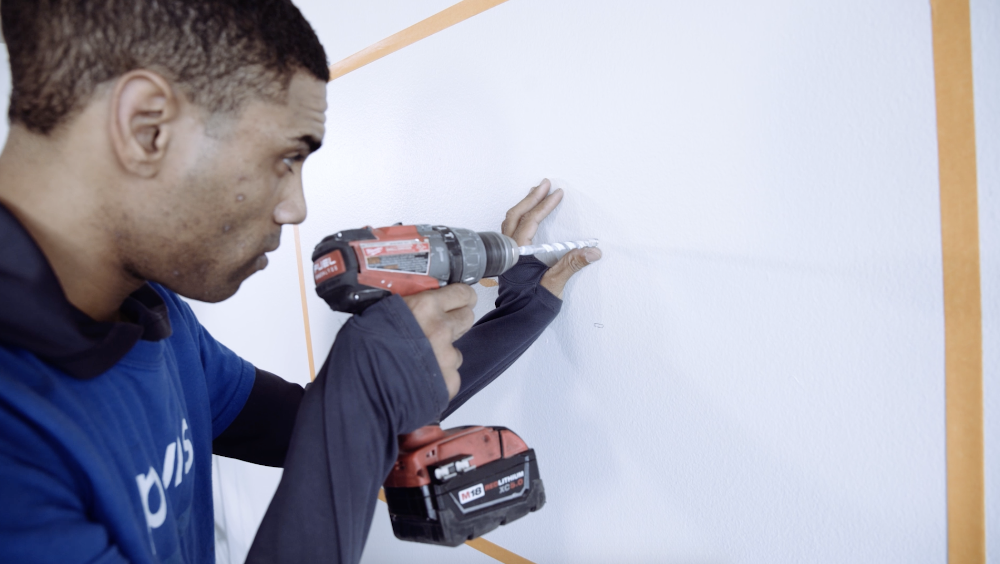 The majority of people install their televisions on standard drywall, so the TV mounting tools they need are pretty unremarkable. If you're able to take care of typical household maintenance and repairs, it's likely you already have the tools you need.
Stud finder. This will help you identify where the wood studs are for more secure mounting.

Power drill and bits. A variable speed drill will keep you from stripping the screws.

Level (3-foot or 5-foot). You'll want to make sure the TV is level both horizontally and vertically.

Socket wrench and various sockets. The mount connects to the TV with bolts.

Standard and Phillips head screwdrivers

Tape measure

Safety goggles. It's important to always protect your eyes when working on projects involving power tools.
You'll also need a wall mount kit that will fit your television's proper configuration, as well as these other items:
Drywall screws

Pencil and paper

Snap toggles, in the event there are no studs where you need them.

Extra hardware and bolts, in case you're missing something from the mounting kit.
For exact step-by-step installation instructions, check the packaging that came with your TV mount.
For Brick TV Mounting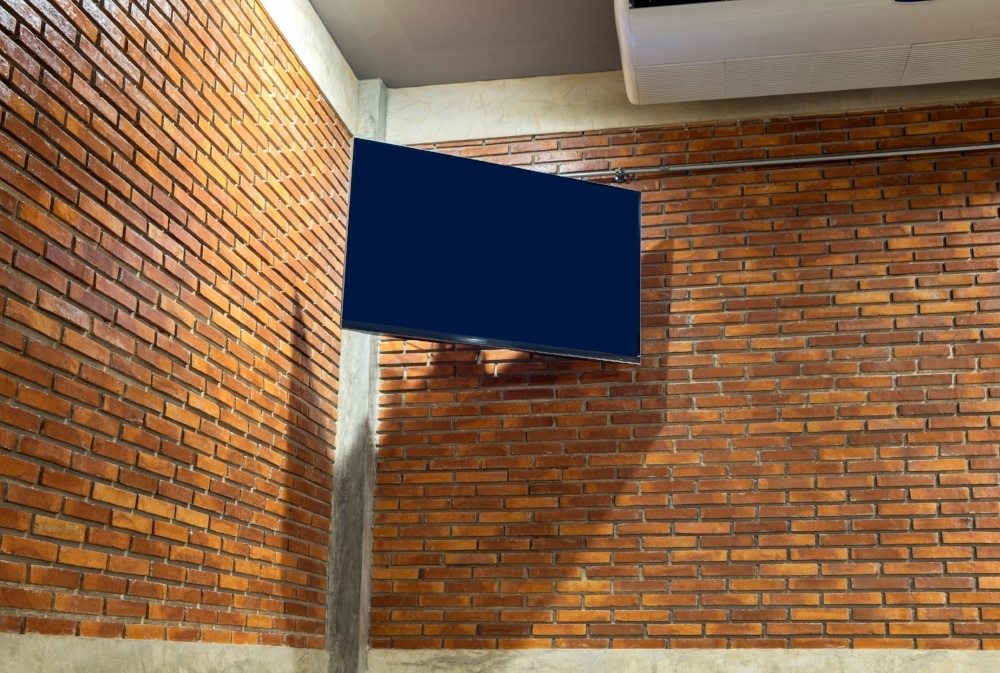 In addition to the TV mount tools listed above (aside from the stud finder or snap toggles, which you won't need when mounting on brick), you'll need some specialty tools to drill through the solid brick wall and properly affix the mounting bracket.
Hammer drill. You'll need some extra power to get through the brick wall.

Carbide-tipped masonry bits. Standard drill bits are not strong enough to penetrate the brick and will break.

Concrete sleeve anchor or Tapcon concrete screws. These will fasten the mounting bracket securely to the brick.
Be sure to connect the power cord and cables to the TV before you mount it. This will make it easier to get to the connection panels and save you from taking the TV down to access it later.
For Hiding Cables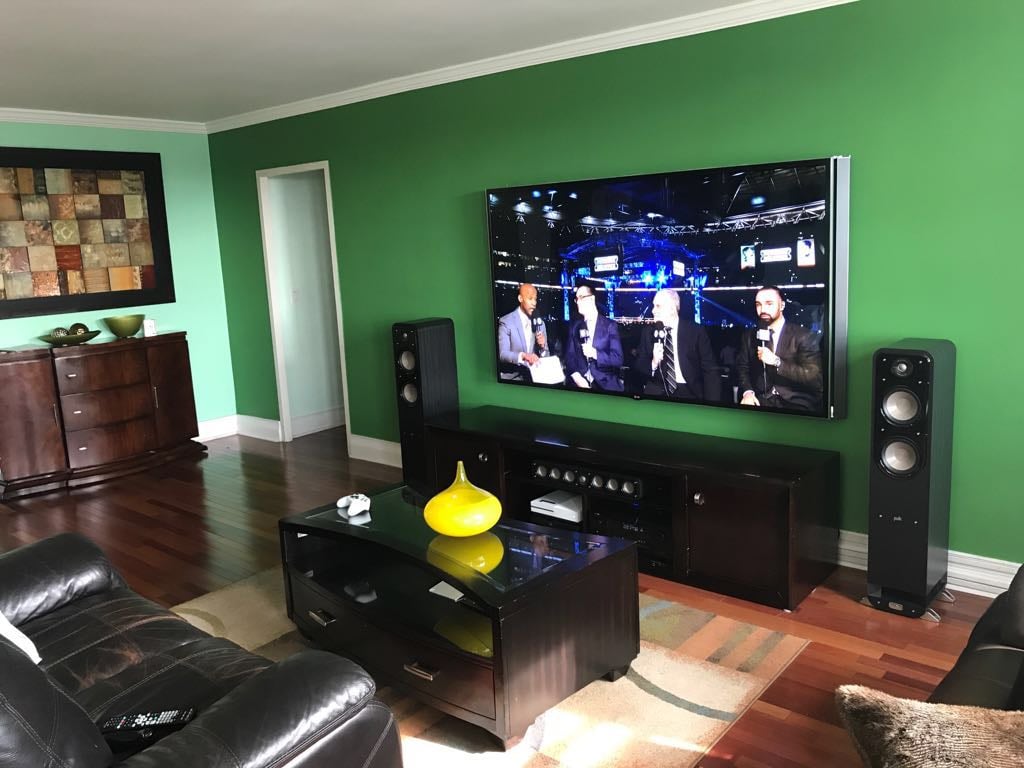 Once your television is mounted to the wall, you'll want to complete the job by hiding that unsightly pile of wires and cables. There are a couple different ways you can do this that will require a couple additional tools/accessories:
A cord cover/raceways. These are designed to hide your cables in plain sight below your TV. They come in a variety of shapes and sizes to fit your particular configuration. They're also paintable so you can match the wall color.
TV in-wall wiring kits. It's unsafe and also against the law to run standard power cables inside a wall. These allow you to hide wires and cables behind your walls, are code compliant, and easy to install.
Sound Too Complex? Puls Is There to Make it Easy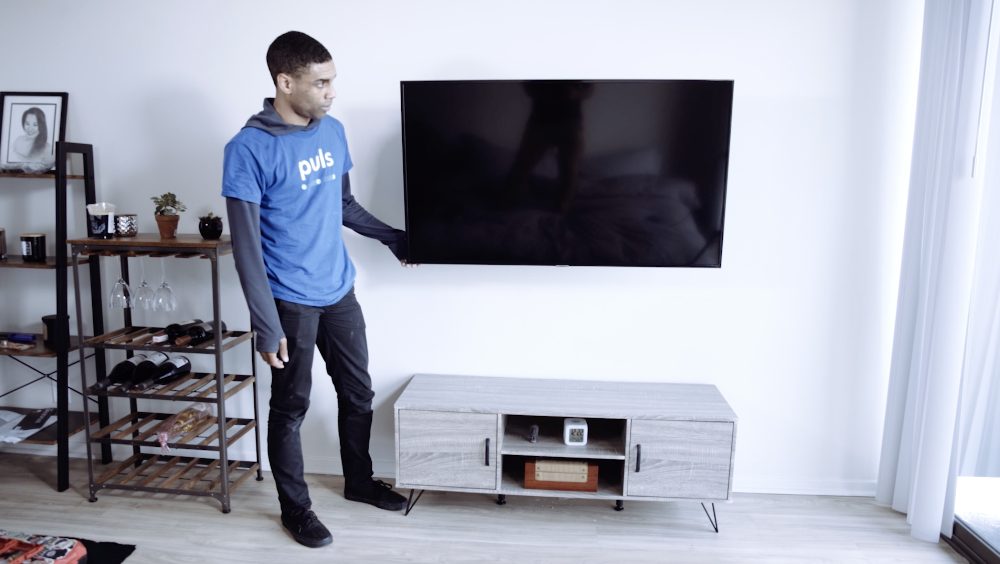 If you're not sure you're ready to take this on as a DIY project or you just don't have the energy, Puls professional TV installers are always there to make TV mounting as easy as possible for you. Our technicians have all the tools needed to quickly and efficiently mount your television exactly where you want it.
Easy online scheduling allows you to make appointments when it's convenient for your schedule, with appointment windows as early as the same day.
You can trust the Puls team to perform a quality TV installation, plus extras like cord concealment, device configuration, sound bar install and more. We're so confident in our services and products that we'll even give you a 90-day guarantee on parts and labor.
We provide transparent, flat-fee pricing, so you know exactly how much the work will cost before scheduling your appointment. Convenient in-home payment is only made when the job is complete, and can be done with a credit or debit card, cash, or PayPal.
Book your TV mounting appointment today and a Puls expert will bring all the tools and equipment needed to you (and do the heavy lifting for you) for a convenient, seamless installation. All you have to do is sit back, relax and get ready to enjoy many years of great entertainment.