Mounting your television is a great way to avoid the expense of an entertainment system (and not to mention, a way to save a whole bunch of space in your living area). And although it would be nice to just hammer a couple of nails in on the wall and hang your flat screen television like a large picture, it unfortunately doesn't work that way—or if it does, it won't be too long before the television comes crashing down onto the floor.
Because televisions can get heavy and we want to protect them from a middle-of-the-night fall to the floor, TV owners use TV mounting kits to hang up their television over the fireplace or up on the wall.
Thinking about mounting your flat screen television up on the wall and not sure how to get started? Here's your guide to TV mounting kits, including what they include, where to get them, and how they work.
How a TV Mounting Kit Works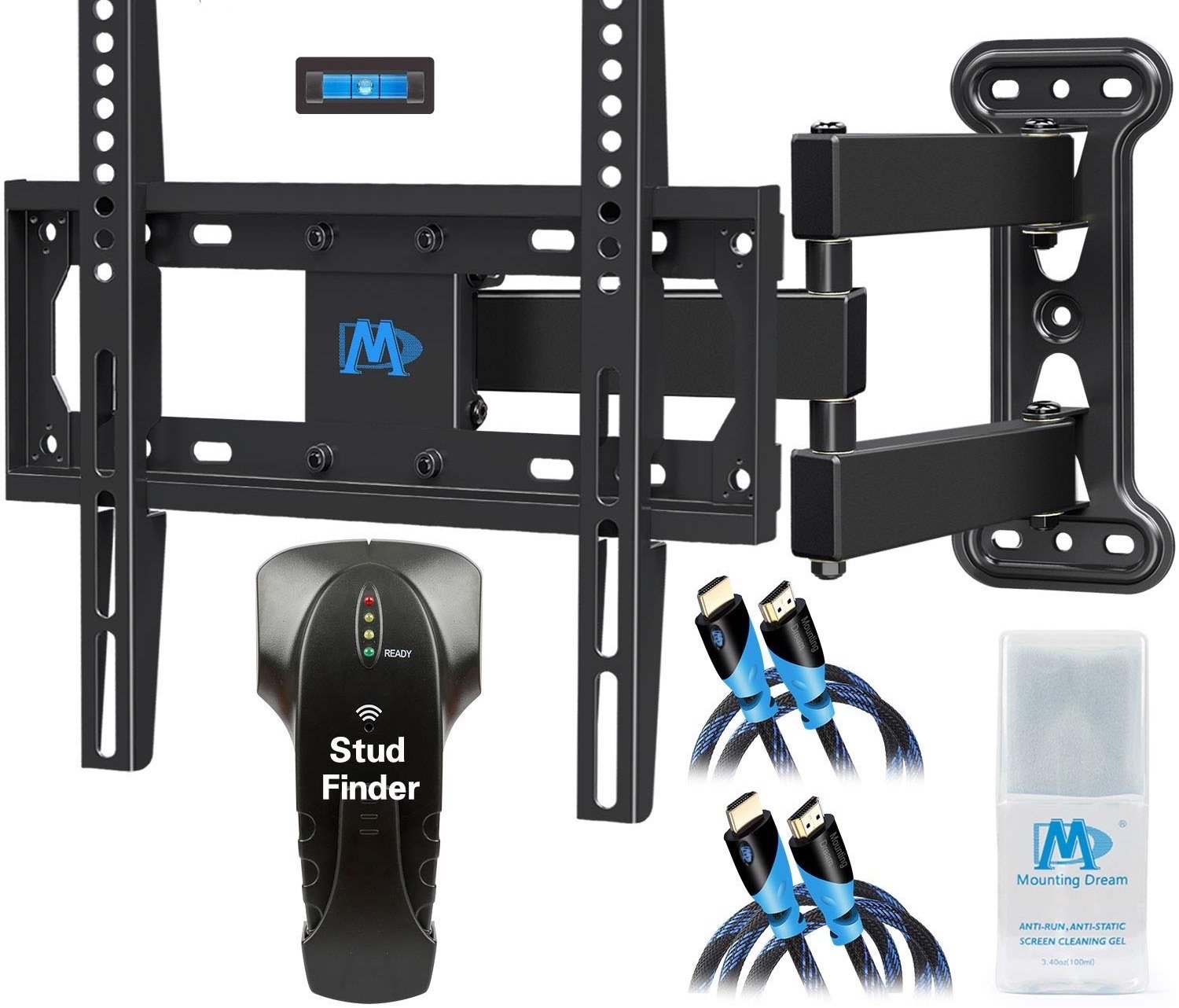 Whether you've always had an old school television or you've always used an entertainment stand, you may not be exactly familiar with how the television mounting kit actually works. A standard TV mounting kit holds the television up in a stationary position, but there are other kinds that allow you to tilt or completely swivel the television as necessary (to account for sunlight or to allow you to see it in other rooms). The basic idea behind a television mounting kit is that it bears the weight of the TV without destroying the integrity of the wall.
In order to mount a television correctly, you'll need to find the studs in the walls and use a level to ensure that the flat screen will be evenly hung up—because the last thing you want is to have to watch television with your head tilted.
You can find a television mounting kit at any big box store, electronics specialty store, and of course, on Amazon.
What Should be Included in Your TV Mounting Kit and How to Install It
When you purchase a television mounting kit, it should include the following parts:
The wall plate, which is the piece that is secured into the wall

The brackets, which attach to the back of the television
You will need the following tools to mount your television correctly:
A screwdriver

A drill

Level

Socket wrench

Stud finder

Tape measure
Although manufacturer's instructions will vary on the installation, you will first need to select a height to hang the television (the standard height for hanging one up will depend on the size of the television, but you want it to be eye level with you when you're sitting on the couch). After you find the height, you'll then need to use your stud finder to mark the studs on the wall you'll be hanging the television on so it can be secure.
Once the studs are found, you'll mark where the pilot holes will be to hang up the wall plate, secure the brackets onto the television, and then follow the manufacturer's instructions to attach the brackets to the wall mount. (Tip: you'll need a friend to help you lift it up so you don't accidentally drop and smash it to bits).
Do You Need to Buy One—or Should You Just Get it Done Professionally?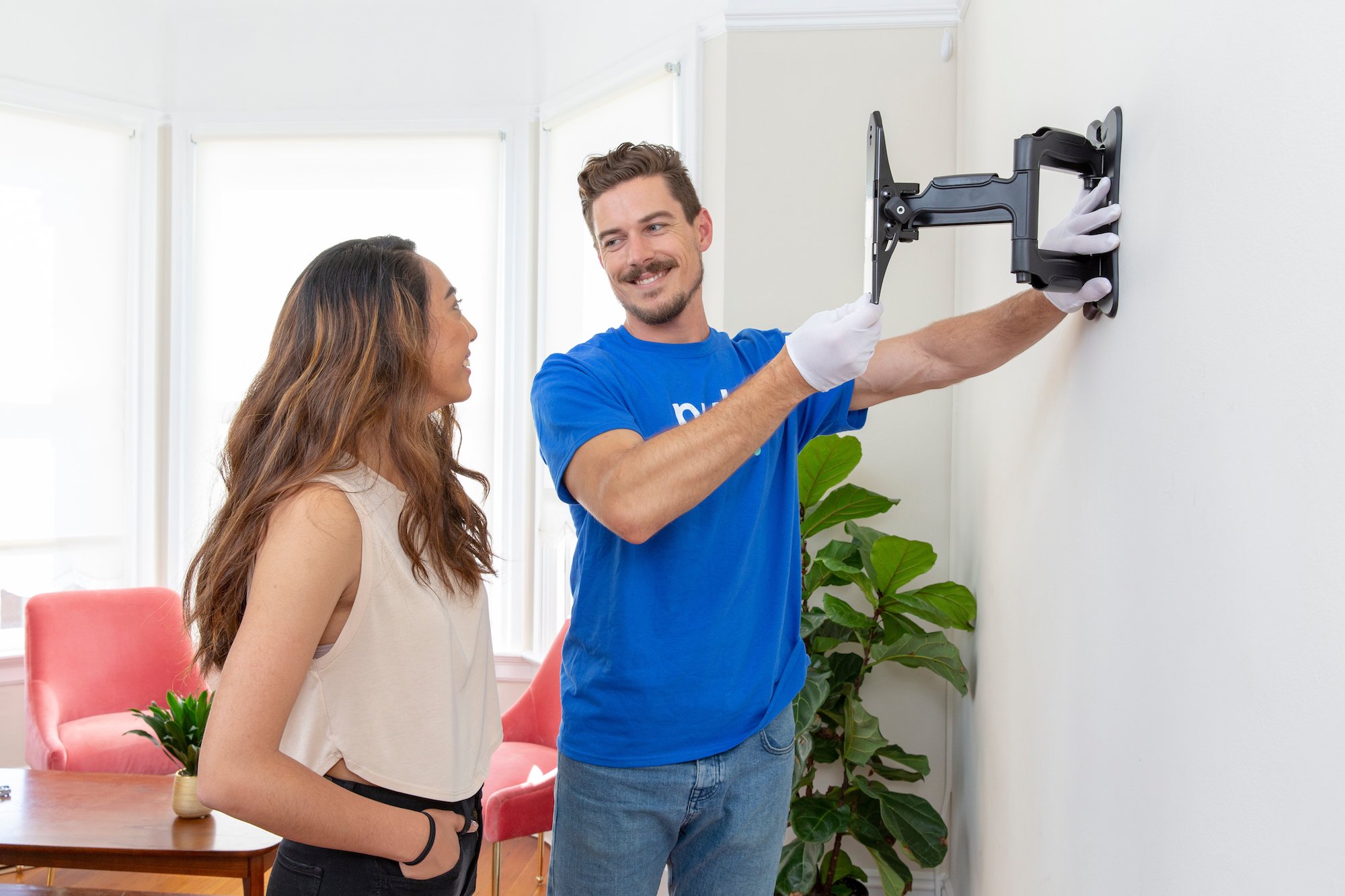 If you consider yourself the confident DIY type, mounting a television certainly isn't an impossible task. It'll likely take you a couple of hours, with most of that time being used to accurately measure and determine where you'd like to hang your TV.
However, buying and installing a TV mounting kit isn't for everyone. It can be cumbersome, and to be honest, a bit nerve wracking if you've never done it before.
Your television is one of the most expensive items you own and it's perfectly reasonable to want to seek out professional help to mount it properly.
At Puls, we offer comprehensive television mounting services that start at just $69. We can do all of the tedious tasks like concealing wires, installing a soundbar, and handling complicated setups on brick or concrete walls—and we can do all of this in the same-day that you book your appointment.
Our technicians are fast, efficient, and have expert knowledge on all things TV installation, so you can entrust that one of your most prized possessions will be taken care of while it's installed.