Today's flat screen TVs are amazingly sophisticated, technological marvels. They offer stunning, life-like graphics and theater-quality sound at the touch of a button (or voice command). Surprisingly, these spectacular entertainment hubs come in a variety of sizes and price ranges to fit every budget.
Of course, you need to find the perfect vantage point to view the big game or box office hit, which means you've got to mount it on the wall. You definitely don't trust your prized new possession to a few mismatched screws you find laying around the house, or feel certain guessing about which size and type of TV mounting bracket is sufficient to hold the weight of your new 60" TV.
The wise decision is to hire a professional, but how much is it going to cost you, and how do you avoid getting ripped off? While there are several companies that offer TV mounting services, we feel strongly that Puls offers the best value for your money.
We've put together this guide on the average TV mount installation costs to help you understand the general installation pricing, and average prices for additional services you may also need, so you can make an educated decision on your own.
Basic installation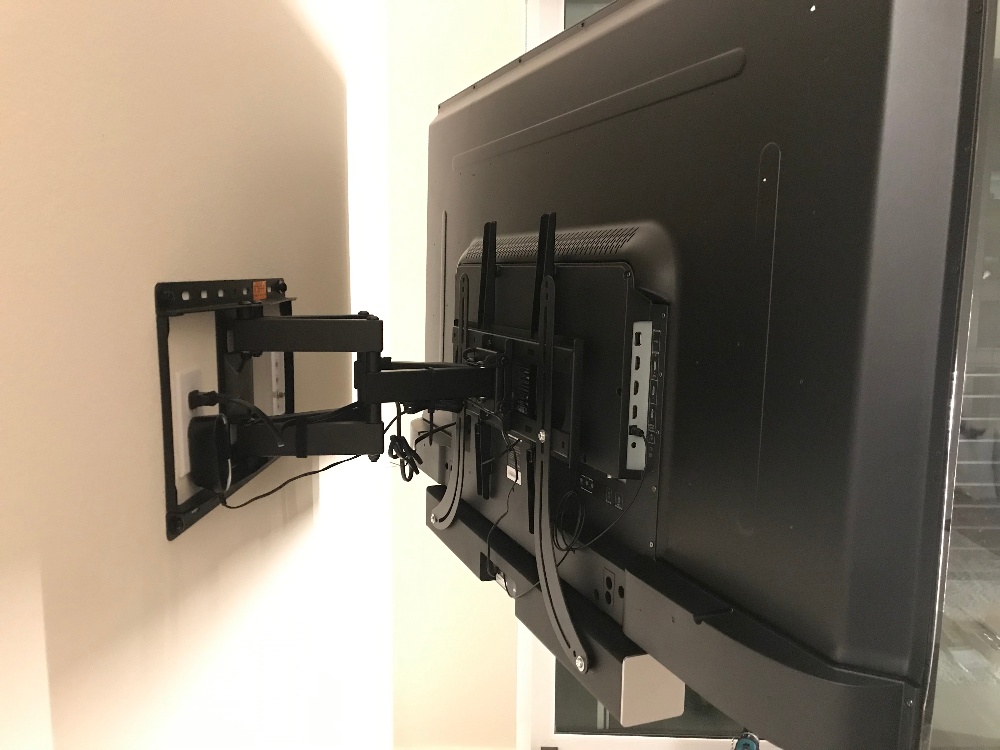 Basic installation is just that for many companies—basic mounting on drywall. You will still have to supply a wall mount and pay extra for HDMI and power cables, connecting the sound bar, hiding the audio and video cables in or on the wall, connecting the TV to your Wi-Fi network, programming your remote control, and even mounting the TV above a fireplace or on a surface other than drywall (most companies charge extra for this).
Thumbtack uses a variety of different subcontractors to perform TV mounting. They charge between $70 and $110 per hour on average for basic mounting.
Tilting or articulating brackets take longer to install so an extra charge of $70 to $110 will be tacked onto the hourly rate. Add in extra time and labor costs for installing on brick, concrete or stone, especially if you want A/V cord concealment or connecting your TV other components or devices.
All-inclusive subscription services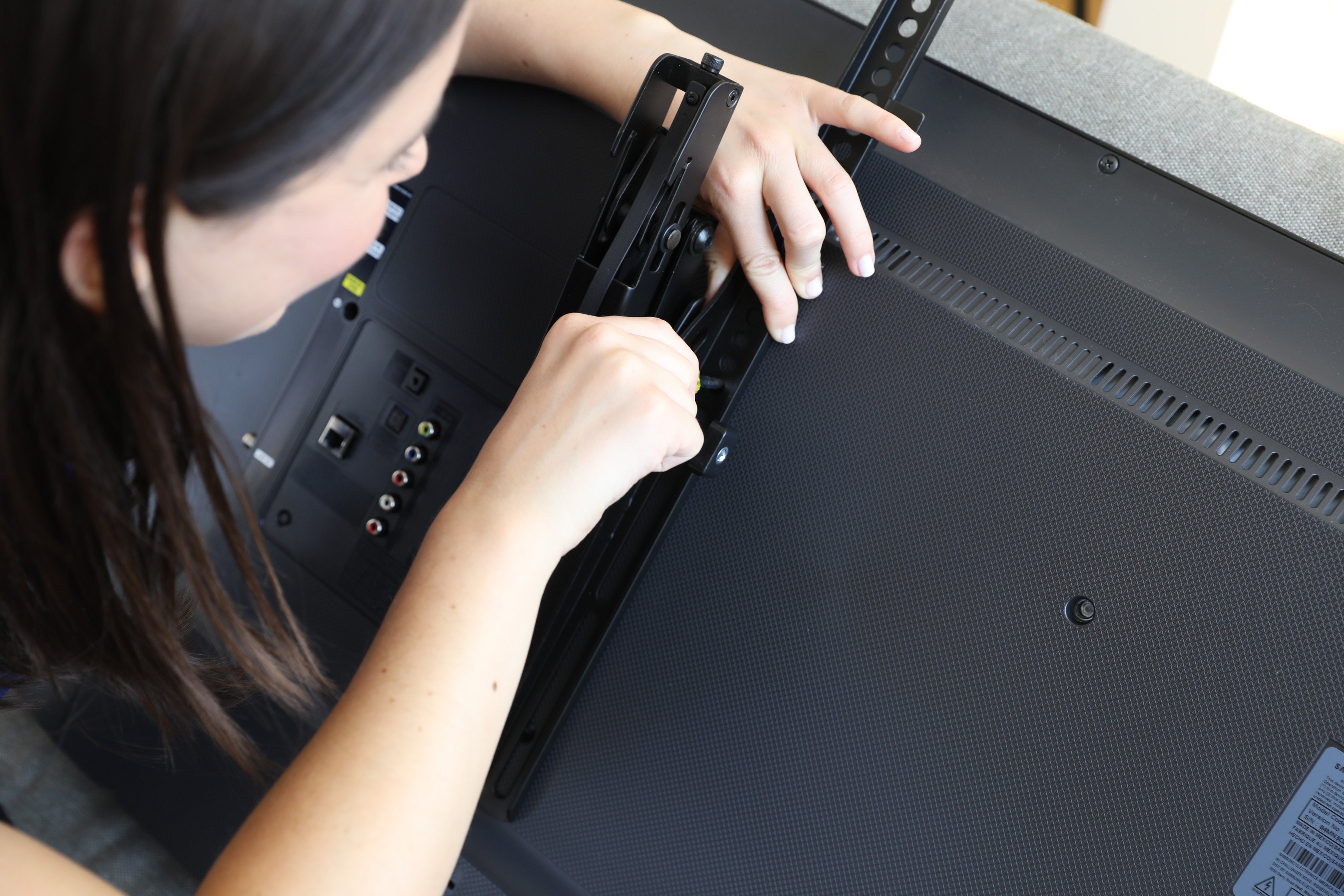 If you're feeling nickel and dimed on the hourly installation service, you could opt for an all-inclusive service like Best Buy's subscription service. They offer a premium mounting service with total tech support for a yearly membership of $199.99.
While this might sound like a good deal, basic TV mounting still costs an additional $49.99, plus, you still need to purchase the TV mount itself, and hard surface mounting is even more money. Parts and labor for an in-wall power extension can cost $150 or more and will require an in-home consultation to calculate the total cost.
Don't forget that you've paid for a full-year of services that you may never need when all you wanted was to mount your TV on the wall. You can skip the subscription fee but you'll have to pay a minimum $129.99 in-home service fee, plus more for the extra install options.
Puls offers superior value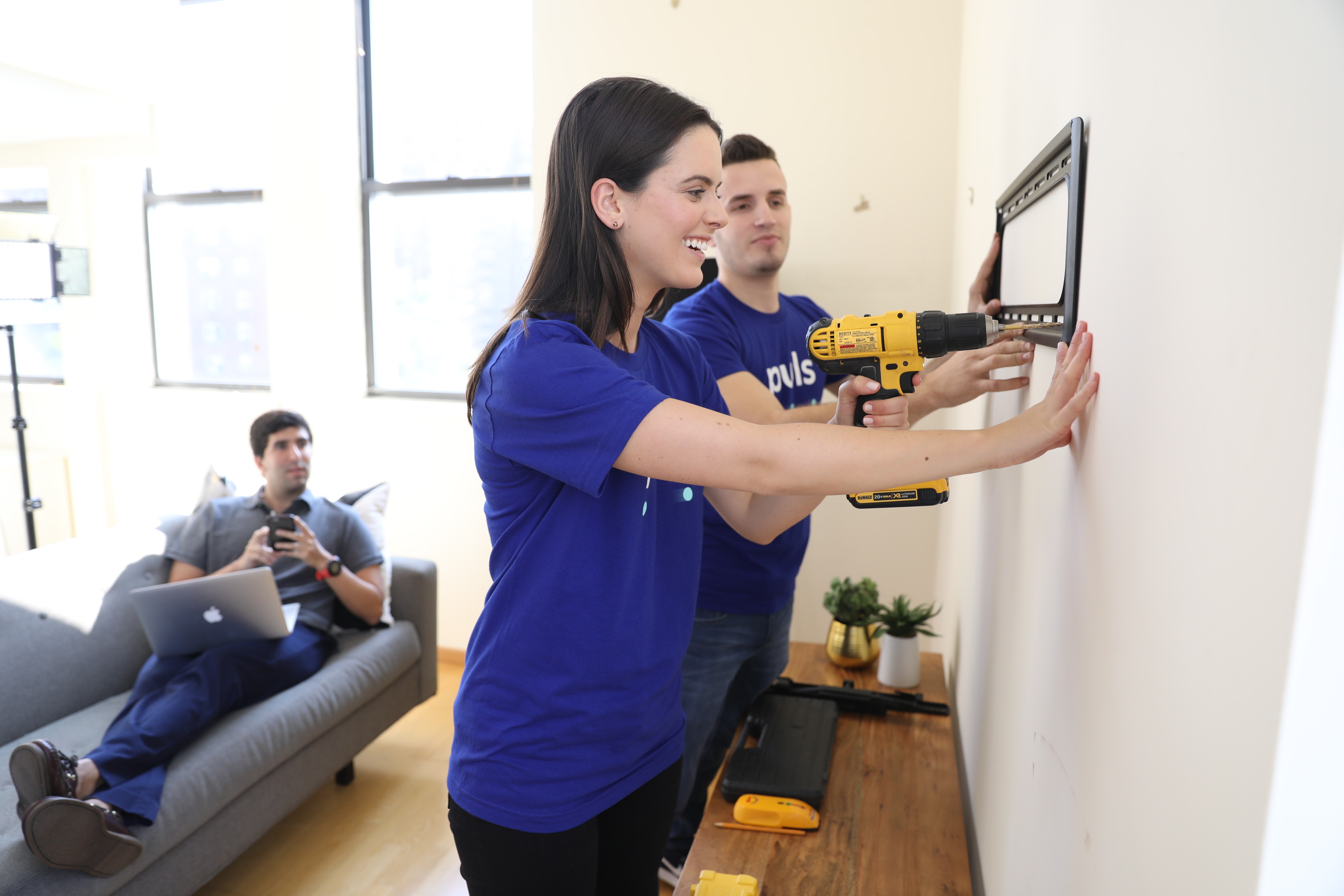 Puls understands that you want transparent TV mounting prices for a complete job, so we've made it easy for you. For a flat installation fee of $69, a skilled technician will hang your TV (up to 31") on drywall.
Also, for an added fee, we can bring a bracket to you, or mount your TV on another wall material, like brick, concrete or above a fireplace.
TVs between 61" to 80" cost $149 to mount and over 81" cost $159. Sounds good, right?
The good deals don't stop there. We'll even bring the right-sized bracket with the best style for your application.
Tilting brackets are priced from $28 - $70 and full-motion brackets are reasonably priced from $29 - $95.
Our technicians even offer a full assortment of other services like cord concealment, sound system installation, connecting your cable/satellite box or other components for low, flat-fee pricing.
The Puls guarantee
Not only do we provide specialized TV mount installation services, Puls also includes a 90-day guarantee on all parts and labor. Other companies charge extra for support services or to help with any unexpected issues after installation.
Not only will we mount your TV at a reasonable price, we'll provide you with total peace of mind. Scheduling an appointment with Puls is easy, too.
Just go online to select a day and time that's convenient for you. One of our skilled technicians in your neighborhood can arrive to your door as soon as same-day, so you can invite your friends over to watch your favorite shows by tonight.
Plus, this week only, enjoy $20 off your TV mounting services when you book online with the code: MEMDAY20. Hurry - this offer expires May 31st, 2019.
With our great prices, professional technicians, peace-of-mind guarantee and convenient scheduling, Puls's TV mounting service checks all the boxes for the best company to handle your job. Don't wait another minute, book your appointment now.