Regardless of what your friends and family might say, if you think you need a 65 inch television to re-watch Downton Abbey for the third time, then by golly, that's what you need.
When you stroll home cradling all of that glorious screen real estate in your arms, don't let your victory be muddied by any concerns about what kind of TV mount a 65 inch behemoth such as yours might require. Instead, we've done all of the homework for you. In our 65 inch TV wall mount guide, we tell you everything you need to know, so you can skip the hassle and get watchin'.
What Kind of TV Mount 65 Inch TVs Require – And What You Need to Know About Your Walls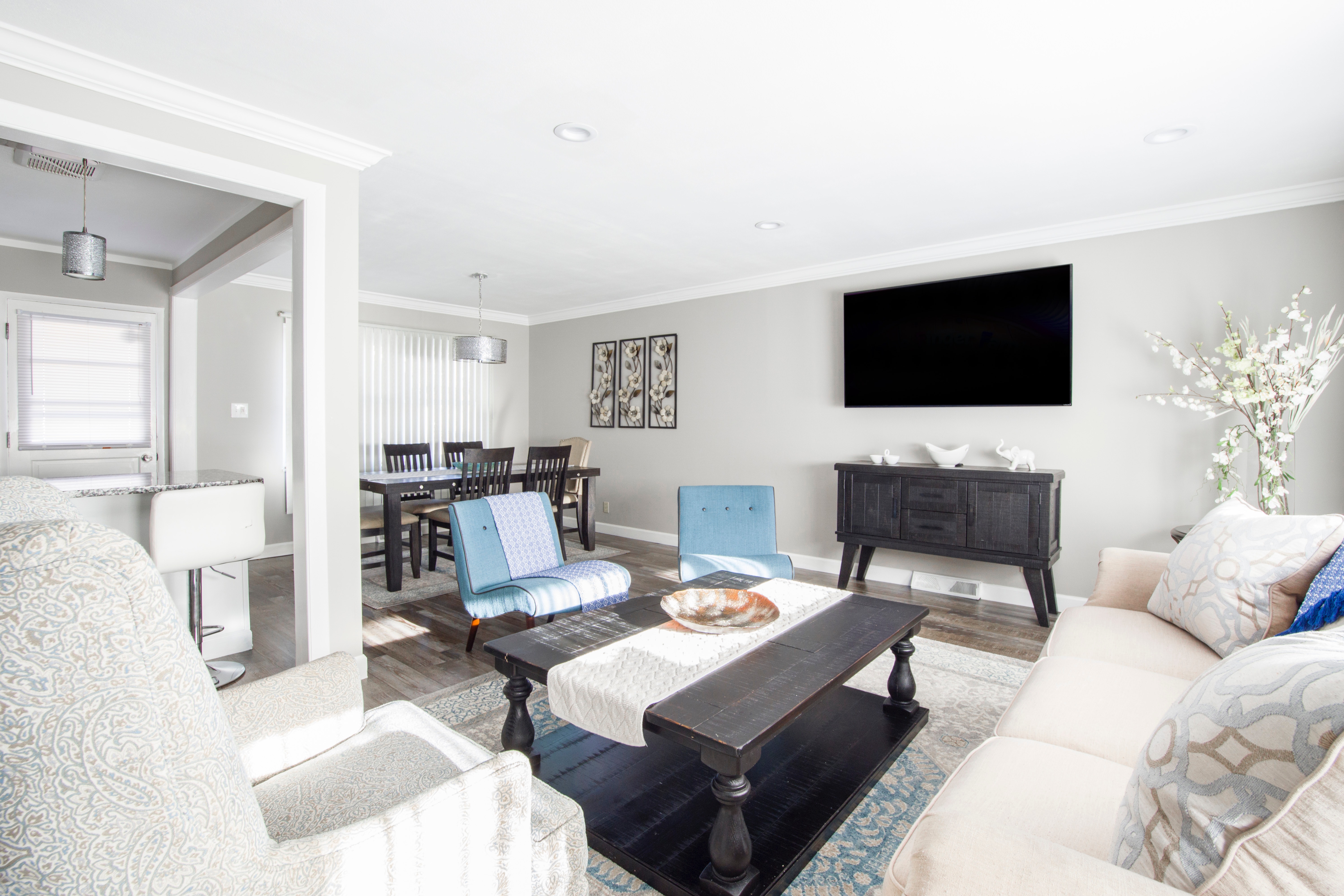 Photo by Milly Eaton from Pexels
To break it down, the main thing you're looking for is a mount that fits the back of your TV. It should also be strong enough to support your TV's weight. As long as these two criteria are met, you don't really need to worry about much else.
Fortunately, the Video Electronics Standards Association simplified things by applying a standard bracket configuration for the backs of televisions.
Virtually all TVs are designed with back panels that follow this standard, and almost all wall mounts comply as well. This makes it a lot simpler to match up a TV with the right wall mount. Not all TVs have the exact same VESA size, but they've essentially narrowed it down to Big, Medium, or Small.
To find out if a bracket will fit your TV:
Look in your television's product manual or on the box to see the VESA bracket size
Check the wall mount to see if it matches the TV bracket size
If you can't find the VESA size in your TV's product information, simply measure the distance between the bolt holes on the back of your TV, both across as well as up and down. Common VESA sizes are 200 millimeters by 200 millimeters, 400 x 400, and 600 x 600
Also, check the weight of your TV in the product manual or on the box
See how much weight the bracket is advertised as being able to support
You will also want to make sure your wall can support the weight of your TV:
For 65 inch televisions mounted on drywall, we recommend only mounting the bracket to the studs inside the wall
While companies do advertise plastic wall anchors that can help drywall hold significantly more weight than a standard bolt, we do not recommend using these for the kind of TV mount 65 inch televisions would require – as a 65 inch TV is most likely much heavier than even these wall anchors can handle
What to Know About a Full Motion 65 Inch TV Wall Mount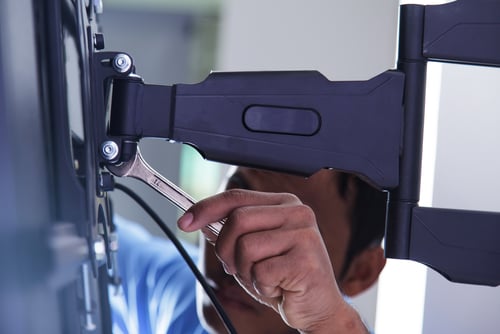 While it may seem surprising that an extendable articulating arm is capable of supporting so much weight, you can absolutely get a full motion TV wall mount for a 65 inch television.
However, we suggest you use caution when mounting a full motion bracket for a 65 inch television, as it's extremely important to make sure that the wall is capable of supporting the weight. While it might be tempting to try and use plastic wall anchors, we highly recommend ensuring that your bracket is mounted securely to wall studs.
65 Inch Curved Wall Mount: Does it Exist?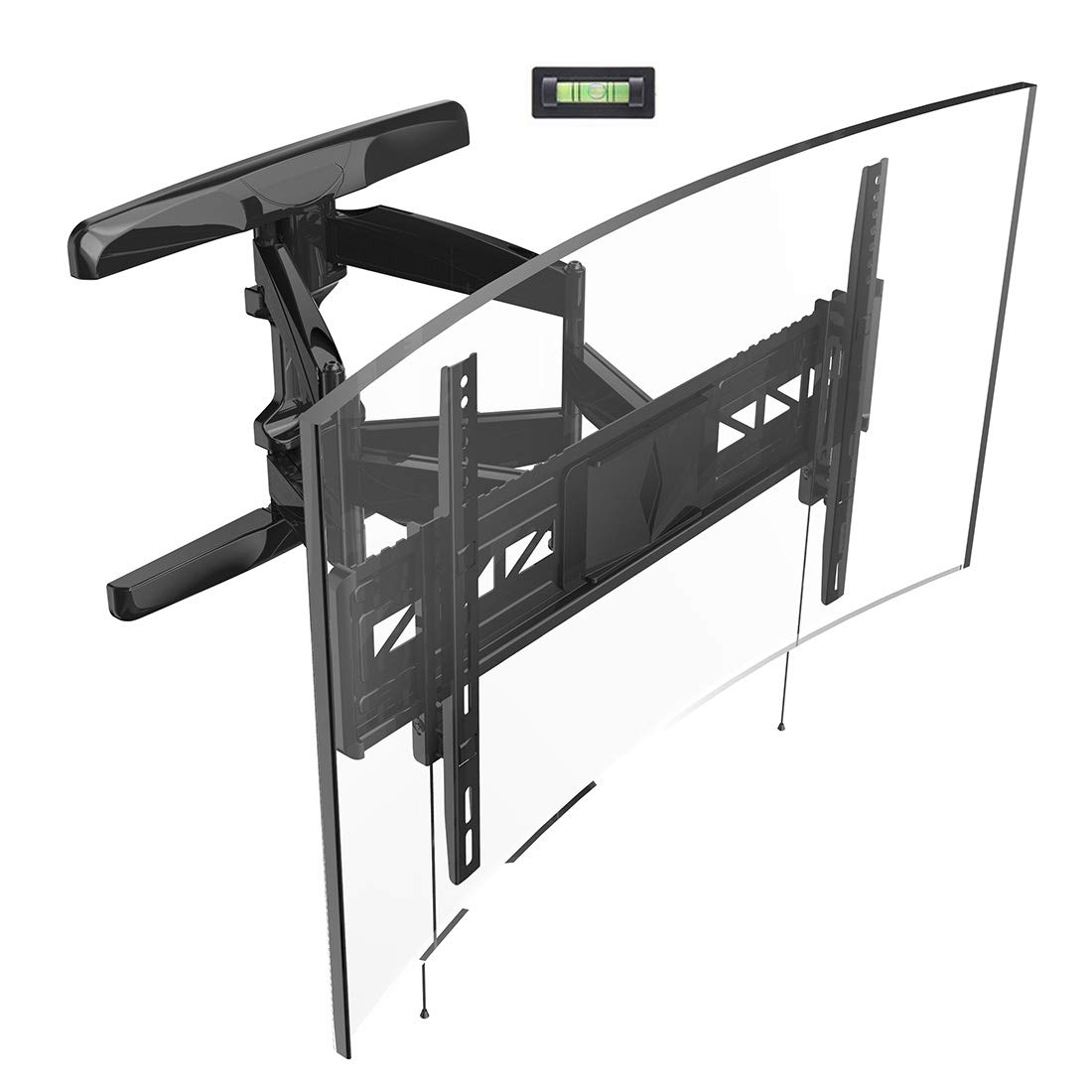 Loctek Curved TV Mount from Amazon
Is there a TV mount 65 inch curved televisions are suited for? The answer is yes and no. First-generation curved TVs were not mountable, though nowadays some curved TVs can be mounted. When in doubt, it's advisable to check the television product info before you buy, so you're not stuck with a 65 inch curved TV that can't be mounted.
If You Took Advantage of a 65 Inch TV Walmart Deal, Try This Bracket, Too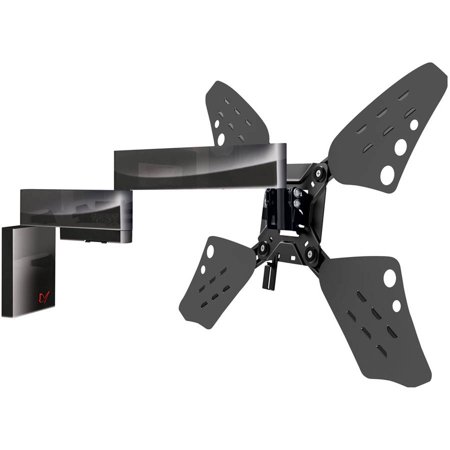 Barkan Full Motion TV Wall Mount from Walmart
We all know that Walmart has great deals on televisions – but did you know that you can also score big on a TV wall mount there?
Case in point: This television mount from Barkan is not only priced low, it delivers big. Supporting 88 pounds and with 4 different movements (up and down, side to side, swivel, and tilt), this mount also sports a super slim profile, fits both curved and flat TVs, and is adjustable from anywhere between 32 to 70 inches.
Of course, this is just one of hundreds of wall mounts for 65 in TV Walmart sells.
Getting the Right Wall Mount for 65 Inch Samsung TV Sets
Samsung offers this no-gap wall mount that's adjustable for TVs anywhere between 49 to 65 inches – but do you absolutely need to get a Samsung brand mount to match up with a Samsung TV? The answer is definitely not.
While the above is a perfectly fine bracket, Samsung TVs are among the legions that comply with VESA standards, and can be mounted with any VESA compatible TV wall mount. So, if you're looking for a fully articulating full-motion TV mount, knock yourself out. And you know we're always here to help you get that thing up on the wall.
Puls Can Mount It For You – And Bring the Perfect Mounting Bracket
Book a time slot with Puls and let your technician take the guesswork out of your installation. Our certified technicians will put their professional know-how to work finding the optimal viewing location, bracket type, and mounting technique for your TV, so you don't have to worry about lighting, eye level, wall material, or anything other than where you left the remote.
Need a bracket? No problem - we can bring one for you. Not sure where to place it? We'll help you find the perfect spot.
Plus, all of our services come backed by our 90-day guarantee, so you know your TV is in good hands. So, what are you waiting for? You could be watching your favorite shows and movies as soon as tonight.