If you have a formal dining room, the space is most likely sits unused for the balance of the year or becomes a collect-all for your miscellaneous items without a permanent home.
It's no surprise that most modern families are breaking away from the traditional dining area and repurposing the space for something more practical and useful. With this change in lifestyle, the eat-in kitchen has made a huge comeback and choosing the right size table for a kitchen is more critical than ever.
Before you start your search for the perfect kitchen table, you'll want to consider a few factors to make sure it fits your room, your needs, your décor and your lifestyle.
How to Choose the Right Size Table for a Kitchen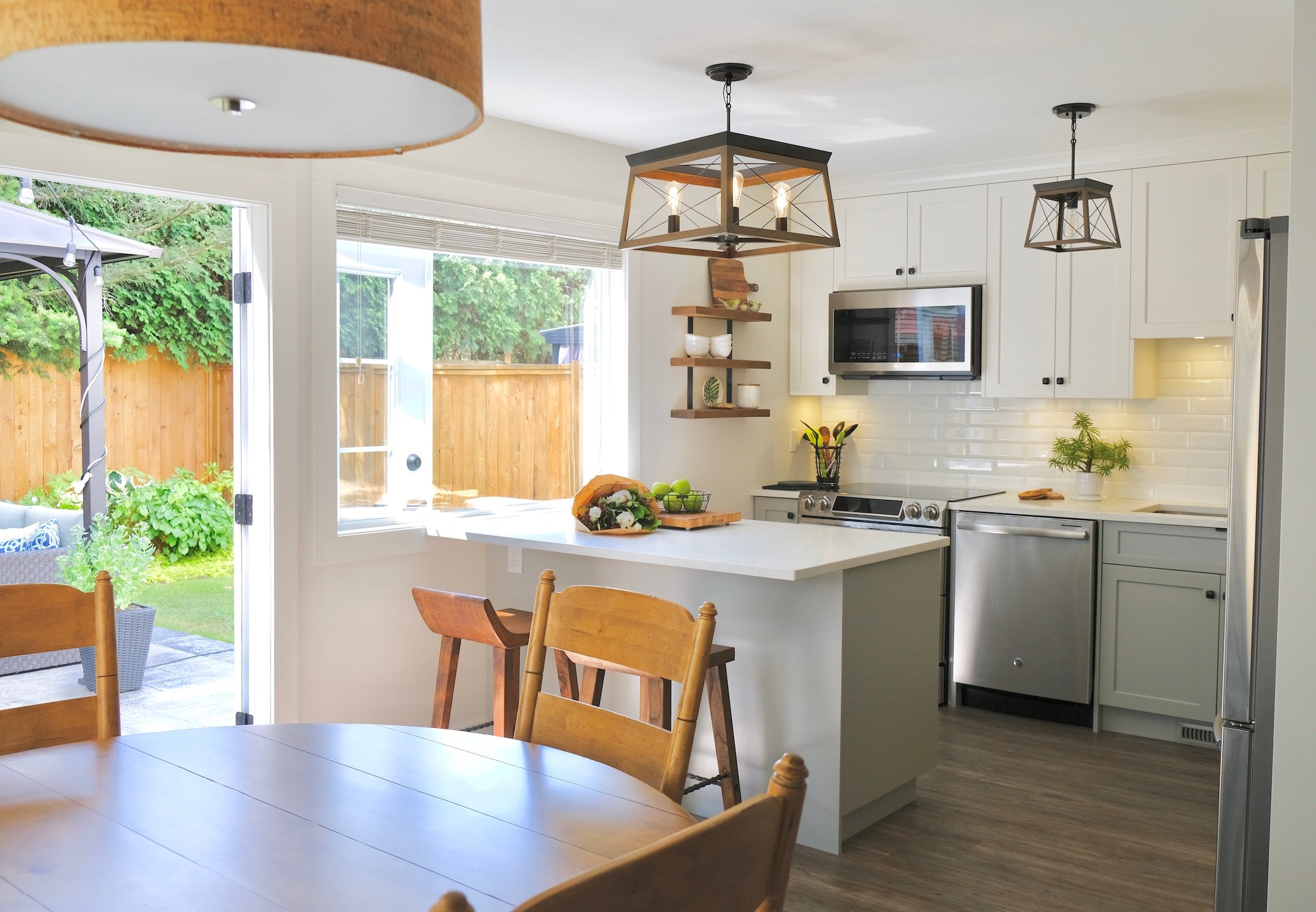 With an endless selection of table sizes, shapes and designs, it's hard to know how to choose the right one. Interior design experts at Houzz provide some table sizing guidelines for comfortable seating and dining to help fit your kitchen space.
Think about the number of diners you'll typically be seating and how much area you'll need to walk around the table. Try to envision the flow of people as they walk around the table, to ensure they'll have enough room on each side. Pull out a measuring tape and start measuring to calculate the table size needed.
The standard recommendation is for a table width of at least 36 inches. This will allow plenty of room for place settings and food. Don't forget that the longer the table, the wider it will be. Extra wide tables may benefit from a center turntable.
Multiply 2 feet of eating space by the number of diners to determine the proper table length/area. While you might be able to squeeze in one or two more guests for the occasional large gathering, this formula will prevent overcrowding.
Leave 42 to 48 inches between the table and the walls, cabinets or other furniture for easy access. Be sure to include extra table leaves in your calculations.
Make Sure You Pick the Right Table Shape and Supports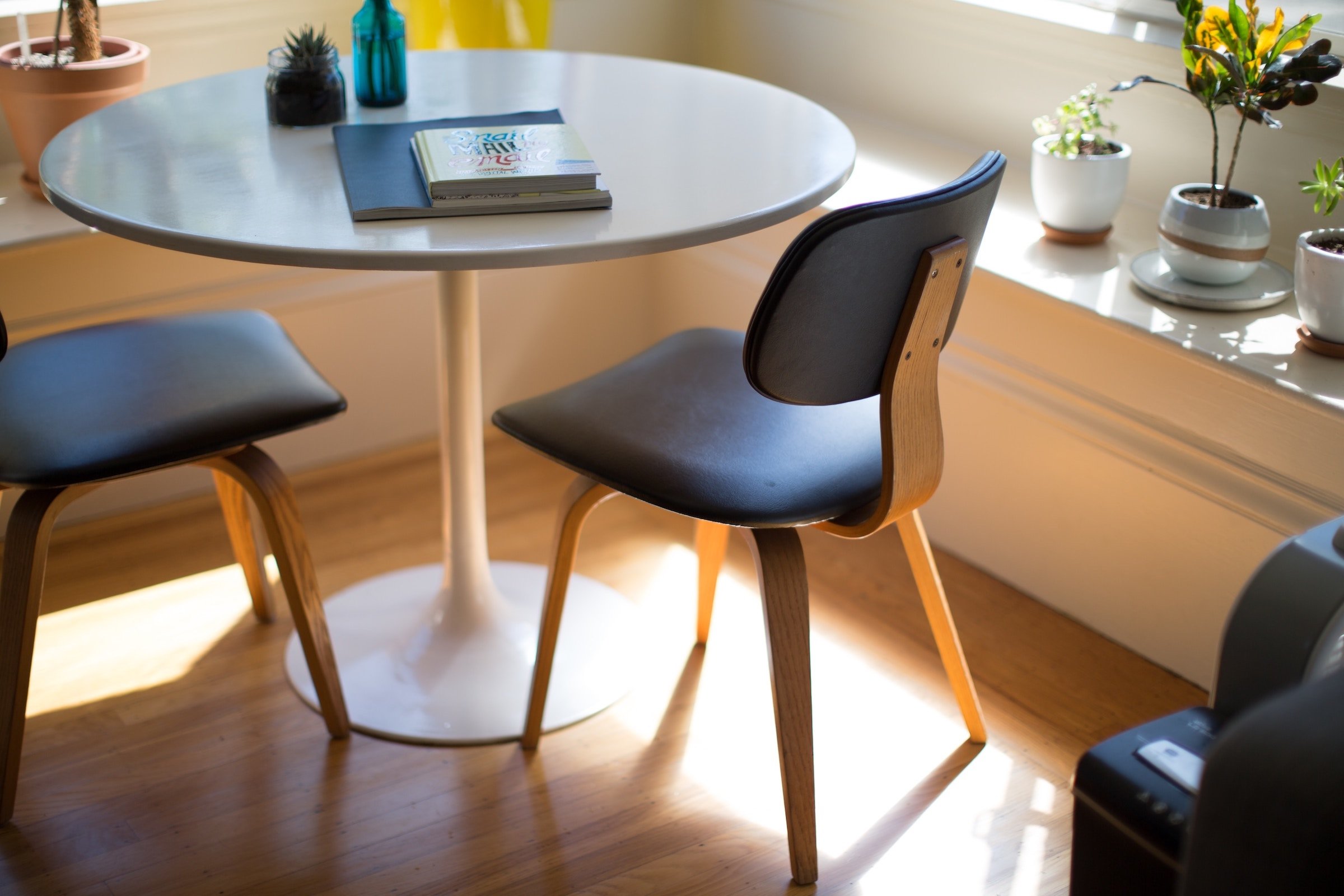 While rectangular and square tables are the most common, if your kitchen has limited space, a round or oval shape might fit better as there are no corners to maneuver around. Many tables also have expandable leaves that can be stored away when not in use.
Don't forget that the base or table supports will have a big effect on how many people you can comfortably fit at the table. Standard table legs can get in the way of chairs so pay attention to leg width and placement. A pedestal gives you the best flexibility but can be a little less sturdy than other base styles. Trestle tables are great for leg room along the sides but are limited at the end. Make sure you have sufficient room for your knees with trestle supported tables.
Watch the type of chairs you choose to maximize seating. Arm chairs will fit best at the end of a rectangular table, while standard chairs without arms are best for round designs. Consider using a bench instead of chairs for kitchens with limited space. Then you can store the bench under the table when not in use.
How to Choose the Right Material for Your Kitchen Table
Now that you've determined what size and shape your table should be, you'll want to choose the material that best fits your budget, décor, and lifestyle.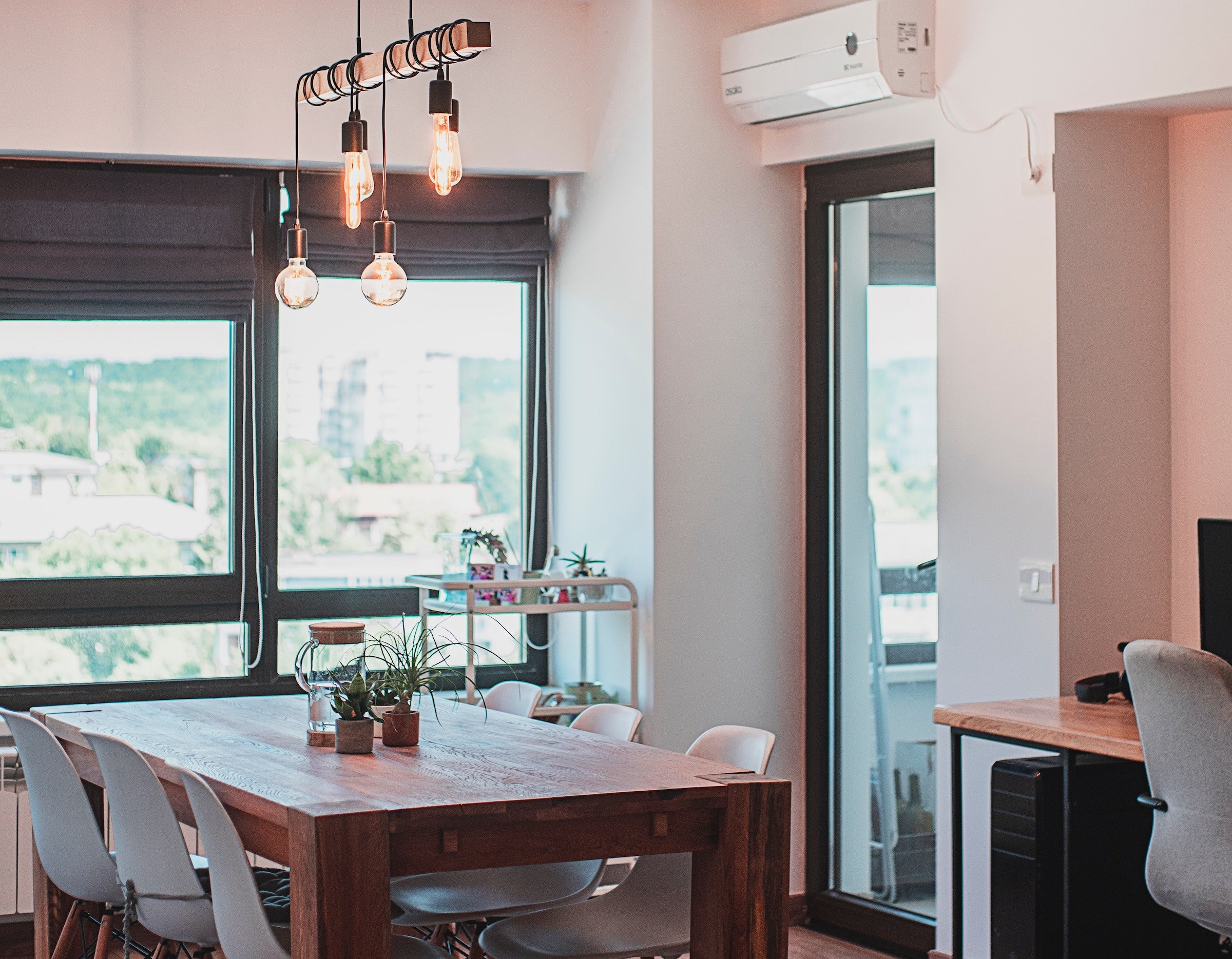 Wood kitchen table: this is a classic choice for its durability and easy repair capabilities. Solid wood species like pine, teak and mango are the most popular but can be easily scratched and show wear marks.


Veneer/Wood-Look kitchen table: a more affordable option to solid wood, a thin layer of wood (or printed material) is glued to plywood or other wood core. This provides an excellent option to solid wood as it gives both the look and durability.

Stone kitchen table: Marble, quartz or cement is a popular tabletop for its durability but can be porous and stain easily. While it can be very heavy, it can also chips and crack. Repairs are difficult to make. This elegant look can run anywhere between $500 and thousands of dollars.


Glass kitchen table: this inexpensive option comes in clear, frosted and tinted designs. They are perfect for creating an open feel and work well is small rooms. Glass tabletops can be susceptible to scratches, chips or cracks. It also requires a little extra maintenance because of fingerprints.


Plastic and Laminate kitchen tables: these man-made materials are inexpensive and very durable, and they require little maintenance.
Your kitchen is the central hub of your home. It's where everyday activities take place, where friends and family gather, and where memories are made. The table you choose should fit your lifestyle and handle meals and every other activity with ease. By choosing the right size, shape and supports, and material, your perfect kitchen table should be the focal point of your room and last for many years to come.