Today's televisions are bigger, lighter, and clearer than ever before—the old 32", 40" and 50" flat-panel screens are being replaced so that 60", 70", and even 90" TVs are becoming more common. They provide more high-definition entertainment too—streaming, gaming, music, and of course, TV programming. With smaller, light-weight components, these mega-sized marvels are easier to mount on the wall, so we've put together a step-by-step guide on "how to mount a TV" if you want to do it all yourself. Not to worry if the job seems a little intimidating, a Puls' technician can take care of all the heavy lifting for you with a same-day appointment.
Know how to prep your walls? Click here to go directly to the step-by-step instructions.
8 Things to Consider Before You Mount a TV on the Wall
Regardless of size or style, there are a few things you need to figure out before you start drilling holes in the wall:
1. Check the Specifications of Your TV
It's important to consider the size and weight of your TV so you get the right wall brackets. Mounting brackets are rated by both screen size and weight capacity. Make sure to check your television's manual for the exact dimensions and weight of your model. Then compare the wall mount product description to make sure it is capable of holding your unit.
Make sure the brackets don't extend past the width and height of your TV.
Curved televisions may need a special mount to offset this configuration.
The larger the TV, the heavier it will be. Don't max out the weight capacity of the mounting bracket. Doing so will compromise the integrity of the mount and possibly create a dangerous situation.
2

. Plan Where to Locate Your TV



Finding the ideal location for your TV depends on several factors including viewability, angle, window location, space allowance, furniture placement, component placement, electrical and cable access. While you might be able to move furniture around or use a different type of bracket to angle the television, planning ahead will provide the best possible outcome.
Calculate the proper distance from the seating area. The general rule is to divide the size of your TV by 0.55. With this formula, you'll need to sit 109 inches away from your set. You can also use this

online calculator

to determine the proper distance.
Think about the equipment you'll need to operate your TV. Small cable boxes may be small enough to mount on the back of the unit but larger components may need to be located below or to the side of your TV.
If windows are located directly opposite the TV, daytime glare may obstruct viewability. Consider relocating to another wall or add window treatments that block bright light.
Many people are now putting flat-panel TVs above fireplaces. Caution should be taken to redirect excess heat with a deep mantle or an alcove that will protect the set.
3. Decide How High the Wall-Mounted TV Should be Placed


The standard mounting distance from the floor to the center of the television is 42 inches. This takes into account the eye level of a person of average height sitting on a sofa or chair. The TV should be placed at least 4 to 6 inches above any furniture and 18 inches above a fireplace opening.
Don't place the TV too high or you'll risk neck strain from looking up. Your eyes should be in line with the top third of the TV when standing.
Wall-mounted televisions appear to look smaller than table-top mounts. The trend to larger models fills the need for a more interactive viewing experience.
A TV mounted at the proper height frees up floor space, provides better viewing for multiple seating arrangements, and keeps electronics safely away from children and pets.
4

. Identify the Best Mount Size for Your TV



It's important to purchase a mounting bracket that will perform as needed while securing the TV without falling. Fixed wall mounts are typically the least expensive but you should be aware of differences between models.
Larger screen sizes require stronger TV mounts. While higher-priced models don't automatically indicate superior quality, there may be a difference in the metal thickness and weight capacity.
Check that all necessary tools are included such as hardware, level, HDMI cables, and mounting templates. Some higher-priced models may also include a cable organizing component.
All TV mounts should be UL-certified for high quality standards.
Most of today's mounting brackets are designed to handle between 80 and 125 pounds. Make sure to check the manufacturer's recommendations on both your TV and the mounting bracket description.
5. F
ind Out If Your Wall Can Sustain the TV

Most TVs are installed through drywall into wood studs with a single-stud or dual-stud mount. Studs are generally spaced 16 inches apart, although there may be some 24-inch spacing. Check the wall plate capacity—some accommodate both stud spacing.
Some styles offer an adjustable offset so you can center the TV wherever you need.
Special hardware is required for concrete or brick installation.
In areas where stud installation is not available, you can hang a TV with toggle bolts. Hollow wall anchors look like a normal screw with a butterfly toggle that opens on the inside of the drywall to secure the mount.
6.
Plan Beforehand on How to Manage the Wiring and Cables


Whether you connect your TV through Wi-Fi or have numerous pieces of equipment like cable boxes, DVRs, surround sound soundbar speakers, and game systems, you'll need to make a plan for concealing cords.
A simple cord cover is a channel used to run cords straight down from the TV to the wall. Most are paintable to blend into the wall color for a streamlined look.
Use wall power kits to run cables inside the wall down to the electrical outlet.
A single cord connection, One Connect, works with specific TVs with a controller box. All devices run off this without having to plug into your TV.
7. Thoroughly Research to Find the Best Wall Brackets and Mounts


Wall mounts come in three main types—fixed, tilt, and full-motion. You also need to understand what type of mounting pattern your TV uses called a VESA pattern.
Fixed—this mount sits close to the wall and holds the TV securely.
Tilt—used to reduce glare and angles when the TV is mounted higher on the wall.
Full-Motion—offers flexibility and multiple viewing angles. Provides easy access to cables and tilts, swivels, and rotates.
VESA Pattern—the mount must have the same VESA pattern as your TV. The pattern of mounting holes are measured in millimeters such as 100x100, 200x200, 400x400 and will line up with the appropriate mounting brackets.
8

. Availability of Source of Power Near Your Mounting



Before purchasing your wall brackets, check for electrical outlets as well as the location of the power cord on the back of your TV. You may need to use a power strip with additional ports for multiple devices. Consider using a surge protector guard against damaging electrical surges.

Use the Right Tools

You should make sure you have the right tools available for a seamless installation:
Stud finder—to find the wood wall studs inside the walls.
Level—to make sure the mount is level on the wall.
Power drill and bits—to install the hardware.
Pencil—to mark the hole pattern on the wall.
Painter's tape—to mark the TV placement on the wall.
Tape measure—to locate the proper height and distance on the wall.
Hardware—additional screws and bolts needed for installation.
Cable management system—ties, cord cover, etc.
Wall mount—with instructions and appropriate hardware.
How to Mount the TV on the Wall: Step-by-Step
Step 1: Locate the Wall Studs


That basically means you need to figure out where the wooden support beam is behind your wall, so you can drill into the wood and not into the hollow drywall (drywall alone typically cannot support the weight of the TV without special toggle bolts.)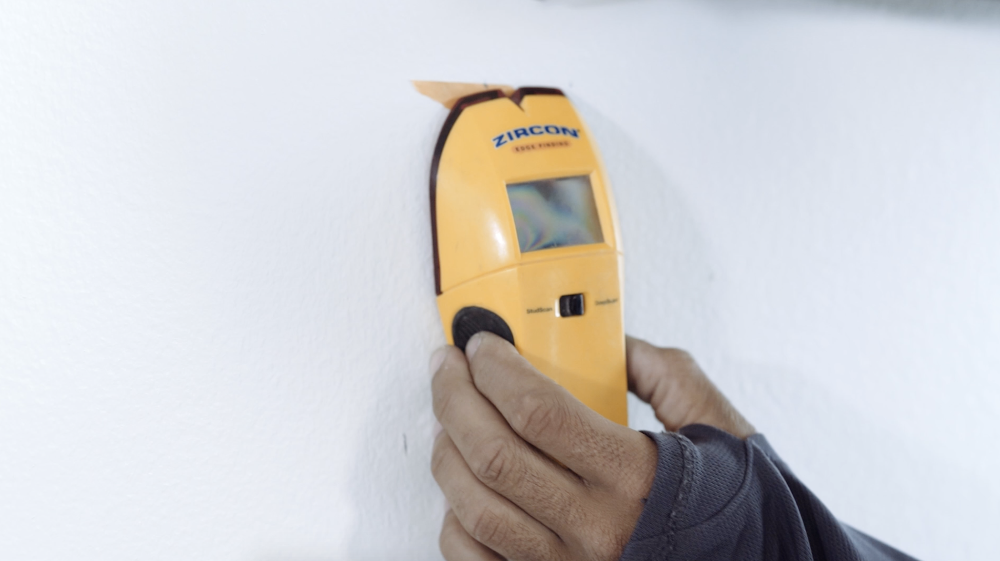 Step 2: Make Sure the Template is Straight


Create a "target" with painters tape. Once you've decided where the TV should go, give yourself a visual guide by laying down some tape (which can be removed later). Your tape measure can help in creating a target that's the correct size. You'll use the tape as a reference while mounting your TV.
Now it's time to drill!
Step 3: Mark exactly where the screws will go


Hold the mount against the wall on top of the stud and use a pencil to mark where the screws will go. This will be your blueprint.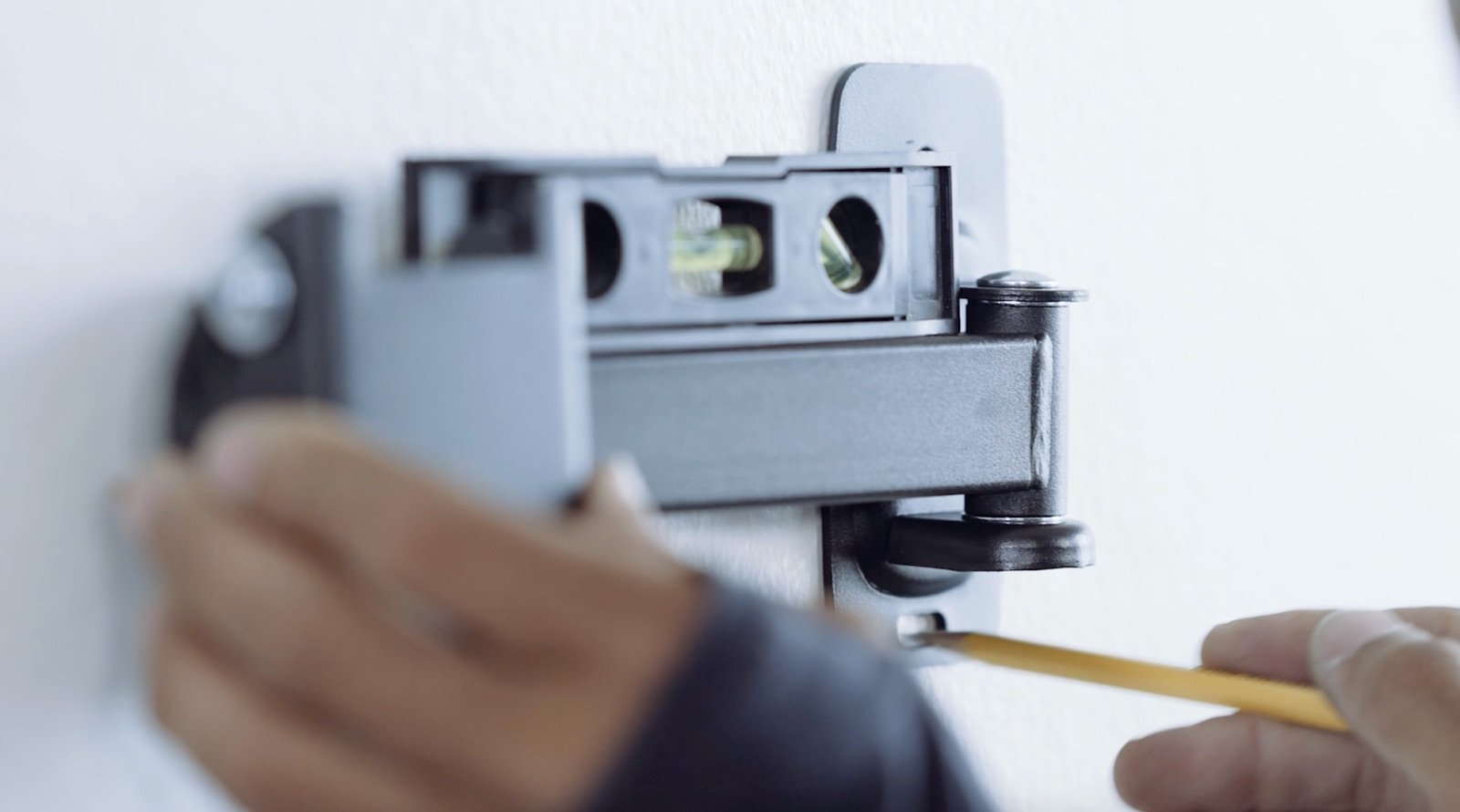 Step 4: Use the drill to pre-drill the holes in the stud


Take the drill and drill some empty holes into the wall where you have made pencil marks for each screw.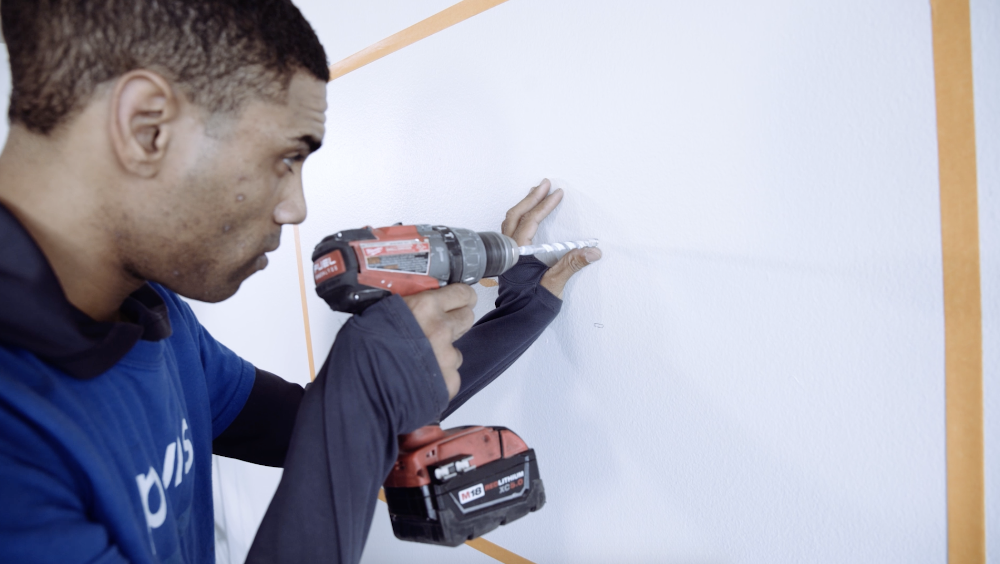 Step 5: Install "strap toggle bolts" in each hole

If you've never heard of a strap toggle bolt, it's a handy item that helps to anchor your screws in the wall. It can be purchased at most hardware stores and installed very easily.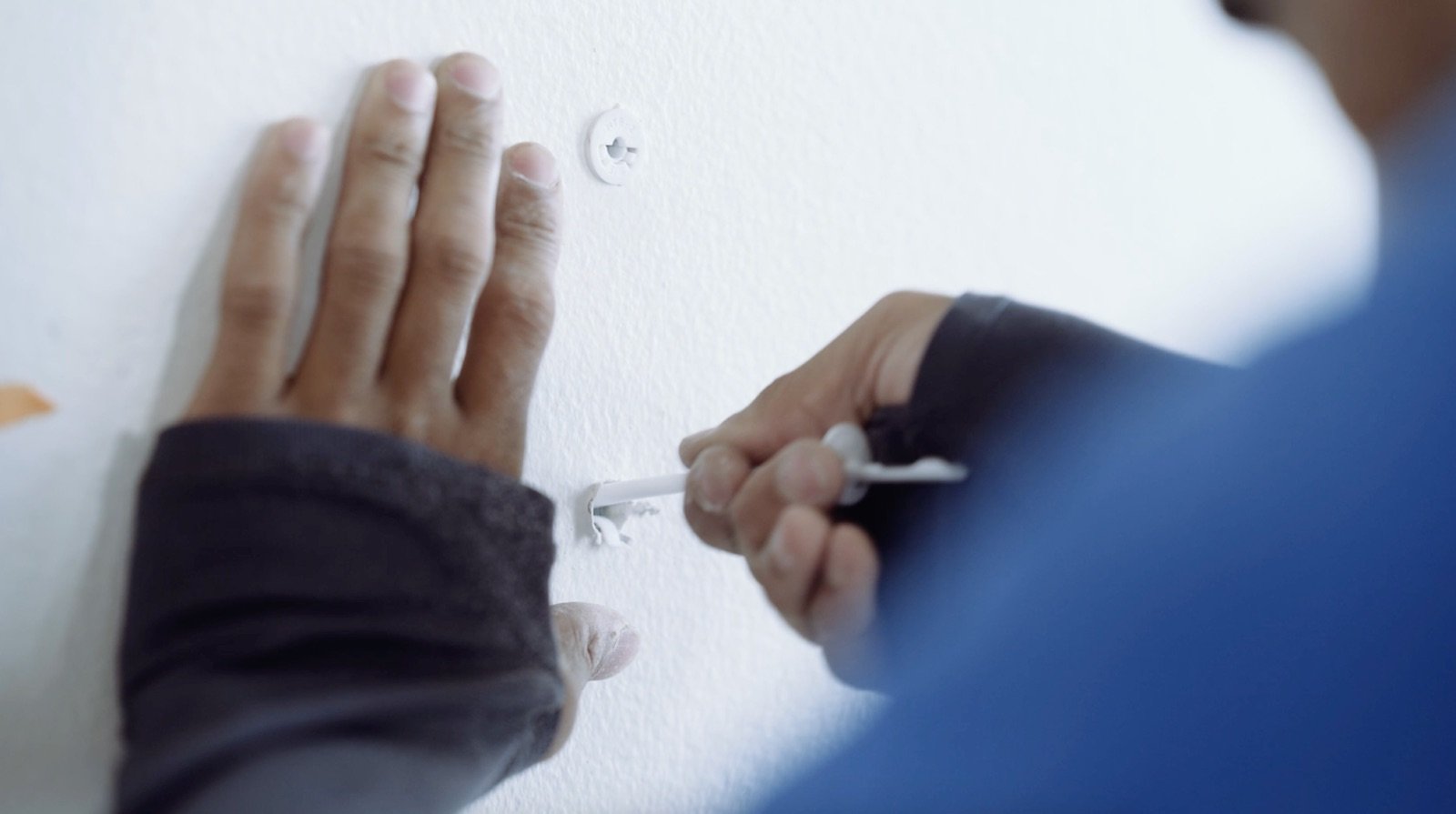 Step 6: Hold the mount against the wall drill in the screws


Leave the screws slightly loose while you adjust the placement of the mount, then come back and tighten them.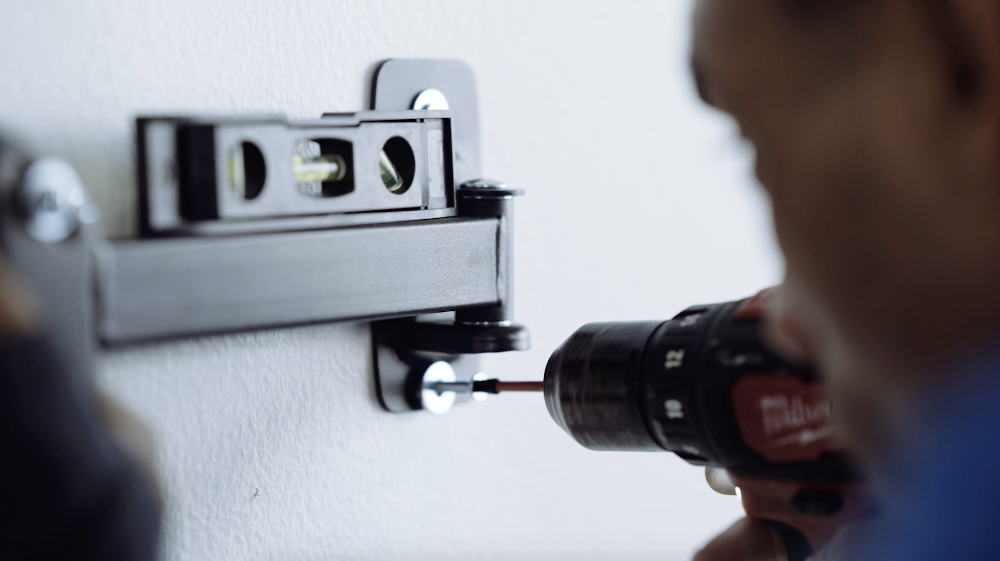 Step 7: Use a leveler to ensure the mount (and TV) will be level


The leveler is a handy tool that will show whether your mount is crooked. Place the leveler on the mount and look to see if the air bubble is directly in the middle of the crosshairs. The last thing you want is a crooked TV!
Step 8: Place the TV on the mount


Make sure the mount is secure before trusting it to hold the weight of your TV. Once the TV is on the mount, take a look to see if it appears level and then screw it securely into the mount.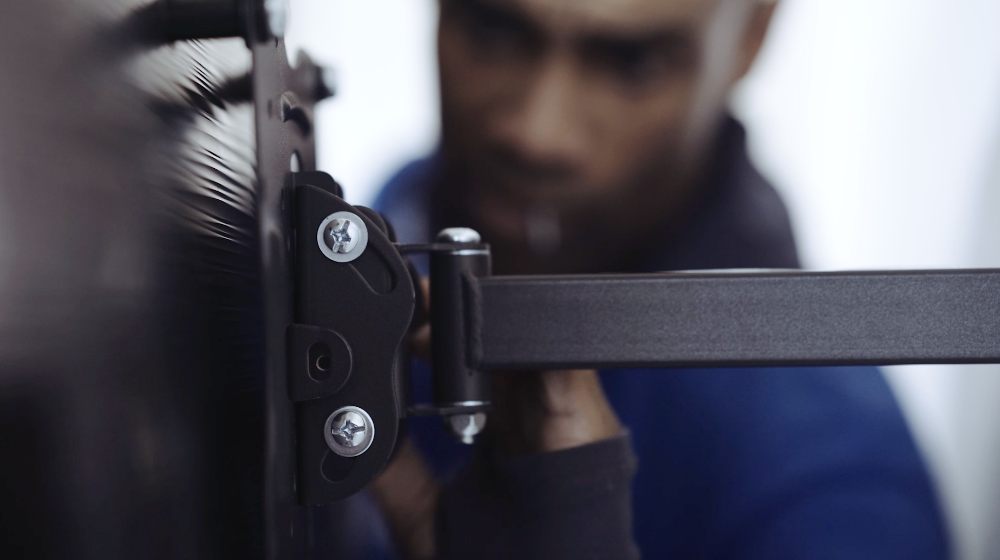 Step 9: Conceal your TV cords


Most people don't want the cords hanging down since it looks a bit messy. There are two main ways to conceal them: internal or external. Internal concealment requires installing them behind the drywall, which can be done by a professional technician from Puls. An external concealment kit can be purchased at a local hardware store.
Step 10: Clean up and enjoy!


Once you've swept up any paint chips or dust from the drilling, you're all done, so get ready to watch your favorite shows on a beautiful, new high quality television.
Top TV Mounting Styles You Can Choose From
Fixed Mount—offers a compact size for a streamlined look. It is light-weight and easy to install. It is inexpensive and can support heavy TVs.
Full-Motion/Tilting Mount—provides greater viewing angles and can adjust up to 15 degrees. It is an affordable product that can accommodate most TV sizes.
Articulating Mount—offers the most wide range of motion for ultimate viewing angles. Limited weight capacity.
Slim Mount—low profile brackets stay hidden for a sleek look with ultra-slim TVs.
Under-cabinet Mount—save counter space with a flip-up mount. This fits under cabinets to keep the screen out of sight when not in use.
Platform Mount—made for older CRT-style TVs and does not fit flat-screen models. The TV is placed on the shelf and is supported by a wall mount.
Cantilever Mount—the most flexible style. It pushes in and out and can be used to extend the TV from an alcove or corner.
Ceiling Mount—great for bedrooms and small spaces. Can easily be installed in the corner of a room, rotates well and extends towards the floor.
Do I have the Right Kind of Walls for TV Wall Mounting?
While the most common type of wall materials used today is drywall over wood studs, there are many different types of walls that you may want to mount a TV on. Here are some of the most popular styles:
Brick—very versatile for most any size TV but be sure to mount into the brick, not the mortar. Use heavy-duty wall anchors made for brick.
Concrete—made from stone, sand, cement, and water. Installation is more complicated and may require drilling combined with plastic or metal anchors for the bolts.
Stone—natural granite, marble, slate, tile, etc. Mounting should be done by a professional installer as it may require diamond drill bits to reduce cracking and extra support to hold the wall plate in place.
Wood—this is the easiest material for TV mounts as every surface can be used. There is no need to locate studs.
Siding—cement board, aluminum and vinyl that is used in exterior installations are especially challenging. Locating the studs behind the wall is extremely difficult as a stud finder is not accurate due to electrical wires inside the walls.
Stud—typical wood frame construction behind drywall or plasterboard. Use a stud finder to locate studs to affix the mounting brackets.
FAQ
Does mounting a TV damage the wall?
Yes, mainly due to holes that must be drilled to hold the mounting bracket. That's why it is so important to mark the holes prior to drilling to avoid unnecessary damage.
How much does it cost to have a TV mounted on the wall?
Professional TV mounting starts at $109 with Puls plus the cost of the bracket.
Is it better to wall mount a TV or put it on a stand?
While using a TV stand is faster and easier, wall mounting provides greater flexibility, viewability, and can provide a safer environment for children and pets with lower risk of falling over.
Can you mount a TV on the wall by yourself?
Yes, follow the step-by-step instructions provided in this post.
Can my walls hold a television?
Most wall materials are adequate for TV mounting.
How to wall mount a TV without drilling holes?
No, small holes used for a no-stud hanger mount are the least damaging but will limit the size of the TV due to maximum weight restrictions.
Puls can cover your TV installations from A-Z
If you're not particularly handy or you simply don't feel like dealing with all the heavy lifting and drilling, it's important to remember that self-installation certainly isn't for everyone. That's why we're here to make things easy.
Our skilled technicians will do all the drilling, lifting and technical configuration for you, so you can simply sit back, relax and get ready to enjoy your newly mounted TV. We can even help you conceal wires, mount shelving and sound bars, or hook up devices like your XBOX.
Simply hop online and book an appointment with our expert technicians at a time that works best for your busy schedule. We can be there within the same day to make things as seamless and convenient as possible.