There are lots of reasons to wall-mount a television – it saves space, looks great, and can provide better viewing angles and location compared to a simple TV stand. But once you've made the decision to mount a TV, there is still the logistical challenge of safely getting it up onto the wall.
We've got a great post detailing how to mount a TV on the wall and what it entails – check it out for in-depth instructions, a list of tools necessary for the job, and a guide to the different types of mounts.
Here, we'll show you a few insider TV mounting hacks from our technicians that will teach you how to mount a TV on the wall easily despite what may seem like some tricky hurdles you could encounter along the way.
Scout your location carefully
The old bit of wisdom about not hanging your television above a fireplace still holds true. Not only can the rising heat and soot damage your TV if you ever use your fireplace, but hanging your television that high can cause you to have to crane your neck in order to see.
We recommend carefully considering factors such as natural light sources that can cause reflective glare, the setup of your furniture, and the height at which your TV will hang relative to where you'll be sitting. Ideally, the center of your television should be flush at eye level – so how high you plan on mounting your TV can depend on the height of your seating.
Make sure the wall can handle the weight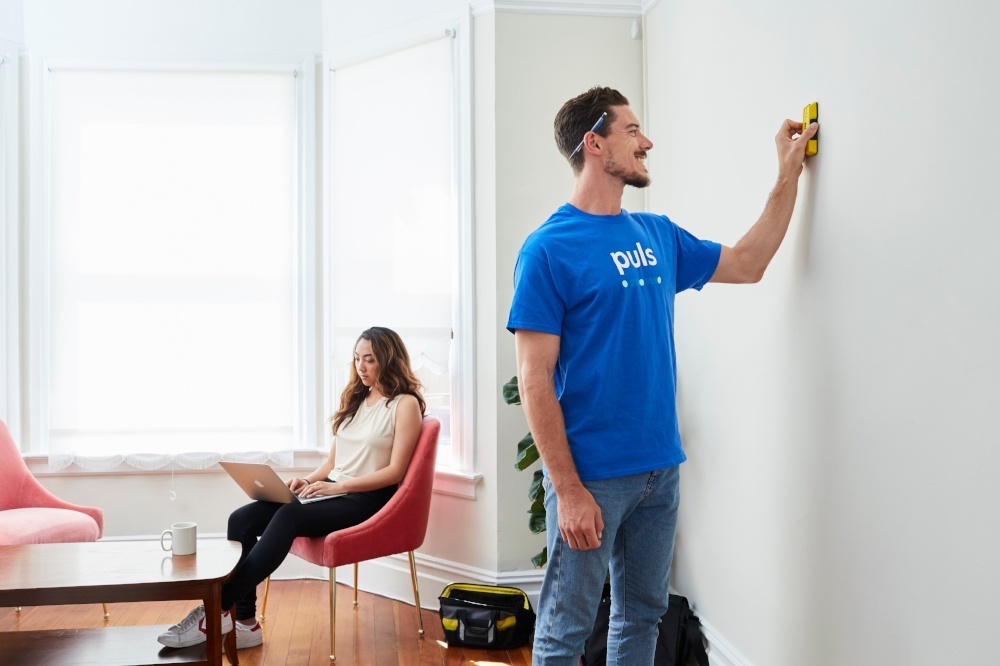 Most drywall can hold about 20 pounds of weight with a regular nail or screw – enough for a picture frame, but well short of a mounted television. That said, your TV mounting kit will almost certainly come with anchors that will significantly increase the maximum weight to a level that your wall can safely hold.
Ideally, we recommend mounting your TV bracket on the studs located inside your wall. But if this is not possible, we suggest you consult a professional if you're in doubt about whether or not the wall can hold the weight of your TV. After all, your television is not designed to survive a drop of a few feet or more.
Determine what your wall is made of
Despite – or because of – the fact that drywall is less robust than other materials, it's also the easiest type of wall to drill into.
In fact, it can be quite tricky to drill into other types of walls. If your wall is constructed of brick, wood, plaster, or any other material, a special masonry or other drill bit is probably required – as well as some experience. It can be helpful to consult a professional before attempting to mount a TV onto brick or other types of walls.
You can trust your stud finder—sometimes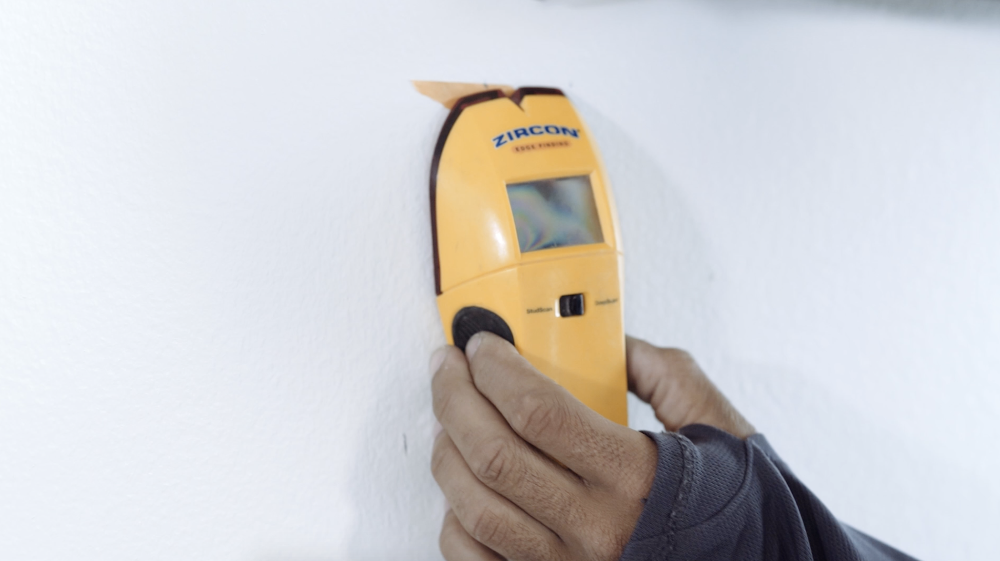 Electric stud finders can be very helpful tools when mounting a TV, but their results should be taken with a grain of salt in order to avoid drilling lots of extra holes all over your wall, or worse – having your TV take a fall.
Make sure you calibrate your stud finder by holding it flush against the wall, turning it on, and giving it a few seconds to determine the depth of your wall material. Then, move it slowly across the wall, marking the spots where it registers studs with a pencil or tape.
Measure the distance between the readings – most studs are located about 16 inches apart, so if the distances are uneven or too close or far from each other, give the wall another scan and see if the results hold up.
You can double check the results of your stud finder by inserting a wire-thin coat hanger or piece of strong wire through the wall by hand, testing to see if it hits up against a stud. You can also hammer a thin nail through and past the drywall and see if it falls through, or whether it goes securely into the stud.
Ensure there are no pipes or wires in the way
Similar to a stud finder, there are wire and pipe detectors available that can help determine what, if anything, is hiding behind the wall in the spot where you want to drill. You can also scope out the area where you're drilling – and avoid drilling directly above or horizontal to electrical outlets, in spots that are likely to contain wiring.
You can also drill shallow holes, and go very slowly, checking as you go to see if there is anything in the way. However, while it's one thing to know how to mount a TV on the wall, it's another thing altogether to know how to locate dangerous obstacles hidden behind the wall material. This is one of the reasons why it is always safest to consult a professional.
Concealing cords can be tricky
While concealing your TV cables inside the wall is the most aesthetically appealing option, there are a few things to know before attempting this on your own. First, an in-wall power extension kit is required. That's because it's against the National Electric Code to simply run power or extension cables inside a wall.
It's also integral that you use your stud finder to locate fire blocks in the wall, which can make installing the in-wall power extension – or running any wires – quite difficult. There is also the option of using a paintable wire channel to cover cords externally.
Puls can cover your TV installation from A-Z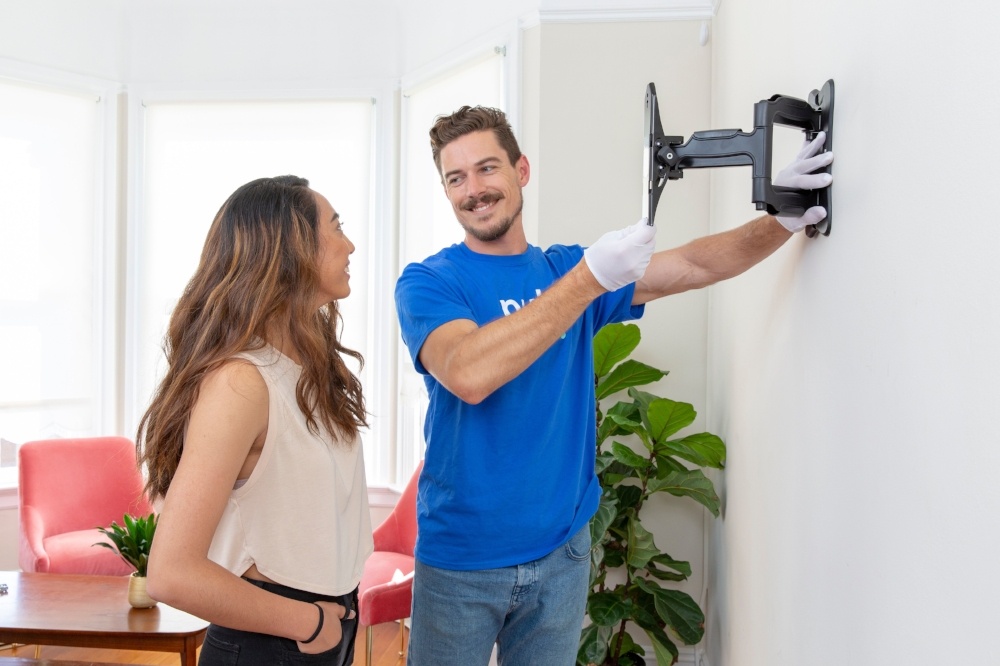 While mounting a television yourself is certainly possible, it's also complicated. You can count on our experienced technicians to take care of your TV mounting needs from start to finish, giving you peace of mind – and saving you hours of work, to boot.
Our skilled TV mounting technicians in your neighborhood can arrive to your door as soon as same-day, to take care of all the heavy lifting, drilling and measuring for you. We've mounted thousands of TVs in most major cities nationwide, and in addition to mounting your TV, we offer an array of other services such as cord concealment, surround sound setup, shelf install and much more.
Need a bracket? No problem - we can bring one for you. Not sure where to place it? We'll help you find the perfect spot.
Booking an appointment online takes just a few seconds, and all of our services come backed by our 90-day guarantee, so you know your TV is in good hands. So, what're you waiting for? You could be watching your favorite shows and movies as soon as tonight - click here to join our mailing list to get 5% off your first service with us.