Cleaning out your gutters is one of the most dreaded tasks of the fall, but it's also one of the most crucial to get done. Though it may not seem like a huge deal to skip cleaning them out, failing to clean your gutters could cause a clog. And because your rain gutters are designed to move the flow of water away from your home, this could potentially cause damage to the roof, the walls, and even the foundation.
It's recommended that you clean out your gutters twice per year—once in the spring and once in the fall—but if you live in a neighborhood with a lot of trees, it's likely you'll need to complete this task more often to prevent too much buildup. But taking this task on is quite the endeavor: It requires long periods of standing on a ladder and it can get messy.
Not interested in spending your weekend manually cleaning out leaves from the gutters? A professional can take care of this outdoor chore for you, but it'll come at a cost.
How much does gutter cleaning cost? Let's take a look at what the pros charge, and what you can expect when a professional comes to your house to perform this service.
Why You Should Hire a Professional to Clean Your Gutters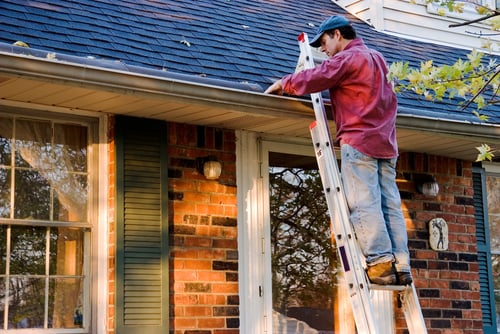 Cleaning the gutters seems like a fairly straightforward task, but the main reason to employ a professional to get it done is for safety, especially if you live in a two-story home. Cleaning out the gutters is a very active task with a lot of leaning forward to properly rake the leaves and debris, so it can be dangerous if you don't practice proper ladder safety—or if your ladder isn't tall enough and you're reaching higher than you should.
A professional will also have the correct tools to use so the job will be done much quicker and easier than it would if you were to DIY the task.
What Gutter Cleaning Costs
When your gutters just need a routine cleaning and there are no problems or clogs that you are aware of, the low-end cost to get your gutters cleaned is fairly inexpensive—about $70, according to Fixr.com. However, the cost can increase quite dramatically when you have a clogged gutter system and/or have a two-story home to anywhere from $300 to $450 for the service. The national average, per Fixr.com, for gutter cleaning is $150.
Other things that can contribute to the cost of gutter cleaning are whether or not you have landscaping that is difficult to maneuver around as well as the condition of the gutters themselves.
What You Can Expect with a Professional Gutter Cleaning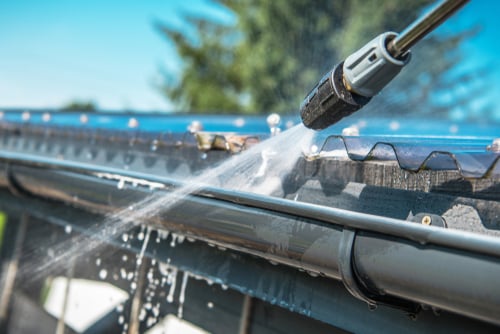 Never had a professional gutter cleaning before? Here's what you can expect during your gutter cleaning:
Using a ladder, your professional will climb up to the top of your home and use a pressure hose to clear out the debris from your gutter trough.
Once they clear out your gutter system, they will then eliminate the debris that was flushed out.
Your professional will also provide an inspection to ensure there are no parts of your gutter system that need replacement or repair. During these inspections they will also adjust the slope of the gutter and ensure that the gutters and spouts are tightly connected to the home.
Need Gutter Cleaning? Hire Puls for the Job
If you're in need of gutter cleaning for your home anytime of the year, Puls is here to help with our handyman services. Puls offers quick, professional, and convenient handyman services that adhere to your schedule—because we know not everyone has the time to wait around for a 12-hour window of time.
To schedule a service with Puls, head to our website, select handyman services, select the job you need done, and pick a time that works for your schedule—with same-day appointments often available.
Book a time today in seconds and check gutter cleaning off your to-do list!