For those of you old enough to have enjoyed Disney's 101 Dalmatians, you may remember the classic image of little Lucky sitting with his nose practically glued to the TV screen. Unfortunately, it turns out, this means that Lucky wasn't viewing his favorite shows in optimal angular resolution (in addition to his natural inability to access the full color spectrum).
In fact, given the relatively low resolution of televisions when the cartoon was made in 1961, Lucky was probably seeing a pixelated mess. That's because – somewhat counter-intuitively – getting too close to your television set can quickly start to provide diminishing returns. Fortunately, we're here to prevent that from happening to you.
Finding the Perfect Balance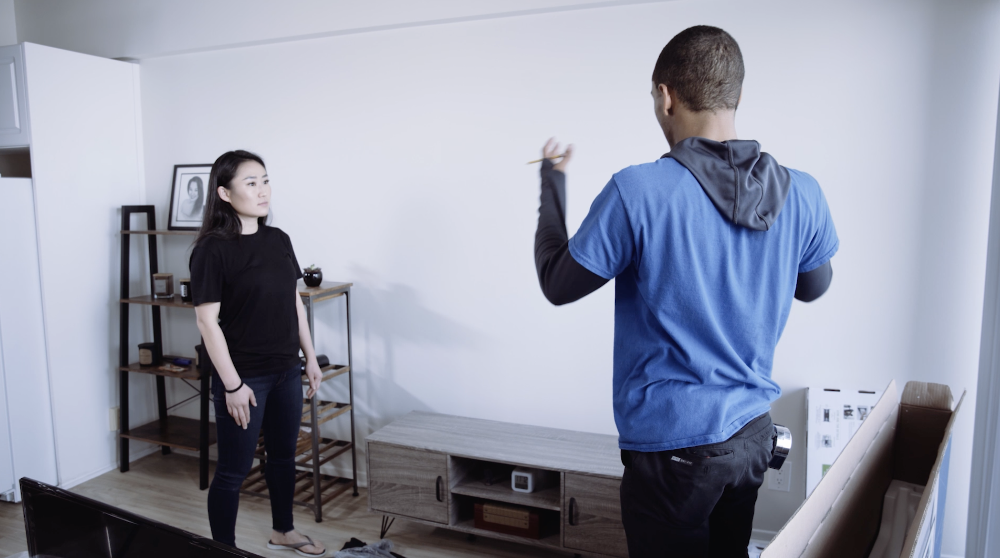 There are three key factors at play when deciding what's the best distance to sit from your TV: size, field of view, and screen resolution. These factors can have a direct impact on one another – and here's why.
As you get closer to your television screen, each individual pixel starts to look larger. Sitting too close will make the picture look something like an old 8-bit video game. But you also don't want to sit too far away, because not only will the images on the screen appear smaller, but the TV will take up less of your field of view.
The size of your television will impact how much visual real estate your TV screen takes up relative to where you're sitting. Ideally, you'll find the perfect balance, where you're close enough to have the screen take up the perfect amount of your field of vision, but not so close as to ruin the picture.
Why Screen Resolution Matters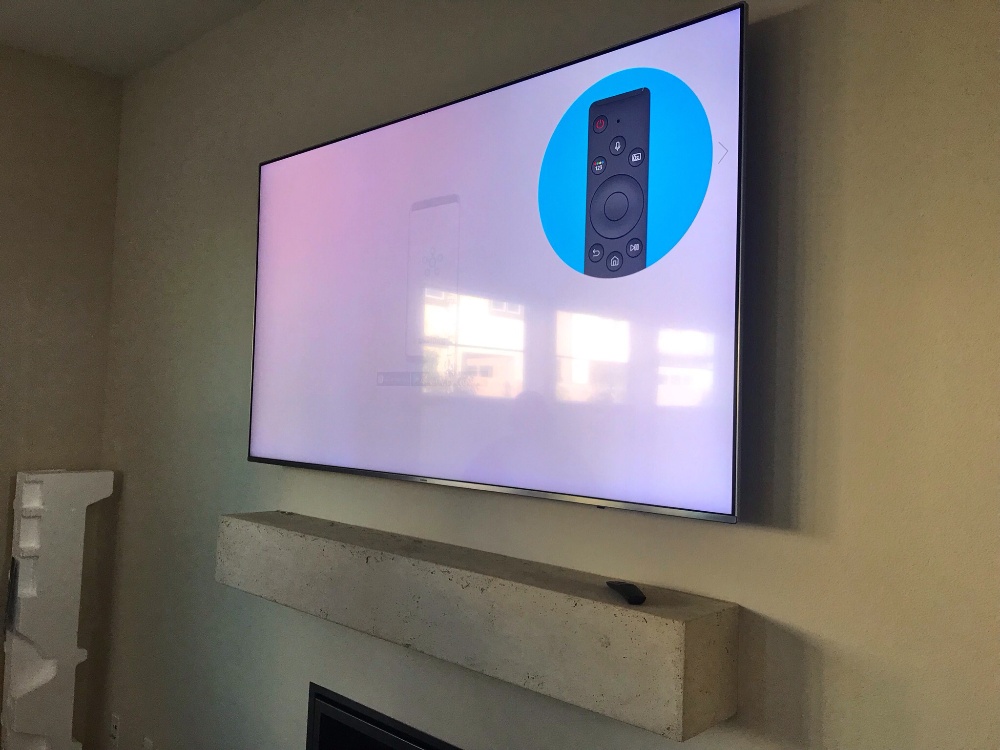 When standard HD 1080p TVs were being produced, it was with angular resolution in mind. Angular resolution means how many pixels there are per degree of vision.
To explain: Experts recommend that your television takes up about 30 degrees of your field of vision. The closer you sit to your TV, the more degrees your screen takes up. So, for example, if you're sitting about 8 feet away from a 60-inch screen, you'll be close to that 30-degree sweet spot. If you cut that distance in half, however, and sit 4 feet away, you'll double the angle of vision to 60 degrees.
Ideally, you want 60 pixels per degree – which is why the optimal 30 degree distance is so perfect for a standard 1080p television. Multiply the 60 pixels per degree by the 30 degrees distance, and you get 1080 – the exact resolution of the television.
Get any closer and both the resolution and field of vision will increase beyond comfort. The thing is, 4K TVs are capable of much more than your standard 1080p TV.
The higher the resolution – and therefore, the smaller the pixel – the closer you can get before the picture starts to lose quality. This means that a 4K TV still looks great, even if your screen takes up more of your field of vision – in fact, you can get a cozy 60 degree field of view with a 4K TV and still enjoy crystal clear picture.
Practically speaking, what this means is that you can get a smaller screen and sit closer to a 4K TV, and it will look both big enough and clear enough to provide the perfect viewing experience. If you're viewing on a standard 1080p TV, you'll want to buy a bigger screen size and sit further back.
The Perfect Formula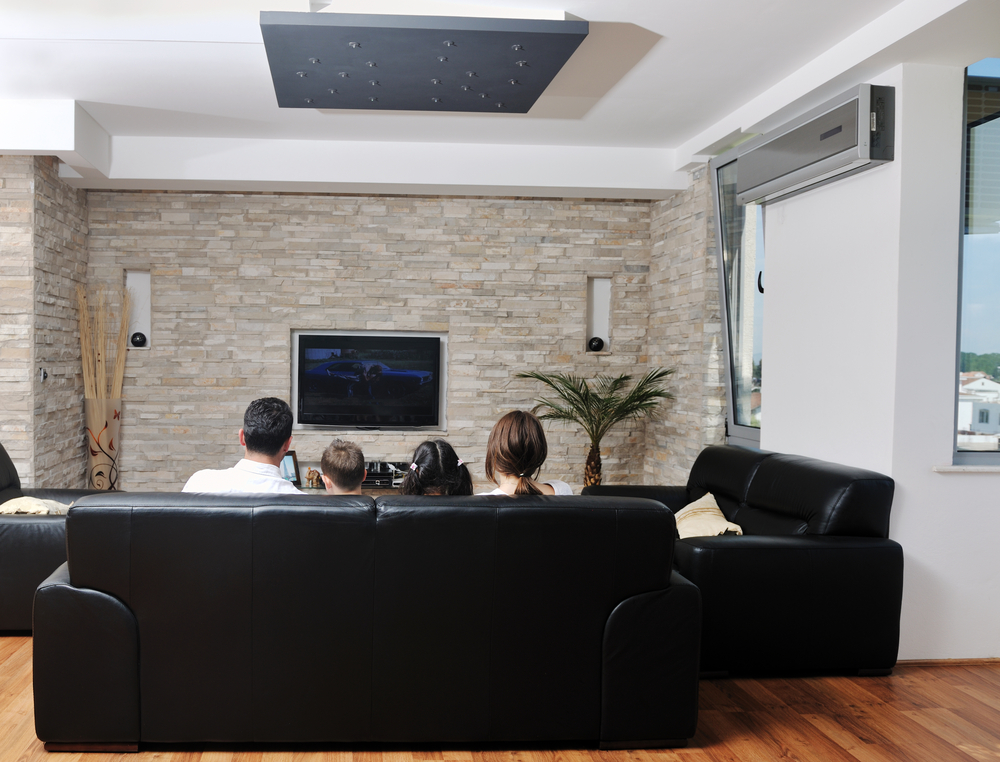 Now that you know how and why screen size and resolution are so important, you can calculate exactly how far to sit from your TV. There are different formulas for standard HD televisions and 4K TVs, due to the factors outlined above.
For a standard 1080p TV, you'll want to aim for a distance about 1.5 to 2.5 times your TV screen size. So, for example, if your screen is 40 inches, you'll want to sit between 60 and 100 inches away from your TV – though to maintain the 30-degree viewing angle, about 66 inches is ideal.
For a 4K TV, you'll want to sit a distance that's roughly 1 to 1.5 times your television screen size, while also aiming for the 30-degree field of view – and in this case, closer is better. That's because all the additional clarity from the 4K technology starts to diminish the farther you get from the TV.
Puls Can Help You Mount Your TV in the Perfect Spot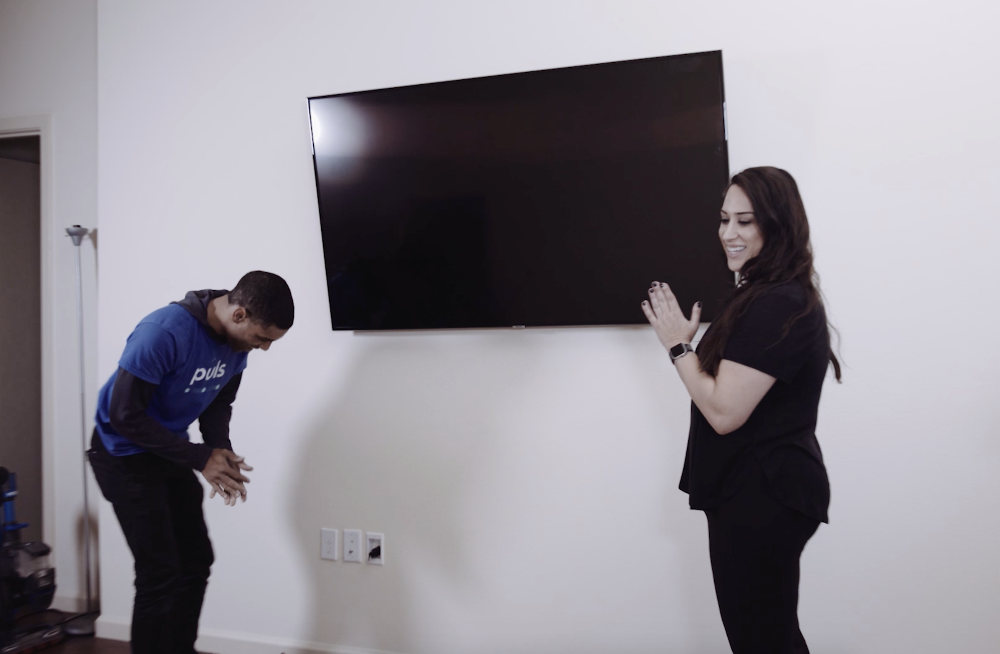 Does this all sound a bit overwhelming to you? No worries – Puls is here to make things easy.
Your Puls technician can help you find exactly the right place in your room to mount your TV – and do all the drilling, lifting and technical configuration for you, so you can simply sit back, relax and get ready to enjoy your newly mounted TV. We can even help you conceal wires, mount shelving and sound bars, or hook up devices like your XBOX.
Simply hop online an book an appointment with our expert technicians at a time that works best for your busy schedule. We can be there within the same day to make things as seamless and convenient as possible.