Owning a home is a lifelong goal for many people. After years of saving for a down payment, searching for the perfect property, navigating the mortgage industry, and moving in, you can finally sit back and relax—or can you?
What happens if something breaks down? How are you going to find a reputable company to make the repairs, and more importantly, where are you going to find the money to pay for it?
A home warranty might just provide the peace-of-mind and protection you need to safeguard your budget from unexpected expenses.
Home Warranty Defined
Typically purchased for older, existing homes, a home warranty is used to cover the cost of repairs for household systems and/or appliances. When you contract with a home warranty company, your fees will provide you with a replacement or discounted repair service for your home's major components.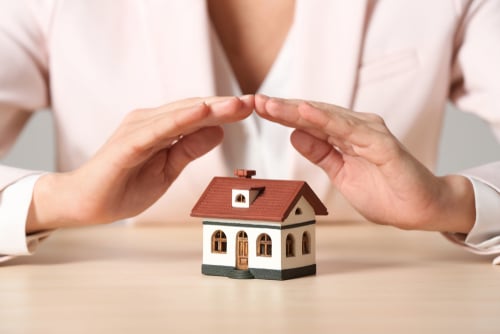 Home Warranty Coverage
Home warranty coverage varies by company and agreement type. Whole home service plans often provide full repair or replacement in case of breakdown for most home systems and appliances such as:
Heating and Cooling
Central air conditioning
Furnace/boiler
Heat pump system
Ductwork
Electrical
Wiring
Lighting
Circuit breaker
Ceiling fans
Door bell
Garage door opener
Plumbing
Plumbing system/pipes
Plumbing blockage
Water heater
Kitchen Appliances
Refrigerator
Stove/Oven
Dishwasher
Exhaust fan
Built-in microwave
Garbage disposal
Laundry Appliances
Home Warranty Exclusions
Home warranty agreements don't usually cover exterior components like the roof, siding, windows, doors, inground pools, spas, or overhead garage doors. A home warranty differs from a structural warranty that is provided for new construction used by home builders. Loss of use from fire, flood or natural disaster will also be excluded.
If you are able to purchase additional coverage for roof repairs, it would only receive coverage on a leak, not an entirely new roof. Likewise, plumbing issues will cover clogs and leaks but not water damage caused by the problem.
Electrical coverage may exclude wiring for computers, security systems, cable TV, or circuit overload. Solar panels are considered structural and not covered by a home warranty.
Finishes like paint and wallpaper are excluded as are pre-existing conditions. That means that coverage will be denied for any component that was not working before the home warranty took effect.
The Process
The steps for filing a claim when an appliance or home system breaks down can vary between companies. In most cases, you will contact the home warranty provider first through an app, online process or phone call. Some companies work with specialty contractors while others have their own service technicians ready to do an on-site evaluation. In both cases, a report will be sent back to the warrantor to determine the proper course of action—repair or replacement.
The Cost
Basic home warranty plans can range from $400 to $800+ per year. Some warranty companies offer a monthly subscription program for easier budgeting or incentives for paying for the entire year. Some plans assign a specific dollar amount to covered items. Always be sure to read your policy carefully so you aren't surprised when something isn't included.

Extra Charges
While a home warranty can provide peace-of-mind that you're covered for unexpected product breakdowns, it doesn't mean that you'll never have to spend anything else on home repairs.
An additional deductible/service call fee may be required ranging from $55 to $150 per in-home visit. Most policies will charge a lower fee if the cost of the repair is less than the service call fee.
Some plans require the purchase of additional coverage for specific components such as the sump pump, septic tank, or well pump. A second appliance like another refrigerator may require an extra fee. Most plans only cover a primary appliance.
Denied claims for improperly maintained equipment may mean you're responsible for both repair costs and the service fee.
Reimbursement rates for housing systems and appliances may be less than full value which would require an outlay of cash to either cover the difference or purchase a new component.
The Difference Between a Home Warranty and Home Insurance
There are some similarities between a home warranty and home insurance policies with terminology like deductibles, claims and liabilities. However, they offer unique services. Home warranties deal with breakage and wear for household systems and appliances. Insurance policies go into effect when there is a loss due to fire or natural disasters.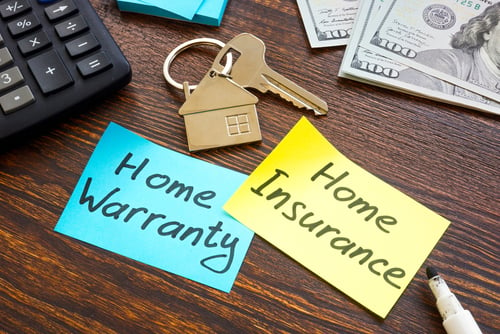 What Qualifies?
Before a home warranty is finalized, it's important for you to understand as much about the state of your systems and appliances as possible. If anything is damaged, poorly maintained, misused, or improperly installed, your home warranty provider will deny a claim.
There are many different plans and levels of coverage offered. Qualifying components depend on your specific needs, age of home, condition and maintenance. Purchasing a home warranty should match your situation and not duplicate or overlap coverage.
Think About This
Buyer beware. Like every contract you sign, it's important to understand the type of coverage you're purchasing. A home warranty can be excellent protection from unforeseen expenses, but you'll want to consider these points before committing to a plan:
Plan Costs
Annual costs for this protection can add up, and if you never make a claim, you may feel like you wasted your money.
Delayed Coverage
A 30-day waiting period is usually required before your plan is effective. You won't be able to back date claims if a component breaks down before your plan takes effect.
Restrictions
No plan offers complete wall-to-wall coverage, so it's possible you may have to pay for some of the damaged or broken items yourself.
Dollar Limits
Many plans set limits to how much they'll spend to repair or replace your equipment. If you have high-end appliances, you may not receive a comparable replacement when it can't be repaired.
Due Diligence
Before you purchase a home warranty, you should take a little time to research different companies and the plans that are offered. Read customer reviews, check the Better Business Bureau ratings, and compare plans to find the best fit for your situation.
What's Right for You
You may be wondering if a home warranty is right for you. Even if you're limited on cash after buying a home and are having trouble justifying the cost of one more policy, you should seriously consider getting one. If you have a major failure shortly after you move into your new home, coming up with money for a new furnace or to repair a major plumbing leak can cause a devastating problem.
Advantages and Disadvantages
Weighing the advantages and disadvantages of purchasing a home warranty is critical to getting the most benefit out of your plan. Let's review the pros and cons of buying a warranty:
Pros
Safeguards against unplanned repair expenses. There's never a good time for an appliance or home system to break down but a warranty can help get your home back to normal without the stress of finding the money to pay for it.
Time-saving, expert repairs. Your warranty company will start to work as soon as your claim is processed. They'll bring in expert technicians to address your problem and you won't have to spend time searching for the right contractor or trying to fix things yourself.
Selling feature. When you're ready to sell your home, keeping your appliances and home systems well maintained will be a great selling point for prospective buyers. In addition, some companies allow the transfer of the policy to a new owner.
Cons
Claim denial. The warranty company has full discretion for whether or not they will honor a claim. There may be instances where your broken equipment was not properly maintained (either from a previous owner or your unfamiliarity with what was needed) and the company will not pay out.
Repeated repairs. While your appliance or system may have multiple failures causing extreme inconvenience, the warranty company may refuse to replace as long as a repair is possible.
Insufficient coverage. Not every plan covers every component in your home. High-priced items like an old HVAC system may not be covered by the plan you selected. Make sure to read and understand what you're paying for.
Alternative Programs
Structured home warranty programs are nice to have but you may be able to handle things on your own without the added expense. You may want to consider these alternatives:
Save for an emergency. It's recommended that homeowners put aside an emergency fund to cover three to six months of expenses. Add extra money to cover home repairs.
Check for other warranties. Newer appliances and systems all had original manufacturer's warranties. Check your paperwork to see if some of those are still in effect.
Keep up on maintenance. Preventative maintenance on all your equipment will help guard against major breakdowns and extend the lifespan.
Home Warranty FAQs
Do I need a home warranty to get a mortgage?
No, it is not the same as home insurance that is a lender requirement to obtain a mortgage. A home warranty can be a great idea to cover expenses for home systems and appliances, especially if you're not sure about the age or unknown problems.
Do I already have a home warranty?
A transferrable home warranty is a great selling point so most sellers will make it known that you have one. If not, your realtor may be able to find out. If none comes with a home you're considering buying, you may be able to negotiate with the seller to purchase a policy for you.
Are there restrictions for purchasing a home warranty?
New contracts can be purchased at any time, but most new owners purchase a plan within 30 days of closing. If you have coverage, you can re-sign when the contract ends, go with another company, or discontinue coverage.
How long do I have to wait to file a claim?
Typically, there is a 30-day waiting period before you can file a claim for coverage. Some companies offer discounted services during that timeframe.
Is a Home Warranty Worth the Money?
While a home warranty isn't completely foolproof or a solution for everything that could go wrong in your home, it can provide peace-of-mind. If a plan comes with the home when you purchase it, there's no downside or cost for repairs.
Before deciding to purchase a plan, do your research. Do the math—compare the overall cost of the warranty to potential costs for repairs or replacements for at-risk components.
Make sure the company you go with is reputable, uses certified technicians, and has a reputation for actually paying out claims.
Get Expert Advice from Puls' Experts
See the Puls' difference with a home warranty you can count on. We provide reliable coverage for your kitchen, laundry appliances and all home systems with no inspection needed.
Join for $59.99 per month or select a full-year payment and get one month free. Receive full repair or replacement in case of breakdown with same or next-day service.
Why Choose Puls?
We're a service company and not an insurance company, which makes the whole difference. Our claim rate is higher than any of the other Home Warranty companies and our expertise is in quality instant repairs.
Plus, you get:
Easy onboarding (join in a few minutes)

No inspection required

Easy claim process, in a few clicks (no more long wait times over the phone)

Instant algorithm based local technician matching (no more going through the hassle of finding an available local technician)

Fully vetted/background checked network of technicians

Same day or next day service (as opposed to wait times of over 6 days for regular home warranty services)

Get 30% on your appointment during the 30-day wait period.

Full suite of on-demand home services available at 25% discount (including TV Mounting, Interior Painting, Handyman services, Drywall repair, Smart home installation, and so much more.
Don't wait another day to get a whole home warranty plan from Puls. Call today, you'll be glad you did.