This time of year, one of our favorite things to do is invite our most beloved friends over to our home and scare the daylights out of them in accordance with the sacred Halloween tradition.
But though our ancestors have been trying to one-up their neighbors by hanging paper mache corpses and absurd amounts of fake spider webbing since time immemorial, we're bringing this custom into the 21st century – and taking it up a notch while we're at it.
And what's not to love? We've outfitted one apartment with a number of home automation devices, turning it into the ultimate haunted smart home. The gadgets have a low-to-nonexistent footprint, which makes it perfect for renters as well as homeowners, and after Halloween is over, all the gear can be easily oriented towards less nefarious purposes.
So have a look at our haunted smart home guide, and you'll be spooking your loved ones in no time!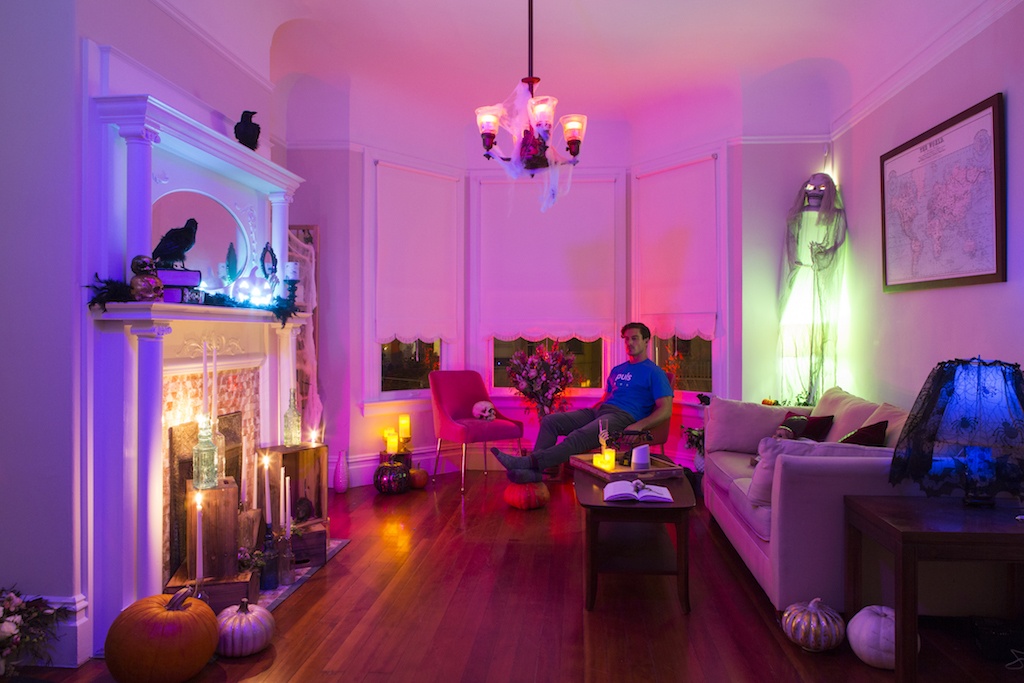 Lighting
Nothing sets the mood like the warm red glow of death – or a chillingly ghoulish green. So instead of just dimming the lights like some sort of amateur, use those lighting fixtures to your advantage.
Installing Philips Hue light bulbs is the single easiest thing you can do to turn your home into a haunted smart home. Just pop the Philips Hue White and Color Ambiance bulbs into your regular socket, and then pair it with the Philips Hue Bridge to control the lighting from your phone.
We recommend integrating with Samsung SmartThings so all of your smart devices can be controlled from your phone or voice-controlled assistant.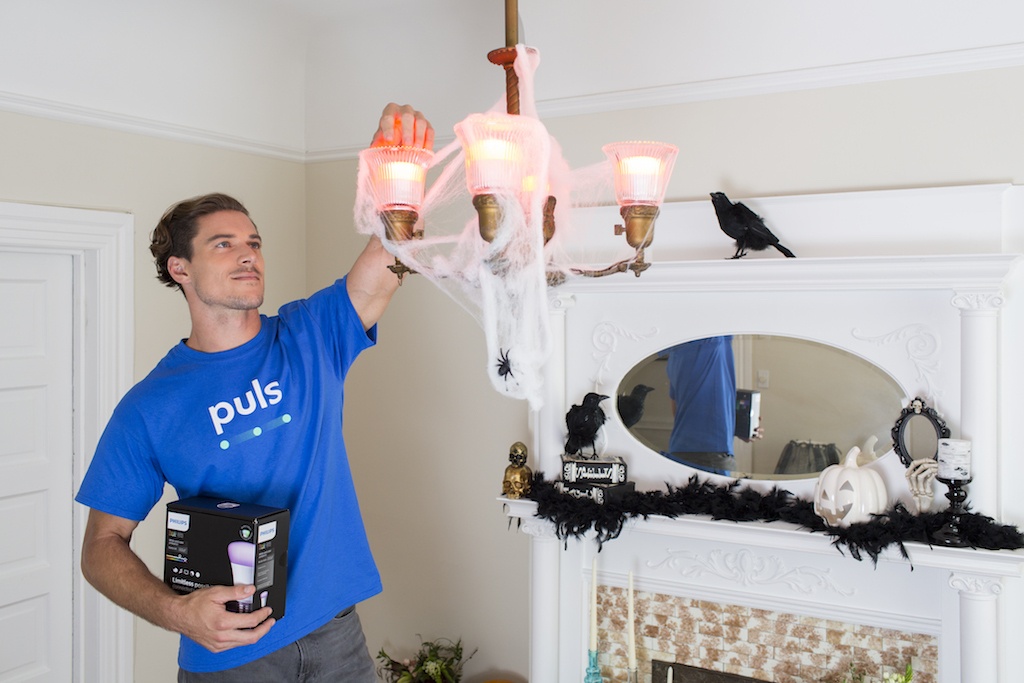 Do you find clowns terrifying? Of course, you do. Everybody does. Which is why we hung a clown from the lighting fixture a la Stephen King's "It." Add in a disturbing red glare, and you'll understand why we're slowly backing out of the room as we speak.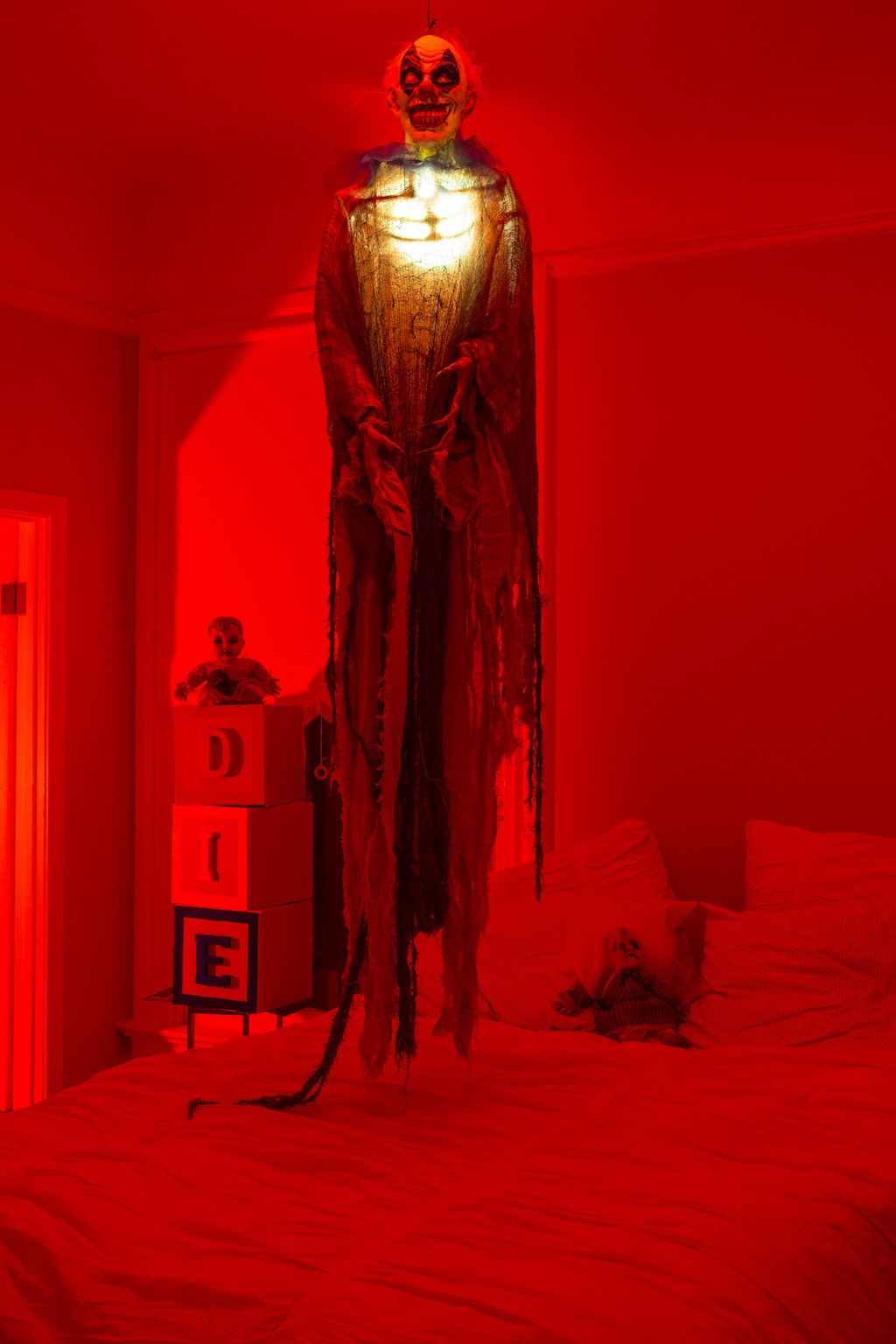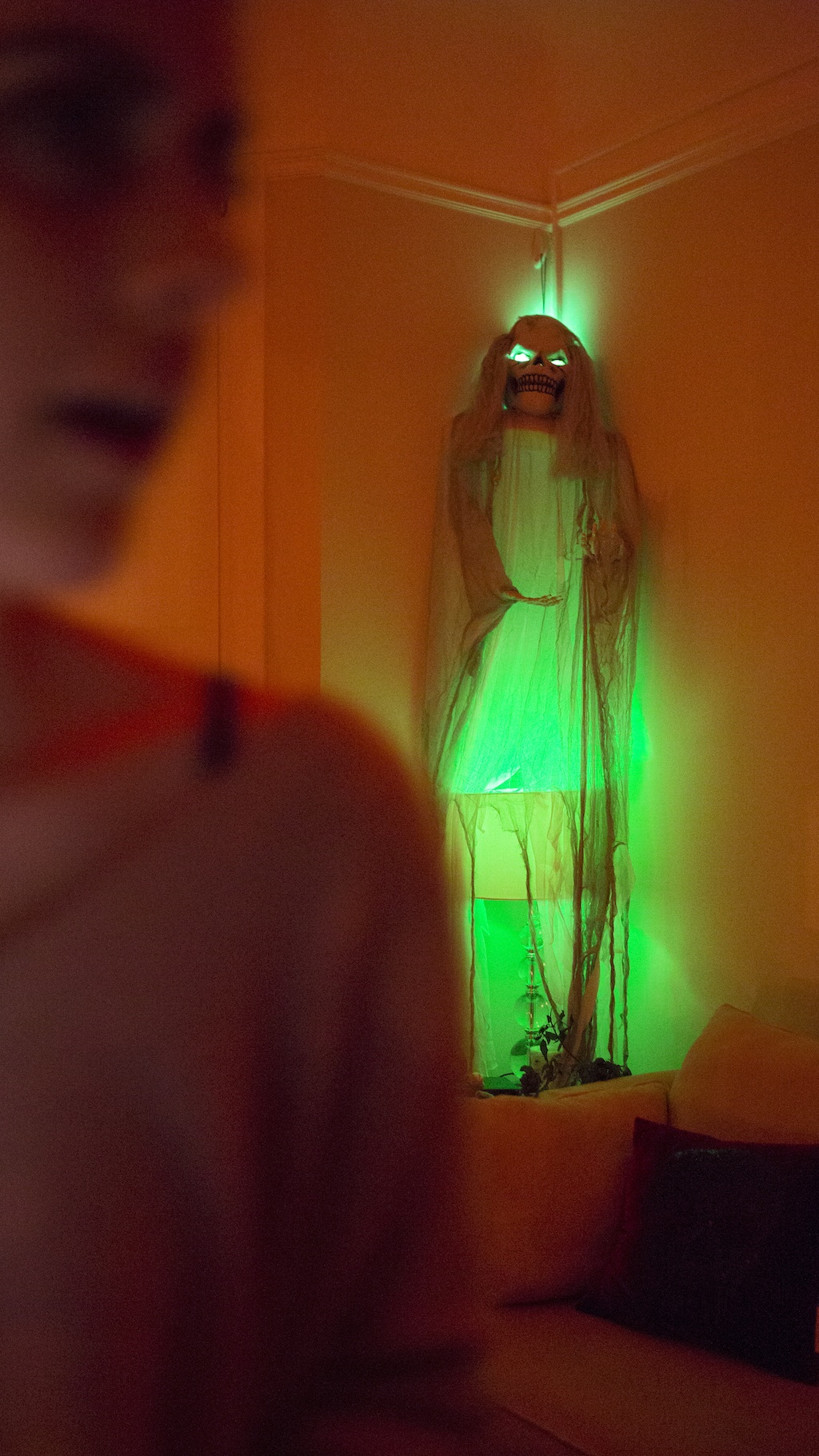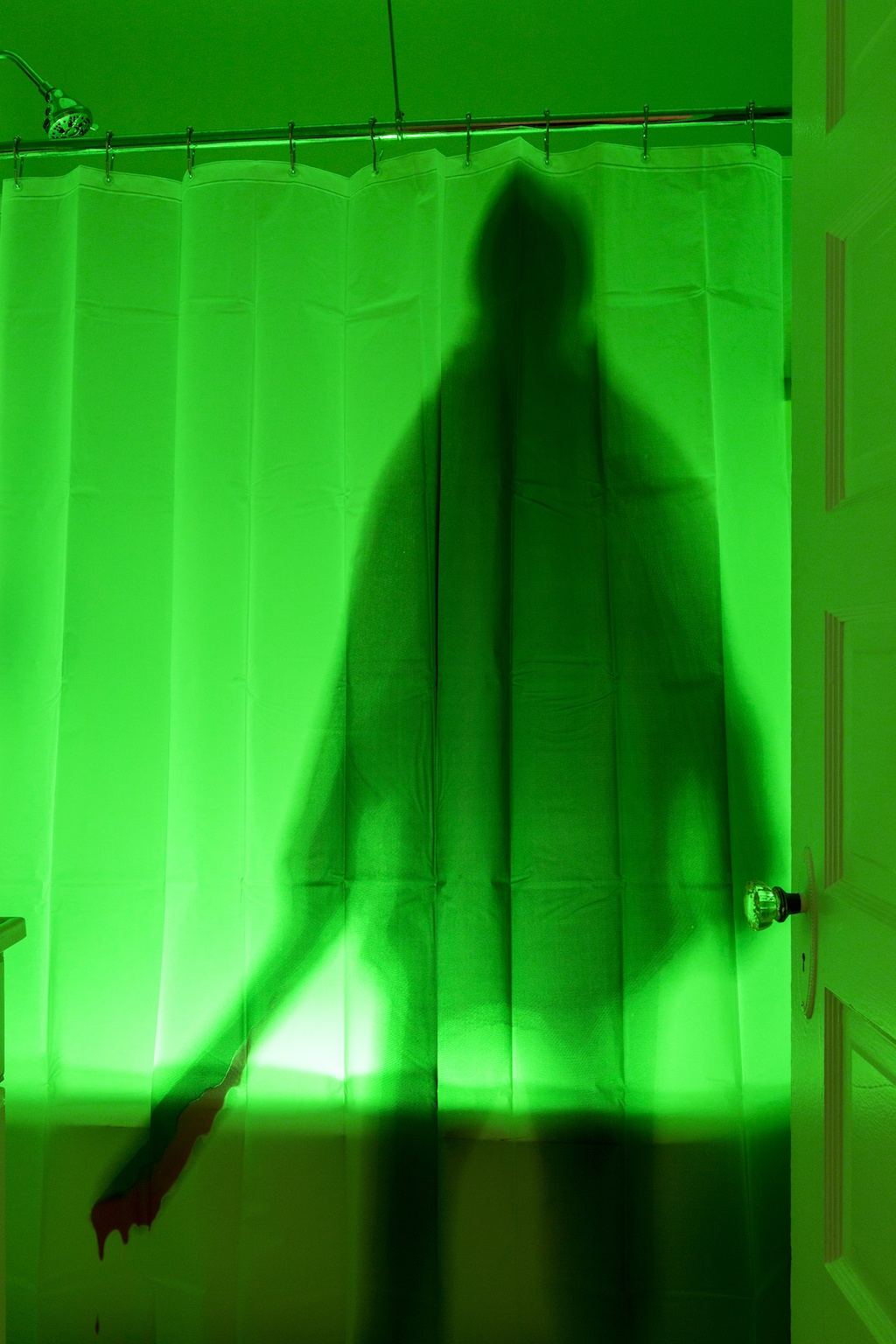 We also placed a Philips Go lamp in the bathtub and set it to glow green behind the shower curtain with a terrifyingly scary shadow. To anyone who may have needed help going to the bathroom: you're welcome.
Effects
We like a nice, ominous fog rolling across the floor Scooby Doo style – and of course, it makes all our smart lighting look great. And while there's currently no "smart" fog machine on the market (at least that we know of), you can transform pretty much anything into a smart device with the help of a smart plug like iHome SmartPlug.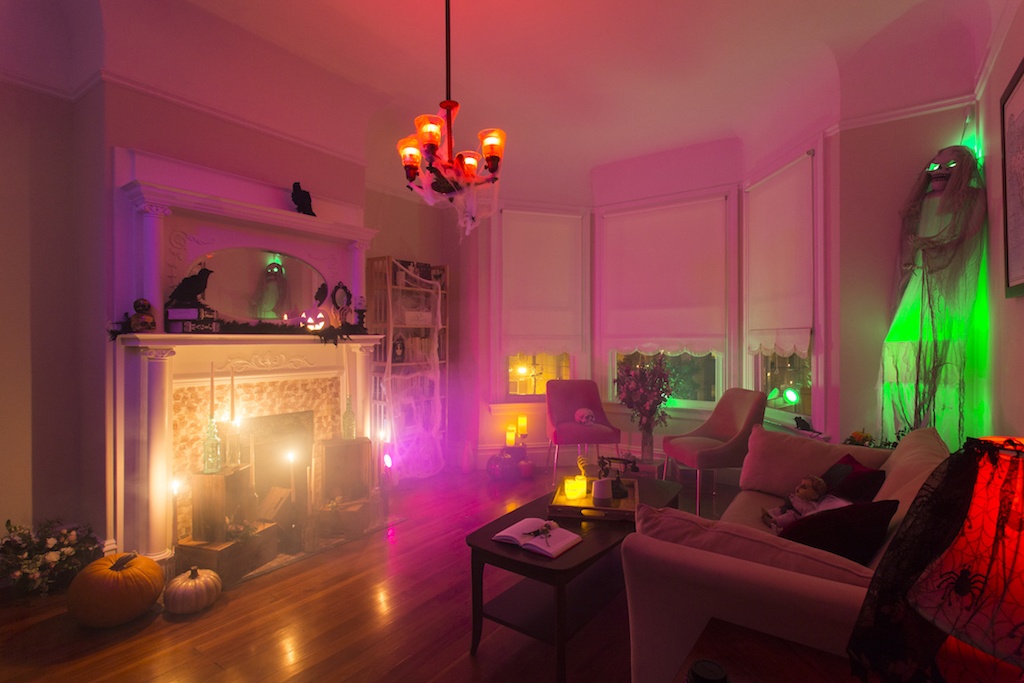 This SmartPlug integrates with Samsung SmartThings so you can control the device in the same place as all of your smart lightbulbs and other smart devices. Here's how our living room came together once we assembled the smart lights and "smartified" fog machine.
Sound
What really sets the masters apart from the rest when it comes to haunted houses is the soundtrack. Sure, you can just throw "Monster Mash" on the stereo and call it a day, but we want our friends to know that we went the extra mile to scare them silly.
A good combination of dissonant music and creepy sound effects will really bring the scene together – but if you want to really put the scare in people, hide a Google Home speaker under a witch's hat or other decoration and then set it to make scary noises at random.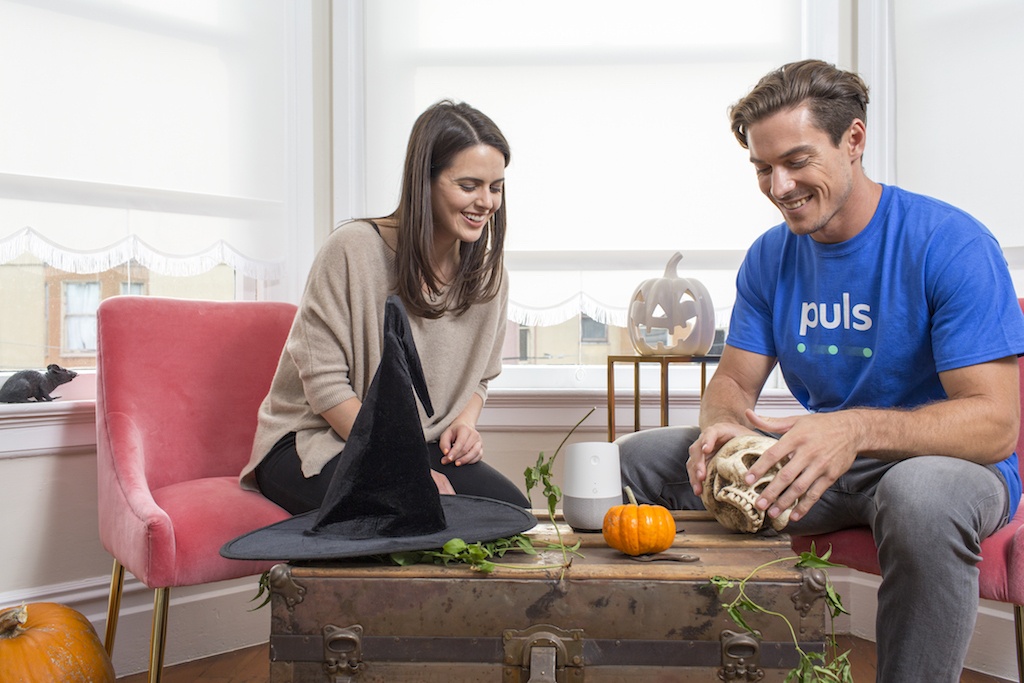 The Google Home also has the benefit of allowing you to control the room with your voice. Just tell Google Home "turn the lights red" to immediately take the room into Halloween mode, or say, "Okay Google, play Halloween sound effects." (FYI: Puls offers a free in-home demo of the Google Home in select areas!)
Another good tool is a digital picture frame, such as the Meural picture frame, which changes images – so you can start out with an image of something happy and then quickly switch it to something scarier when the lights go out.
We recommend including at least one photo of a recently dead celebrity so that when your friends ask why you have a picture of Chester Bennington in your living room, you can say, "Who's Chester Bennington? That's my friend Chaz, we just spoke last week."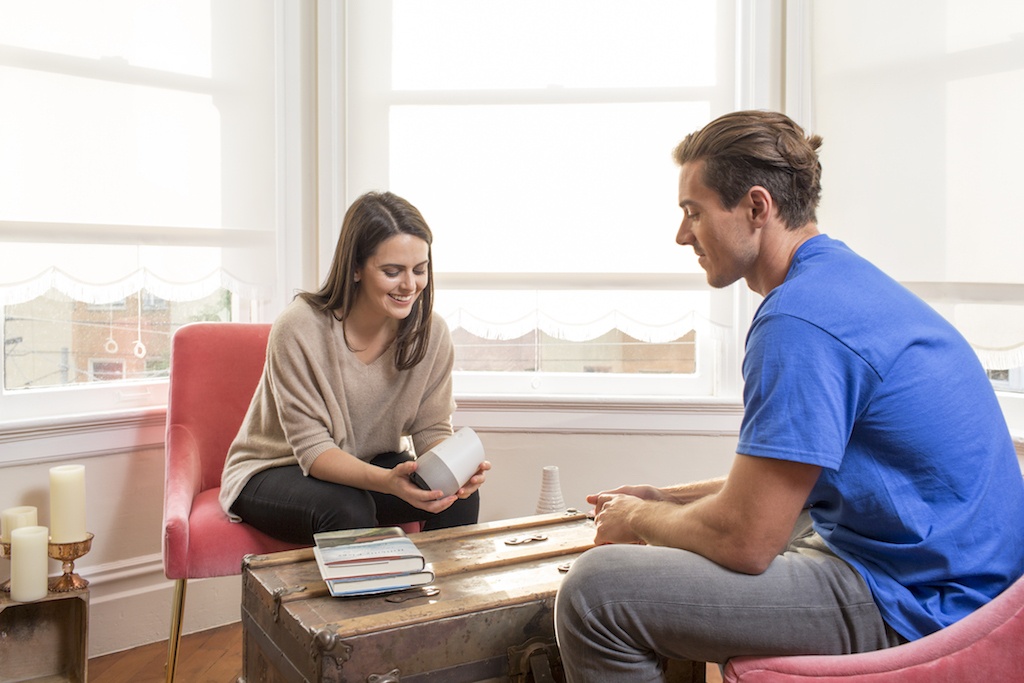 Smartify
Like we said, Samsung SmartThings is a great way to control all of your connected devices from one central place. You can also automate your smart devices to set up a chain of creepy reactions.
For example, we recommend attaching a sensor to your window or door (see below), then setting up a routine where all of your smart bulbs turn off any time a door or window is opened – except for one creepy skull in the corner. The lights go out, and all your guest can see is that dismembered skull with the fire of hell burning in its eyes.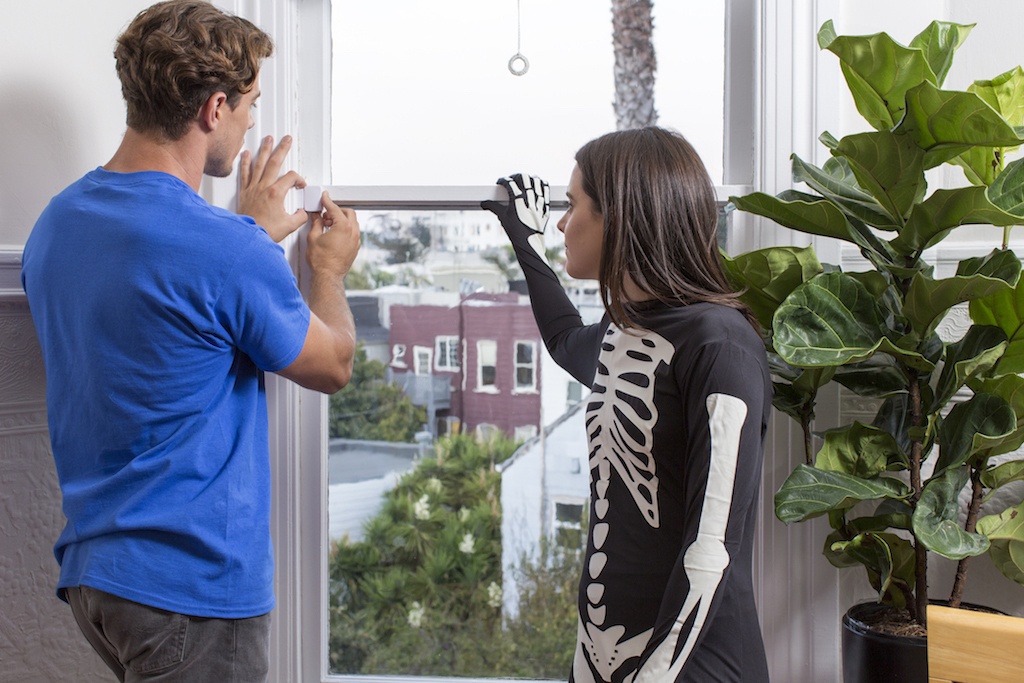 Staying Safe
Halloween is a lot of fun, but it's also a common time for pranks like toilet papering houses or other Halloween shenanigans. And we'll be the first to admit, all the scary décor can make us a little uneasy at night.
We installed a Nest security camera in order to confirm whether noise around the apartment was from trick or treaters or potential intruders. The camera is easy to install, and the peace of mind that comes with being able to monitor the outside of your home from your smartphone helps long after Halloween, as theft becomes more of an issue during the holiday season – now that's a scary thought.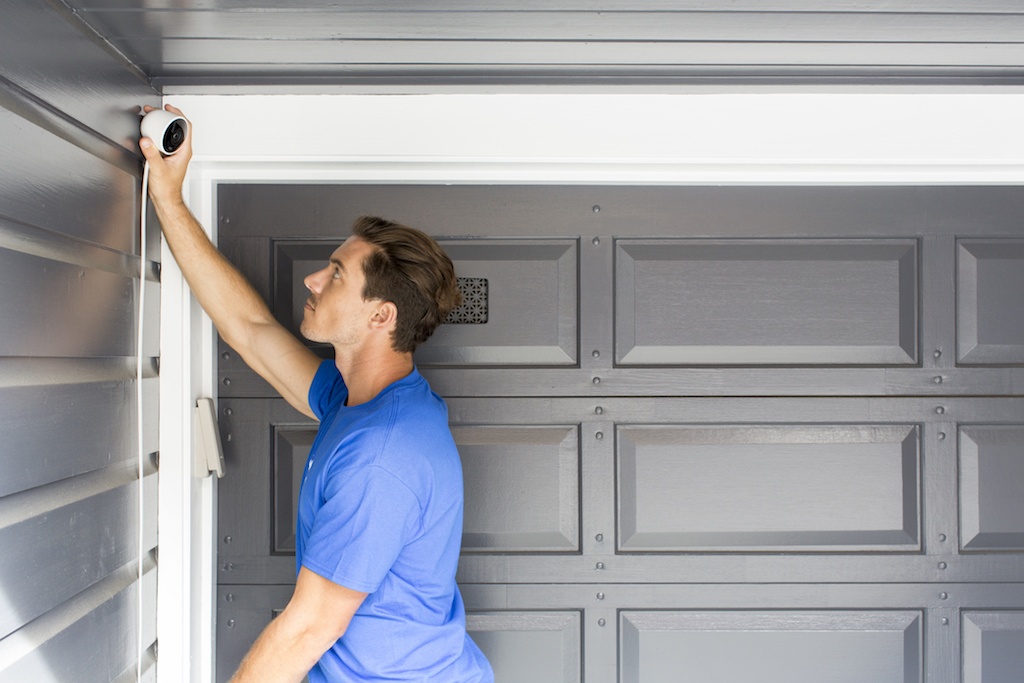 All in all, the prospect of upgrading your living space with some smart home appliances doesn't have to send a chill up your spine – with a host of devices so easy to install and use, your home can be connected to some great money-saving gadgets scary fast.