It's remarkable what can be accomplished in just a few hours – depending on who's the one getting it done. While some of us might be able to struggle assembling a piece of furniture and stare despondently at the scattered pieces, a handyman can install a ceiling fan, paint a room, and assemble that furniture with no sweat. Hey, we've all got our strong suits.
Because they're so time-efficient, lots of people looking for handyman service near me choose to bundle up chores and get several jobs done at once. Read on to find out which different services can be combined to get your house into tip-top shape in just a single afternoon.
Wall Hanging
Your handyman will have no hangups about doing a variety of wall hanging services at once – after all, once that level is out, you may as well use it to knock out all those jobs that have been piling up. Have your handyman hang:
Framed pictures or paintings, including grouping them together to make a display
Clocks, mirrors, art pieces, and other miscellaneous decorations
All kinds of shelving. Check out these unique shelving ideas for an idea of what your handyman can do for you
Once you've ticked the wall hanging services off your list, have your handyman continue on with some of these other services.
Fan Installation
If you'd like to feel a little cooler, your Puls handyman is able to quickly and professionally get things spinning, just in time for summer. Get new ceiling fan installation – either where there's an existing fixture or have a new fixture installed – or utilize our ceiling fan repair services. Servicing ceiling-mounted fans, drop-down fans, and everything in between, your handyman will keep things extra chill by saving you some cash – and sparing an argument about how long the air conditioner should run.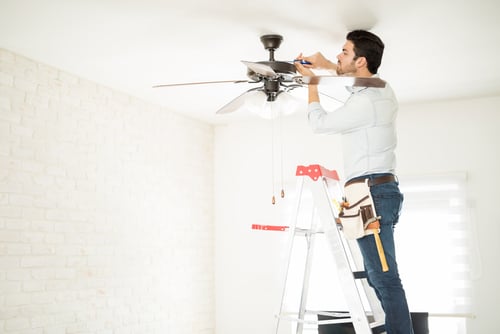 Furniture Assembly
Strewn along the path to successful furniture assembly lie countless shattered dreams and broken relationships. Okay, that may be a tad dramatic – but it's safe to say that occasionally, trying to get that bookshelf properly put together can bring out the worst in us. Save yourself the time – and the headache -- and have your handyman quickly get your furniture assembled perfectly. There's no job too big or too small, and your handyman's furniture assembly services can include:
Bookshelves and other standing storage units
Kitchen chairs, office chairs, rocking chairs, recliners, benches, and more
Coffee tables, kitchen and dining tables, and outdoor tables
Beds, bunk beds
Large bedroom furniture, such as wardrobes, bureaus, and dressers with mirrors
Desks, work stations
Drywall Repair
While it may look easy, drywall repair requires a degree of precision that is usually best left to the pros. In just a short time, your Puls handyman can take care of any and all manner of drywall repairs. Whether a kid (or crazy friend) dove headfirst into a wall, a doorstop didn't do its job, a wall was bumped while moving furniture, or you'd just like to fine-tune an electrical socket, light fixture, molding, or trim, we can get the clean and polished look you're after.
Light Installation
If you've got a bright idea that you'd like to let shine, let your Puls handyman take care of your light installation from start to finish. We handle light fixture replacement, exterior lighting, and even chandelier hanging. But that's just the beginning – check out some of these creative kitchen lighting ideas or unique light fixtures for the rest of the house for an example of what your handyman can help do for you.
Electrical Services
Why hunt down an electrician and wait for them to show up when you can just have your handyman perform the electrical services you need when you've got him… handy? Possible electrical services include, but are not limited to, light switch repair or replacement, outlet replacement, electrical outlet installation, USB wall outlet installation, or device installation. If you've wanted to install heaters, bathroom fans, or even heated toilet seats, seize the day and have your handyman get the job done immediately.
Window Treatment Installation
Especially if they're located high up, it can be pretty tricky to install curtains or window blinds. Fortunately, you can have your handyman take care of any window treatment installation for you before they go. Hanging curtains, roll-down blinds, vertical blinds, or any other window treatment solution are all within arm's reach – without having to step up onto a ladder.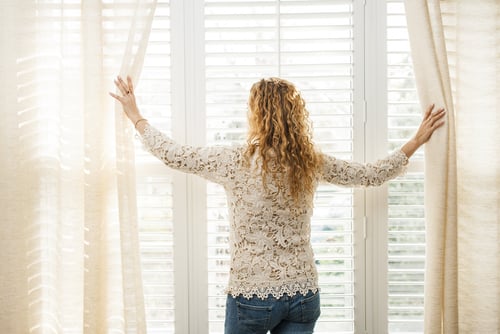 Puls Offers Full Handyman Services
Don't see your needed handyman services on the list? Don't worry – we've got lots more where this came from. Our handymen can do all the above services, plus gutter cleaning, power washing, TV mounting, interior painting and more. If your chore isn't listed, simply call and we'll give you an estimate for the job you're after.
Not only that, but there's no need to go hunting for a different specialist for each service you require – book your time slot with Puls and a qualified professional will arrive at your doorstep at the time that's convenient for you, often on the very same day.
Simply select the services you're looking for, choose the time that's right for you, and let your handyman take care of the rest.