The CES, the annual gathering of the consumer electronics industry held every January in Vegas, has just ended. Though there were also ultra-thin laptops, smart fridges, autonomous cars, next-gen cameras, gaming devices and other cool gadgets, TVs always reigns supreme on the CES show floors. The trade show gives us a glimpse into the future of smart TVs, or at least what big screen innovations the major manufacturers are betting their development budgets on.
OLED is all the rage for both smart TVs and smartphones
All the big guns were at CES, and OLED seems to be their ammo of choice for 2018. Since OLED works without a backlight, its ability to reach deep levels of black makes all the other colors pop out. This is the same technology that is being used across the board with the newest flagship phone screens such as the iPhone X and the Pixel 2.
The double effect of OLED and 8K was by far the manufacturers' favorite combination this year. It's no surprise that TVs are getting brighter, smarter and curvier day by day. Still, there were some big screens that stood out from the crowd. Here are our honorable smart TV mentions from CES 2018.
The attention seeker: the LG Rollup OLED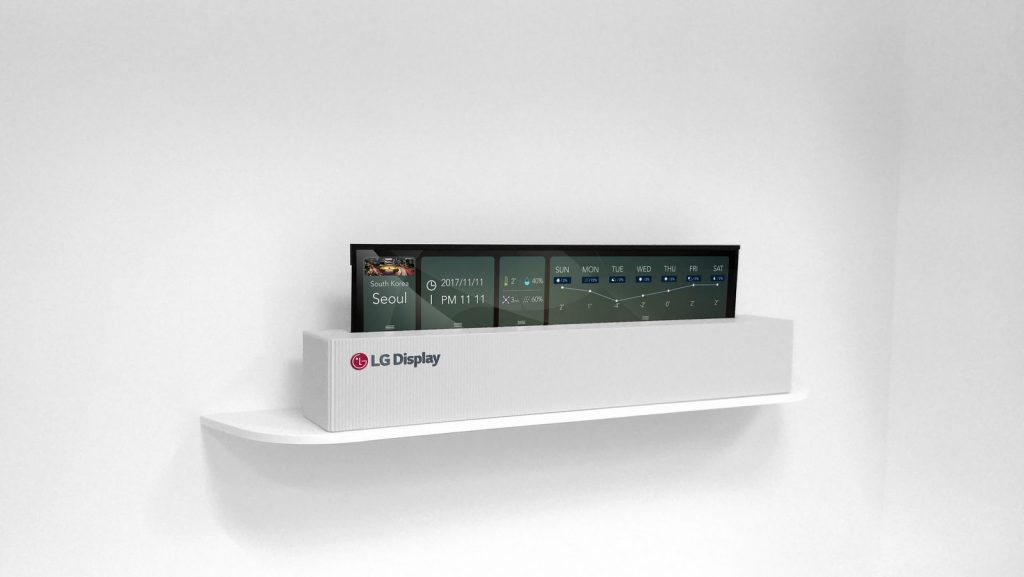 All eyes were on this LG rollable TV. (Photo Credit: LG Display)
There's always the one that gets the most attention, both at the booth and on the internet. Who wouldn't stop to take a look at a suspiciously thin 65-inch TV that looks like a magic carpet floating sideways? As if that's not enough, the screen rolls down into its own rectangular base like a retractable banner stand. This creates a world of screen-size opportunities within one slick TV.
It was only two years ago at the 2016 CES that LG showed off an 18-inch screen that could roll up like a newspaper. Back then the critics said LG could never scale up the technology both in screen size and in resolution. Look at LG now, with a full-blown 65-inch, 4K smart TV concept that truly feels like a glimpse into the future of screens.
Samsung: another brick in The Wall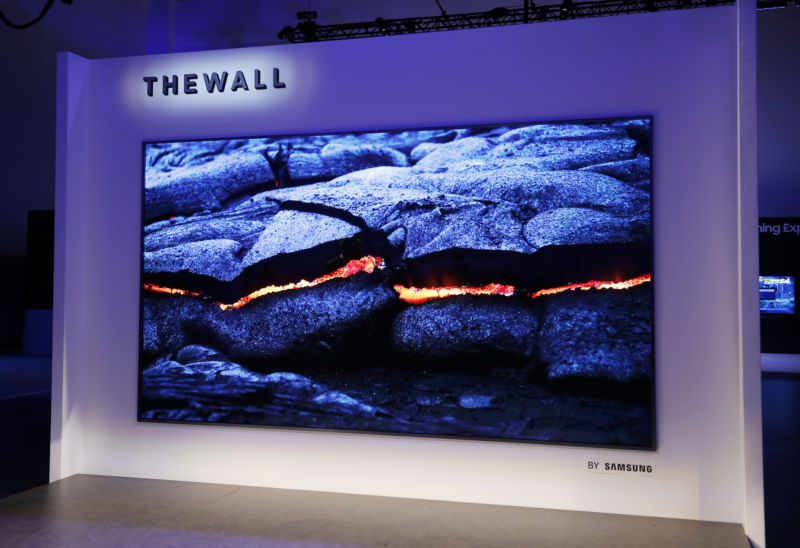 Samsung's The Wall in all its glory. (Photo Credit: Samsung)
While OLED is king of the dark pixels, we shouldn't rule out LED technology just yet. Working with no backlight means OLED can turn on a colored pixel alongside a black (or unlit) one, thus avoiding bleeding between pixels. The downside of OLED technology is that the brightness each pixel pushes out is limited compared to LED.
This is where Micro LED comes in.This technology allows each pixel to generate its own light and color, meaning you still get perfect black levels with no bleeding. In addition, LED produces much brighter colors. A combination of great contrast and super bright colors is what the Samsung Wall is all about.
This massive 146-inch (!) TV was actually designed to fit on an entire wall in a standard American home. Standing in front of one is a truly immersive experience. As if that's not enough, The Wall is modular and can be installed alongside other Walls.
This feature may hint at Samsung's intent to make The Wall the standard display for stadiums and the likes. Samsung hasn't yet specified a release date but promised The Wall will be available this year. What can we say, LED is far from dead.
Always look on the bright side of Sony
We all know the future is bright, but Sony is currently enjoying a bright present. Dubbed the X1 Ultimate, this 85-inch 8K HDR prototype screen is the brightest screen known to mankind. It's capable of reaching 10,000 nits, which is 5 times greater than any of its current competitors. What are nits and why are they so important to TVs?
Nits are our way of measuring the luminance, or light output, from a given area or surface. Without getting too scientific, more nits mean more emitted light which is crucial for HDR displays. HDR aspires to emulate the natural light conditions our eyes experience in the real world. Sony's HDR screen utilizes the processing capabilities of the X1 chip, redefining peak luminance for TVs everywhere.
Take one home with you: the relatively approachable Sony A8F OLED
The Sony Bravia A8F stands out in the approachable category, meaning it's not some futuristic sci-fi dream, nor is it available exclusively for the rich. Based on the A1E OLED that came out last year, the A8F is not the next generation but rather a redesigned version.
Redesigned is Sony's way of saying they dropped some features to make it cheaper, so more people can afford it. It features superb picture quality to go along with great sound quality thanks to the 'acoustic sound panel' feature that turns the screen into the speaker. You can't get much better viewing experience for such a reasonable price. It is currently available in 55-inch and 65-inch models.
Puls has the know-how to mount your smart TV
While TVs are getting bigger, brighter and smarter, TV mounting is becoming more complex. Gone are the days when you would simply haul your new TV home, plug it in and turn it on. TV mounting is a skill that requires a significant level of expertise.
Puls helps you make the most of your smart TV by configuring it correctly for your home, connecting it to your other smart devices, supplying the correct wall mount brackets and making sure the TV is safely mounted. We support a wide range of devices and we make it a point to make ourselves promptly available. Book our TV mounting service here.