You've probably heard that before the invention of the modern refrigerator, large blocks of ice stored in wooden iceboxes were used to keep food cold. While effective, it definitely wasn't a convenient way to keep your food fresh. Luckily, Frigidaire developed the very first electric self-contained refrigerator in 1918, called the Frigerator, and turned the appliance industry upside down.
Surprisingly, General Motors, known more for their automobiles than appliances, owned Frigidaire from 1919 to 1979, and helped propel the company into the appliance powerhouse it is today.
While Frigidaire refrigerators are known for their state-of-the-art features and quality construction, occasionally they break down and need repairs. As an authorized Frigidaire service company, Puls has put together a list of common problems, options for repair, and what you should look for in a Frigidaire repair refrigerator service in your area.
Common Refrigerator Repairs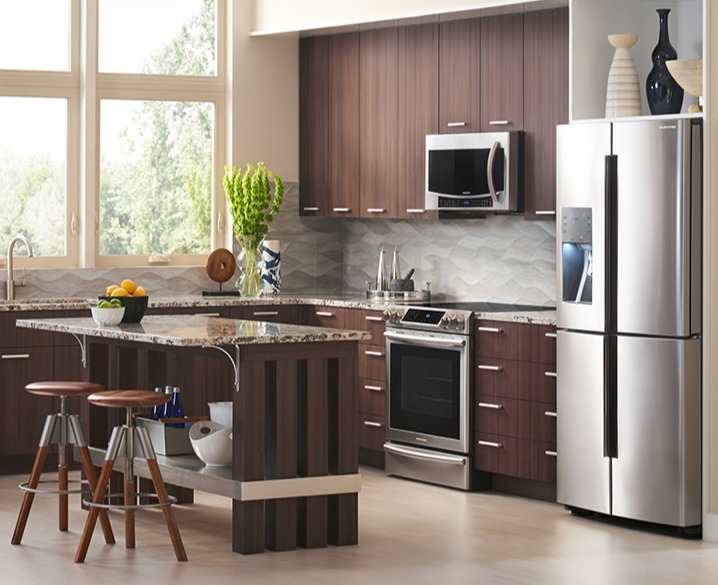 While you won't have to chip out a large block of ice to keep your food from spoiling, if your Frigidaire refrigerator has stopped working or is encountering any of the following issues, you're going to need to address them soon.
Not Cooling
Dirty condenser coils

—located under the fridge and used to dissipate the heat as cooling refrigerant goes through them. Significant dirt on the coils can make the refrigerator work harder to maintain temperature. Solution: Clean the coils.

Blocked or defective condenser fan motor

—used to draw air through the condenser coils and over the compressor. Check for obstructions and/or continuity. Solution: If the blade doesn't spin freely or have continuity, replace the fan motor.

Defective start relay

—used to start the compressor. Test continuity with a multimeter. Solution: If there is no continuity between the run and start terminals or if you notice a burnt smell, replace the start relay.

Faulty temperature control thermostat

—sends voltage to the compressor, evaporator fan motor and condenser fan motor. Solution: Turn the thermostat from the lowest to the highest setting. If you don't hear a "click," replace the thermostat.

Broken compressor

—pump that compresses refrigerant and circulates it through the coils to cool the refrigerator. While not common, it can happen. Solution: Check continuity with a multimeter. An open circuit means the compressor is defective and must be replaced by a licensed technician.
Leaking Water
Clogged defrost drain

—allows excess water from defrost cycle to be expelled from the refrigerator/freezer. If it's clogged or frozen, water can leak onto the floor. Solution: Check the drain for obstruction or ice. Flush with hot water to clear.

Cracked water tank assembly

—reservoir used for dispensing water. Small cracks may form and allow water to leak out. Solution: If the water tank is leaking, don't try to repair it as glue will not adhere to the tank. It must be replaced.

Loose or cracked water inlet valve

—opens to supply water to the icemaker and dispenser. Water will leak from the valve if it isn't secured tightly or is damaged. Solution: Make sure it is seated properly or replace if it's cracked.
Noisy
Obstructed fan blade

—these move air across the evaporator and condenser to cool the refrigerator. If the fridge is noisy, especially when the doors are open, one of these fan blades may be the problem. Solution: Make sure the evaporator fan blade behind the freezer back panel and/or the condenser fan blade under the fridge are clear of obstructions.

Bad fan motor

—when the evaporator or condenser fan bearings or motors fail, the refrigerator will become very noisy. Solution: Contact a licensed technician to replace it.

Compressor failure

—the compressor is the main cooling component of the refrigerator, and over time, the internal components can wear out and generate noise. Solution: A licensed technician be required to replace the compressor.
Hire a Reputable Repair Service
If you're handy and capable of repairing your own refrigerator, that's great. You can save time and money by searching for parts online and replacing them yourself. If you're more inclined to leave the appliance repairs to a service professional, you should use specific criteria to find a company to fix your fridge quickly, efficiently and that won't break the bank.
Hire a local company that's familiar with the area and has skilled technicians with experience repairing Frigidaire refrigerators. Not only will hiring locally help support your own community, it also gives you an opportunity to research them more thoroughly to make sure they'll be able to handle your needs.
Make sure the repair service offers fast appointments that fit with your schedule, same day is best. A broken refrigerator is a major inconvenience. The repair service should help relieve that situation fast, not add to the burden. Also, make sure there are no extra costs for evening and weekend appointments.
Warranty coverage is also important. If your Frigidaire refrigerator is still on warranty, it's essential that you use a certified Frigidaire repair company using OEM parts. Otherwise, you may void your warranty and still have a broken refrigerator.
Puls—Frigidaire Refrigerator Repair Made Easy
Puls is the best solution for taking care of all your Frigidaire refrigerator problems. We're a certified Frigidaire repair company with skilled technicians who are ready to troubleshoot, diagnose and repair your fridge within a few hours of your call.
Whether you've got a leaky or noisy refrigerator or a major breakdown, our experts offer convenient in-home diagnosis for just $79. Let us handle the repair for you, and we'll not only waive the fee, we'll also provide a 90-day warranty on all parts and labor. We only use OEM parts so your original Frigidaire warranty will never be affected.
Repairs start at $139. We'll provide a complete breakdown of what is needed so you'll never be surprised with hidden fees or unplanned extras.
Trust Puls to handle all your refrigerator repair needs today and save the ice for a nice cool glass of lemonade later.