While your new home's curb appeal is crucial to creating a good first impression on the outside, your entryway provides your guests with their first glimpse of the inside. Adding a bench to this space will give visitors and family members an opportunity to easily remove shoes and boots as they step through the door, while also showcasing your design aesthetic.
An ideal entryway bench is both an interior design statement and a functional piece of home decor. No matter how much space you have or how much money you have to spend, there are a variety of bench options available that will help blend comfort with practicality to make everyone feel welcome.
Entryway Bench Designs
The best entryway bench will match your home's decor or style, fit the space you have without feeling cluttered, and include features that will keep the area always looking neat and tidy. Here are some designs to choose from:
Small or Compact Bench—this will work best for an entryway with limited floor or wall space. A simple seat design, with or without a cushion, will do the trick here. It will help protect your floors or carpeting by providing a place for easy shoe removal.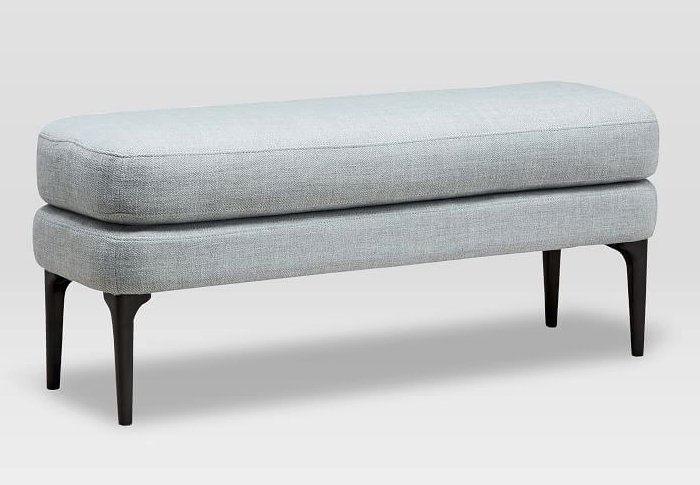 Image Source: West Elm
Bench with Built-in Shoe Rack—under-seat storage for boots and shoes helps keep your entryway neat and organized and you won't have to hunt for them when you're running late for work.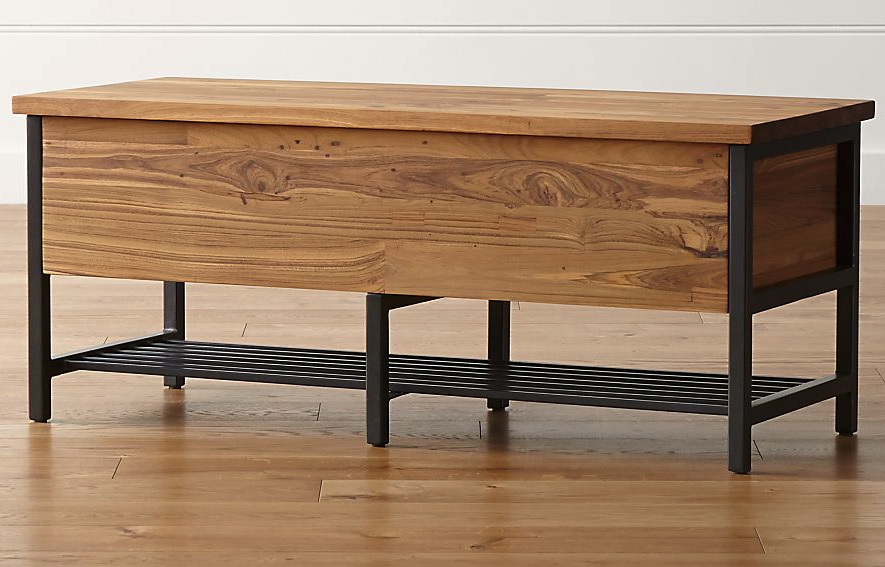 Image Source: Crate and Barrel
Bench with Coat Hooks or Rack—perfect for an entrance without a nearby closet, built-in coat hooks or a rack will keep everything in once convenient place.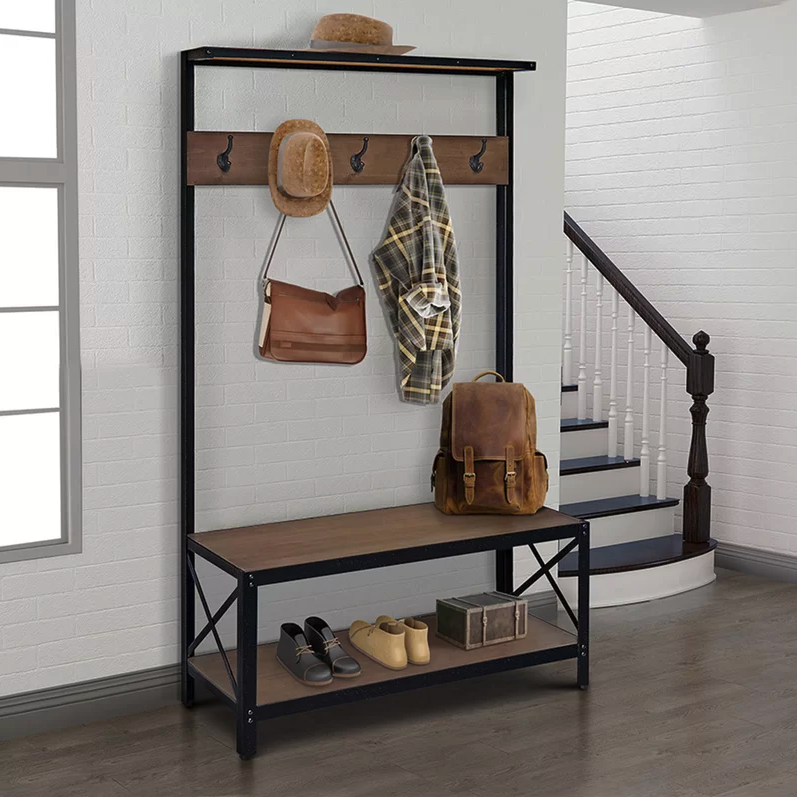 Image Source: Wayfair
Storage Bench—a flip-up seat with storage underneath will give you an extra place to keep everyday items like gloves, scarves, hats, or even backpacks. No more running around the house looking for all those things, just grab and go.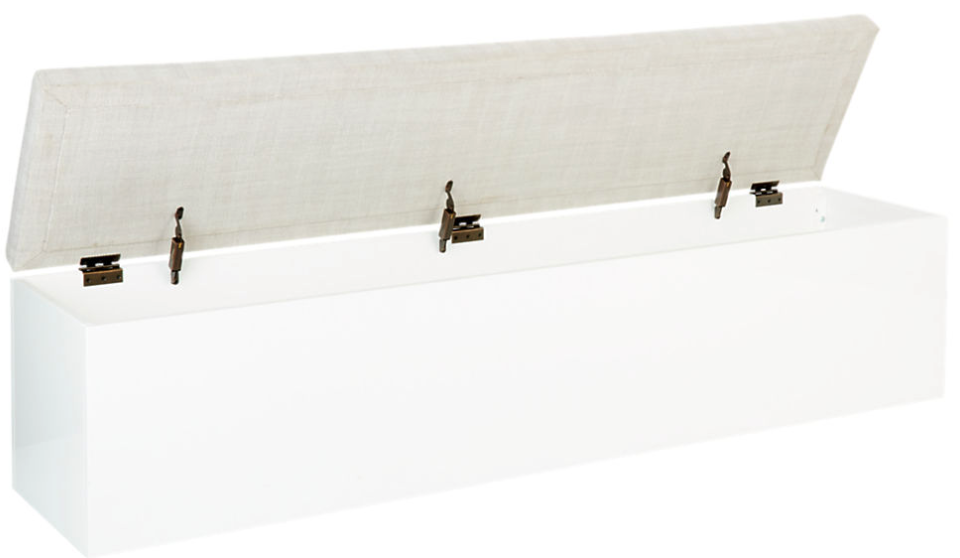 Image Source: CB2
Bench with Drawers or Baskets—this design keep smaller, miscellaneous items within easy reach. Never hunt for your keys again—drop them in a drawer in the bench each time you walk in the house. Basket storage might be the perfect place to drop your mail instead of cluttering the kitchen counter or table.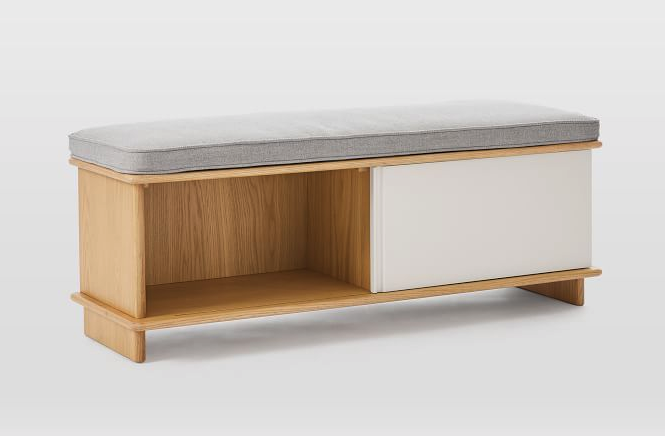 Image Source: West Elm
Cushioned Bench—while guests don't often linger in the entryway for long, a decorative cushion can add a pop of color or provide a comfortable seat while waiting to head out.
Image Source: Walmart
Materials and Styles
There are entryway benches to fit any interior decor. Choose from a variety of handcrafted wood species like pine, oak, maple, or walnut stained to match your home's wood trim. Or go for environmentally friendly bamboo, trendy composite with a painted finish, or a combination of materials, perhaps including metal legs or rattan baskets. An upholstered seat can be made from leather or a durable fabric. An elegant, stylish pattern or a bright-colored beachy look could be the right fit for your home. Really, your options are only limited by your imagination.
Where to Buy or DIY
The internet makes searching for the best entryway bench a lot easier than in the past. Check out Amazon or Wayfair for budget-conscious options, Ikea or Crate & Barrel for upgraded designs, or other retailers like Pottery Barn and West Elm. You can also look at Pinterest for DIY bench designs or visit an antique or second-hand shop to search for a classic style that can be repurposed.
Prices for entryway benches depend on the style you choose and the retailer. Simple build-it yourself bench seats can be made for around $50. You can pick up a sturdy wood bench with basket storage underneath from Amazon for around $150. Ikea has a comfortable upholstered bench for $230. Want a beautifully crafted piece of furniture? Crate & Barrel features some spectacular options with prices starting from $500.
The possibilities are endless when choosing the best entryway bench for your new home. Before you shop, make sure you have a clear idea about what you're trying to accomplish. Do you want to create a specific decorator look, an area to take the place of a closet, or do you just want a simple place to sit to remove shoes? No matter which style you choose, make the space warm and welcoming, and the first impression will be a lasting one.
Need Some Home Maintenance Work? Puls Can Help.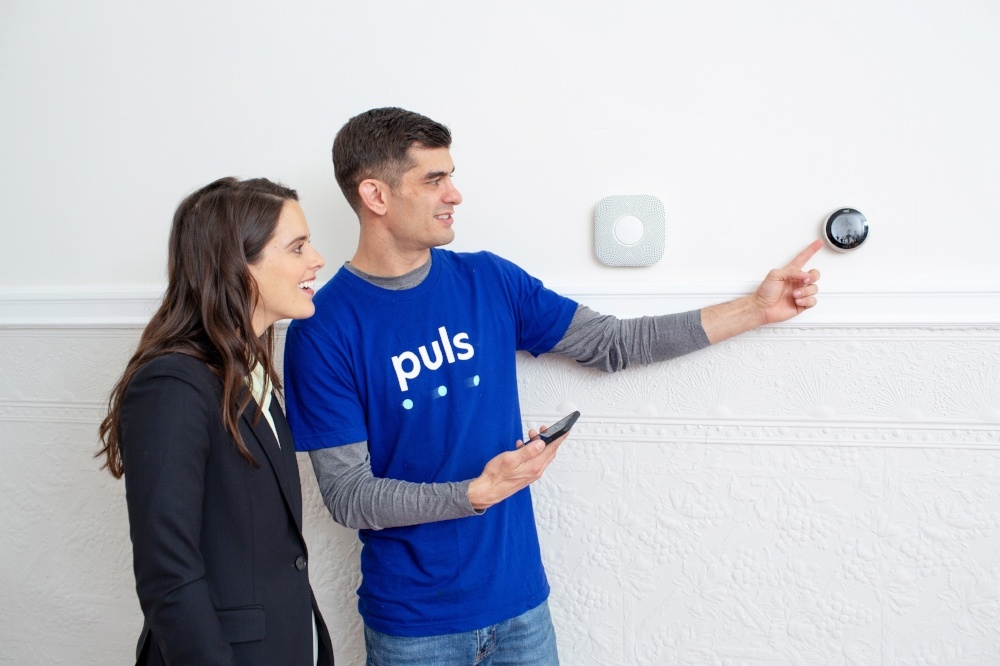 While Puls can't help you purchase an entryway bench, we're here to provide expert assistance with any home maintenance or repairs you may need. Our technicians are available to help with all your appliance repairs, television wall mounting, smartphone repairs, garage door repairs, smart home setup, and so much more.
Our convenient, online appointment booking is designed to work around your busy schedule. We can be there any day of the week from 8 a.m. to 10 p.m. and same-day appointments can be made for no extra charge when available.
Puls' affordable, transparent pricing and effortless booking help take the stress out of any repair or installation. Book an appointment today and your problem can be solved in a few days - or even a few hours. Click here to get 5% off your first service call.