Summary: Mariam hired Puls to mount two large TVs in her new apartment in San Jose. Not only did Puls make it easy to schedule an appointment, but the technician arrived on time and did a perfect job.
Mariam lives in San Jose, CA, and works at a large tech company. She recently decided to move closer to work because her commute was too long. She found a great new apartment complex and signed her new lease. Then she hired a moving company.
There was only one problem: she needed help mounting her two flat screen TVs in her new apartment. Not only were her TVs high quality but they were also quite large. She wanted to hire someone professional to make sure the job got done right! "I like things looking a certain way," she said. "I like things being straight and clean."
For that reason, it was important that she find someone who would take great care in mounting the two TVs. After searching online, Mariam came across Puls. She liked how clean and simple the website was and that the company seemed trustworthy. She decided to book an appointment to have a Puls technician come out and professionally mount her two TVs.
See Mariam's story by clicking the video above
The process of booking the appointment was really simple. She simply chose the date and time she wanted, entered her contact info, and clicked "submit." The website even showed her how much the appointment would cost, with no hidden fees. "It made it very easy for me," she said.
Unlike with some other companies, Mariam did not have to spend a lot of time on the phone or wait around for somebody to finally show up. Puls confirmed the appointment ahead of time and arrived when they said they would. "The email confirmation was great and the timing was great," she said. "It made my life a lot easier."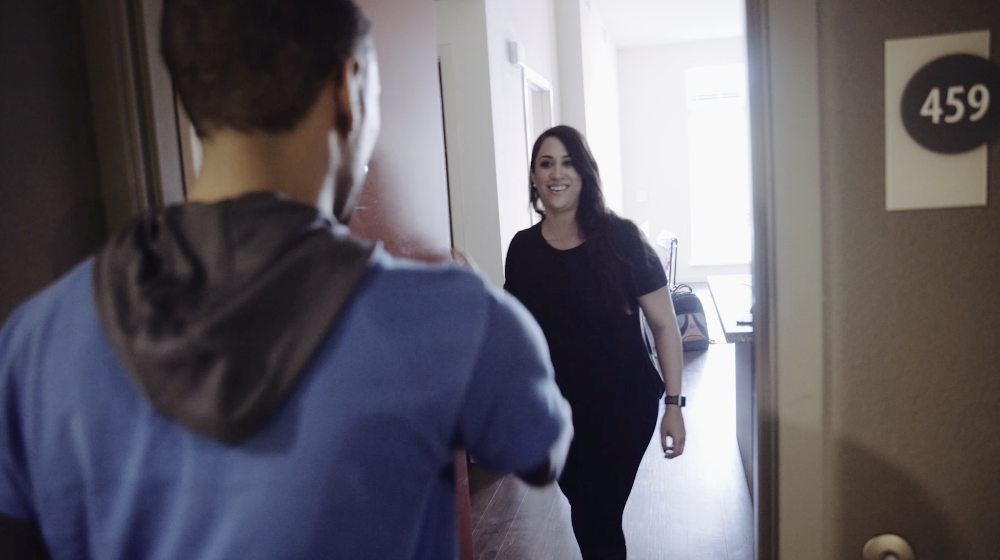 Puls arrived at Mariam's doorstep ready to get to work
On the day of the appointment, the Puls technician showed up on time. He came prepared with all the necessary tools, and before starting his work he asked Mariam exactly where she wanted the TVs to be mounted. "He introduced himself right away and shook my hand," said Mariam. Not only did he conduct himself in a professional manner, but his expertise was obvious from the beginning. "He knew exactly what he was doing," she said.
Once he began mounting the TVs, Mariam was able to continue unpacking her belongings - she felt confident that the job would be done properly.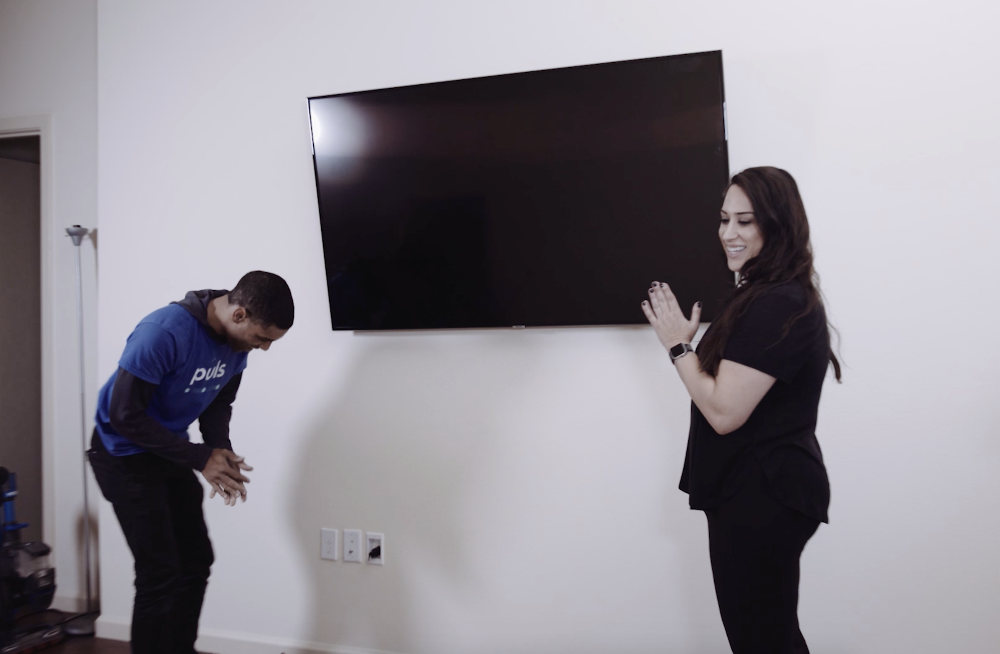 Mariam was very happy with the service
The Puls technician was methodical and perfectly mounted both TVs. When he was done, he took the time to show Mariam the finished product. "Seeing the way it looked, it made me really excited."
He also showed her the functionality of the full motion TV mount and turned on her TVs so she could ensure they were all working and connected to her other devices. By the time he left, she felt assured that everything was ready to go.
"I'm so excited to get settled in and watch TV," she said. "I'm definitely going to enjoy my new apartment."