Today's home appliances are great time-savers and include high-tech features that also can save you money. Did you know that using a dishwasher is more energy efficient that washing your dishes by hand? Using an Energy Star-certified machine can actually save you close to 5,000 gallons of water a year and reduce your annual electric bills by $40.
A new Smart refrigerator can do everything from alert you when you're getting low on milk to keeping vegetables fresh longer in a humidity-controlled drawer so why wouldn't you want to buy one?
Of course, if you buy something new for your kitchen or laundry room, you'll probably need to know, "How much does it cost to install appliances?" We've put together the average cost of professional installation of major home appliances like a refrigerator, oven, dishwasher, washer and dryer, so you'll know exactly what you'll need to budget.
Refrigerator Installation Costs
Your refrigerator is the focal point of your kitchen and making sure all those specialty features are connected properly will probably be a high priority. How much does it cost to install a refrigerator? According to Fixr.com, it can run anywhere between $116 to a whopping $3,900, plus the cost of the refrigerator. Generally the size of the fridge doesn't affect the cost of installation but the location, extra features, electrical and plumbing connection requirements can add up.
Expect to pay an additional $30 to $40 per floor to take it to a second- or third-floor. Want one included in your outdoor kitchen? Throw in an extra $150 without a water line. No electrical outlet nearby? The average cost for an electrician to run one ranges from $220-$750 each.
Most refrigerators aren't complete without a built-in water filtration system and ice maker. You'll need to budget $45-$65 per hour for a plumber for an average cost between $65-$130 to run the water line.
Oven Installation Costs
Cooking at home has never been easier than with today's variety of ovens. The average cost to install a free-standing oven in place of an old one is about $162 and a new installation can run around $200. The experts at Fixr.com indicate that changing the utility source such as electric to gas will bump up the fees by $180 for an electrician and $200 for a plumber to run a gas line.
You can expect a significant up-charge for installing built-in or wall ovens as they each require specially cut counters, cabinets or wall openings. A drop-in oven cut can cost an extra $100-$200. Add $200 to $225 to hang your oven on the wall. A cabinet to conceal a wall oven can impact your budget by as much as $1,000 to $5,000 depending on size, wood species, door style and finish.
Dishwasher Installation Costs
Dishwashers are a convenience you won't want to live without, so if your machine needs replacement, plan on spending an average of $325-$450 to install a new one. If the majority of work is already done with hook-ups in place, a plumber will be able to complete the job in about an hour at $45-$65. However, if you need new pipes the installation cost will increase by $90 to $195 for two to three hours of work.
An electrician will charge between $65-$85 per hour to rewire or install a grounded electrical outlet. Additional labor considerations may be needed to change the cabinetry for a better fit. Carpentry charges at a rate of $70 per hour should be added. Plan on one to two hours to do the job.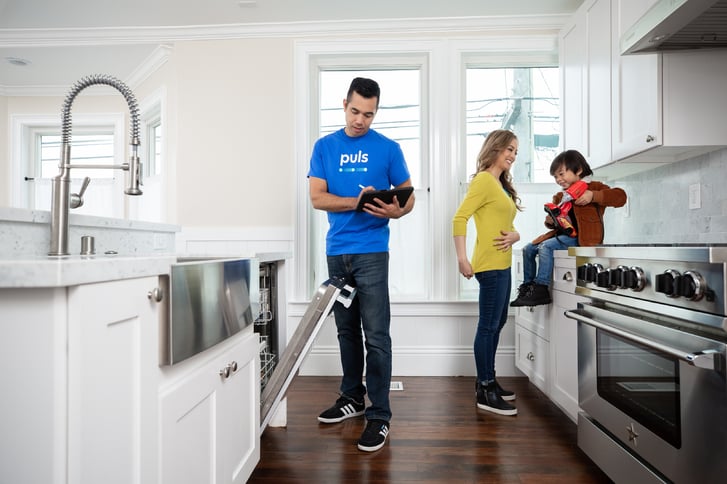 Washer Installation Costs
Washing machines have changed dramatically in recent years. High-efficiency, front-load and stackable models may require modifications to your existing plumbing and electrical hookups, adding more expense to the installation process. Improvenet.com calculates the average washer installation costs between $100 and $200.
If you need to retrofit the space to fit your new machine, increase the cost by $350 to $600. Don't forget that if you need to move electrical or plumbing lines, the price can jump as high as $2,000. Note that high-tech models with digital components may need special electrical connections like 4-prong GFCI outlets.


Dryer Installation Costs
Installing a new dryer will cost around $396 and include connection to the utility source (electric or gas) as well as the vent system. Fixr.com indicates that most electric dryers need a 240V electrical outlet. If a new electric panel is required, it could cost an additional $300-$800 depending on distance to the laundry room.
While gas dryers are more economical in the long run, if you need a new gas line run, a plumber will charge between $150 and $1,000 to put one in. Most dryers don't come with an electrical cord. You'll need to check your outlet to determine if you need a three-pronged cord for $29 or a four-pronged cord for $24.
Need an Appliance Installed? Let Puls Handle the Job for You
If you're ready to install a new kitchen or laundry room appliance, Puls is available to help with our handyman services. Our skilled technicians are prepared to provide fast, professional, and convenient installation of your refrigerator, oven, dishwasher, washer or dryer on your timetable.
Low, affordable rates and comprehensive estimates are provided before we start the job so you can stay within your budget. Schedule an appointment with Puls at a time that works for you and we'll be there—same-day services are often available too.