Over the last couple of years, we've all been spending a lot more time in our homes. We've watched the home and garden shows on TV and seen the housing market provide record-breaking returns to homeowners that have done a few improvements and updates.
If you've decided that you'd like to dip your toe into the real estate market this spring, there are a few things you can do to boost your home's resale value without totally breaking the bank.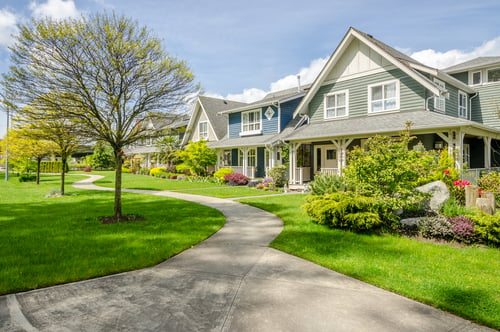 Small renovations can still earn you a reasonable return on investment but you need a plan. Before you get started, you should understand what type of projects will help you obtain the best possible outcome:
Lifestyle Needs
Homebuyers are generally broken down into categories based on lifestyle needs or niches:
There are first-time buyers who are price-sensitive and have a list of "would like to have" features but are not locked into any specific layouts or design concepts. Often these buyers are coming from an apartment or dorm or their parents' home.
There are move-up buyers who have a home to sell, may have children, and are looking to improve their current living conditions. These buyers will have a specific list of "must-have" features and are willing to pay for them. They also have some working capital because their current home will probably have earned some equity. They will not hesitate to do some work themselves after move-in as long as the price is right.
Then, there are the empty-nesters/active adults. This lifestyle group either has grown children that have moved out or are getting ready to enjoy an active lifestyle during retirement. These buyers will often look for high-efficiency, low-maintenance homes that require very little work after moving in. They generally have the most to spend and appreciate the finer elements of design and style.
Each of these niche markets will need to envision living in your home, so your décor selections should appeal to the masses. While you won't need to paint everything white, choosing dark purple kitchen countertops or polka-dot wallpaper may be a deterrent for potential buyers.
What Sells
Small upgrades and renovations can give your home a fresh look without a huge expenditure. You can do the work yourself or hire a handyman to tackle most of these jobs in time to capitalize on the spring selling season:
Kitchen
While a major kitchen renovation can bring in a big return, the general rule of thumb is to keep it below 10-15 percent of your home's value. Updates like these can create a whole new look, one that you'll even enjoy while you live there:
Replace cabinet hardware—change the color, finish, or design with selections made online. Make sure to get the same hole spacing for easy switch outs.
Update the faucet—local home improvement centers display a variety of the latest styles and price ranges. Consider a long-neck to easily fit large pots underneath or a handsfree style that only needs a touch to activate.
Add a backsplash—these are trending and add a fresh new look to the entire room. The possibilities are endless with tile, glass, metal, or stone.
Change flooring—replace that dated sheet vinyl with new laminate or luxury vinyl. These products are waterproof and provide great protection from pet claws or heavy traffic.
Update light fixtures—pendant lights over an island, recessed ceiling lights, and undercabinet utility lighting create a great aesthetic as well as brighter workspace.
Replace countertops—chipped laminates will quickly date your kitchen. Select popular solid surface products like granite, quartz, Corian, Silestone, or composite materials and watch the transformation.
Remove wallpaper—no one wants to see vintage wallpaper patterns with ducks or fruit in your kitchen. Less is more, remove the paper and refinish with warm, contrasting paint colors.
Update appliances—the built-in dishwasher and microwave should be current finishes like stainless steel and include energy-efficient features. Contact a

professional appliance installer

to quickly remove the old appliances and set-up the new models.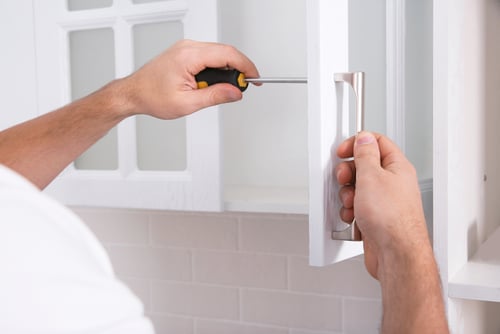 Bathroom
Updates to a private master bathroom suite, main bath, and powder room will all make a big splash with potential buyers. Don't exceed 10 percent of the house value in renovations for the master bath or 5 percent for the main bath or powder room
Update sink faucets and add hand-held sprayer units to the shower. Consider different finishes other than chrome for a trendy look.
Install a vessel sink over a vanity cabinet for a unique, contemporary look.
Put up new light fixtures to replace those old, tired styles—include dimmer switches for a relaxing environment after a hard work day.
Take out old ceramic towel bars and install new, decorative styles and finishes to match the faucets.
Change out the toilet with a new, water-saver model.
A decorative mirror will go a long way to making the room look fresh and modern.
Install ceramic tile flooring to replace the worn-out sheet vinyl. Large tiles are all the rage.
Consider adding a ceramic backsplash too. There are many beautiful combinations that will enhance the room's décor.
Repaint the room with neutral colors.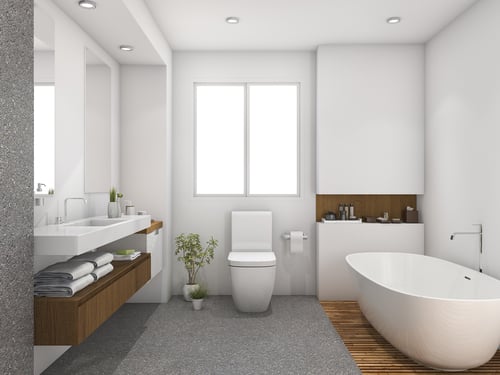 Living Room/Dining Room
The formal spaces in your home shouldn't feel stuffy or outdated. You can improve these rooms with these simple ideas:
Scrape off or replace popcorn ceilings with flat finish paint. Add crown molding around the perimeter of the room to give the appearance of higher ceilings.
Repaint rooms in neutral shades. You can finish one wall with a bright color to provide interest and a focal point.
Remove old carpeting to uncover hardwood flooring underneath. Refinish areas that need attention and put area rugs under tables.
Replace window treatments with light-weight fabrics to let light into the rooms.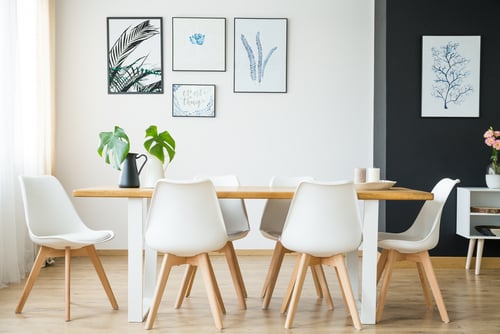 Windows and Doors
All your windows should open and close easily, should not be rotting or warped, and should have tight seals. If needed, install energy-efficient, vinyl replacement windows for a huge return on investment. Even if you don't replace all the windows in your home, be sure that the new ones match the old styles for the best curb appeal possible.
Replace your front entry door with a new, stylish steel door. You can recoup more than you paid by adding a beautiful design with matching decorative sidelights. Either paint it a bright color or select a wood-look finish.
If your garage door is in bad shape, you need to either repaint it or replace it. New models come insulated and include windows and decorative hardware to further enhance the front of your home. Don't forget to include a new opener for the ultimate convenience.
Let Puls Help Boost Your Home's Resale Value with High-quality Workmanship
There's no need to go it alone when working on your home renovation projects. Contact Puls to schedule a skilled handyman to handle everything from installing a kitchen backsplash, to updating hardware, to replacing sheet vinyl.
All staff members are fully vetted to ensure only the most experienced and reliable professionals are working at your home. Puls offers convenient online appointment scheduling so you decide the best time for work to be done—even the same day, if needed.
Our peace-of-mind warranty guarantees our work will meet your expectations and all pricing is given up front for your approval. There are never any hidden fees so you can stay on budget.
Schedule an appointment today. Get $20 off a garage door repair or replacement when you book online with code SAV20. The sooner you get started on those projects, the closer you'll be to increasing your home's value for a profitable return this spring.