With affordable prices and great designs, Ikea furniture is more than just a cultural fad: it's a great investment. Because Ikea has such a vast catalog of furniture offerings, we've scoured the internet to find recommendations from design experts for the best Ikea furniture out there.
From funky rattan ottomans to beautiful grey cabinets to oval coffee tables to Ikea classics, we've got the top picks right here.
The Best Ikea Furniture for the Living Room
Ikea's Buskubo Rattan Armchair, $130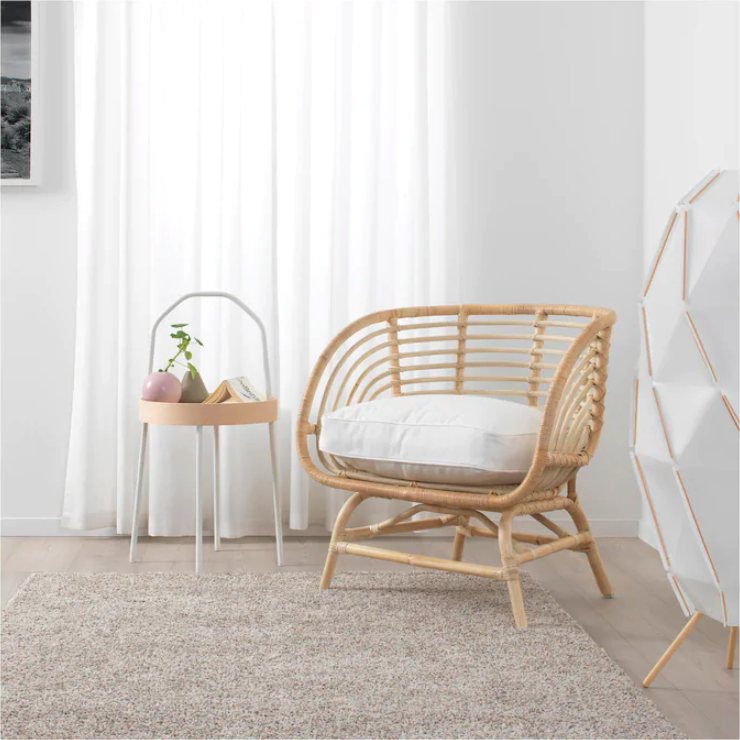 Image courtesy of Ikea
A trending favorite across the board, this rattan arm chair is funky and fabulous. Interior design website Hunker says that "rattan is having a moment right now," and lists Ikea's Buskbo armchair as a top find on their list of high-end design pieces that don't brank the bank.
The Classic Billy Bookcase, $59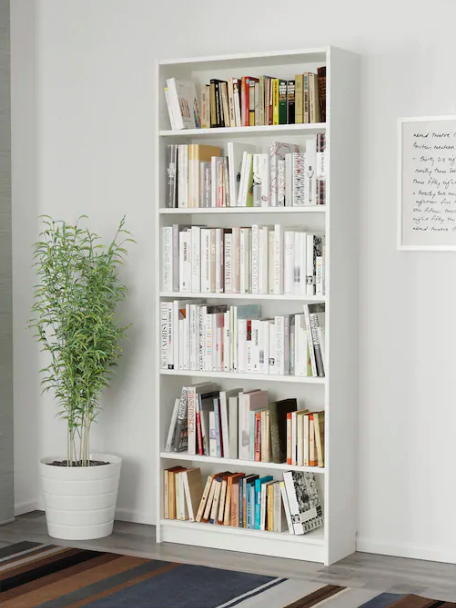 According to Ikea, someone buys a Billy bookcase every 5 seconds.
Home decor website House Beautiful calls out the classic Billy bookcase as one of Ikea's best and most popular products. Associate editor Brittney Morgan writes, "It is pretty hard to find a bookcase this big and this customizable at such a low price point."
The Gray Havsta Cabinet, $195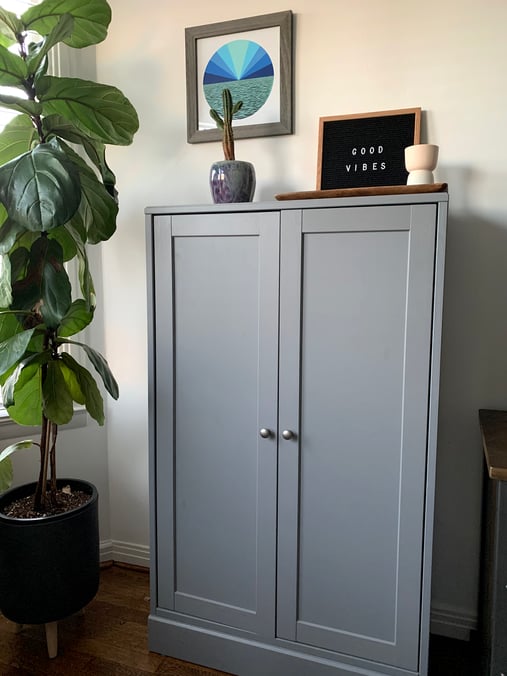 This one is a personal favorite of mine. When I first saw the Havsta cabinet in the Ikea store (yes, I trekked all the way there), I loved the blue-gray color. The cabinet is sturdy, well made, and is perfect for storing the not-so-pretty stuff. It's a great focal point in our living room, and the perfect place to set one of your favorite houseplants. Added bonus? It's impossible to tell that this piece is from Ikea.
The Vimle Sofa, $699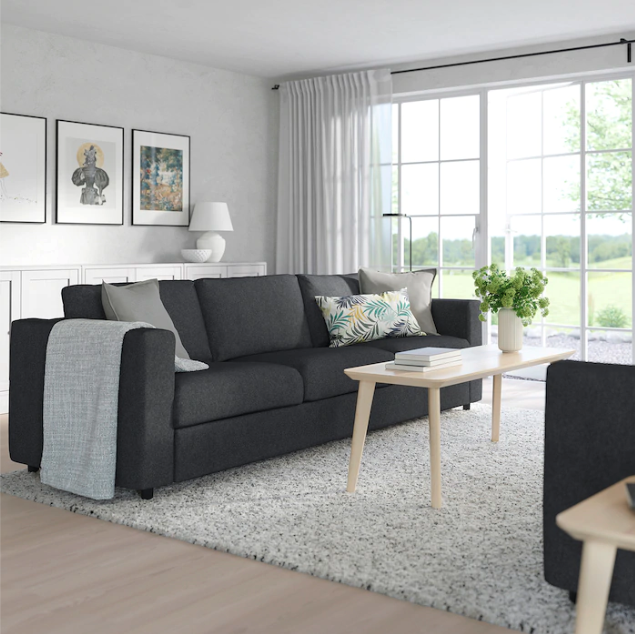 Image courtesy of Ikea
Gear Patrol calls Ikea's Vimle Sofa, "Super simple, super available, super affordable." This streamlined couch is perfect for any space, is under $700, and comes in a variety of colors to suit any taste. Done and done.
The Stockholm Coffee Table, $249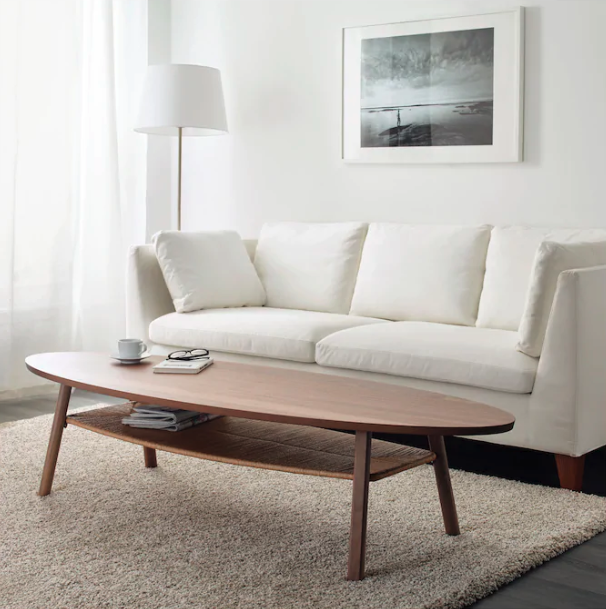 Image courtesy of Ikea
Ikea's Stockholm coffee table is a Scandinavian favorite from just about every design site out there. Apartment Therapy says that this coffee table "offers an upscale look for a relatively modest price."
The Poäng Armchair, $99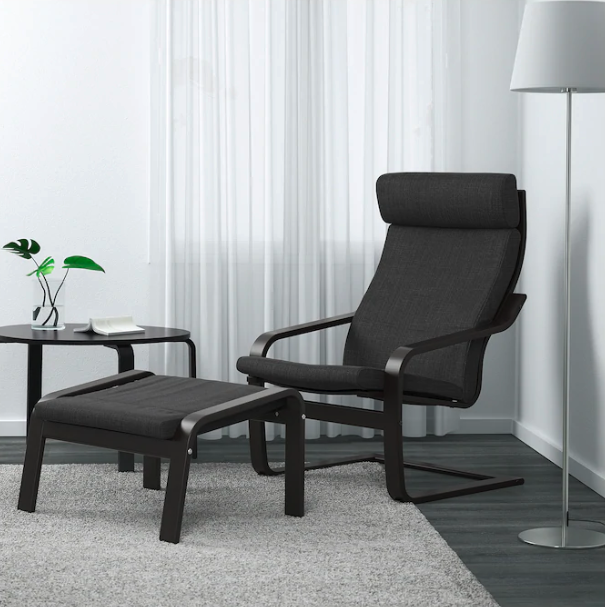 Image courtesy of Ikea
NYMag has some high praise for Ikea's classic Poäng armchair. The magazine calls the armchair "a versatile and shockingly comfortable lounger that blows away every other living-room chair I've found under $250."
The Rattan Gamlehult Ottoman, $69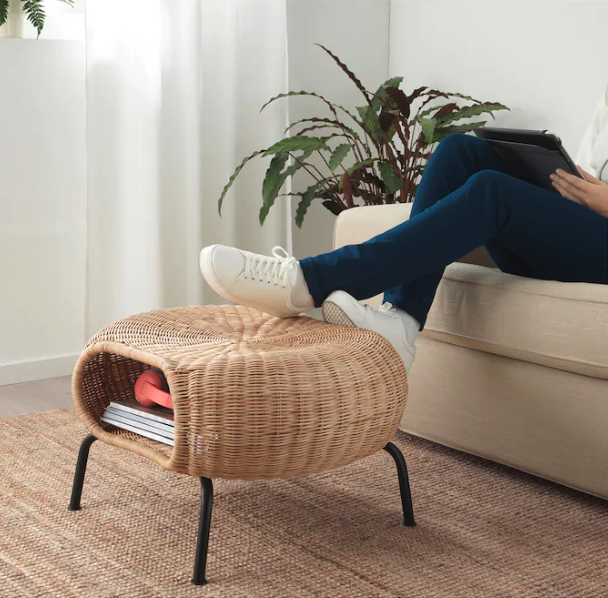 Image courtesy of Ikea
Lifestyle and interior design website MyDomaine calls the Gamlehult ottoman "a foot rest, stool, side table, and storage piece all in one." This is one trendy, fun, and seriously versatile piece. The perfect solution for apartment living, this side table/ottoman would be a great addition to your home.
The Best Ikea Furniture for the Bedroom
The Hemnes Dresser, $249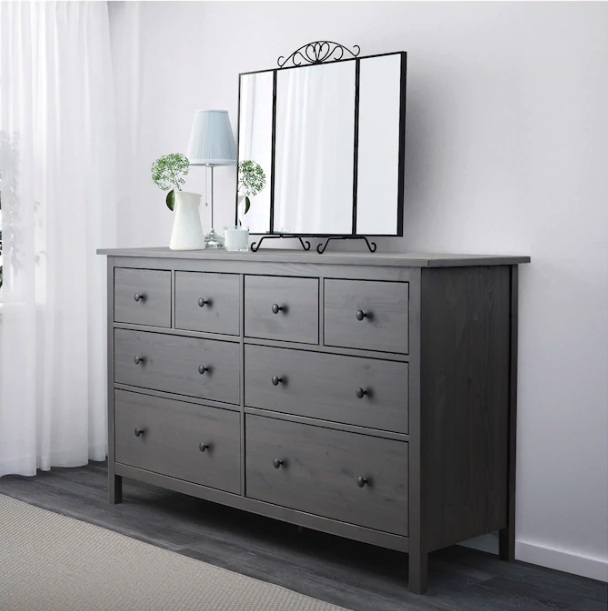 Image courtesy of Ikea
Another one of my personal favorite Ikea pieces is the Hemnes dresser, and I'm not alone. Not only do I know three other friends who have this piece, designer Lindsay Pennington agrees. She writes, "The Hemnes dresser is a classic by now, and for good reason."
The dresser comes in three colors: white, black, and gray, and is made of solid wood. I can attest to its durability—this dresser has been with me through two moves, and still looks good as new.
The Malm Storage Bed, $499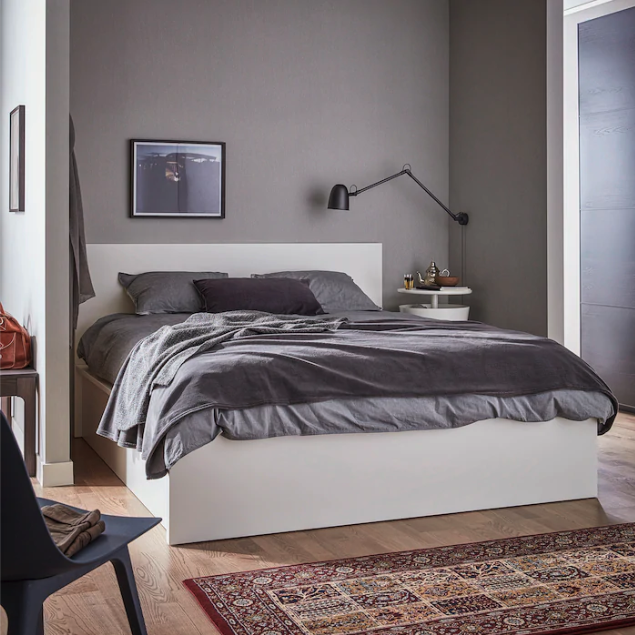 Image courtesy of Ikea
"It seems I have a thing for the IKEA Malm bed. I have used it almost exclusively in both my homes in a variety of ways. However, I have always customized, reimagined, primed, and painted the bed frames to suit my aesthetic needs." - Designer Athena Calderone via Architectural Digest
Ikea's Malm bed seems to have nothing short of a cult following, especially for DIYers. Leave the clean and simple headboard as is, or opt for one of the many hacks to customize the bed to your taste.
The Best Ikea Furniture for the Kitchen
The Tornviken Kitchen Island, $399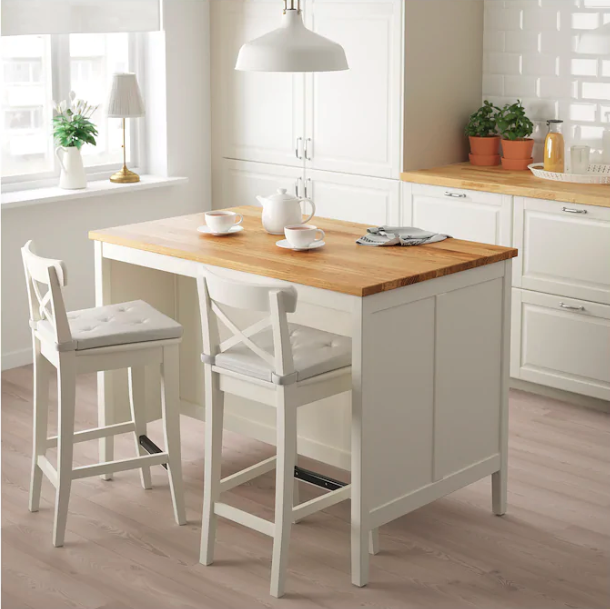 Image courtesy of Ikea
The Tornviken island is one of the best (if not the best) pieces of furniture you can buy for your kitchen. The gorgeous oak topper serves as both a dining and food prep space. The island leaves one side open for matching chairs or fun stools, and the other side provides two shelves for big pots and pans. Ikea upped the ante on this one, as the shelves used to be lined in metal and are now lined in the same oak as the counter.
Hire a Pro to Help You Assemble Your New Ikea Furniture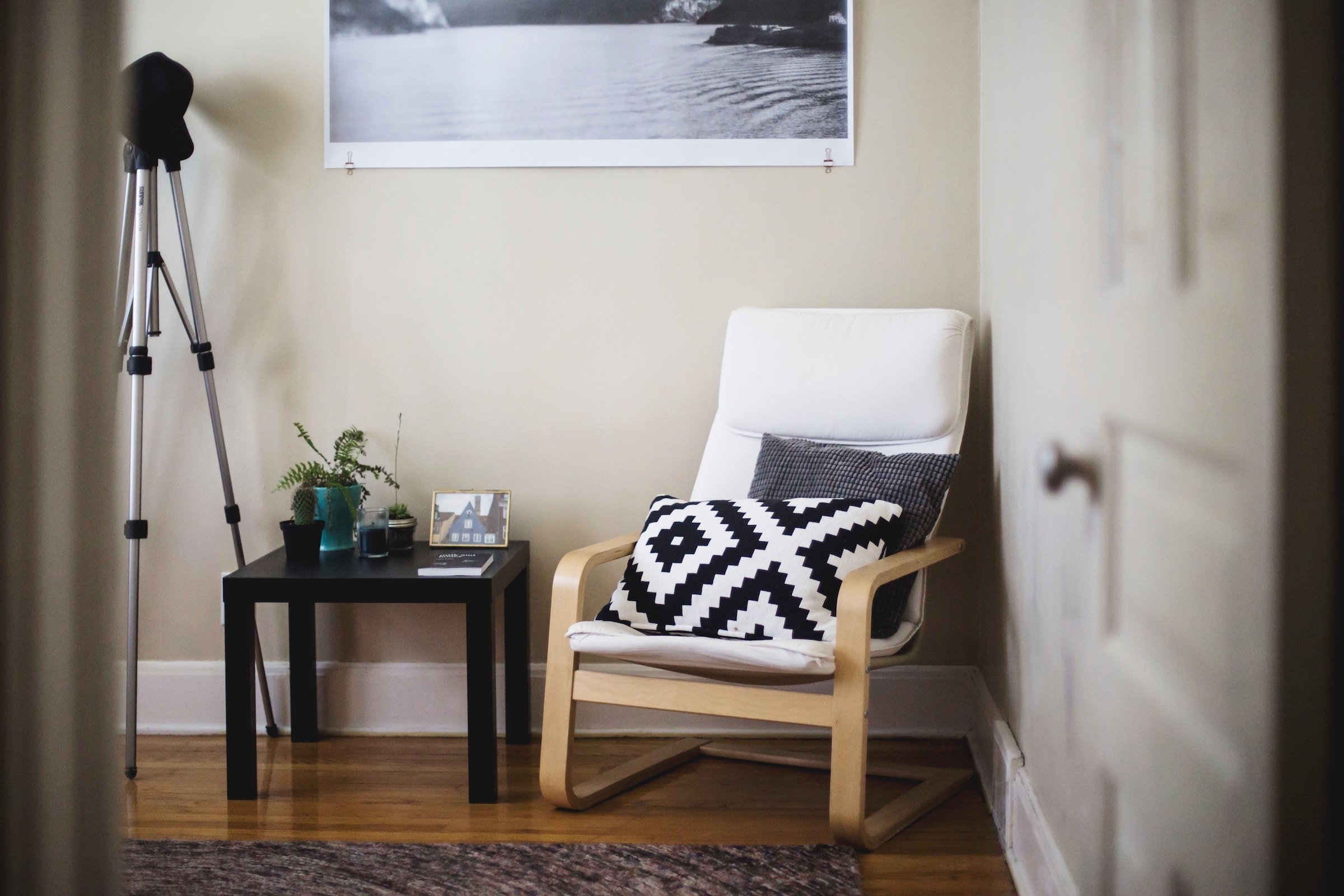 Putting together Ikea furniture is not for the faint of heart. The instructions can be hard to follow, there's usually a million little pieces, and it takes a few solid hours to put big pieces, like the Hemnes dresser, together.
If you would rather hire a professional to get the job done quickly, you can save yourself several hours of frustration (unless you enjoy putting together Ikea furniture, of course).
Puls can handle the nuts and bolts of furniture assembly if you live in the Dallas or Los Angeles metro area. Need a hand?