If you're spending more time in your home these days, you may have noticed that your garage has become a catch-all for toys, bikes, tools, empty soda cans, patio furniture, sports equipment, everything except what it was intended for—your car.
Owning a home means you also own a lot of home and garden essentials. While the garage seems like a logical place to store them, you can make room for everything you need with a few of these garage organization ideas. Make these do-it-yourself projects or hire a professional handyman to reclaim this prime space.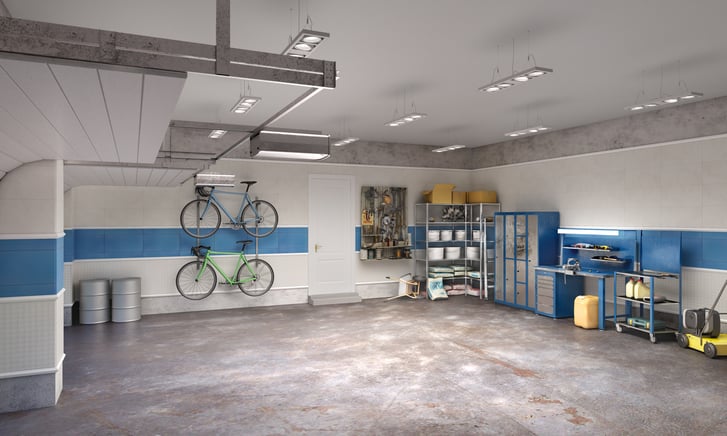 Storage Solutions
Categorizing or separating items by use is a great starting point. Add cabinets, wire or solid metal shelving, baskets, and plastic storage bins for:
Car Care Products—keep lubricants, oil, car wash products and tools all in one place for easy access.
Sports Equipment—set up color-coded bins for different sports like tennis racquets and balls, baseball bats and gloves, rollerblades and helmets for an easy way to locate what you need fast and easy. Add labels for even better organization.
Garden Supplies—lock away fertilizer and garden chemicals in storage cabinets. Put small tools in bins and hang shovels and rakes along size on metal hooks. Keep everything off the floor to reduce tripping hazards.
Miscellaneous Items—grab-and-go baskets are great for storing reusable shopping bags, umbrellas, and all those items that don't have a permanent home.
Recyclables—make recycling easy with separate washable plastic bins. Keep one for cans and plastics that can be transferred to the outside can on pick-up day. Keep a separate bin for returnable bottles and cans. Line it with a plastic bag for easy transport to get a refund.
Kids Toys—these seem to multiply. Encourage your kids to learn good habits by setting up a section of the garage with bins for all their bike helmets, sidewalk chalk, and outside toys. They can put everything away themselves and you won't be tripping on them.
High Space Storage
Utilize the high space near the ceiling for long-term storage or things that only get used occasionally like holiday decorations or camping gear. Hang bicycles from ceiling hooks or add deep shelving or cabinets near the ceiling for those seldom-used items.
Workshop Items
Create a great place to work on projects with pegboard on the walls above a workbench area. Keep tools organized by hanging them on the board. Use a free-standing or roll-around workbench underneath to make every job run smoothly.
Patio Furniture
Hang brackets on the wall to store folding lawn chairs. Add shelving above to keep cushions out of the way and protected from damage.
Attic Space
The overhead space above the garage rafters can be a great area for long-term storage. Add attic decking panels on top of the rafters to create a useable surface for walking and storage. Add pull-down stairs for easy access. Consult with a building professional to be sure the area is suitable for heavy loads.
Extra Living Space
Your garage is a perfect spot for watching the game, hanging out with friends, and just relaxing. Make it more useable by adding insulation and drywall. It will be comfortable during every season. Power-wash the floor and use concrete paint or stain for a finished look. Bad surface? Add gym-style rubber floor mats for a quiet, easy-to-clean surface that looks great too. Mount a big-screen television on the wall, add an electrical outlet and cable outlet and it's time to call your friends.
Let Puls Take Care of All Your Garage Needs
Got a broken garage door opener or need a new door? Puls has a team of professional technicians available to troubleshoot, diagnose, repair or replace your garage door and operator. All appointments can be made online with same-day service available if needed.
Organize your garage and make sure everything is working properly. Schedule an appointment today. Puls—providing fast, professional service you can trust.