Like always, Black Friday 2018 shoppers can expect tons of crazy-low deals on TVs this year. Online retailers including Target and Walmart (plus many more) have already announced dozens of TVs on sale, many of which you can shop right now.
Target also recently launched its new 'skip-the-line' mobile checkout technology, allowing Black Friday Doorbuster shoppers to find the best TV deals faster than ever. In addition to your pricing point, you should consider various factors like the TV's size, brand, and ability to connect to apps like Netflix, Hulu, YouTube, and HBO Now when shopping for a new TV.
Now, as promised, here are some of the top Black Friday TV sales 2018 has to offer. And remember, you can get your TV professionally installed right after purchase, with Puls - what could be easier?
Target's

Black Friday TV Sales 2018

Element 32" Smart TV, $120 (save $30)

Element is known for its picture quality. The television allows you to access smart apps, full HDTV, and stream from YouTube, Pandora, Netflix and more.

LG 43" 4K Smart TV, $270 (save $80)

This television has a powerful quad-core processor that reduces video noise and works to enhance picture sharpness as well as vibrant colors. Thanks to the Black Friday TV sales 2018 has to offer, you can enjoy this TV right away with a seamless professional install - book yours here.

TCL's 55" 4K HDR Smart TV, $350 (save $100)

One of the major perks of this 4K TV is its picture quality, as there is four times the resolution of Full HD, which provides enhanced clarity as well as detail. Hurry and grab this deal ASAP - it's selling out fast.

Samsung 65" Smart TV, $750 (save $180)

Samsung's 65" Smart TV is perfect for a family movie night. Hook it up to your sound bar or surround sound and you'll really feel like you're at the movies, without leaving the comfort of your couch.

Availability: These deals are officially available online and in stores starting at 5pm on Thursday, November 22nd. Target's doors reopen Friday, November 23rd at 7 am - so don't miss out. Click here to find a full list of Target's Black Friday deals.
Walmart's Black Friday TV Sales 2018
RCA 40" Class (1080P) LED TV, for just $130 (save $170)
Get this LED TV installed in a flash. Our Puls technicians will come mount it for you within the same day, so you can start enjoying it right after it arrives.
Sceptre 43" (1080P) LED TV, $170 (save $178)
With a lightweight design, Sceptre's HDTV has extremely vivid images. Enjoy its stunning display mounted up on your wall with surround sound, and more.
RCA 50" 4K Ultra HD LED TV, $220 (save $160)
With millions of pixels, view some of the most vivid images you've ever seen with this LED TV. Your favorite TV shows will never be the same.
Sharp 50" 4K Ultra HD Smart LED TV, $249 (save $150)
When it comes to visuals, this set provides a vivid video-watching experience with tons of bright colors. Watch all the shows and movies you love on streaming sites like Netflix, YouTube and HBO, which configure easily on this stunning display.
JVC 55" 4K Ultra HD Smart TV, $300 (save $200)
Originally, $500, this smart TV has Chromecast already built-in, and it's covered by Walmart's Protection Plan (powered by Allstate).
Availability: The sale officially starts online, 10 pm ET Wednesday, November 21st. In stores starting at 6pm on Thursday, November 22nd (on Thanksgiving). If you prefer to pick your TV up from a Walmart location near you, in-store pick-up is free of charge. Click here for a full list of Walmart's Black Friday TV deals.
Don't Forget to Mount Your New TV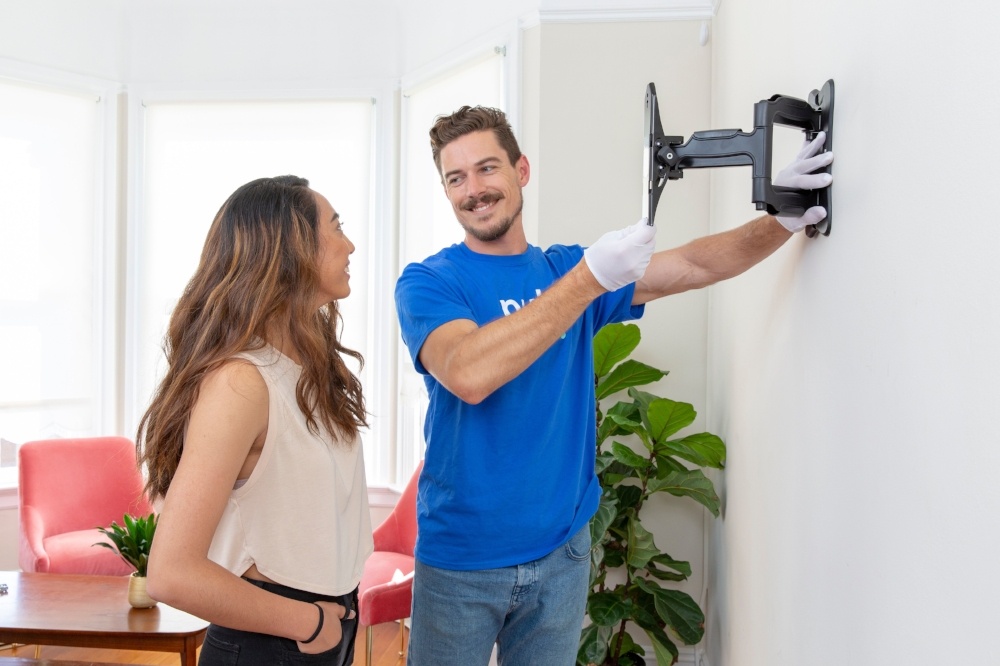 Grab these sales either online now, or in-person at Target and Walmart this Black Friday. Puls even offers in-store experts at select Target and Walmart stores to offer shopping advice and expertise.
No matter which TV you take home this Black Friday, remember how much better it'll look mounted, with all your devices configured. DIY mounting and install can be a real pain - so book a professional TV mounting appointment with Puls.
This is accompanied by exceptional service from one of our skilled technicians, who will do all the heavy lifting and tech support for you, and can seamlessly install shelves, conceal wires, hook up sound and much more. Book your TV mounting service today.