Whether we were ready for it or not, technology seems to have taken over every aspect of our lives for the last year. Admit it, when you first heard about "smart home" products, you probably thought they were something out of a sci-fi movie.
Whether you were a little intimidated by them or thought they were just too impractical, smart home features were reserved for high-tech celebrity homes, not yours.
All that is about to change. Now is the time to embrace the whole-house networking concept and make your life easier with smart home technology. Let's take a look at some of the awesome inventions on the market today that can easily be incorporated into your personal space.
Mechanicals
These are the basic components that keep your home running and provide a comfortable environment for you and your family.
HVAC Systems—Programmable thermostats have been around for awhile and help you save on energy bills, but next-generation smart systems take heating and cooling to a new level. Now you can use your Android or iOS device to control everything from multi-zone systems and humidity levels, to ventilation and airflow, to air quality and energy tracking—all with wireless connectivity.
Lighting—There's no need to rewire your entire home to add a lighting control system. Retrofit systems are available to replace your current switches and fixtures. Add a customizable, wireless central panel or connect to your home assistant to control lighting, music, movies and more with a single tap or voice-activated operation.
Smart lighting isn't just for interior illumination; you can use it for the exterior as well. Light up your deck, walkway, or connect to a motion sensor for added security. For an even more efficient system, set up the dusk-to-dawn feature so the lights turn on and off automatically.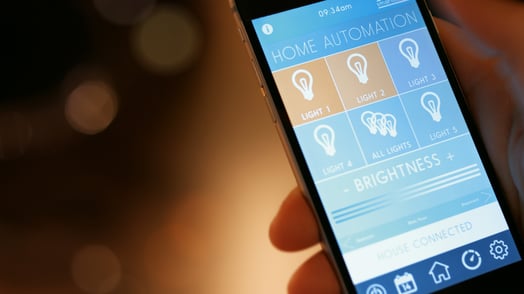 Plumbing—While water-saving faucets, shower heads and toilets are pretty common, the newest smart features in this category are "brain pipes." This ingenious invention provides the ultimate peace-of-mind. The system monitors your home and even alerts your smartphone if a leak or break is detected—pinpointing the exact location of the problem.
Sump Pumps—You might not think about the importance of a properly working sump pump until your basement floods, but you can install a high-tech, Wi-Fi enabled unit so you'll never worry again. Smart pumps monitor high water level, leaks, power loss, high humidity, and low temperature plus sends a text or email notification when a problem is detected. A built-in rechargeable battery adds even more protection.
Security
Affordably priced, high-tech options are available to keep your family safe and protected from intruders.
Cameras—Whether you're home or away, cameras monitor everything from your front porch to your backyard, from your sleeping baby to your curious puppy. Connect to Alexa or Google Home or your smartphone to use features like night vision, two-way talk, and motion sensing. The security system can tell the difference between general movement and unusual activity and push notifications when needed. Add a 24/7 monitoring system and law enforcement can be notified of a break-in or fire.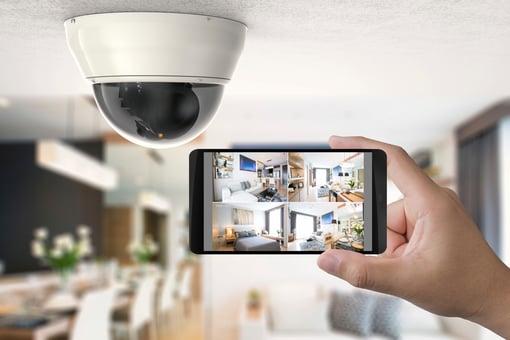 Locks—No more juggling an armful of groceries as you try to locate your house key. Smart locks are the perfect solution to an age-old problem. They simply replace the original deadbolts and connect to your smartphone. Just touch the lock to open and close. No worries if you forget your phone—the old key will still work to gain entry too.
Video Doorbell—The age-old doorbell has gone high-tech too. Wireless units include motion-detection video alerts that provide live streaming video when someone comes to the door. Interact with the visitor from anywhere via two-way audio—connect to a smartphone so they'll never know you're not home. Infrared night vision helps you clearly see who's there no matter what time of day or night.
Garage Door Openers—Protect the most vulnerable entry point of your home with a tamper-proof smart garage door opener. A 3-button remote is password-protected to prevent easy access. It's got an energy-efficient LED light and battery back-up so you'll never end up in a dark garage again. Use the smartphone app to check the door position and even close it from anywhere.
Entertainment
Finally, you can get rid of the mess of cables and remote controls with streamlined devices set up to entertain you.
Smart Hub/Smart Speaker—By using a single interface controller like Amazon Echo or Google Home, you can operate all your Wi-Fi and Bluetooth-compatible equipment. Hands-free capabilities and voice-activated features give you fast access to your favorite music, movies, and gaming quickly and seamlessly in every room in your house.
Smart TV—Enhance your viewing experience with a new Ultra 4K or 8K television conveniently

mounted on the wall

. Smart TVs are connected directly to your home Wi-Fi system so you've got easy access to on-demand, streaming and live programming. You can even add a wireless keyboard to surf the internet or a camera and microphone to connect with family and friends through Zoom.
Smart Remote—Never pick up the wrong remote control again. Replace them all with one universal unit to control your TV, cable box, sound bar, Blu-ray or gaming system. They're customizable to set favorites, add/remove buttons and more.
Smart Home Theater Systems—Let music fill your soul and your home with a whole-house system. Speaker systems provide Wi-Fi and Bluetooth connectivity for online music, video and music apps. Add speakers to every room so you can enjoy the amazing sound no matter where you are.
Get on the Technology Fast Track with a Puls Smart Home Installation
Are you ready to go shopping? Let an expert Puls technician install your smart home system and components to give you more control, comfort and convenience throughout your home.
You can easily spend a lot of money on the latest technology, but you don't have to. Call or click for an easy online appointment—8am to 10pm, 7 days a week. Tell us what you need and we'll provide an accurate estimate for the installation of all your smart home devices with no hidden costs or fees.
Once you see how much easier life is with smart home technology, you'll wonder why you waited so long. Let Puls help you get started today.