If you find yourself looking resentfully at the cable bill you left sitting on that table next to the front door – like you don't even really want to let it into the house – you're not alone. More and more Americans are choosing to "cut the cord" and go sans cable these days.
And it makes sense – we're in the digital age, why not keep pace with progress?
With streaming options such as Amazon Prime, Netflix, Hulu, and more, home viewers are taking their media experience into their own hands, opting to cherry pick the very best entertainment to suit their personal tastes.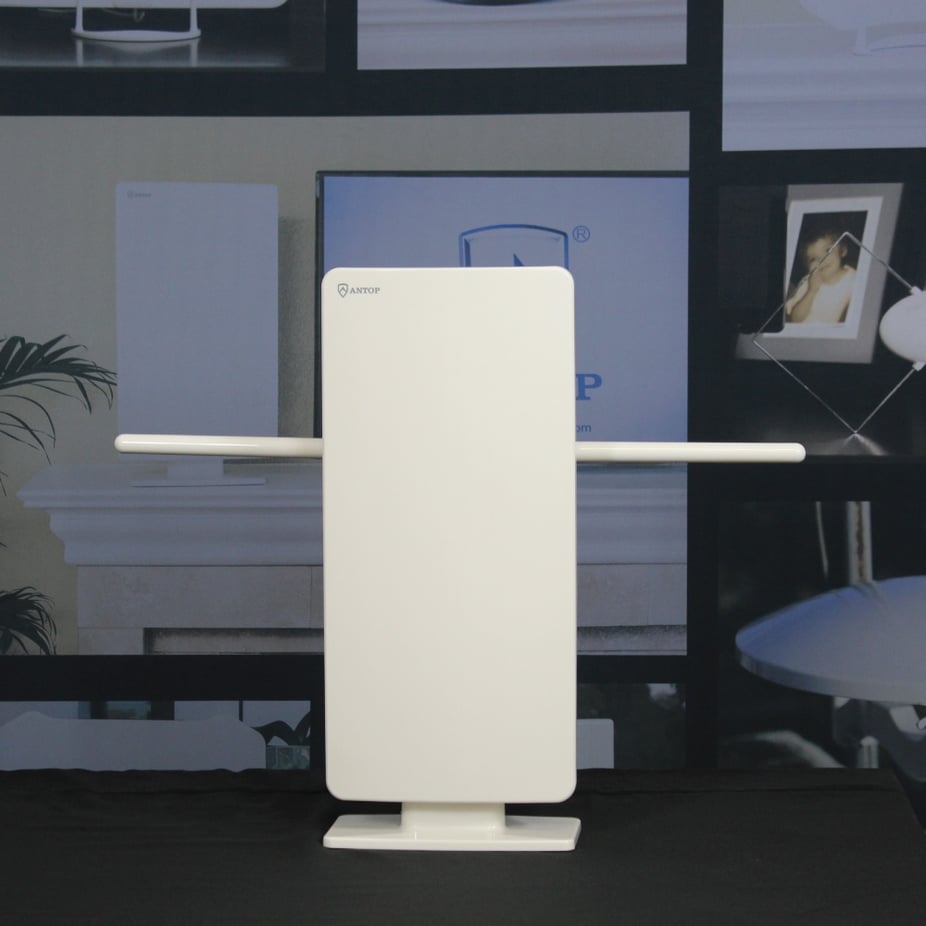 An indoor ANTOP antenna looks great on a desk.
Compared to the bundle of all-inclusive cable channels that they pay for but rarely or never watch, choosing your media à la carte is a no brainer.
Of course, there's no need to throw the baby out with the bathwater - that's why Puls has partnered with ANTOP for a smarter TV viewing experience. Even after cutting the cord, the ANTOP digital antennas will keep you from losing access to all the network channels you know and love.
This means you can still catch live sporting events and watch your favorite shows in full HD and 4k, without paying a dime – just like the good old days. Who says progress can't be retro?
ANTOP digital antennas pick up over-the-air RF signals to provide you with picture-perfect HD television, totally free. Yeah, we know – everybody thinks that free television went the way of the CD player. That's actually a misconception that the cable companies love.
With the ability to bring you television signals from up to 80 miles away, ANTOP offers fully customizable solutions for the home viewer. Signal reception strength can be adjusted for optimal clarity, and antennas can be mounted outdoors. They are also available in a variety of aesthetically pleasing indoor models. There's even a hybrid which can go inside or outside.
ANTOP is an integral part of any smart home – and can be outfitted to accommodate one television set or all the sets in a home for viewers who like to keep a set in different rooms of the house.
Puls has recently partnered with ANTOP to provide the best television viewing experience for our users, and folks who take advantage of the Puls television mounting service can now get their ANTOP digital antennas installed simultaneously. The service is currently available in Houston, and will be available in locations around the country in the near future.
Are you ready to cut the cord and receive brilliant HD television for free? Look no further. Let Puls help you get free from those pesky cable bills once and for all with ANTOP's antennas.