With Apple's release of the new 10.5 inch 2017 iPad Pro earlier this month at WWDC, the company is ramping up its marketing of the tablet as a bona fide laptop replacement.
Apple claims that the iPad Pro outperforms most PC laptops, and a recent benchmark test actually verified those claims, with the 10.5 inch iPad Pro outperforming even the 2016 Macbook Pro in some tests. This is pretty incredible given the Macbook Pro's well-deserved reputation for computing power.
Can this be the push needed for an already powerful mobile trend to take off? We took a look at some of the features offered in the new 10.5 inch iPad Pro along with the slightly larger 12.9 inch version, and a pretty strong case can be made that it indeed can work as a standalone device.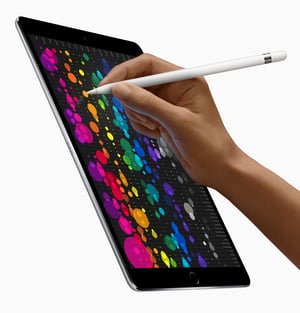 Riveting graphics
There's a lot to be said for the iPad Pro's new Retina display, which Apple calls the best on the planet. With a 20% increase in screen real estate over its 9.7 inch little sibling, you get much more with the same portability. But that's just the tip of the iceberg. The 120Hz refresh rate is twice that of the standard LCD display, and an intense 600 nits of brightness coupled with a scant 1.8% reflectivity means that thing will look good in any light.
Processing power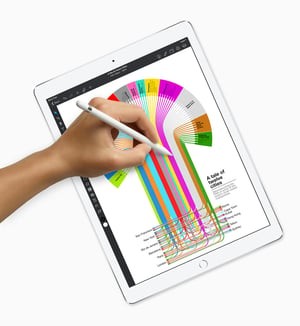 As we said before, the iPad Pro stands up against even the 2016 Macbook Pro in benchmark tests, and it's clear why: the new A10x Fusion chip boasts six cores and offers a 30% increase in CPU speed and 40% more graphics speed over the previous generation – more than enough for 3D rendering.
The tablet offers ample storage, too, with a roomy 512 GB of hard drive space that'll comfortably hold your entire video library.
iOS 11 maximizes potential
All that power is well and good, but without the software to actualize it, that CPU is just going to languish most of the time. That's why it's likely no coincidence that Apple simultaneously announced the release later this year of iOS 11, which will be available as a free upgrade and will graduate the iPad Pro from a grandiose version of the iPhone to standalone computer status.
The new operating system offers unprecedented multitasking ability with apps staying active in both slideover and split views. In addition, the Dock feature will help find recently opened apps and files, drag and drop will increase connectivity between apps, and a new Files folder will keep things organized more along the lines of a traditional computer.
Device synergy
Apple is breaking down all the barriers between devices, allowing you to start something on one device and finish it on another, seamlessly. This means unheard of communication between your iPhone and iPad in the form of a universal clipboard, among other things, which allows you to copy from one device and immediately paste to another.
The iCloud drive makes all your data available across devices, as well. And, to top it off, this capability isn't limited to the iPhone but is also available to the Mac and Apple Watch, too.
But how does it respond?
That 120Hz refresh rate we mentioned earlier serves another purpose – it makes the Apple Pencil all the more effective and an unbelievably attractive input method, which is sharper than ever and works like a real pencil. So you can draw, take notes, completely naturally. There's also the full-sized onscreen keyboard, which allows you to type without opening up the fold away keyboard.
Plus the old school tablet charm
Even with all this, the tablet still retains the things that made us love this platform in the first place – portability and battery life. The 10.5 inch model is 6.1 mm thin, weighs only a pound, and is capable of 10 hours of battery life (though practically speaking, that's always a high estimate). The 12.9 inch version is capable of the same, and an only slightly larger 6.9 mm thin and 1.5 pounds. All in all, you can't want anything more portable than this.
So what's wrong with it?
Not much, apparently. Still, there are some minor issues which might make the difference between relying on the iPad as they would a full-on laptop computer. One is that pro-level applications like Final Cut or Logic Pro aren't yet supported. This can pose a problem for users of such software, though if you don't generally use that type of software, it might not be a problem. Still, there are those who might want to reserve the option.
The other thing is the lack of a heavy duty keyboard. There are ample input options in the Apple Pencil, onscreen keyboard, and fold out keyboard, but none of them are as comfortable as the regular old tactile keyboard attached to your laptop.
The bottom line
For all intents and purposes, it looks like the iPad Pro has made it to the… well, to the pros. Between the processing power, hard drive space, Apple Pencil, and iOS11, it looks like those seeking increased mobility can have their cake and eat it, too.
And it's increasingly looking like the traditional laptop is becoming superfluous. When you think about it, that might be why laptop makers are trying to accommodate both demands with their hybrid laptop-tablet models. Still, with the new iPad Pro release, it looks like Apple is leaving them in the dust.
Needless to say, we cannot wait to get our hands on the new iPad Pro, which is set to debut this fall. And it's worth noting that if you need your iPad screen or battery replaced, Puls is your digital lifetime. Easily schedule an appointment online, and our technician can be at your door within 60 mins to repair your tablet device.