Good news – 2018 is upon us and mean ol' 2017 is far behind us. All that unwanted baggage is in the dustbin of history, as they say. So as we go into the New Year feeling light as a feather, why have a cluttered phone hold us down? And trust us, if you don't naturally remember that your iPhone storage is full, your phone will remind you.
There are three schools of thought in dealing with the dreaded "iPhone storage full" message you may have experienced at one time or another.
Ranging from simple to slightly more complex, they are: delete unwanted iPhone files; find new storage solutions; and, if all else fails, troubleshoot your iPhone storage issue.
Delete unwanted iPhone files
There are several different ways to clear up space if your iPhone storage is almost full.
First try going to General > Safari and then checking your web data storage from there. It's possible to save precious gigabytes quickly before thinking about deleting photos, videos, or apps simply by clearing your web data and cache.
You may also want to look at unnecessary apps – the space they take up doesn't end with the initial download. Rather, they collect and hold additional data while you use them. So by deleting old, unused apps, you're actually getting rid of much more data than you thought.
Next, scroll through your photos and videos. Sure, it was a great idea to take 15 shots of your burrito in order to get the lighting perfect – but keeping the 14 extra photos wasn't. It's time consuming, but you'd be surprised how much space you can clear up just be deleting redundant photos.
You can see exactly what is eating up all your phone's memory by going to Settings > General > Usage > Manage Storage. Take stock, evaluate what's most important to you, and make your cuts from there.
Find new storage solutions
If you don't have space on your iPhone, think about moving some of your files to a cloud storage solution. Your iPhone actually comes with 5GB of dedicated space on iCloud, free – but it's possible that the service remained an afterthought.
Simply by uploading 5GB worth of photos or videos to the service, you can clear up some space quick. There are other cloud storage services such as Dropbox, but with iOS 11's new Files feature, you can easily access your iCloud storage directly from your home screen. Plus, if 5GB isn't enough, you can opt for more – 50GB costs just 99 cents a month.
For those who don't mind spending a little time with their iPhone connected to their laptop via a lightning cable, it's also possible to back up your iPhone with iTunes. Once backed up, you can delete files from your phone that you don't really use but wanted to hang on to for posterity. With all that space on your laptop, you can now afford to be a digital hoarder.
Also, you can preemptively use the cloud simply by streaming your music or video through services like Spotify, Amazon, Netflix and the like. You won't get the pesky "iPhone storage is full" message, because you won't have a full media library. Easy as pie.
There's also some great software you can use to clean up your phone, such as the PhoneClean 5 from iMobie. It's one of the top phone storage products out there, providing you with numerous clearing options to help you clean up your phone storage, all the while ensuring that your information is kept fully private and secure.
Troubleshoot your iPhone storage issues
If you've deleted media and cleared up space, and you're still getting the "iPhone storage is almost full" message, then it's time to troubleshoot.
If you didn't delete all your caches, you might still be able to save more space than you think. Deleting and reinstalling only the Facebook app, for example, can cut huge amounts of storage. Also, if you've been taking our advice and streaming music and video, it's possible that your iTunes cache could be filling up. In that case, simply sign out of iTunes, restart your phone, and sign back in. Easy peasy.
You can also try resetting your settings, which doesn't do anything to your files – just the settings on your phone and your preferences. Go to Settings > General > Reset > Reset All Settings, and voila.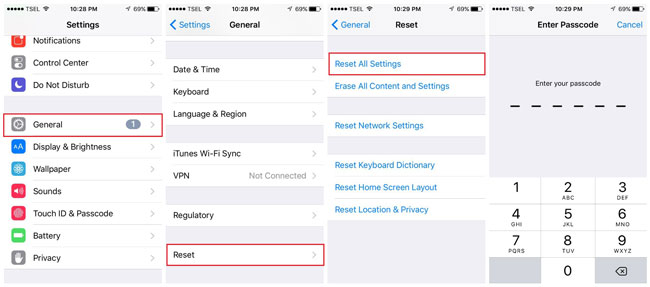 One final option can be to backup and restore your iPhone to factory settings. It's slightly time consuming, but really not that bad compared to all the time you'll spend clicking on that annoying pop-up message box that tells you your iPhone storage is full.
Follow the previous directions to backup your iPhone files, either to iTunes or to a cloud service. Then, you can restore your iPhone to either a backup version you set up earlier, or to the original factory settings. While it may be a hassle, the good news is, this almost always works.