Whether you have every room of your home dedicated to a different Christmas tree or you put up a wreath and call it a day, it's nice to infuse a little holiday magic into your home this time of year. The only problem? Once the season is over, it can be difficult to find space to store all of your ornaments, wreaths, and trees—especially if you've hit those after-holiday sales.
If you enjoy decorating for the holidays, it's likely that over the years you've accrued a pretty impressive collection of items that make your home sparkle, glow, and make your guests feel welcome. But if all of your décor is still stuffed into their original packaging or it takes you forever to dig through to find what you're looking for, it might be high time for a holiday storage makeover.
Have an issue literally containing your love for the holiday season? Here are some storage ideas for decorations as well as those gifts that you receive during the holidays.
'Tis the Season to Get Your Holiday Gear Organized
You may have avoided holiday organizing because you thought it would cost you more than the décor itself— but you'd be surprised at how many simple storage solutions already exist with items you can find around your house.
Here are some easy DIY storage solutions for your holiday gear:
Egg crates for ornaments: Don't throw out those egg crates just yet—they're perfect for storing small, breakable ornaments and keeping them from getting tangled up over the long year in the attic.
Plastic apple containers: Purchased apples in a pack? The plastic container can also double as storage for Christmas balls.
Cardboard boxes with dividers: If you bought wine in bulk to prepare for hosting, save the box and use this to store delicate ornaments so they won't clank together and break if shifted around.
Paper towel tubes: Christmas lights tend to work themselves in a huge knot. Avoid the struggle and wrap them neatly around a paper towel tube and store in a box.
Coffee cans: You can also use a coffee can to store holiday lights. Wrap the string around the can and then cut a slit in the lid to store and protect the plug.
Solo cups: If you hosted a party with solo cups, upcycle them into storage for your holiday ornaments and baubles. You can either pack them tightly into a cardboard box, or glue them down at the bottom of a plastic bin for extra security.
Shoe rack: Use an over-the-door shoe rack for safe keeping of ornaments, strings of light, or ceramic holiday village pieces.
Hangers: If you have room in a closet, hang your wreaths up on hangers in the off-season to keep them from getting smashed.
Magazine racks: If you're the type that wants to save every gift bag you've ever received, use a magazine rack to keep them contained.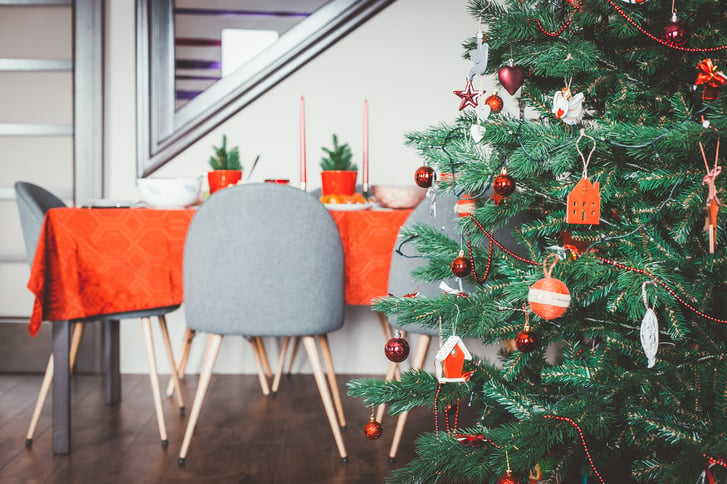 Making Way for New Items in Your Home
Not only does this time of year make you think about storage for your holiday gear, but it also has you grappling with how to make room for all the gifts you received over the season.
Here are a few tips for making some room:
Purge: The best and easiest way to make room for new stuff is to get rid of old, unnecessary items. Take an afternoon to go through your closets and either sell, donate, or throw away things you don't need.
Take advantage of awkward spaces: When space is at a premium, don't let any of it go to waste. If you have a strange corner, a big gap where nothing is hanging in the closet, or space above the cabinets, find ways to implement storage into them.
Group things: You may feel like you can't fit anything new into your space because all of your like-things are separated and strewn about the house. Make more sense of your space by grouping things together.
Need Help at Home? Hire Puls
Not sure what to do with the smart home gear you got for Christmas? Or need that dishwasher installed that you purchased on Black Friday? Try out Puls for all of your home repair or installation needs!
At Puls, we do things a little differently. We hire trusted technicians who are well versed in their area of expertise—whether it's fixing your iPhone, programming your Google assistant to have a nightly routine, or even installing Christmas lights—and best of all, these expert technicians are available according to your schedule. When you schedule an appointment with Puls, all you need to do is indicate what time you'd like them to arrive at your home, because we don't believe in making you wait during a 12-hour window.
To schedule an appointment, head to our website, select the service you want, and choose a time that works best for you. It's really that simple.