In case Apple was feeling a little smug about the recent release of their HomePod smart home speaker, Google made sure to step up and take some of the wind out of their sails. The new, upgraded Google Home Max promises to deliver a big sound, and just like Apple's HomePod, can "learn" to suit the acoustics of a particular room with its Smart Sound feature.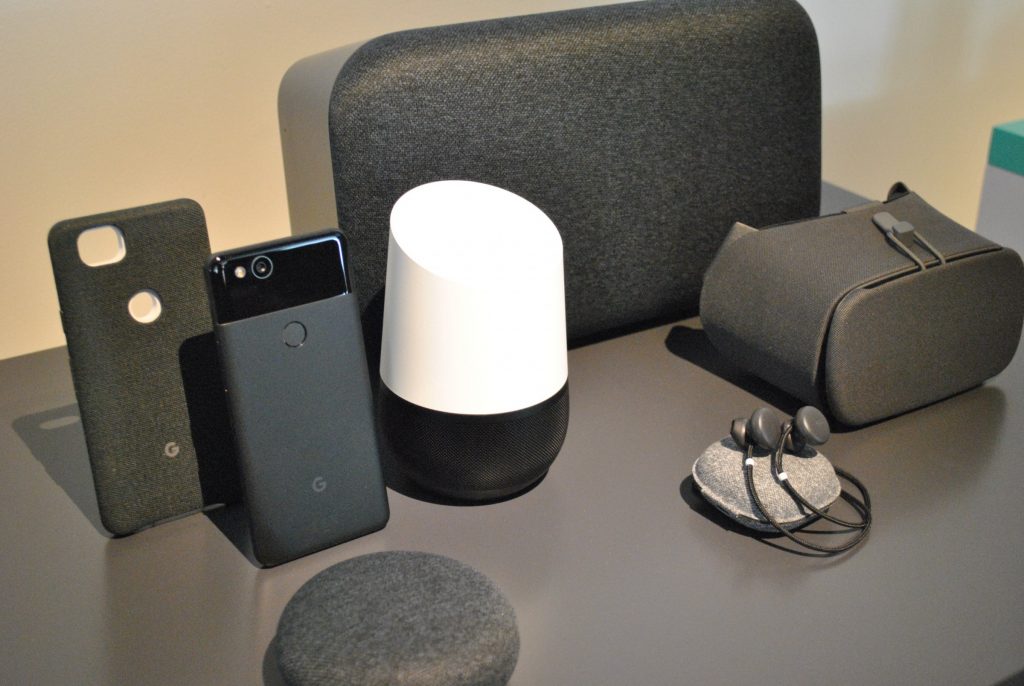 Google Home Max in the back, with additional Google devices (Photo Credit: Matt Weinberger/BI)
For good measure, Google also took aim at the Amazon Echo Dot during its Pixel 2 release event earlier this month, when the giant simultaneously unveiled the Home Max and Home Mini, which are set to compete with the HomePod and the Dot, respectively.
Think of it as a reverse Goldilocks story in which the medium Google Home speaker isn't the focus – at least for the moment.
With the competition going big and small, it looks like Google has decided to do the same. And while the company's execs have scoffed at the wide variety of different Alexa speakers, saying that the technology hasn't quite "found itself" yet, it appears that they still set a premium on remaining relevant.
Speaking of premiums, the Home Max retails for the not-so-mini price tag of $400, even more than the $350 HomePod, which already billed itself as a luxury item. It's a gutsy move – let's see if it works.
The Home Mini is priced to match the $49 Echo Dot, though in recent days Amazon has been running a promotion that knocks $5 off – which, in our opinion, is not enough to influence our choice in a device.
So what do these two new smart speakers offer? They're pretty similar in terms of functionality – the big difference comes in speaker power.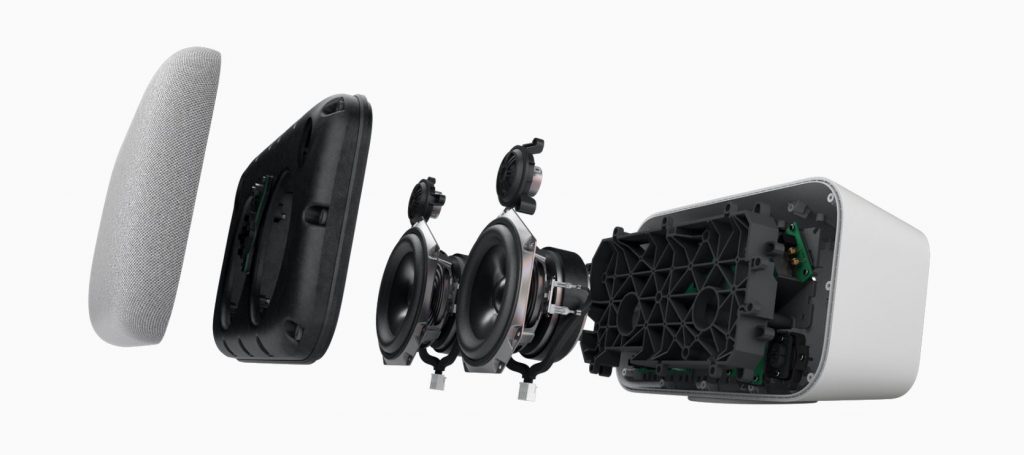 Google Home Max High-Power speaker system (Photo Credit: Google)
The sound
As opposed to the HomePod, which features seven tweeters and one 4-inch subwoofer, the Google Home Max leans bottom-heavy, drumming up a rich bass with two 4.5-inch subwoofers and two tweeters. The other thing about the Home Max is that it's loud – really loud. We're talking wake the neighbors' kids loud, so be careful how you use this thing.
The Home Mini is also loud for its size, though it remains a pint-sized speaker. Still, it blows the Echo Dot out of the water both in terms of volume and sound quality.
Connectivity
While the Mini is good for some background music while you lounge around the house, it's not exactly ideal for a theater-quality movie watching experience. So it's super-convenient that both the Mini and Max can sync up with other speakers via WiFi, Bluetooth, and Chromecast, and also work directly with TVs running Android TV.
It also partners with YouTube Music, Pandora, Spotify, and other music streaming services.
Assistant
From traffic and weather updates to scheduling, to setting alarms and timers, Google's Assistant is on-task. It's good for those of us who can't seem to keep things together, but we also have a hunch that more organized people take advantage of the Assistant, too.
On top of being able to answer out loud any question that you might regularly type into Google, the Assistant is also unique among other smart helpers in that it can translate answers and phrases into any language, bringing us one step closer to those cool, in-ear devices from The Hitchhiker's Guide to the Galaxy.
Microphone
Both the Home Max and Home Mini have sensitive microphones, allowing the speaker to use their indoor voice at 15 feet away, according to multiple tests. With music playing, it is necessary to speak only slightly louder – a realistic and not at all inconvenient adjustment.
What's also cool is that the speakers are able to identify specific voices, which means they can tailor the results to your schedule or preferences. So, for example if you ask for a traffic update, the results can be specific to your usual schedule and route.
Smart Home
We saved the best for last. Both the Max and Mini are compatible with over 50 companies whose products run the smart home gamut, from lighting to thermostat, to security. And, with Smart Plugs, you can also turn on and off devices in your home with simple voice commands.
The implications here are pretty epic – instead of getting out of bed because you can't remember if you locked the doors, you can just ask Google Assistant if your doors are locked, or instruct it to lock them. You can also use voice commands to start a pre-set coffee machine in the morning even before your eyes are fully focused.
This all adds up to an unsurpassed level of convenience, but let's be realistic. The first thing you'll probably do is tell the smart assistant to turn the lights on and off and on again really fast, in an improvised rave party. But who's judging? Rave on.
What Puls can do for you
Have you ever wanted to try out the Google Home for yourself? Puls offers a FREE in-home demo for customers living in San Francisco, Pittsburgh, San Diego, and Los Angeles.
We will show you the in's and out's of Googles original smart home assistant, 100% risk-free. If you live in any of the aforementioned cities, be sure to check out our website today!