Whether you've realized it or not, your garage plays an incremental role in ensuring your home's safety, security and overall convenience and comfort. It's one of the primary ways in which you can enter and access your home, providing shelter and protection from all sorts of inclement weather conditions, unwanted intruders and more.
Furthermore, many people leave valuables in their garages, such as bikes, furniture or larger electronics. Thus, a malfunctioning garage door is never desirable, and can create a whole host of problems for you and your family. After all, you obviously need a consistent way of entering and safeguarding your home on a regular basis, and it's something you really can't delay.
While garage door repair may not be the most glamorous, it is absolutely vital. You need to figure out exactly what's causing your specific issue, and address it head on, as quickly as you possibly can. Fortunately, that's where Puls comes in.
Our skilled technicians can repair a wide variety of issues within the same day, so you can enjoy safe, reliable access to your home in a flash. We even offer a free, 25-step estimate in your home, in which we thoroughly look at every possible issue, to pinpoint exactly what needs to be repaired.
That being said, there are some issues that aren't so technical, and can actually be resolved on your own - you just need to know what to look for. The rest, on the other hand, are of course best left to the trained professionals.
To help you learn more information about garage door repair, the most common issues that tend to arise, and why you shouldn't delay in addressing them as quickly as possible, we've compiled this handy guide. Read our insights, suggestions, and solutions below to find out when and what the issue might be, and why you shouldn't delay in fixing your home's garage door.
Garage door repair: why it matters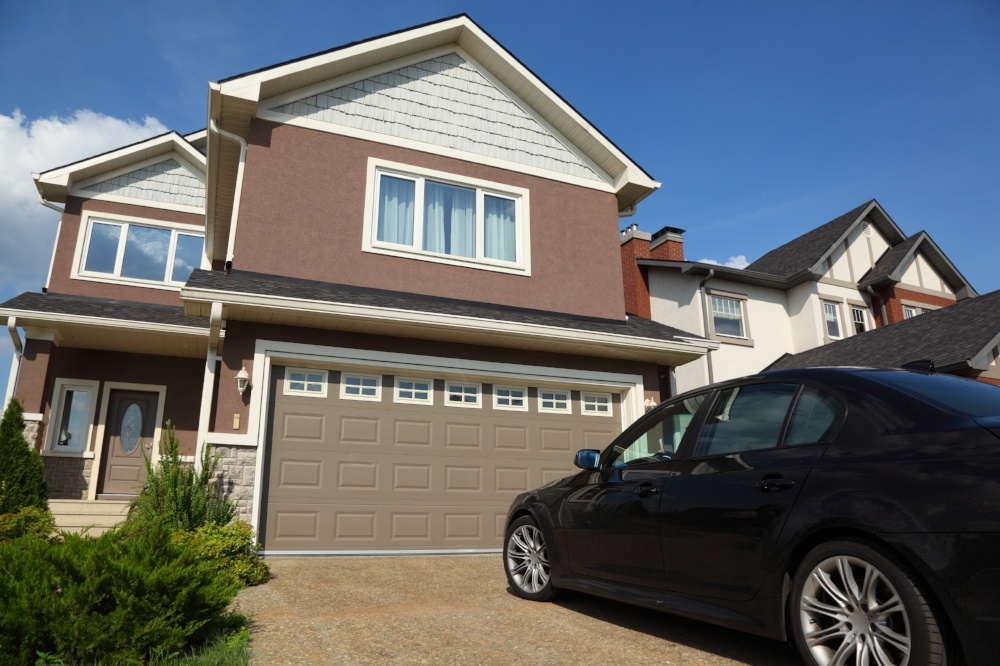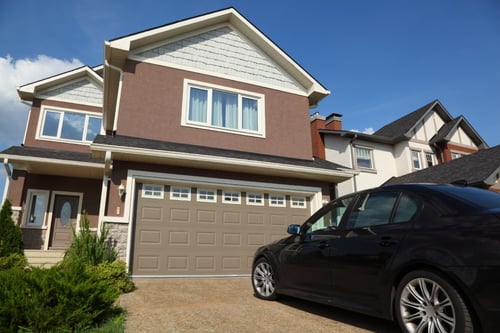 As we noted above, you primarily rely on your garage door for two main reasons: safeguarding your valuables, and the convenience of entering and exiting your home, without having to step outside (if you have an attached garage, that is). Thus, a broken or malfunctioning garage door will subject your home to both of these issues regularly, plus potentially much more.
Some additional issues a broken door can cause include entry of unwanted vermin, being unable to keep out cold, rain and snow, and reducing your home's level of energy efficiency. Read our full post on why garage door repair is vital, especially in colder months, to learn more about why you shouldn't delay in repairing your garage door.
Garage door troubleshooting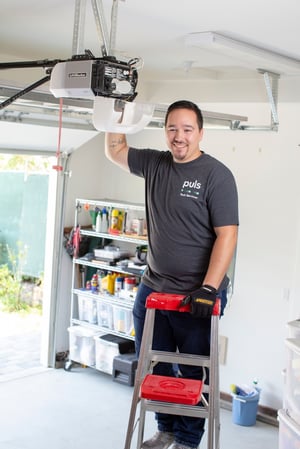 If you're faced with a malfunctioning garage door, the solution might actually be much easier than you thought. As it turns out, there are numerous quick fixes that can resolve your frustrations in a heartbeat.
Stuck with a garage door opener that won't budge, no matter how many times you try to open or close it? Be sure to check your garage door opener's batteries - your solution could really be as simple as that.
Some of the most frequent garage door related problems include: garage spring issues, sensor issues, and remote issues. If your door makes a loud "bang" sound, this likely indicates you've got a broken garage door spring.
You can check and see if your spring is broken by disabling the automatic opener and trying to raise the garage door yourself. If your springs are healthy, the garage door should stay securely open without you needing to hold it up.
Does your garage start to come down, and then head right back up? This indicates it could be a sensor issue. You can potentially resolve this by cleaning out the eye of your garage sensors - they can start acting up if dirt or dust gets in the way of their receivers.
These were just a few common options to get you started, but you can read our full garage door troubleshooting guide to gain even more helpful information on the subject. Nevertheless, while plenty of common issues can be fixed with simple adjustments, many do require the proper knowledge and expertise of a professional.
For further assistance, you can book a repair with our experts online anytime to have someone come check out what's going on and perform a full diagnostic on your door, for no cost at all.
Garage door repair prices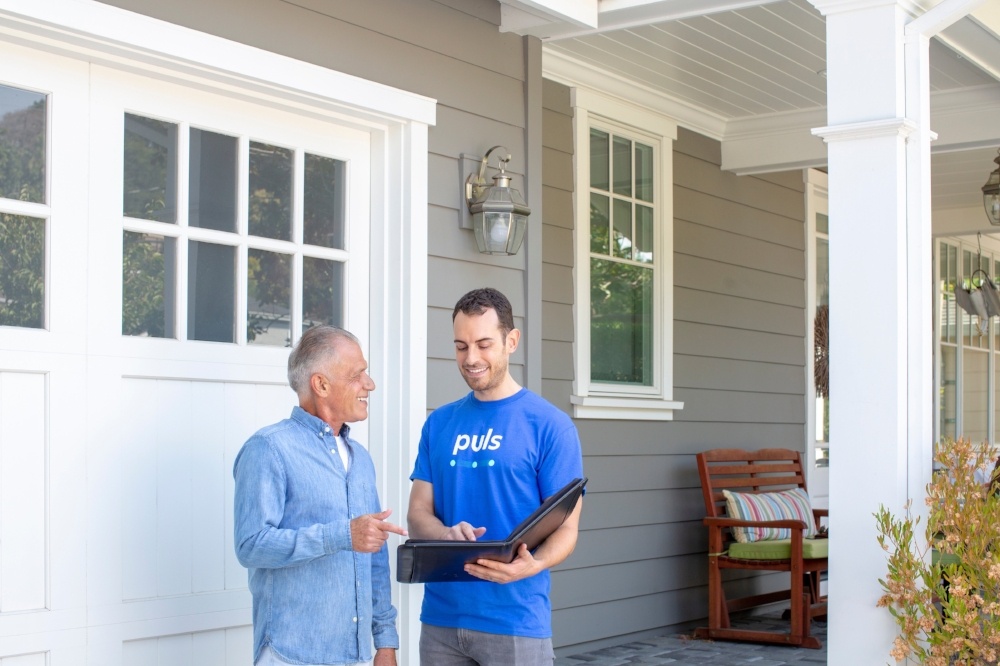 Let's get down to brass tacks - we've done a lot of explaining as to troubleshooting tips and why repairs are important, but what exactly should a repair cost you? The answer to that is, it really depends.
We like to be as transparent as possible with our pricing, and offer upfront, no-nonsense prices to our customers, before and after they book a repair with us. The cost of your specific repair will obviously vary depending on your size of garage (single-car or double-car), as well as the parts required for your particular issue.
In terms of numbers, the typical price for a garage spring replacement with Puls starts at just $170 and can run up to $340, and a garage opener replacement ranges from $330 to $450 for installation - but a new remote starts at just $45. A cable replacement with us will cost anywhere from $90 to $120.
These are prices for some of the most common issues you may encounter, but should help give you a ballpark number of what to expect. To make things even easier, our technicians will come to you at the time of your choosing to perform a full 25-point inspection, absolutely free of charge, to help decipher exactly what needs to be fixed and give you a proper quote on what a repair should cost you.
Once you've figured out what exactly needs to be fixed, you'll be delighted to find that our prices, given the cost of your technician's time, parts and labor, are extremely competitive with the national average. If you already know what the specific issue is with your garage door, explore our full post on garage door prices for further repair pricing details.
Garage door maintenance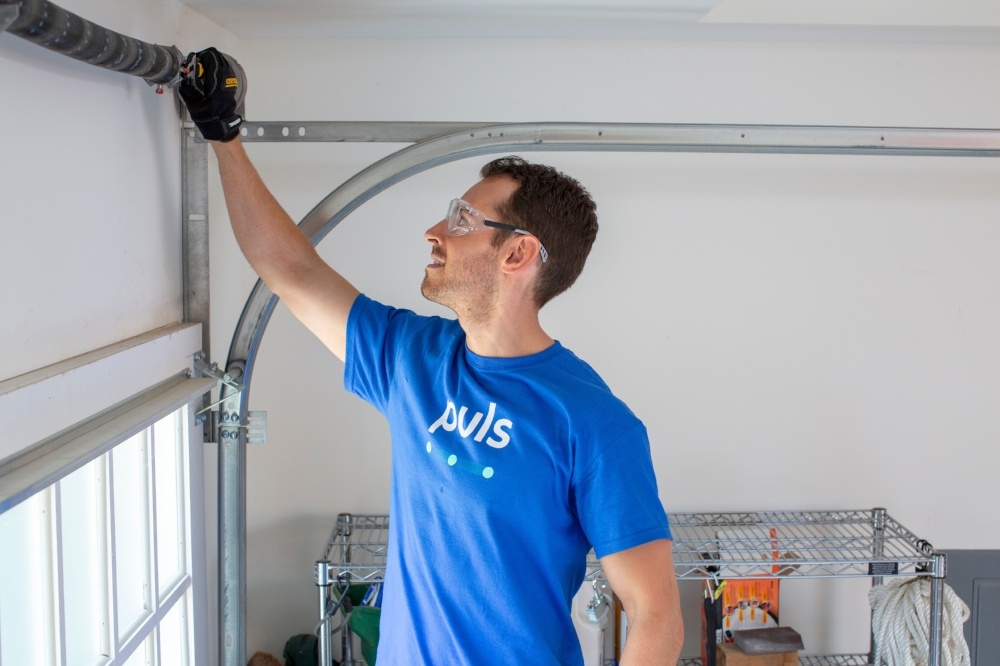 While garage door repairs are incredibly vital, they can also unfortunately get pretty pricey. That's why performing routine maintenance on your garage is key. You should be inspecting your garage each year, to address various small issues that come up. This will help you avoid a more costly repair down the road.
Read our full post on garage door maintenance to gain more insight as to why yearly maintenance is crucial. For your convenience, our technicians will come to you everyday from 8 am to 10 pm to perform a free, thorough diagnostic on your door, so you can keep an eye on any potential complications you should be aware of.
Garage sensor replacement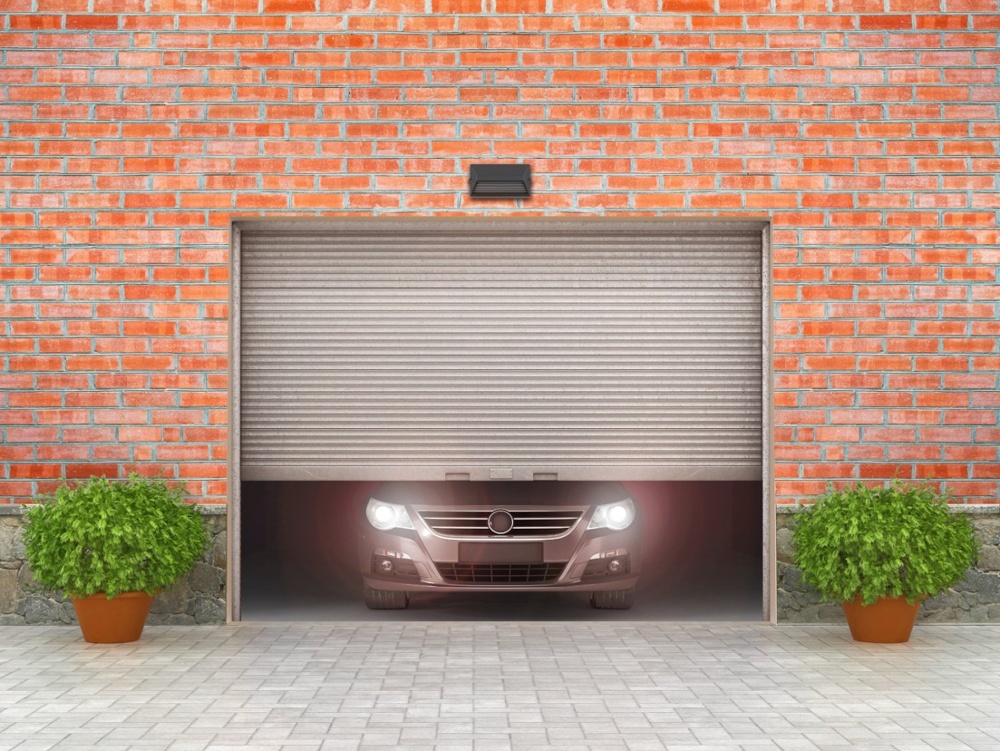 What are garage door sensors, you might ask? Essentially, they're the two little laser-type structures, located on each side of your garage door frame.
Usually, you can tell if your garage door sensors need repair if your door starts coming down and then changes its mind and heads right back up. If you're experiencing this issue, odds are you need your sensors replaced ASAP. Sometimes, however, they can be affected by mere dirt or dust, so be sure to clean them out before seeking professional help.
If your sensors are squeaky clean, a garage sensor replacement procedure with Puls can range anywhere from $65 to $300, and should be taken care of right away if you want reliable access to your garage door. Look out for our full article on garage sensor replacement (coming soon) to find out more in-depth information on this particular topic.
Smart garage door openers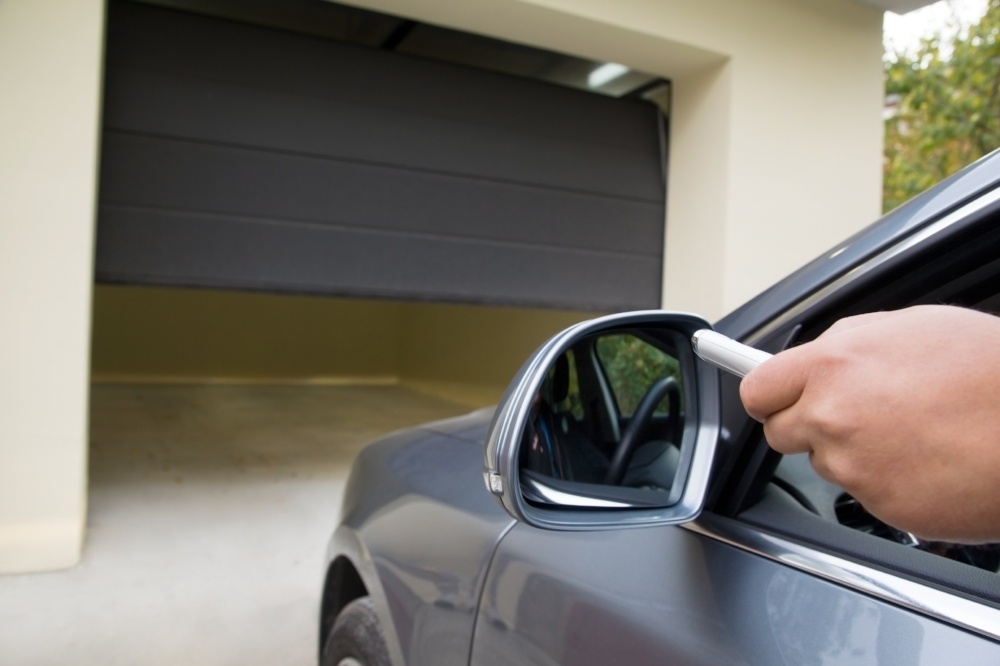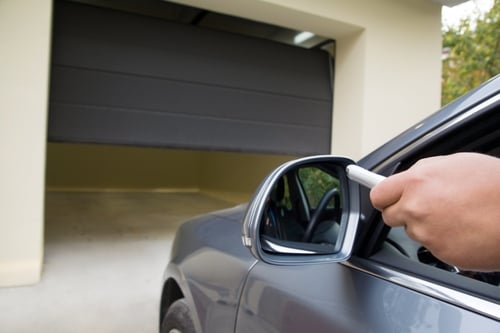 Welcome to your garage of the future. At this point, you're probably well aware of the numerous smart home technology devices on the market. Thanks to these handy gadgets, we can now perform previously unimaginable tasks whenever we like, such as lock and unlock our doors, adjust our thermostats and even keep an eye on our front doors - all from virtually anywhere.
The same is now true for our garages. With smart garage openers, you can monitor all your garage's action from your smartphone, for the sake of identifying raccoons, teenage riff raff, or even to see if your garage is getting too hot or cold.
Furthermore, many families tend to keep some of their most valuable belongings in their garages (aside from their cars), including: electronics, furniture, bicycles and more. Investing in a smart garage door opener can dramatically amp up your home's security, so you enjoy peace of mind, wherever you are, be it on vacation or while you're at work.
Nevertheless, there are surprisingly an overwhelming number of smart garage door openers on the market right now, which makes selecting just one quite the challenge. To help you decide which one is right for you, we've compiled some of our favorite smart garage door openers for you to explore, each offering slightly different features and benefits.
Leave it to Puls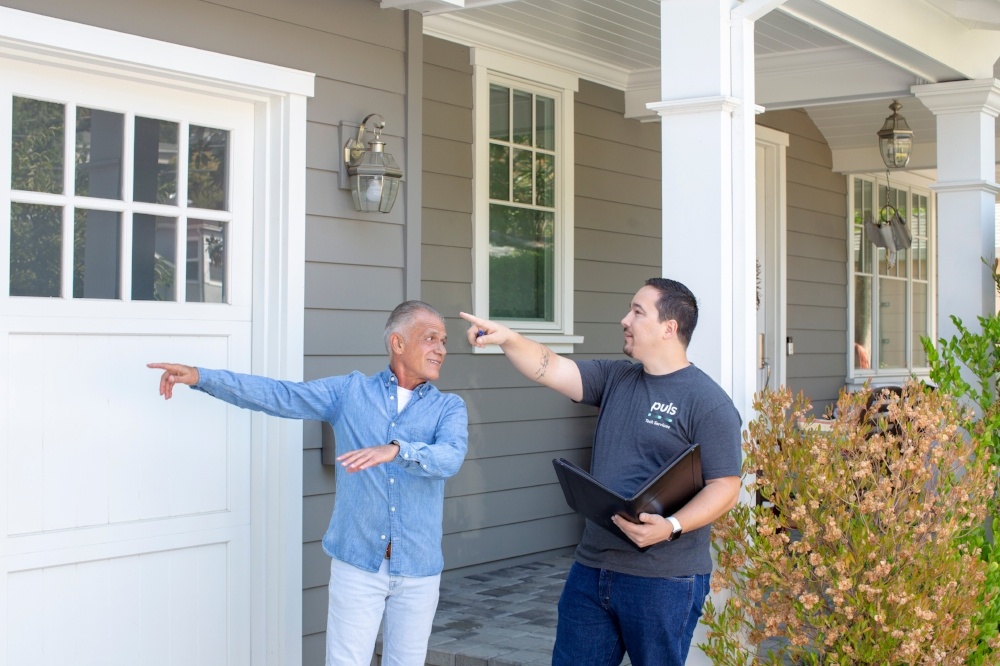 We hope this information proved to be useful for you in addressing your concerns about garage door problems, why garage repair matters, and the various issues that are most common. At the end of the day, what matters most is that you feel safe and comfortable in your home - and a fully functional, top-notch garage door can immensely help you in creating this sentiment.
Whether you're in need of garage door keypad repair, garage overhead repair, garage door spring repair, broken panels or multiple issues, Puls is here to help. We'll send a skilled garage door specialist to you whenever you like to address all of your needs in a timely manner.
What's more, we'll perform a 25-step quote and inspection of your door for absolutely free, so you can ensure that every possible detail is accounted for. So, how can you get started?
Book a garage door repair online in seconds and you'll be on your way to enjoying the multitude of benefits a fully functional garage, such as reliable access to your garage and home, protection of your valuables, reducing energy waste and more. Click here to get $10 off your first service with us.