The holiday season is in full swing, and we're sure you're absolutely loving it. With extra days off from work or school, you finally have the much-needed time to relax, unwind, or enjoy the company of your loved ones. Not to mention, it's also a great time to get around to all those little things around the house you've been too busy to tackle.
If you like to entertain company, or simply appreciate your own, there's no time like the present to finally get the TV that's been lying around your house mounted on the wall. This way, you can enjoy your mounted TV before the holiday season reaches its end, and take full advantage of its features and uses with your friends and family nearby.
Puls provides TV mounting services all season long, so you can enjoy endless ambiance, entertainment and convenience without the hassle and stress of struggling to mount it yourself. Here are some ideas for things you can do once your newly mounted TV is up and running, to have a great time this holiday season and far beyond.
Watch All Your Favorite Holiday Movies
Whether it's an old-fashioned classic like It's a Wonderful Life, a charming rom-com like The Holiday or Love Actually, or a side-splitting comedy like Elf, Home Alone, or A Christmas Story, we all have our go-to holiday movies.
Luckily, there's no better way to enjoy them than on your newly mounted TVs. Watching via your smart home on a smart TV or HDTV is the perfect way to take your viewer experience to the next level, so you can binge-watch all your favorites like you've never seen them before.
So don't be a cotton headed ninny muggins! Get ready to curl up with your blanket, some hot chocolate and your newly mounted TV, and you're all set for the ultimate hibernation den all winter long.
Set the Mood
Whether you're entertaining your family, hosting a dinner party, or simply getting into the festive spirit on your own, your mounted TV can be a perfect way to set the ambiance in your home.
Throwing a party? Hook up your smart home to your newly mounted TV to show off your extensive music collection. Having family over? Stream videos from back in the day for a fun trip down memory lane. Want a romantic night in with your significant other? Watch a tearjerker together with some takeout and wine.
It's the perfect time to get your TV up on that wall, so you can finally utilize its full potential for every occasion. From music, to lighting, to so much more, enjoy a captivating ambiance this season with your newly mounted TV.
Play Interactive Games
Another great perk of mounting your TV: video games! Whether you prefer playing alone or with others, there's tons of fun, interactive games your whole family can participate in that everyone will adore. You can hook your gaming console up to your smart home as well to streamline everything on your mounted TV.
Having the guys over for a boys' night? They'll love playing Madden NFL 18 or FIFA 18 on your expertly mounted TV. Into dancing? Games like Just Dance are perfect for entertaining guests of all ages--not to mention, they get you moving after all those holiday goodies you ate!
No matter your gaming preference or background, interactive games are a great way to connect socially with friends and family, and there's no better way to experience the fun than with your newly mounted TV.
Turn It Into a Fireplace
This one's an oldie but an absolutely essential trick that's perfect to relish all winter long. If your home or apartment is lacking a fireplace - and you've always wanted one - make a digital fireplace!
There's no better way to get into the holiday spirit than to create your own "fireplace" with your mounted TV. Stream a YouTube video or even use Netflix - which features three hour-long fireplace video options. You can watch the fire with festive music or au naturale, whatever your preference may be.
This holiday season, seamlessly create the winter scene you've always desired when you turn your mounted TV into a bold, crackling, virtual fireplace. We can't guarantee it'll be warm, but it's safe to say it will certainly be entertaining, serene, and a surefire conversation starter.
Puls Has You Covered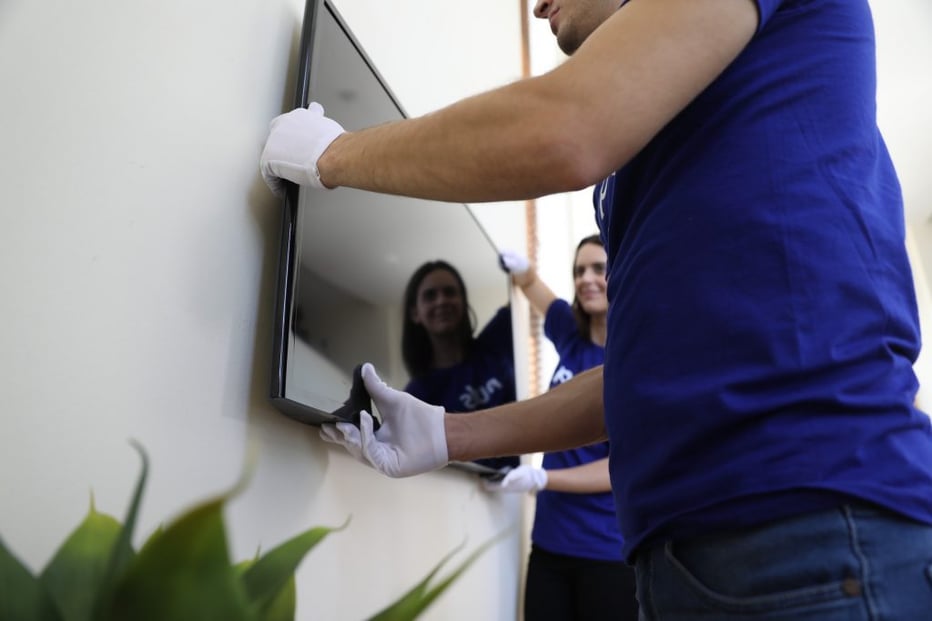 If you've got a TV lying around that you want to finally get mounted, look no further than Puls this holiday season. With extensive knowledge and experience on how to mount a TV, we make installation a cinch. Book a TV mounting service with Puls online, and our expert TV mounting technicians will come to you whenever it's most convenient for you.
We're open full-time from 8 am to 10 pm throughout the holidays, including on Christmas Eve, Christmas Day, New Year's Eve and New Year's Day. So whether you received a new TV as a gift, or you're finally getting around to mounting one you've had for years, we'd be happy to mount it for you. Make your holidays as seamless and stress-free as possible with our convenient, at-your-door services.