Ah, to be a kid again. Summer days were filled with playtime, beach time, and endless opportunities for fun. While it might be tempting to join in the fun and ignore your to-do list, tackling some of those household projects now will make your life easier and more comfortable when fall arrives.
Enjoy the Outdoors
Take advantage of sunshine and warmer temperatures to take care of your outdoor projects. You'll be amazed at how spending a little time and money this summer will help your home run more efficiently all year long.
Pressure Wash
Rid your walkways and home exterior of dirt and grime with a good pressure washing. Rent or purchase a machine from your local home improvement center. High-pressure nozzles can help you get to those hard-to-reach places like second-story windows and siding. Clean off sidewalks and concrete driveways to remove winter salt and automotive oil. Not only will your home look great, you'll stop corrosion and future damage.
Buy a caulking gun and several tubes of exterior caulking. Seal up gaps and cracks around windows and doors to stop air infiltration that can cause drafts. Fill concrete cracks in sidewalks and porch steps to prevent water from freezing under walkways and heaving this winter.
If you've got mature trees near your home, you know that those colorful autumn leaves will likely end up in your gutters. Leave them and risk clogs and ice damming that can lead to expensive repairs. Although removing leaves and debris from your gutters isn't a glamorous job, it could be dangerous if you need to climb a ladder to get to them. Consider hiring a handyman to handle this project for you. Not only will you reduce your risk of injury, the pro can spot potential maintenance concerns that could cause roof leaks.
Your wood deck takes a beating each summer with all sorts of foot traffic and barbecues. Keep your deck looking like new with a good deck cleaner and a coat of stain to protect your wood from rain and snow. Wood fences can use the same TLC. Don't forget to stain in between pickets to provide the best protection.
Is the trim on your home starting to fade or peel? It's a good time to get out the paint brush and good quality primer and paint. You should scrape off any loose paint before applying a new coat. Make sure you apply paintable caulking to the edges first to keep water from getting behind it and rotting out the wood.
Another way to stop drafts and lower your utility bills this winter is by installing weatherstripping around exterior doors and along the bottom of windows. After years of heat and cold, rubber weatherstripping can deteriorate and need replacing. Don't forget the overhead garage door. Weatherstripping along the bottom of the big door will keep blowing snow and water from sneaking inside.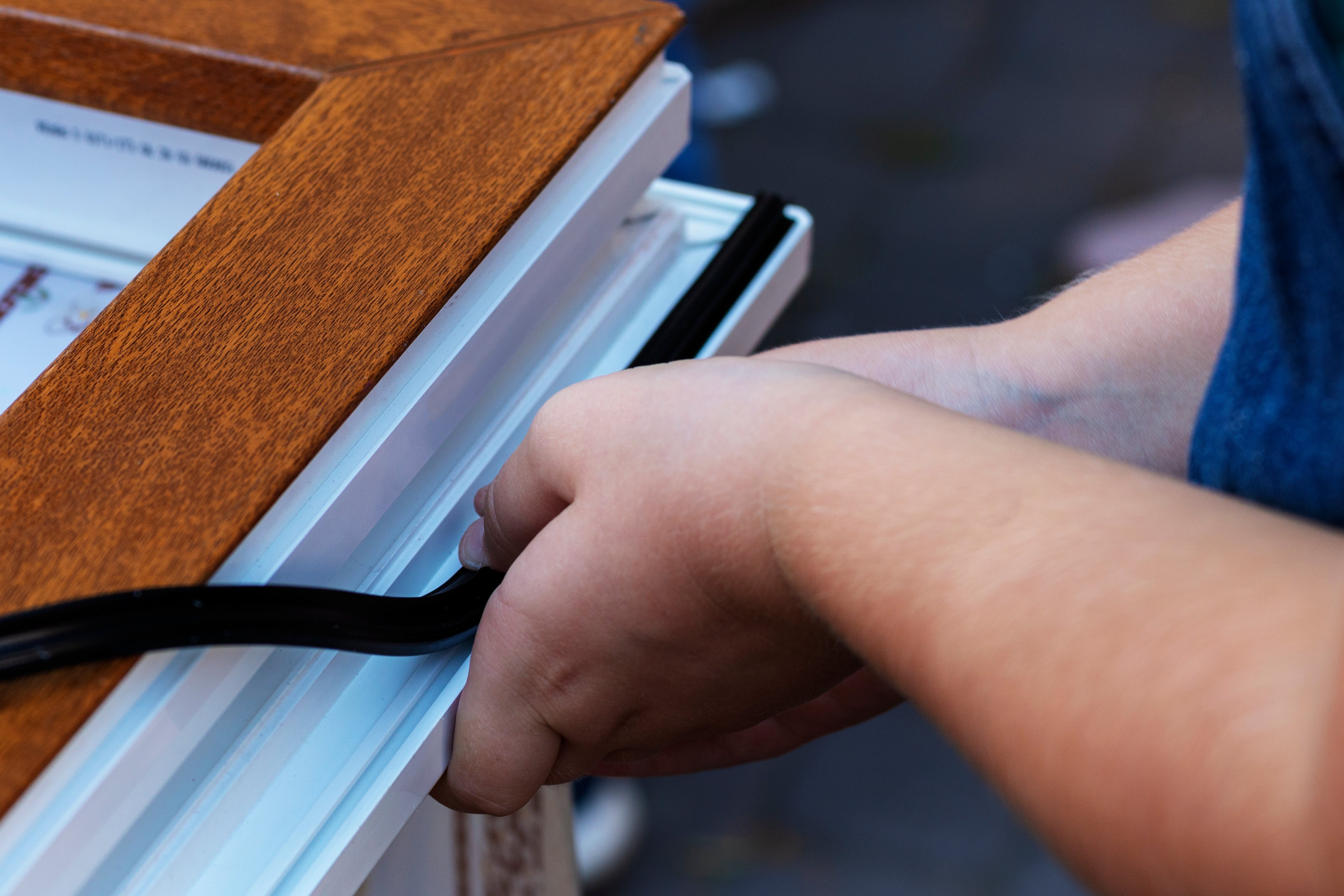 When school starts, the days start getting shorter. Make sure your little ones are safe and have a bright pathway by installing new lighting. If you need electrical lines run or new security fixtures installed, hire a pro to ensure the work is done safely and to code.
Replace Windows
You may notice your windows are more difficult to open and close or the seal has broken with steam that builds up in between the glass. Old windows cause drafts and condensation buildup. Replace rotting or damaged windows with high-efficient units to save on energy costs year-round and improve the appearance of your home.
Trim Trees and Remove Dead Branches
Don't ignore dangling branches and dead trees. Trimming them or removing them this summer will help avoid damage to your home or property during inclement weather ahead. Again, be safe and hire a professional tree company if you've got large or dangerous work to be performed.
Head Indoors
Ceiling fans are a great option for keeping your family comfortable all year long. They're pretty inexpensive and can provide energy-efficient cooling and air circulation. Many reverse spin to push warm air down from the ceiling during cool winter months. Add a light to the fan to illuminate your room without dragging out extension cords or lamps.
Schedule Inspections
Summer is a great time to schedule checkups for your furnace, air conditioning units, leaky faucet and household appliances. Don't wait until things break down on a cold winter night before calling service. Preventative maintenance will keep your household running efficiently and keep your family comfortable too.
Remodel Your Kitchen
You may have been planning an upgrade for years and summertime is a great time to work on this project. Even small changes can increase the overall value of your home. Change out door pulls for an inexpensive new look. Add a backsplash for a decorative, practical addition. Install a laminate or vinyl floor over old sheet vinyl. The new products look like hardwood but offer waterproof options that will hold up against anything your kids or pets throw at it. Add granite or quartz countertops for a stylish change. You'll want to consider hiring a contractor to handle this job for the best results. Update your kitchen appliances for state-of-the-art features and high-efficiency savings.
Small holes or dents in your drywall can be filled easily with a little spackling. Larger drywall repairs or replacements should be left to a professional handyman. This technician will be skilled to handle the mudding, taping, spackling, and touch-up painting to make sure the finished job looks great.

Bathroom Remodeling
Another project that provides a great return on investment is a remodeled bathroom. Even if you're not ready to sell your home, updating your bathroom will provide a great respite after a long day helping with homework or working at a job. There are a variety of new designs and finishes available for faucets, sinks, vanities, shower sprays/massagers, and flooring. While you may be able to handle this as a DIY project, consider hiring a handyman or contractor to turn this project around quickly.
With more schools using remote learning or hybrid options, it's critical that your home has the best internet capabilities and speeds. Smart home products can help connect multiple devices, but this may be a job for a professional. Make sure you've got a plan for setting up separate work/learning spaces with direct-wire and wireless options too.
Let Puls Help Finish Off Your End-of-Summer To-Do List
Don't let summer slip away without taking care of some of those projects on your household to-do list, let a Puls handyman do the work for you. Our skilled technicians can handle everything from caulking your windows, to installing weatherstripping, to making drywall repairs, and a list of other specialty projects.
It's our goal to make your life easier with convenient, online appointment scheduling. We have flexible times to make sure we're available when you're available. Don't worry about renting the right equipment or climbing dangerous ladders, we've got you covered inside and out.
Call or click today to schedule an appointment. Leaves will be turning color and the school buses will be running before you know it. Don't let another day go by without making a plan.