Holiday lights look great and can go a long way towards warming up a cold winter evening. But if the number of homes still sporting unlit displays well into February are any indication, hanging Christmas lights (and taking them down!) is more time-consuming than it looks.
If you want to get yourself a little gift this holiday season, you may consider having a professional install Christmas lights for you. It can cost nominally more than hanging them yourself, but then you don't have to spend hours standing on a ladder in the freezing cold, either.
Whichever way you choose to go, we make it easier than ever to install Christmas lights with our professional pricing and DIY installation guide, after the jump.
How Much Does it Cost to Install Christmas Lights?
Some professional installation services charge per foot of lights, with an average cost of around $5 per foot. Others may charge a fixed price based on the size of the home, which kinds of lights are used, and what other displays or add-ons the person opts for. This includes trees, walkways, mailboxes, porches, and the like.
While the common national average is often quoted at being somewhere around $200 to $400, including lights, homeowners can expect to pay a bit more, as these numbers reflect the entry-level packages for a small, one-story home. Larger homes, additional stories, or more than basic lights displays will run higher.
For homeowners looking to install their own Christmas lights, strands of lights go for between $10 and $30 on average, and the cost of materials can run up to $300.
Tips for Hanging Christmas Lights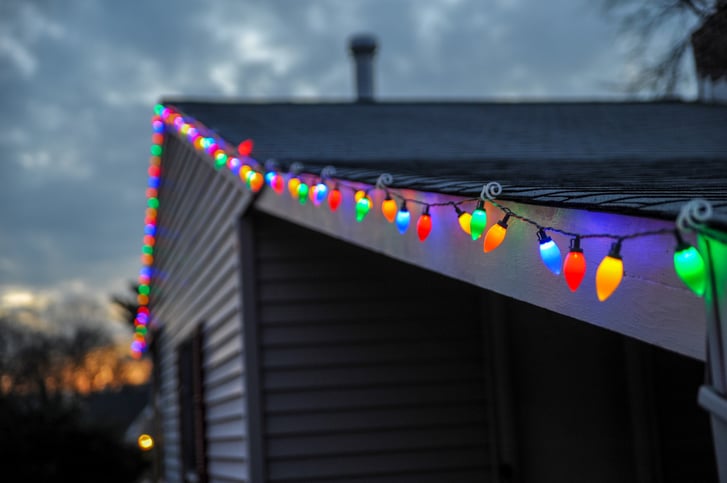 It takes a little bit of planning to create an optimal holiday lights display, but the extra effort can be plain to see.
Start with a focal point, such as a door or porch, and work your way outwards.
Less can be more – start small and add a bit more to your display each year.
White lights along gutters and eaves, windows, and around trees make for a simple but festive display. Complement them with wreaths, ribbons, and other accessories.
To place lights around the trunk of deciduous trees, start from the bottom and wrap upwards; for evergreen trees, start at the top and widen your spiral as you string the lights downward.
Light clips are an affordable and effective way to keep your lights from sagging, and make installation a little bit easier.
To decorate a mailbox or other spot away from a power outlet, try battery-powered lights.
How to Install Christmas Lights Safely
Whether you're looking to save a few bucks or hanging Christmas lights is a treasured part of your holiday tradition, it's important to stay safe.
Never use a wet ladder or place a ladder in muddy ground where it can slip.
It's highly recommended to use a ladder stabilizer to keep the ladder from moving beneath you.
Never lean a ladder directly on a gutter, which is not designed to support the weight and can easily collapse, causing damage and/or injury.
Check your lights for blown fuses or broken bulbs before you go to hang them, and never use a strand with a frayed or damaged cord. Also, avoid connecting more than three strands together so as not to overload the circuit.
Use an automatic timer to have lights turn on and off at pre-set times. This can save power, avoid fire hazards, and help deter break-ins if you are traveling or out of your home.
Puls Brings the Cheer
We offer our handyman services in select areas – see if you're covered and we can put up your holiday lights for you. Our techs can book you a time slot in just seconds, then all you have to do is sit back and wait for your Puls professional to ring your bell at the appointed time.
Enjoy a picturesque Christmas light display without having to lift a finger. And, because of our trademark Puls guarantee, you can be sure that the job will be done right – or we'll come back and make it so.
Book a time slot now to spread the holiday cheer while keeping your feet planted firmly on the ground.