After gobbling up a leftover turkey sandwich for strength, many of us will set out (or more likely, lumber over to the computer) this Black Friday to further gorge ourselves on some of the year's best deals on televisions and other nifty gadgets.
But getting your hands on a bigger TV set is only half the battle. It's equally important to have a space worthy of your new wall-mounted TV – especially if you've been spending more time than usual indoors lately.
You don't need to rack your brain for ways to create an aesthetically pleasing home for your wall-mounted television set, nor do you need to break the bank -- home goods stores such as Home Depot offer Black Friday deals on the materials you need for just this type of weekend project. Check out our list of creative TV mounting ideas below.
Paint is Versatile and Effective
A splash of color behind your TV can have an outsized effect. Paint a patch of wall a color that's suited to your room to add contrast behind the television – or have a handyman do it for you. A simple design lends a feeling of purpose and sophistication, or you can opt for a popping optical illusion for a more modern effect. Alternatively, dark accent walls are trending and can be used to downplay the prominence of the TV, which will blend seamlessly into the background.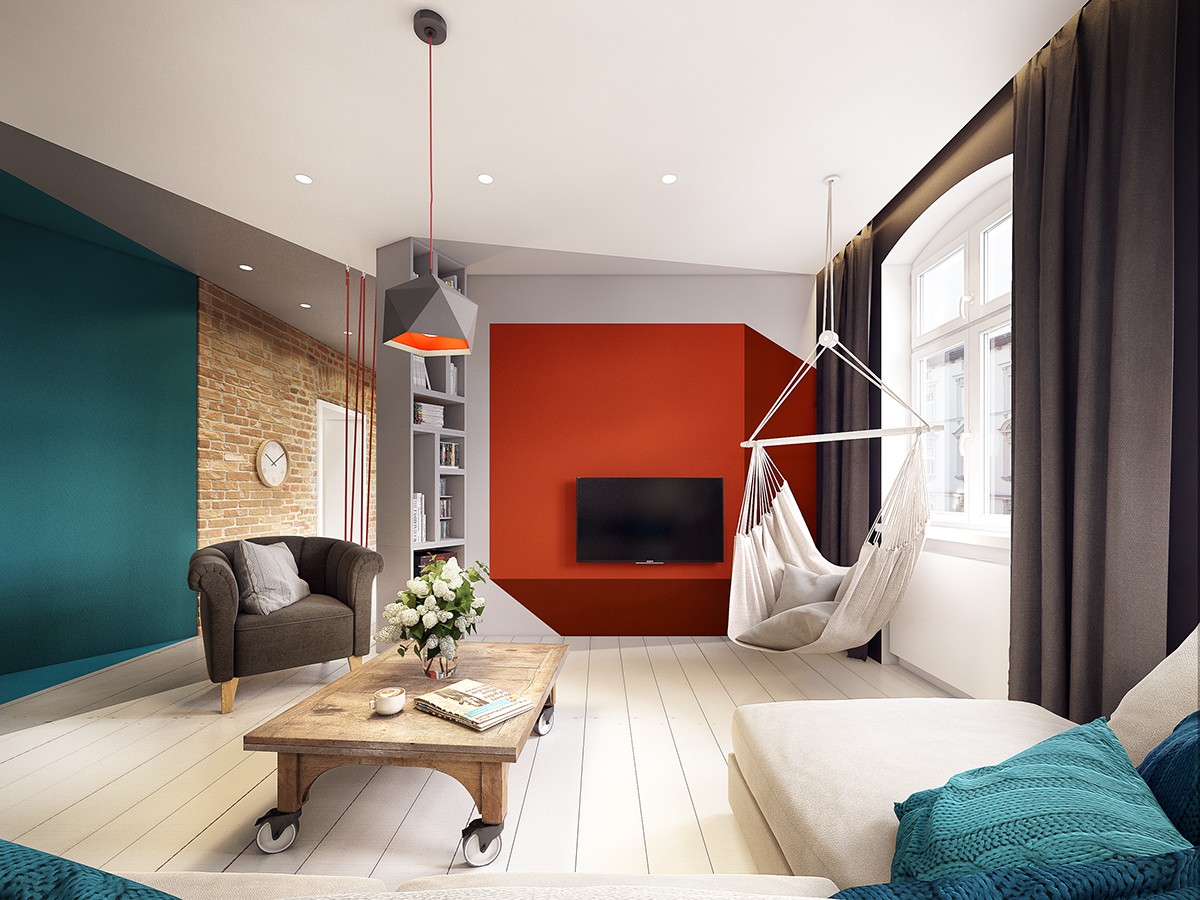 photo credit: platerlina.pl
Floating Cabinets Look and Work Great
Installing a floating cabinet doesn't need to be as complicated as you might think – especially if someone else is doing the work. There's a huge variety of floating storage space in different shapes and styles. This one from Home Depot includes a stylish backdrop for your TV and masks unsightly wires and cables. Others don't include the backdrop and can be installed anywhere – above, below, or to the sides of a television. Either way, this is a great option for storing cable boxes, video game consoles, audio systems, hard media, and more.
Make it Picture Perfect With Strategic Photo Placement
You don't need to reinvent the wheel to give your TV area a warm and cozy vibe. Hanging photos or art around the television will exude a homey feeling even when the TV's off.
Custom Furniture Provides a Pleasant Surprise
With a bit of know-how and elbow grease, you can create custom furniture to store away your television when you're not watching it – or to store wires, cables, and more behind it. This custom-made TV cabinet features retractable doors and an extendable TV mount so the TV is visible anywhere in the room when it's fully open. Other plans include fixing your TV to something like a medicine cabinet which appears to be a simple TV shelf but swings open to reveal a storage area where you can keep consoles, hide wires, and more.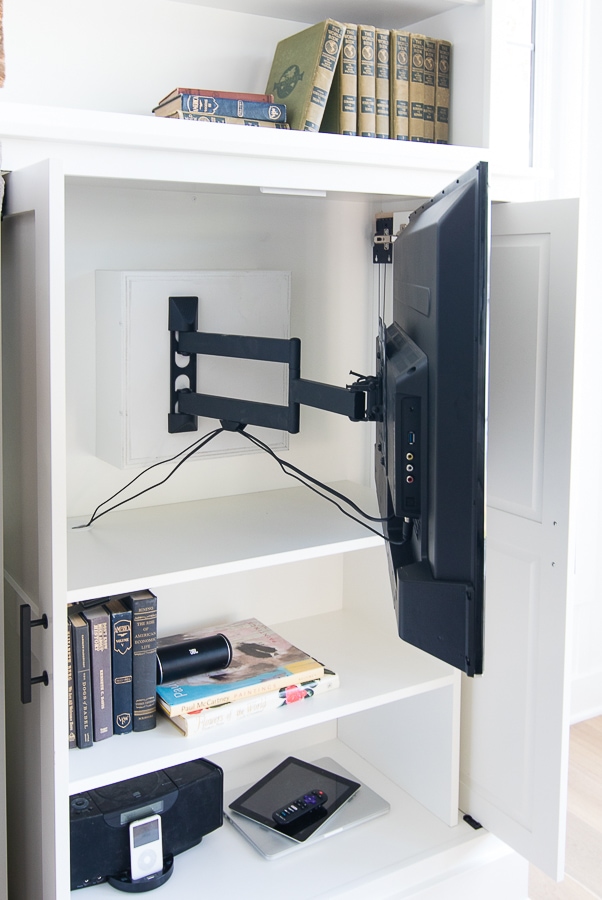 Photo credit thelilypadcottage.com
Get Framed
Another great way to mask cords and cables hanging out of the back of the TV while also making an understated fashion statement is by making a custom wood frame. It's elegant, it's natural looking, and it doesn't cost an arm and a leg.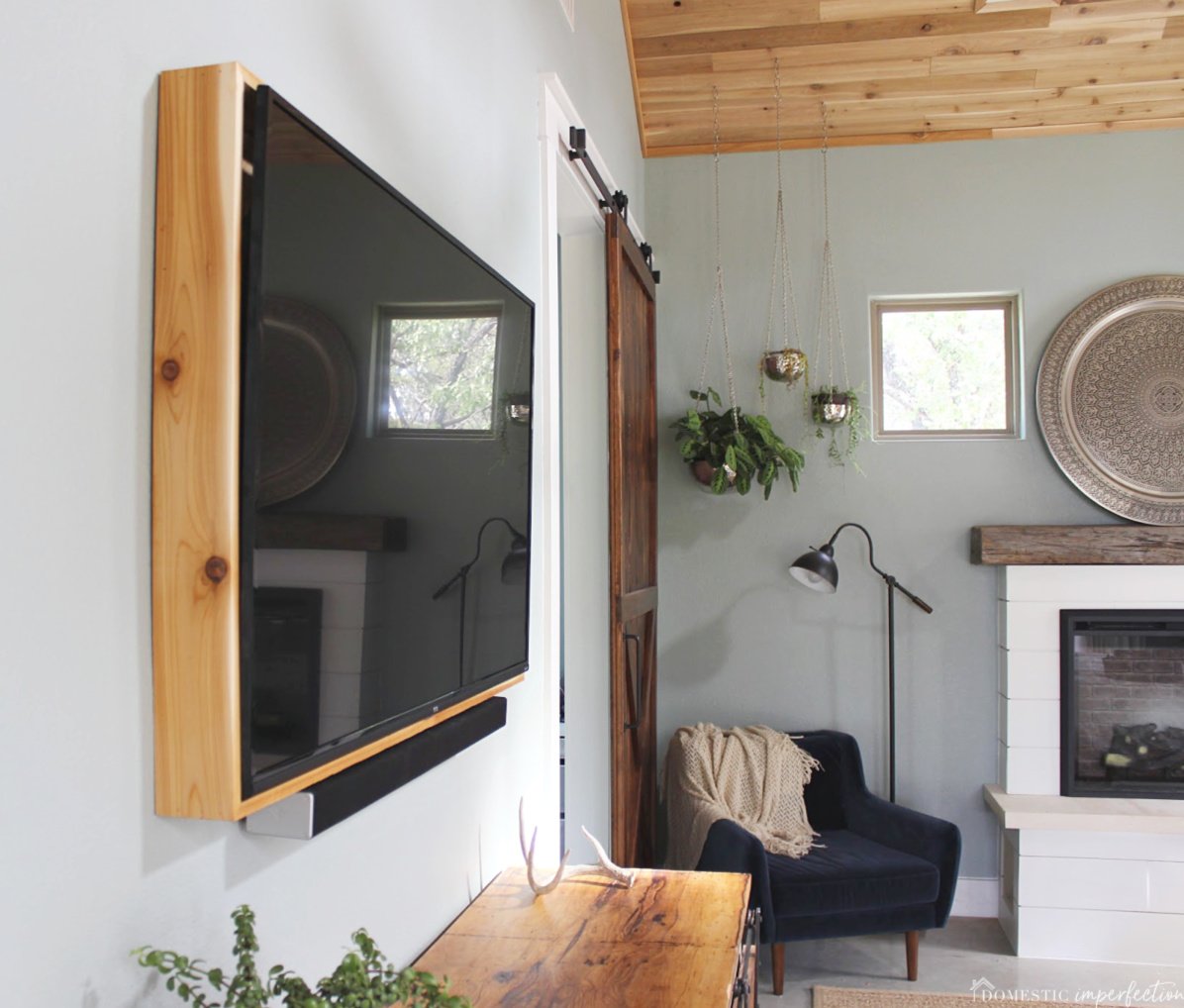 photo credit domesticimperfection.com
Behind Every Great TV Set is a Great Wall
For a more rustic look, a DIY plank wall lends a natural looking backdrop for your television, and adds warmth to the room, to boot. Check out these instructions from the Home Depot, where you can rent the necessary equipment if you don't have it on hand. Or, your handyman can take care of the installation from A-Z.
Go For the Corner
We've already sung the praises of corner TV mounting. It saves space, looks great, and is super practical. But if you weren't sold already, check out this floating corner cabinet, designed for exactly this purpose. It's perfect for large or small spaces and provides a convenient storage solution and elegant look. What more could you want?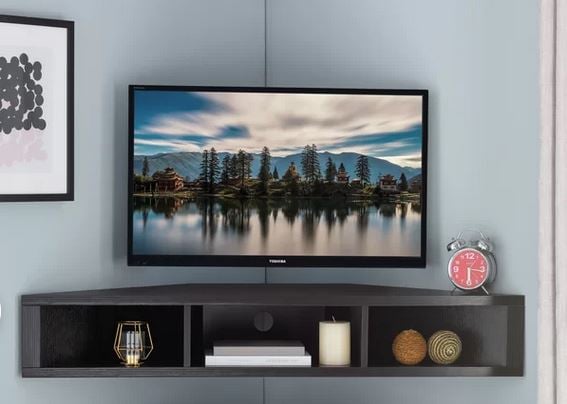 Photo credit wayfair.com
Puls Can Save You Time and Effort
We can mount any sized television, and we can make it look good, too. Our expert TV installation service is available as soon as the day you request it, and can include services such as professional cable masking, shelf and cabinet assembly, audio system setup, and more. We also offer an array of handyman services including painting, wall hanging, and electrician services. From getting your television securely mounted to making it right at home to suit your décor, we've got your television installation needs handled from start to finish. Book a time slot and have your television mounted and looking great as soon as today.